Nowadays, videos are pervasive on all social media platforms. It was different from before when video making would cost a lot of money. Today, with a video editor and stable internet connection, everyone can create exciting and engaging videos on the computer.
As tons of videos emerge simultaneously, background music is another essential element to make your video go viral despite editing skills. There are various video editors online with music providing different features. To save your time and energy, we've directly picked 5 best online video makers with song. Read to get your preference now!
Part 1. Top 5 Video Editors Online with Music
Part 1. Top 5 Video Editors Online with Music
1.FlexClip
FlexClip is a user-friendly yet powerful online video editor that lets you effortlessly make videos with music. A versatile music library of high-quality soundtracks allows you to select and add favorite songs without infringement worries. Besides, you can apply fascinating editing features to beautify the videos including trimming, adding transition, filter, text and more.
FlexClip distinguishes itself from other competitors because of its large amount of free media resources. For example, tailor-made templates help you get professional-looking videos in minutes. Whether you're a master or rookie with FlexClip, you're capable of producing excellent videos with music.
key Features:
Loads of handy editing tools
Thousands of ready-made templates
A diverse range of royalty-free music selection
Multiple advanced features like adding text, emoji, effect and more
Provides a complete set of video-making processes (including
screen recorder
, editor, template...)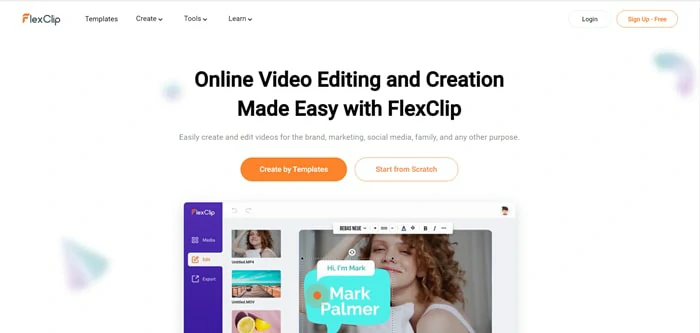 Online Video Maker with Song - FlexClip
2.Biteable
If you're looking for an easy and quick solution for video creation, Biteable, a video editor online with music, is a good choice for you. Hundreds of templates are available to create incredible videos in minutes. Meanwhile, you can promote videos by adding sound tracks from a limited stock. To let audio dissolve into the video, you can use the fade-in or fade-out to the beginning or ending part of the video.
When it comes to further editing, it comes in three workable ways: text, animation and color change. Generally speaking, Biteable is optimal for an easy video process, while if you require an advanced solution, you need to look around.
Key Features:
Hundreds of templates are available
Providing limited yet free audio tracks
Able to make videos with simple adjustments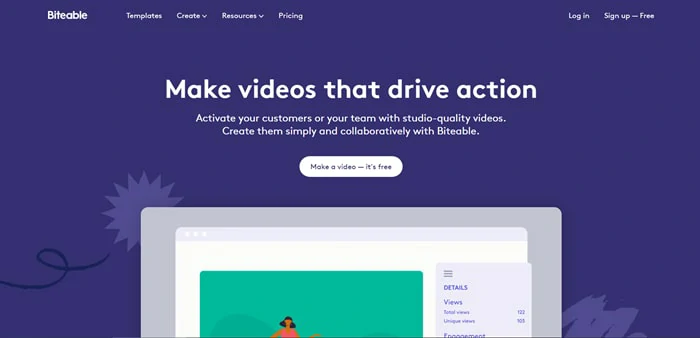 Online Video Maker with Song - Biteable
3.Animoto
As an English proverb goes, time is money. If you're pressed for time and wish to control your final product, Animoto will meet your goal. With a clean interface, you can navigate to find the desired panel right away. Designed with all kinds of templates, filters, and effects, Animoto helps every user customize unique videos effortlessly. To select a piece of background music, move your cursor to the top and click the "Music" to explore your targeted audio.
The weakness of Animoto is the annoying watermark appearing in every second of your exported video. To get a watermark-free video with music, you need to upgrade first.
Key Features
Free to add music to video
Providing basic editing features
Abundant resources of video templates
A built-in watermark appears on your edited video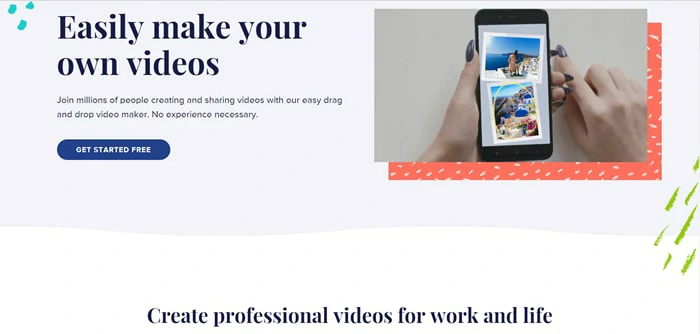 Online Video Maker with Song - Animoto
4.Kawping
Kawping is a creative video editor online with music. Various tools and templates make it easy to create a masterpiece by adding numerous effects, audio tracks, and excellent transitions. Kawping comes with an inborn audio library that allows you to add free music to video and level up the audio tracks using widespread sound effects.
Moreover, it offers set-and-forget features like Chroma Key, Remove background for professional adjustments to get a seamless video. With Kawping, you can spend minor time editing and more time sharing.
Key Features
Intuitive interface and easy operation
Providing a diverse range of sound effects
Various templates to help you unleash creativity
Professional editing functions like Chroma Key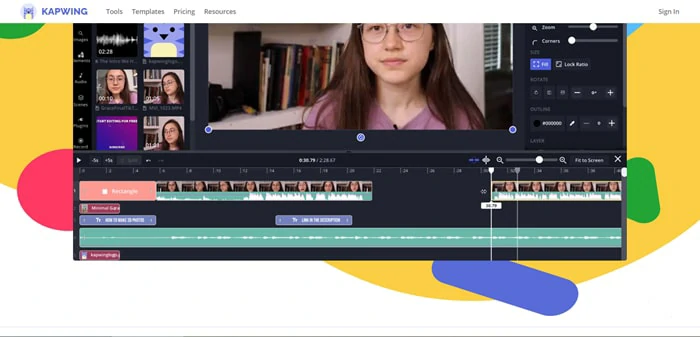 Online Video Maker with Song - Kawping
5.WeVideo
WeVideo is an impressive online video editor with song since it brings excellent media resources including videos, images and audio tracks. With the help of WeVideo, you don't need any prior experience to make eye-catching videos. Not just that, it offers overlay, slow motion, green screen and more functions to assist you in the advanced editing process. Besides, it supports several instant-sharing destinations such as Google Drive, YouTube, Dailymotion. The pity is that users without a subscription plan can only use a few music tracks from a minimal stock.
Able to add text, emoji,
GIF
and more
Support several instant-sharing destinations
Available for advanced editing features like slow motion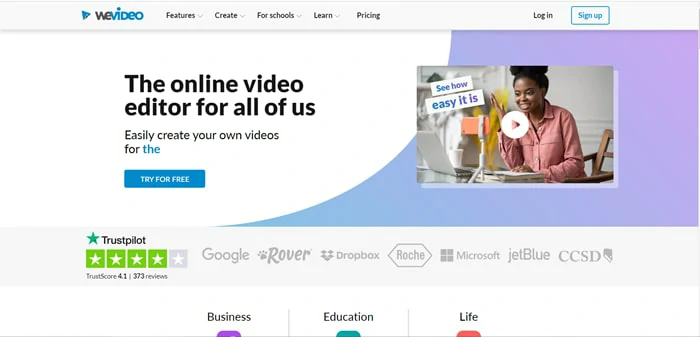 Online Video Maker with Song - WeVideo
Part 2. How to Add Music to Your Video Creation
Adding music to a video is easy with the help of FlexClip. Below it shows how to use the online video editor with music in 3 step process.
Step 1: Upload Media Resources
Click "Create a Video" below to upload your video footage and drag these assets to the storyboard. If you don't have any idea for video production, find a template that's up your street to implement further editing.
Step 2: Add Music to Video
Tap the "Music" icon and choose a song that compliments your video. There are several types of music and you can make a selection based on mood or genre. FlexClip also allows you to import local music as the background music. Furthermore, apply the voiceover function to increase fun to videos.
Here you can add texts, special effects, filters and animate images to enhance the video. To check the video performance, click the "Preview" button to view in advance.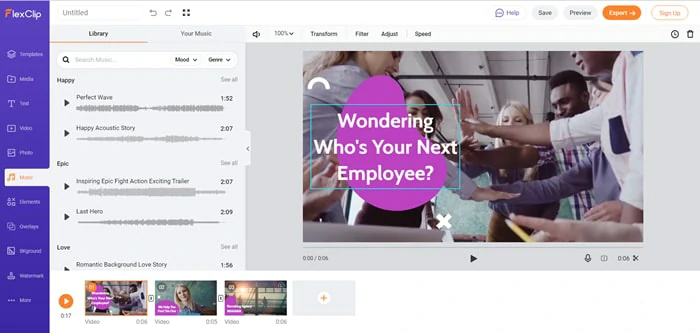 Online Video Maker with Song - WeVideo
Step 3: Save and Export
After your video with all edits, press the "Export" button to save this video. If necessary, change the resolution per you need like 720p,1080p. Then download the edited video to your computer.
The Bottom Line
Well, there goes our introduction list of top-notch online video maker with song. All of them are easy to use and have distinguishable features. If you can't make up your mind, try the powerful yet handy tool - FlexClip. It not only helps you make video with music, but also offers you extensive media resources. Go ahead to create your videos now.
Youtube Intro Dance