This post summarized the best music visualizers online that add no watermark to your video. Check them out and decide which audio visualizer is the best for you.
Whether you are a professional music producer or just a music lover, you will need a music visualizer to promote your music on YouTube, Facebook, Instagram or other social media platforms. Here are the best free music visualizers online to help. Check them out!
This Could Be Your Music Video, Edit Them
Best Free Music Visualizers Online You Can't Miss
Best Free Music Visualizers Online You Can't Miss
Best Music Visualizer: Renderforest
Renderforest is an online music visualizer that contains rich sound-responsive templates. Some of them are even in 3D. No need to create a music wave of your own, no need to make complicated adjustments. All you need to do is picking a template you like, upload your track, and download.
Besides generating music visualization videos, Renderforest's music visualizer also allows you to customize the music visualization you created by adding logo, uploading backgrounds and more. With a little imagination, you can make the video unique.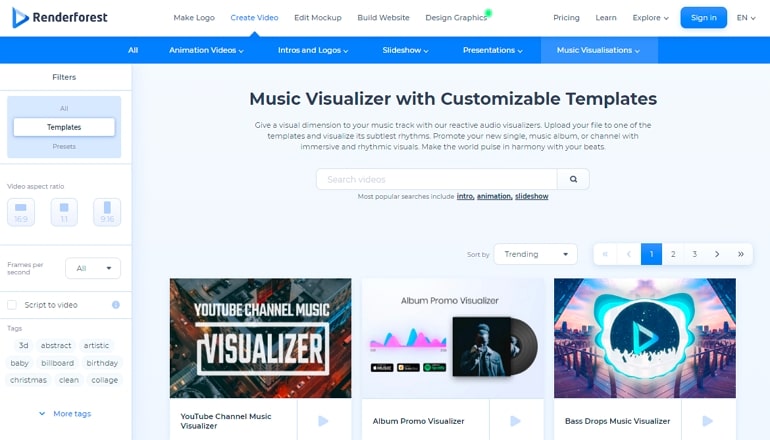 Best Music Visualizer - Renderforest
Top 2. Videobolt
Videobolt's music visualizer makes it dead simple for all music creators. It users powerful technology to analyze your track and match video animation to the tempo, frequency spectrum and musical key.
As for the templates, Videobolt provides 1500+ premium templates. They are all in Hollywood style. Each is created for a particular use-case. Now, you have access to all!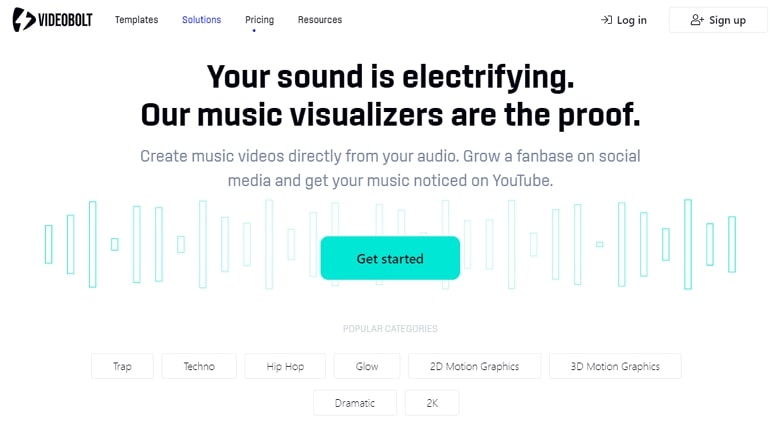 Best Music Visualizer - Videobolt
Top 3. Veed
Veed's music visualizer promotes your music on social media by creating stunning audiograms, waveforms and audio spectrums. You can use it to create your audio visuals with the easy interface within clicks. Other edits like adding text, changing background is also available.
To use Veed, you just need to upload the audio file, choose the right video size, add visualizations and then download. For any questions, Veed provides Live Chat service that solves any problems arise while making music visualization.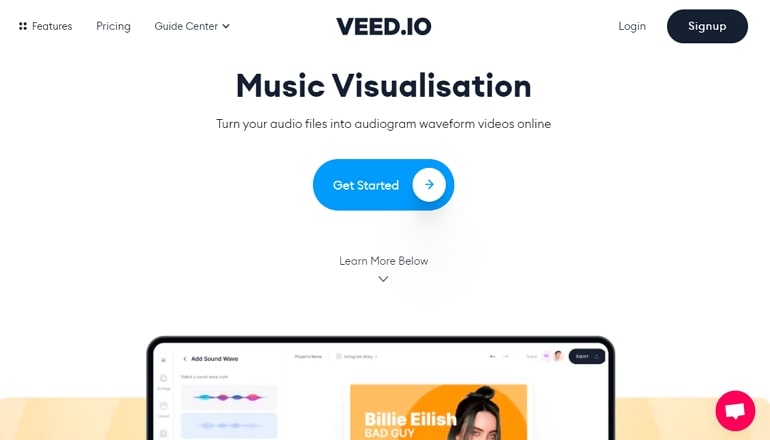 Best Music Visualizer - Veed
Top 4. Specterr
Specterr is an excellent audio visualizer. Select a preset you like, upload your MP3 or WAV audio file, customize the visualizer, and export. Now, you have created a music visualization. Easy, effective!
It is a great music visualizer. However, we listed it as #4 with good reasons. First, it only have several templates, which means you don't have much choice. Secondly, it supports only MP3 and WAV audio format. Moreover, Specterr's audio visualization doesn't provide you much editing tools.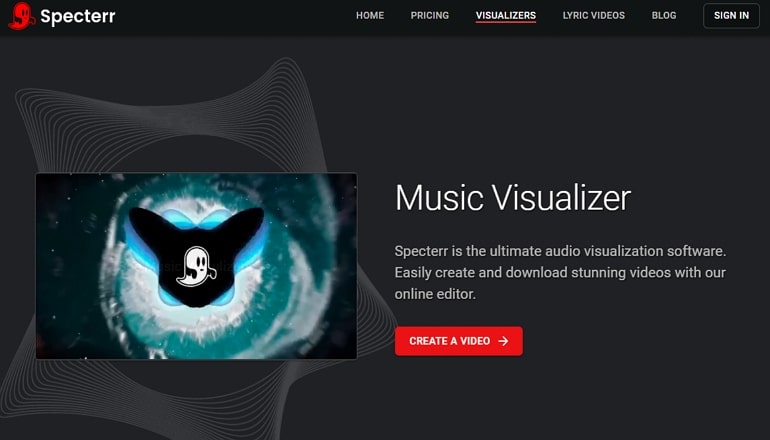 Best Music Visualizer - Specterr
Top 5. SongRender
SongRender is an easy audio visualizer that helps you grow audiences online. Add any picture as background, and then upload an audio file, you can get your video in no time. The best part of using SongRender to create a music visualization is that you can select the social platform that you want to upload. No converting issues!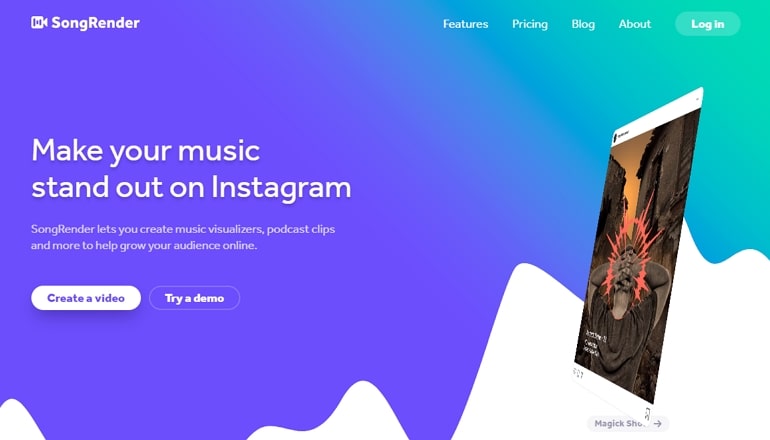 Best Music Visualizer - SongRender
Top 6. WoFox
WoFox is a reliable free online music visualizer that is capable of creating excellent music content for all media platforms. Go to the Visualizer section, you can see there are only six audio waves that you can use, however, it has a library of royalty-free stock photos that you can find the best background for your video. Team corporation is also available.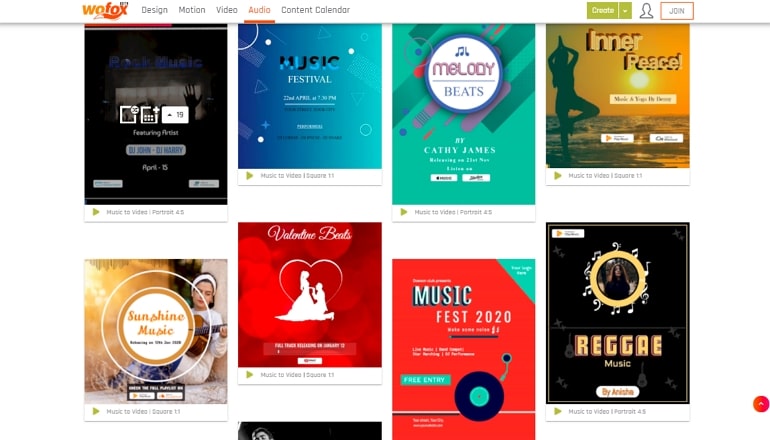 Best Music Visualizer - WoFox
Top 7. Vizzy
Vizzy visualizes your audio file with its powerful tool. You can start from scratch and make anything react with audio, or start with any templates you like. Vizzy provides hundreds of features to make all your ideas true.
Still no clues to start music visualization? Check the community full of excellent audio visualization works to get inspired!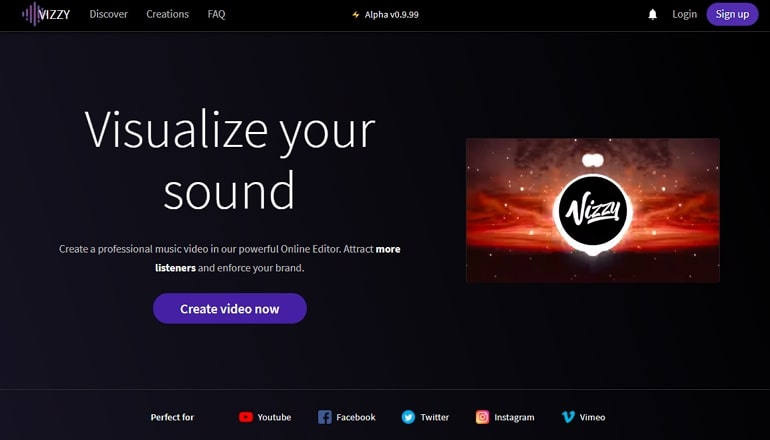 Best Music Visualizer - Vizzy
The Bottom Line
That's all for the best free music visualizers online. If you find this post helpful, please do share it with others. Any recommendations? Welcome to contact us via Facebook!