Video croppers show their importance when you want to delete unnecessary parts, remove black bars or change the video aspect ratio with great ease.
As one of the most popular video formats, MP4 videos are the first choice of many people when they try to share content on social media. But you might don't know how to change videos' dimension to square, widescreen, or portrait. No worries, here we list the top 4 MP4 croppers for you. Let's go straight to explore them now!
Can't Miss: 4 Best Tools to Crop Videos on Windows 10>
Part 1. Best Free Mp4 Cropper Online - FlexClip
FlexClip is an MP4 video cropper that allows users to crop videos in a few steps. No matter how you want the MP4 video to look like, this online cropper gives the flexibility you need to do so. Apart from cropping MP4 video files, FlexClip can trim, add effects and merge small clips into one.
Below are some of the common features that make it a great MP4 cropper and video editor.
Main features:
No need to sign up at first.
Several ways to crop your mp4 files.
Support multiple videos, photos and audio formats.
Multiple media resources and professional editing features.
An easy-to-understand interface makes it easy to crop MP4 videos and perform other edits.
Besides cropping videos, FlexClip comes with 4000+ professional-looking templates, millions of media resources and handy editing tools to help you create stunning videos in minutes.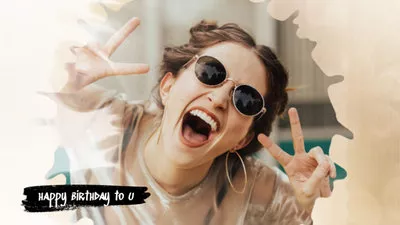 Young Girl Birthday Slideshow
Family Photo Frames Slideshow
How to Crop MP4 Videos Using FlexClip
Step 1
Upload your mp4 footage to FlexClip and drag it to the timeline.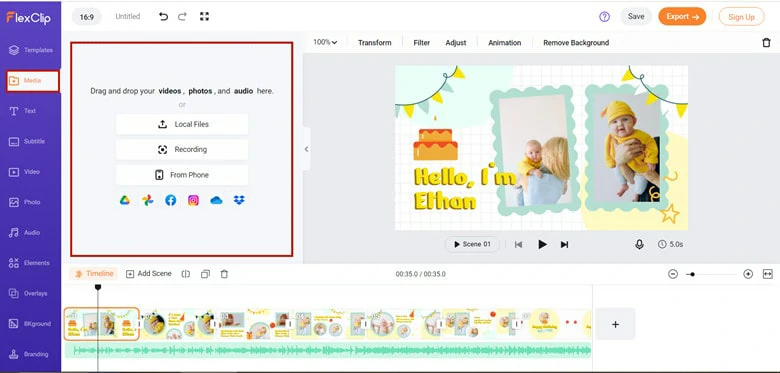 MP4 Video Cropper Online: Upload Your MP4 Video to FlexClip
Step 2
Go head to the upper-left corner and select from five fixed ratios: 16:9, 1:1, 9:16, 4:5, and 21:9.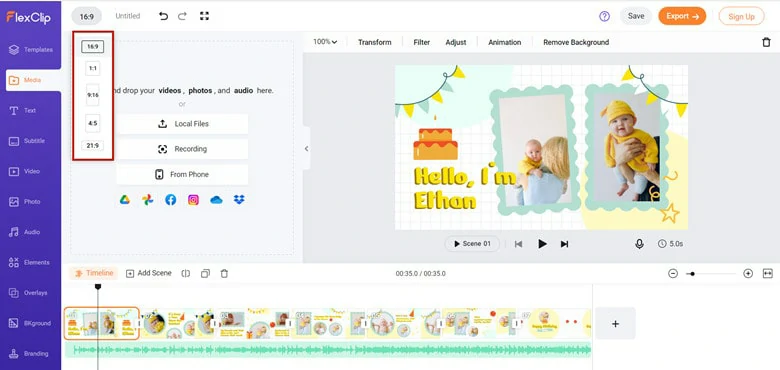 MP4 Video Cropper Online: Choose the Desired Aspect Ratio Preset
Besides fixed aspect ratio, FlexClip also allows you to adjust the mp4 video to any size. Just click the picture-in-picture button to apply the video and then you can drag the border to change the size as you like.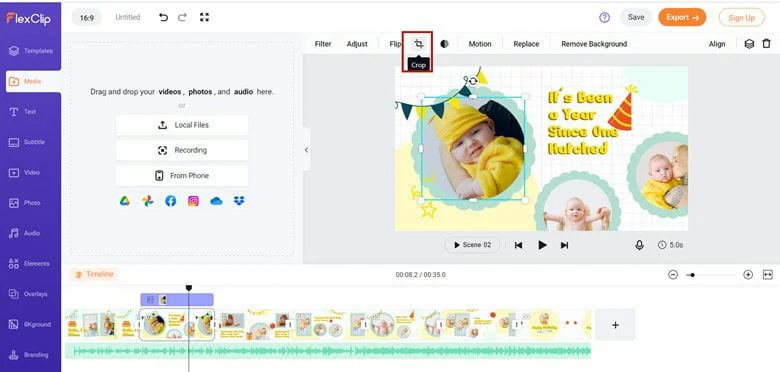 MP4 Video Cropper Online: Crop Your Video with Ease
Step 3
Save and export the cropped MP4 videos or you can directly share via a clickable link.
Part 2. The Free Video Cropper on Windows - Windows Movie Maker
There is an easy way to crop your mp4 videos on Windows - using the Windows Movie Maker. This feature-rich yet simple-to-use video editor includes some configured options to help you crop videos.
Keep reading below to learn how to crop your videos with this free mp4 cropper.
Step 1
Open Windows Movie Maker and tap the Media button to import video files for cropping.  Once they're loaded, apply them to the timeline.
Step 2
To crop the video file, move to Animations > Pans and Zoom. Make a selection from the effect list and apply it to your video.
Step 3
Save the cropped video when the video meets your satisfaction.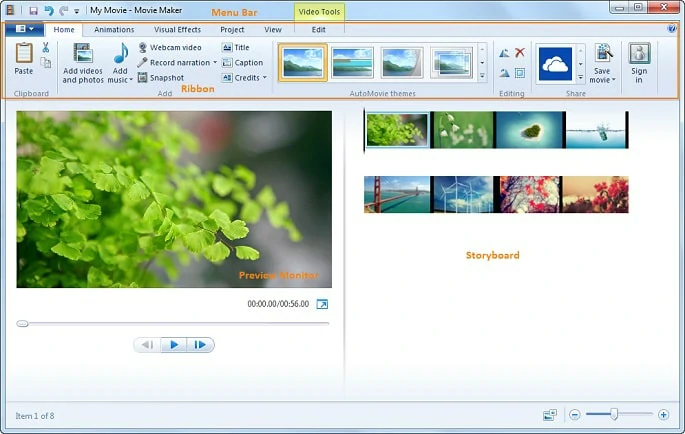 MP4 Video Cropper: Crop MP4 Videos on Windows
Part 3. The Best Software to Crop on Mac - iMovie
If you're using a Macbook, then there is a native video editor you can apply to crop mp4 videos. Using the source panel or slide the handle tools of iMovie, you can easily change the video's in/out points to remove unwanted parts.
Besides cropping, iMovie also has a range of editing tools like trimming,  templates, color matching and overlays. Unfortunately, it only supports two video tracks and performs as an entry-level mp4 cropper with limited features. Nevertheless, the interface is simple to use and it allows quick video cropping.
How to Crop MP4 Videos Using iMovie
Step 1
Launch iMovie on your Mac, load your mp4 video, and then drag and drop it into the timeline.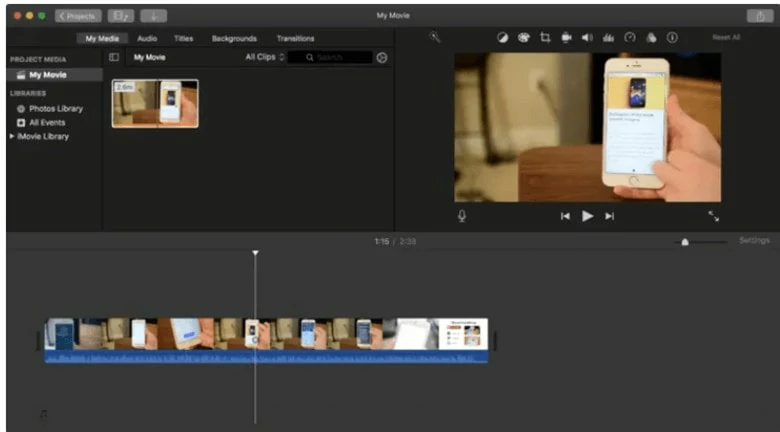 MP4 Video Cropper: Launch iMovie on Your Mac
Step 2
Click on the timeline section and then tap the Crop to Fill option. Drag and move the adjustable frame to crop the video until you select the satisfying part.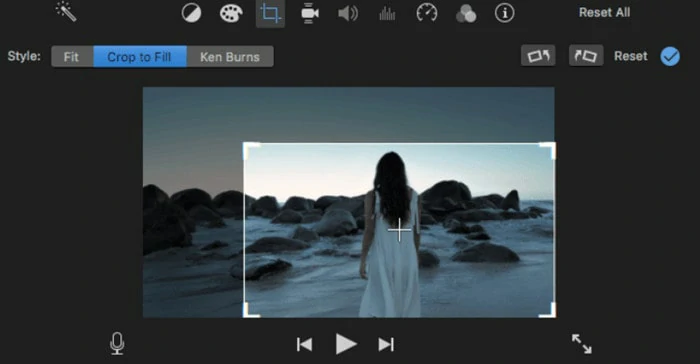 MP4 Video Cropper: Crop the Video in iMovie
Step 3
Click the Apply icon to save all changes. To export your cropped video, click "File" > "Share" > "File" to reach the goal.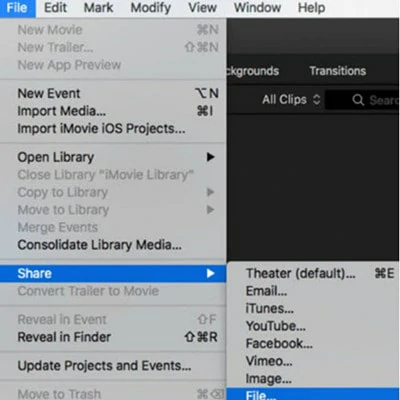 MP4 Video Cropper: Save the Cropped MP4 Video
Part 4. The Best MP4 Cropper for Android & iOS - CapCut
If you're looking for ways to crop mp4 videos on your Android phone or iPhone, then CapCut is a nice option worth your trial. As a professional video editing application, CapCut has all the basic editing tools you know, including cropping mp4 videos.
Follow the steps below to learn how to crop mp4 videos on CapCut.
Step 1
Download from your app store and install it on your device.
Step 2
Open the CapCut app on your mobile phone, create a new project and import the mp4 video you wish to crop to CapCut.
Step 3
Click the video on the timeline and the Edit icon will appear, choose the Crop icon from the editing menu.
Step 4
Drag and drop the border of the cropping rectangle to remove the unwanted frame from your video. For a quick solution, you can use the aspect ratio presets below.
Step 5
Once you complete editing, click on the checkmark to confirm the changes.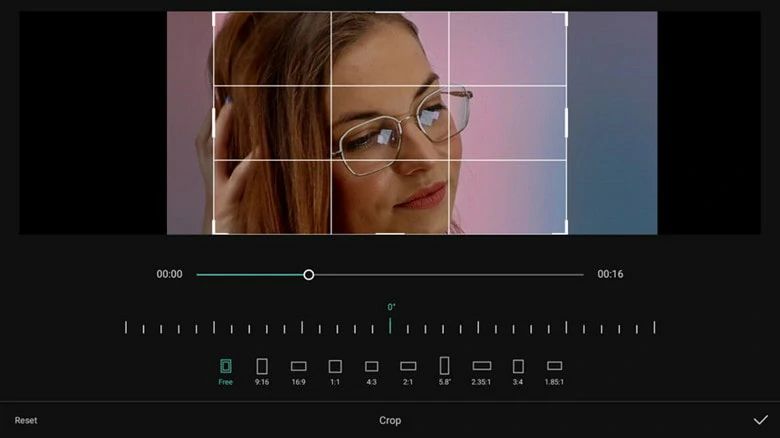 Add Text to Your Video
The Bottom Line
That's all for 4 best mp4 croppers to remove unwanted parts on your Windows, Mac, mobile phones and online. Hopefully this post is helpful to you. If you have other ideas, please let us know via email.