You must have come across those sliding quotes in a video; oftentimes, these quotes are done with fine animations that can easily capture your emotions and set you on a new path. TikTok has created a means called the TikTok quote videos: it allows users to create quotes using beautiful video slides and animations. People who have once come across this feature have made it a daily motivational tonic and use it to reach out to people they think need a few words of encouragement (motivation).
To create a good quote video on TikTok is simple; you just need to follow some stipulated guidelines. Below, we have created a step-by-step guide on how to make quotes video on TikTok; please read through.
How to Make a Video with Transparent Quotes on TikTok
Step 1
Log in to your Pinterest account and search for a fitting video, GIF, or image that might fit your quotes.
Step 2
Screen-record the
GIF
or video and save. Go to any platform you think you can find a good quote, e.g., Twitter.
Step 3
Screenshot the quote you wish to use. Crop, then save.
Step 4
Go to the Capcut app, edit your video, then call up the screenshot from Twitter from the Mixer.
Step 5
Place the screenshot on top of the video, go to Lighting > Opacity to make the screenshot transparent.
Step 6
Choose your preferred animation. Go to TikTok, select upload video, select the video you have created, add your preferred song from the Add Music section of TikTok.
Step 7
Click on Next, add your textual caption, add emojis if you want, and you are done. Your quote video will be uploaded like every other TikTok video.
How to Make a Video with Transparent Quotes on TikTok
How to Make a Transparent Quotes Video for TikTok
Unlike many third-party apps out there used in creating transparent TikTok video quotes, there are still those that outperform the rest. This is where we would like to introduce FlexClip: a globally recognized online tool for creating transparent video quotes on TikTok. FlexClip comes with interesting features that make it stand out from the rest; they include a no download feature, rich shapes, widgets, and emojis to level up your quote video for TikTok. Below, we have explained how to make transparent quotes on TikTok using the FlexClip in just few steps. Please follow.
Step 1
Go to More, change the aspect ratio to 9:16.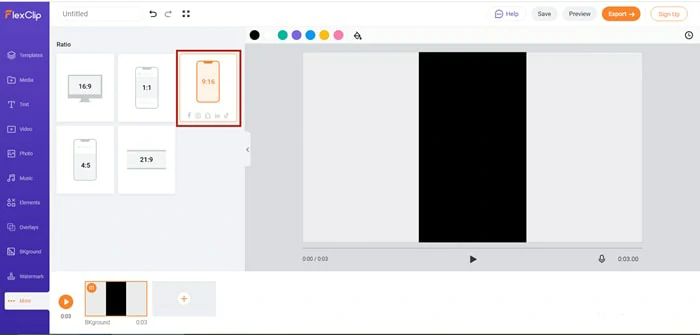 Change Video Aspect Ratio as 9:16
Step 2
Upload all videos to the Media section. Apply the video to the storyboard and then add the quote pic with the
PIP feature
.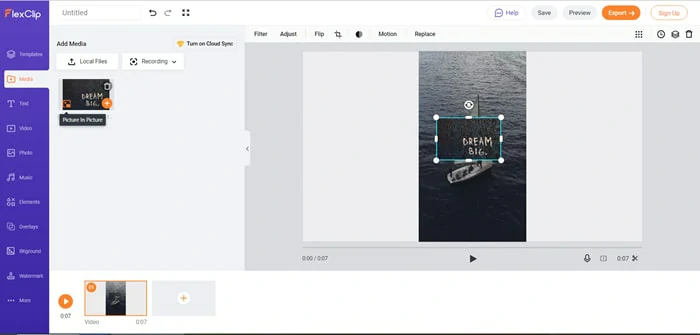 Upload Footage and Add Quote to FlexClip
Step 3
Go to the transparent section and change the opacity ratio to give the picture a transparent look. Adjust the exposure and contrast to perfect the quote in your video.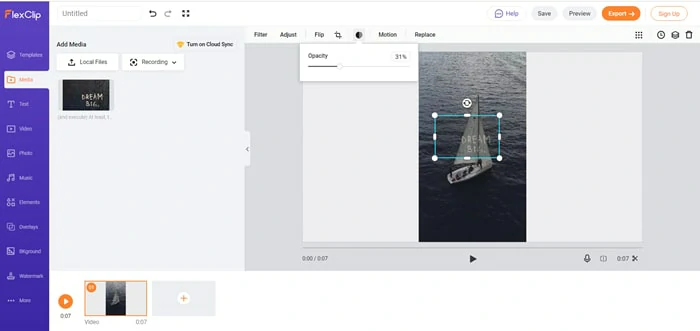 Change Opacity Ratio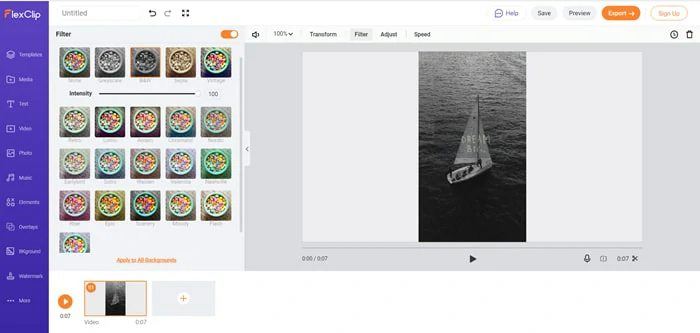 Make More Edits to Your Video
The Bottom Line
Quotes have become a major aspect of our daily lives; it gives us a reason to keep going, even when we don't have a reason to. By creating an inspirational quote using the TikTok video quotes, or viewing quotes created by someone else, you are directly or indirectly making the world a better place. And to perfect this art, we will once again recommend using FlexClip for optimum performance. Finally, it is also important to state that you can also use FlexClip to create amazing videos on social platforms like YouTube, Facebook, and the rest. Stay motivated.