Videos allow you to give your message authority and a more personal touch. You are far more likely to connect with your audience on an emotional level when you use video over other content. Not only does making video help you see the world through different eyes, but it also helps you discover how to capture dynamic, moving images instead of just static images. To grab your audience's attention before they keep scrolling, video can be your best asset. Because they allow you to communicate a message in just a few seconds, videos are more efficient than text-based content in this regard.
Shooting a video about love is a very romantic way to show how much your partner means to you and make them feel special. A personalized slideshow with music and animation will always please your boyfriend or girlfriend. It is important to understand how to build, serve and engage your partner.
Honeymoon Slideshow
Slideshow Of Love
Best Love Video Makers Also Worth Trying
How To Make A Love Video With Pictures And Music?
Let your loved ones know that you care about them and that they are always on your mind. Use the FlexClip to ensure your love is expressed as directly as possible. You don't have to be a professional editor as this app does it all. You have access to all FlexClip's love video templates to get started easily. Moreover, FlexClip is an easy to use video editing tool. Any edits can be done in clicks. What's better, FlexClip has great royalty-free music, photos, and video resources.
Since FlexClip is a browser based video editor, you don't have to download anything to your computer. Click on the Create a Video button, you can get started.
Steps to Create a Love Video:
Upload assets to the media area and add them to the timeline. My media on your homepage is your storage area for video IMAGES and audio files. Files in My Media can be private or public.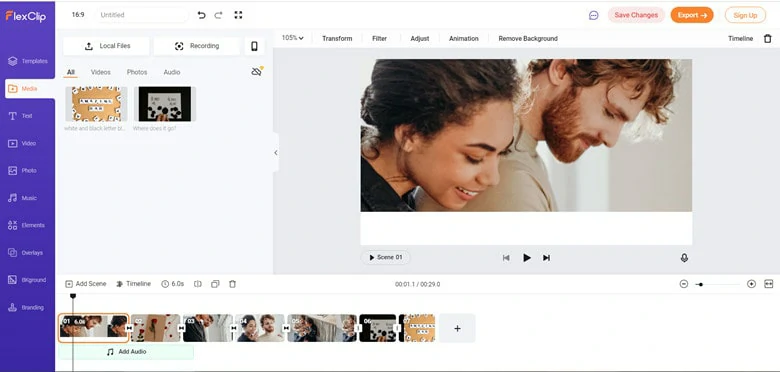 Create a Love Video - Upload Assets
After uploading, the next thing you should do is making basic edits on these clips so that they look better. Basic edits like trimming, adding filters and more.
Video trimming will help you remove any unnecessary frames at the end or beginning of your video clip, leaving content that your viewers might enjoy. You can trim the video by just dragging the slider. Go to Adjust section, you may add filters, saturation, exposure to make the clips look better.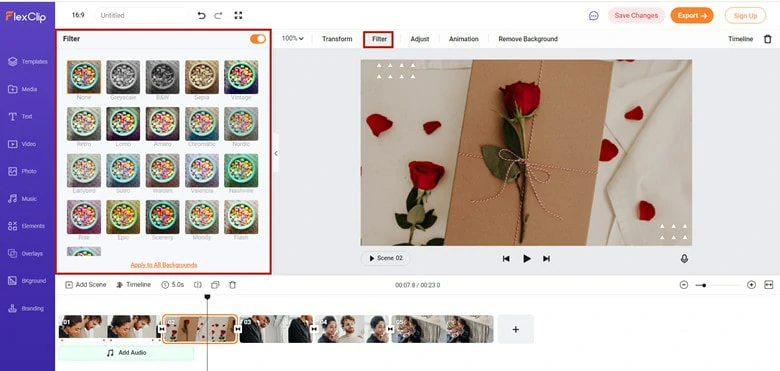 Create a Love Video - Edit the Clip
Add video transitions that create an explicit connection between ideas, sentences, and paragraphs. Good transitions use specific words. Click on the small icon between each scenes, you have access to numerous transitions.
Create a Love Video - Add Animations
Add a title, and everyday textual content, or pick out the handwriting font. Use them to bolster your feeling toward your other half.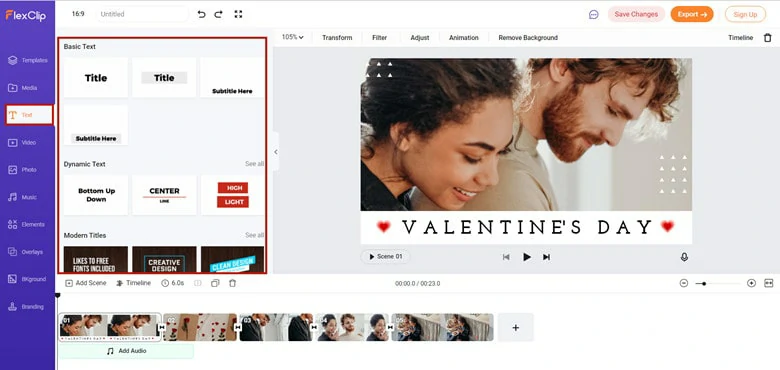 Create a Love Video - Add Text
The music Background performs a crucial position in touching up videos. To include music in your videos, select one from the library or your PC and adjust it to make a romantic flow.
Create a Love Video - Add Music
Once you've created your video and are happy to publish it on your chosen platform, all you have to do is export it.
Best Love Video Makers Also Worth Trying
Renderforest:
Renderforest is an all-in-one branding platform that combines video creation, logos, mockups, and websites in one single place. However, most of the advanced video editing features are missing or have limited options. It follows a pay-for-service model and to access some premium features, the user has to pay a certain amount.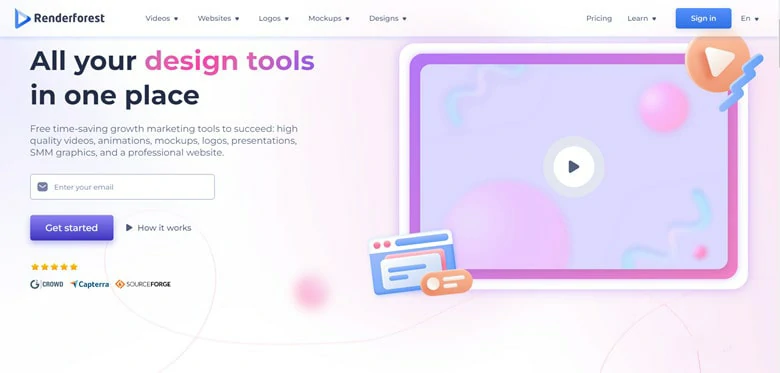 Best Love Video Makers Also Worth Trying - Renderforest
MotionDen:
MotionDen is a web-based animated video maker that allows you to easily create intros, slideshows, video ads, and real estate video listings, However, there is a downside to using video software: you cannot achieve the quality of professionally produced videos with standard video making software, they are a bit pricey for some budgets.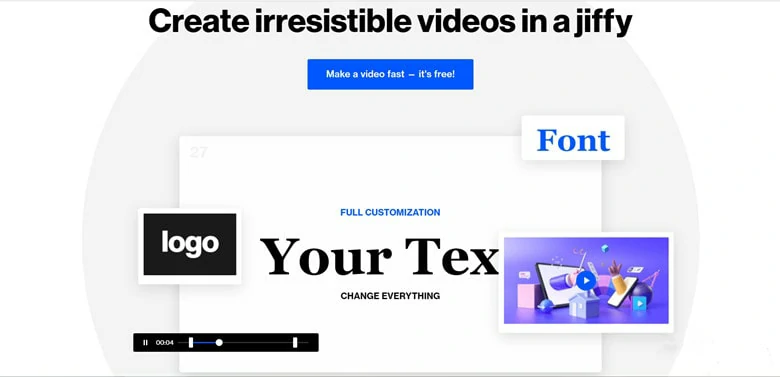 Best Love Video Makers Also Worth Trying - MotionDen
Fastreel:
Fastreel is a love video maker with a simple interface that allows you to easily create a short and cute romantic clip for your lover. However, the free version has limited features including low video quality. The videos in your free version have a watermark that you cannot remove.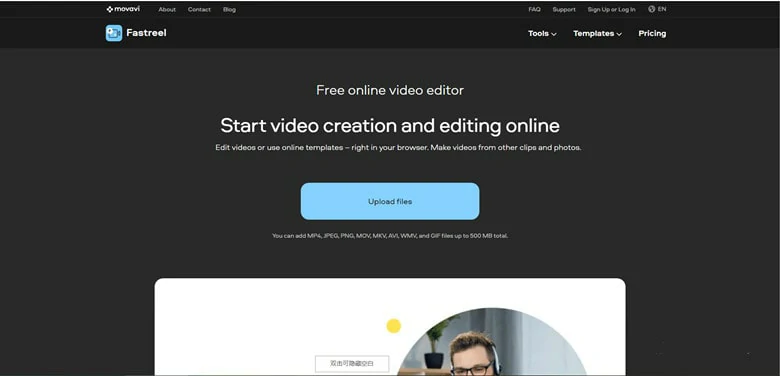 Best Love Video Makers Also Worth Trying - Fastreel
Typito:
Typito is a video editing application to animate movies, series, or clips. It's a powerful tool that makes animation on a phone much easier. but the free version has a watermark, you cannot customize the content. It has very basic editing features.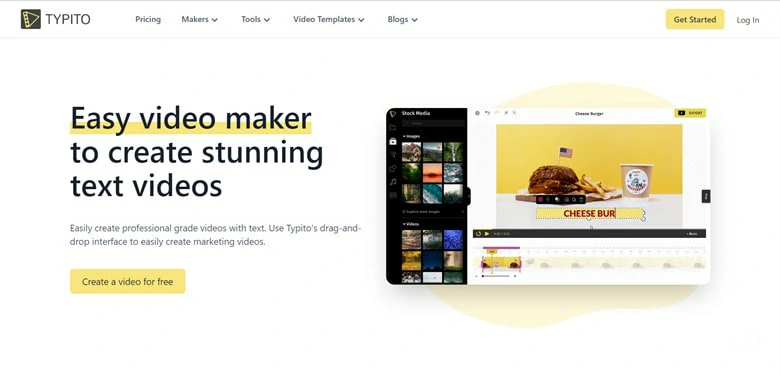 Best Love Video Makers Also Worth Trying - Typito
Animaker's:
Animaker's interface is quite easy to use. Everything is understandable without a tutorial and all the functions are intuitive. But the quality of the videos isn't up to par unless you subscribe to the more expensive packages. It runs with a lash player which makes working with it very slow and tedious.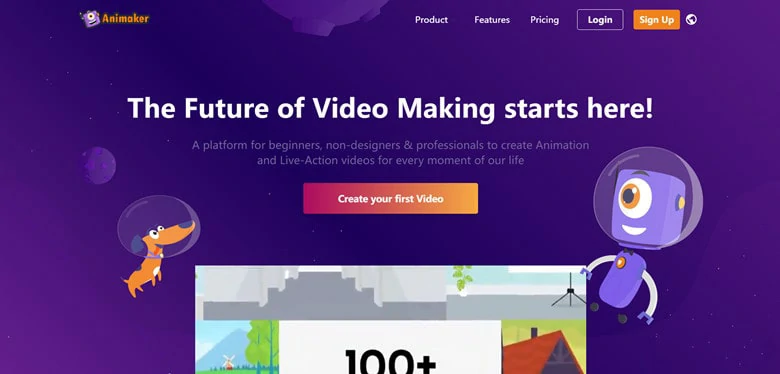 Best Love Video Makers Also Worth Trying - Animaker's
The Bottom Line
Each video editor is designed for its purpose. Your job is to determine which one best fits your business goals and make the most of its features. We recommend using FlexClip to create love videos to convey love without delay. Use videos to show your exquisite and deep love for your partner, parents, children, friends, and even nature. Expressing love helps you get closer to the people or things you love. Video editing won't bother you as FlexClip puts comprehensive resources and easy-to-use tools at your disposal. Now make your exclusive love videos that follow your heart. Don't forget to share your experience with friends!