Lip synchronization more commonly known as lip syncing is the act of moving your lips in synchronization with an existing song or pre-recorded dialogue. That's to say, you don't have to be a music prodigy to create an amazing music video. You don't even have to know how to sing!
In the age of advanced technology and social media, there are thousands of lip syncing videos on the internet. It's enjoyable to watch and fun to make!
There are so many iOS and Android-based apps that let you create a lip sync video as fast as 5 minutes. These lip syncing video makers are user-friendly too. In this article, we are going to introduce you to some of the best lip sync apps that are good for both iPhone and Android users. Let's dive in!
Also Read: Killing Video Content Ideas You Must Try >
How to Make a Lip Syncing Video for TikTok/YouTube
There are so many options available in the market for lip syncing video makers. It can quickly become overwhelming with the sheer number of options available. However, FlexClip stands out from others.Here are the reasons why FlexClip wins recommendation as the best lip syncing video maker.
1) It has a hundred royalty-free music resources that are available for all to use.
2) FlexClip has quick, easy, and user-friendly adjustments on the audio and video, including the syncing. 
3) There are several aspect ratios that you can choose from that help you create lip syncing videos for all platforms such as YouTube, TikTok, Instagram, and more. 
4) Improve your lip syncing videos using our powerful video editing tools that help you level up the video. These include numerous filters, transitions, and widgets to choose from.
Now, click on the Create a Video button and follow us to create a lip sync video with FlexClip.
Step 1
Choose your video and upload it to the Media section and apply to the storyboard.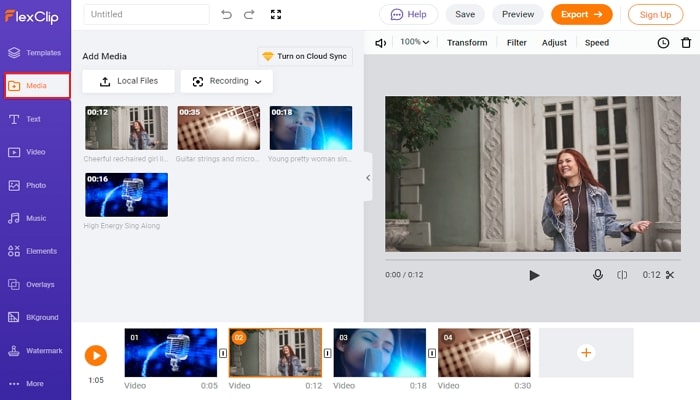 How to Make a Lip Syncing Video - Step 1
Step 2
Add the audio. By default, the music will be played in the beginning of your video. However, you can absolute control over the starting play time by dragging.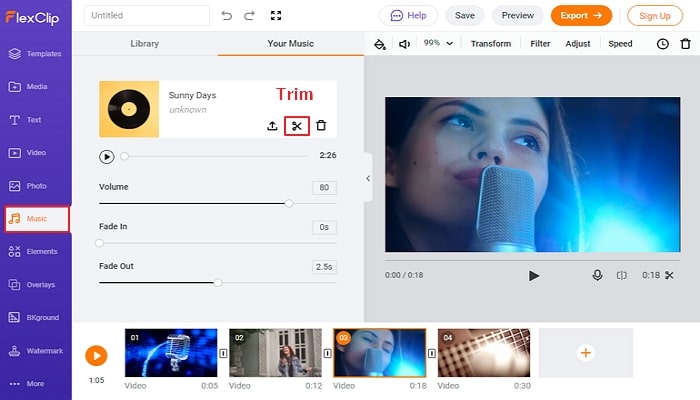 How to Make a Lip Syncing Video - Step 2
Step 3
Customize your video by
adding text
, background music, stickers, or
transitions
. You can customize your lip syncing video with these available options.
Step 4
Once you're done recording and customizing, download your lip sync video and choose form the various ratios available.
There we go! Now you have your lip sync video. Share it online with your friends. 
Other Lip Syncing Video Makers You Must Try
Aside from FlexClip as your lip syncing video editor, there are several other applications and software worth trying. Here's a list of five other options you can try out.
1. TikTok
TikTok is not only one of the video sharing platforms, but also one of the most popular lip syncing video makers. It has a huge library of free audio and music that you can choose from. Additionally, it has a user-friendly interface that makes it easy to film, edit, and share. 
Click on the + icon located near the bottom of the screen to grant you access to the video recording options. Then choose a song or pre-recorded dialogue from its library of audio. You can then have the option to shoot with the chosen sound. Tap it to begin recording your video. Some other editing features are also available. Once you've edited the video to your liking, hit the post button to share it with your friends.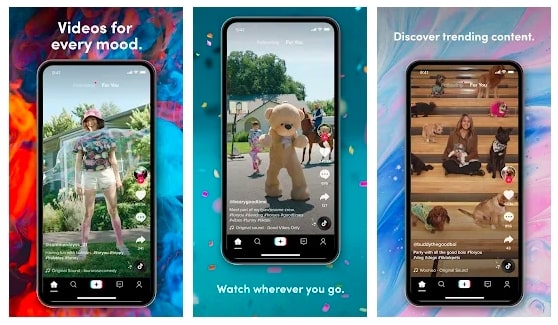 Best Lip Syncing Video Maker - TikTok
2. WOMBO
Another lip sync video maker is Wombo. It is the world's best AI-powered lip sync app according to reviews.
It is free for users and is user-friendly. All you have to do is to pick a song and a photo of you or your friend and let Wombo work its magic. Wombo makes the image lip sync to the video or song. The result is a hilarious and fun video that you can share with your friends online. 
Although there have been issues regarding the privacy of the users, the team at Wombo ensure that all the data gets deleted once the video is downloaded by the user. Additionally, no data is shared with anyone else aside from the user.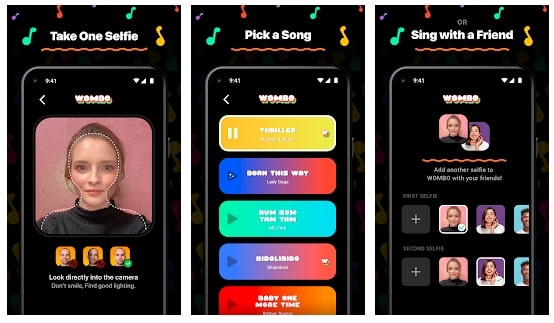 Best Lip Syncing Video Maker - Wombo
3. Dubsmash
Aside from lip syncing to music videos or songs, there are hundreds of famous movie or TV quotes that you can lip sync to. You can quickly search for inspiration for your video by checking the videos that other users have made and posted publicly.
Once you have chosen your song or movie dialogue, it's pretty straight forward to record yourself lip syncing to the audio. There is also an option to save your video to your phone or laptop aside from sharing it on social media.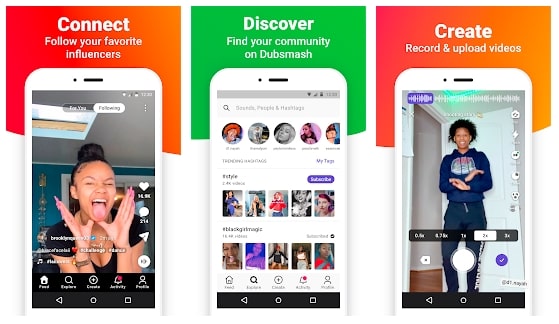 Best Lip Syncing Video Maker - Dubsmash
4. MuStar
MuStar is another great option for your lip syncing video maker. This app is available for iPhone and Android users and lets you make unique lip-sync and dance clips game mechanics.
Additionally, it allows you to choose your favorite music or songs and dance to the music in front of your mobile camera. MuStar also has cool effects and filters that you can add to your video to make it even more entertaining.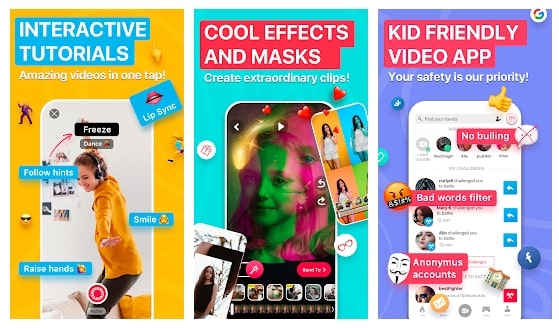 Best Lip Syncing Video Maker - Mustar
5. MeMelody
A cow singing "Happy Birthday" or a bird beatboxing, or your dad singing heavy metal. You can create these fun and entertaining lip sync videos all through MeMelody. 
MeMelody is a user-friendly app that makes lip synchronization easy and fun to use with its unique and reusable automation.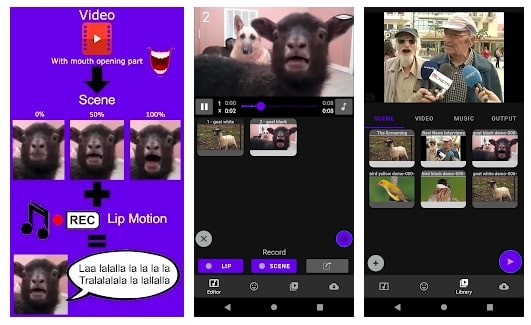 Best Lip Syncing Video Maker - MeMelody
The Bottom Line
Each app we included in this article provides powerful tools that can help you make a lip sync video effortlessly. Which is the best? Share your opinions with us via Facebook. By the way, FlexClip also helps you create other types of videos, like slideshow, sports video, birthday wishes video. Give it a try.