How to make the still images back to life? Bingo! That is adding the shake effect to give your image an illusion of motion and minimize the background distractions. In this tutorial, we will take you through 3 easy ways to make an image shake in a breeze.
Can't Miss: Three Ways to Make Shake Effect in Premiere Pro>
There are some shaky image templates: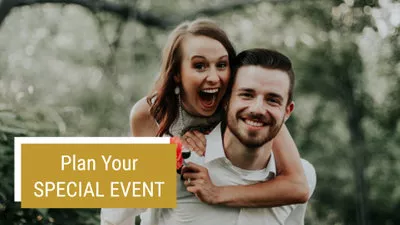 Wedding Event Planner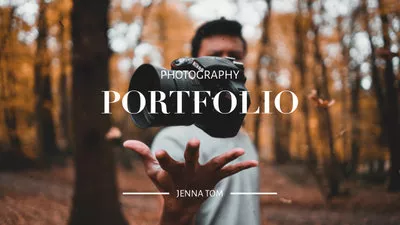 Floral Photo Collage
What is the Shake Effect in Image?
The shake effect is achieved when your camera is moving during the time of exposure. As a result, you will see a blurred part that looks like the subject is moving in your photos - even it's a still subject. As for post-editing, professionals use motion blur to get shaky photos with great ease.
How to Enable Image Shake Effect Online
LunaPic is a simple photo editing platform online that lets you to upload, edit and share photos. Packed with a wide variety of editing tools and special effects, it has the ability to remove photo backgrounds, add stunning filters and make basic adjustments like cropping. As for getting shaky images, you can use the motion blur feature to make it happen. Let's learn how to tweak the motion blur function below.
Step 1: Open LunaPic and Upload Photos
Go ahead to LunaPic official website. In the homepage, click on the Upload icon to import photos for editing. Alternatively, you can upload an image by pasting its URL into the search box.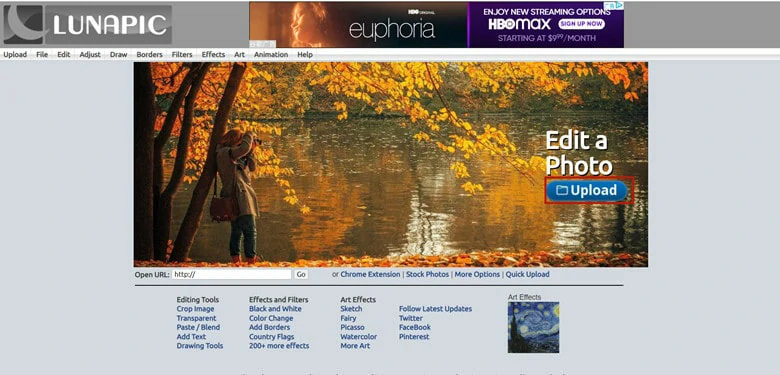 Open LunaPic and Upload Photos
Step 2: Enable the Motion Blur Effect
Once the imported image is loaded, it navigates you to the editor page, where tons of editing tools display in categories. Then hover over to the Adjust panel and select the Motion Blur option from the drop-down menu. Now tap the Apply button to implement the shake effect.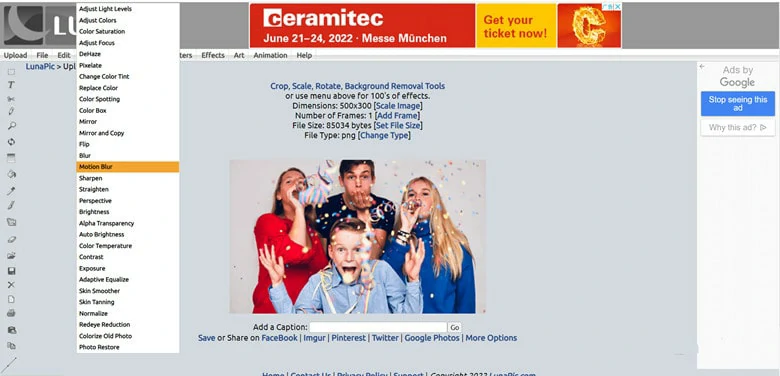 Enable the Motion Blur Effect
Step 3: Make Adjustments and Share Photos.
If you think the default result is over blurred, drag the slide bar to change the intensity until it meets your satisfaction. When finish editing, you can download this image or share it on social platforms with a one-click tap.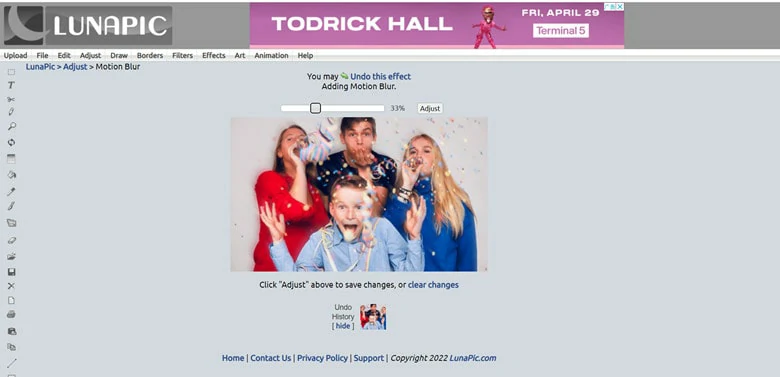 Make Adjustments and Share Photos
How to Add Shake Effect to Pictures with Photoshop
Photoshop is a great option to make graphics editing by bringing a creative version to images. It contains a plethora of features, including some cool shake effects that allow you to enhance your photos. This software has multiple workarounds to add motion blur to photos and here we conclude three popular options for you.
Method 1: Blur the Background to Highlight the Focus
In the Layers panel, right-click the image name to choose Convert to Smart Object option. Then select Filter > Blur Gallery >Field Blur to get a shaky photo by blurring.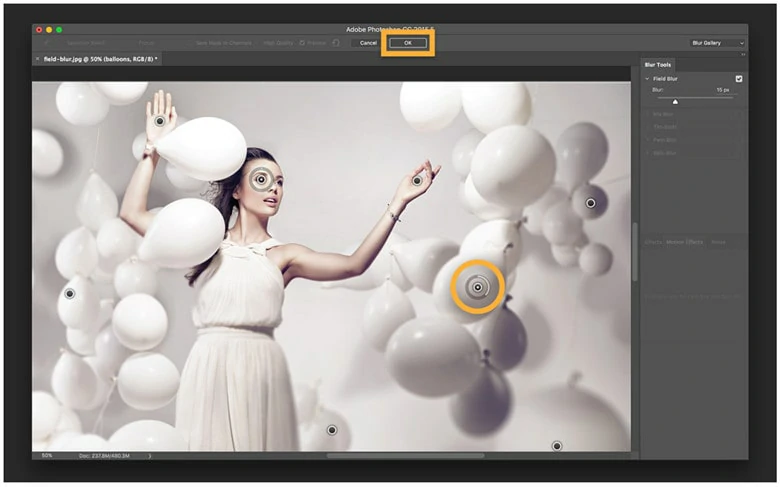 Blur the Background to Highlight the Focus
Method 2: Add Motion Blur to Get Shaky Photos
Click Filter > Blur > Motion Blur and adjust the Angle to make the blur flow match the subject direction. You can use the Distance panel to control the amount of blur and refine details with Brush.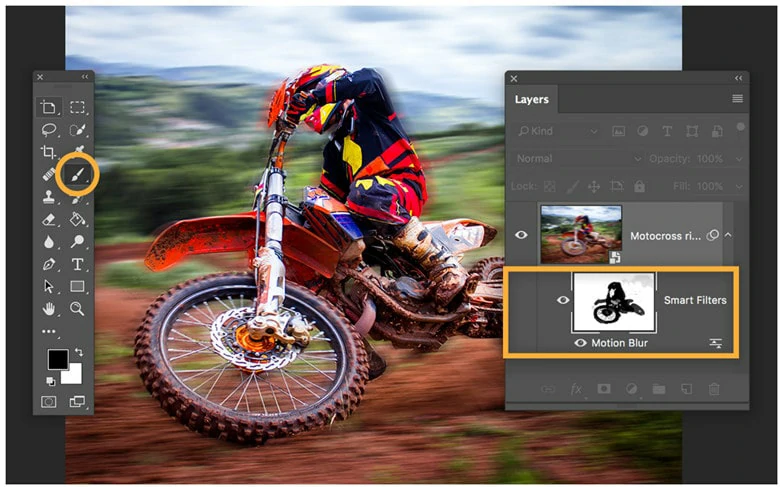 Add Motion Blur to Get Shaky Photos
Method 3: Add Motion Along a Path
To create the appearance of movement on specific parts of the subject, choose Filter > Blur Gallery > Path Blur, which allows you to drag the arrow to control the movement direction.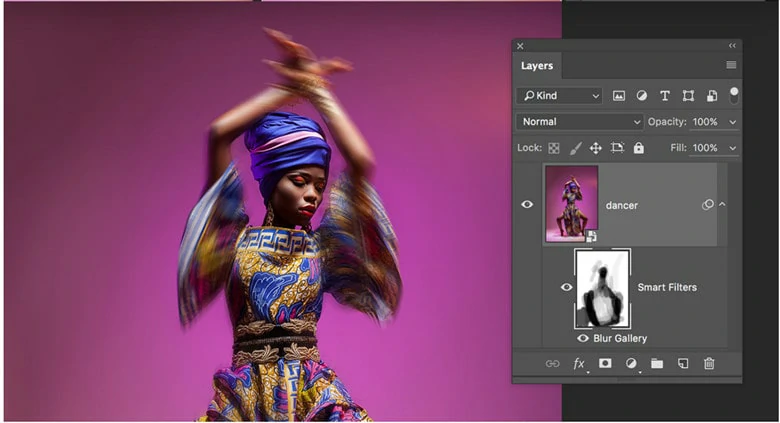 Add Motion Blur to Get Shaky Photos
How to Shake an Image on Mobile with Picsart
If you're looking for a specialized app to get shaky photos, then Picsart is the perfect one. It offers an extensive collection of blur filters such as motion blur, focal blur, lens blur, etc, helping you make parts of your image shaky with a few finger touches. Besides, it has powerful editing tools to make your photos stand out. Once you've applied enhancement to your pictures, you can easily save and share from your mobile phones.
3 Filters to give your photos a shaky look
Motion Blur: As the name suggests, this effect looks great on photos of people and vehicles in motion. Apply the filter and then drag the adjustment sliders to increase or decrease the intensity of the effect.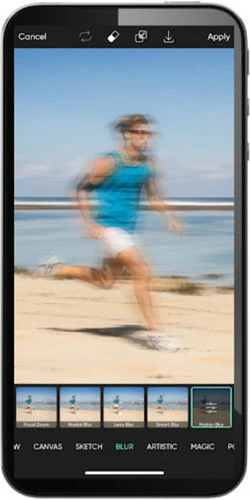 The Motion Blur Filter of Picsart
Focal Blur: This radial effect distorts the dimensions of your photo a bit for an in-motion look and is ideal for images with subjects in high-speed settings.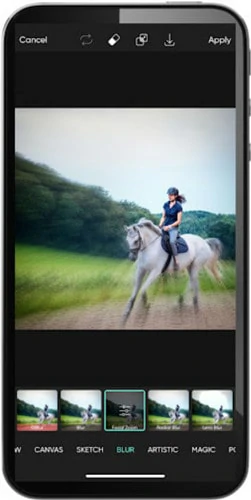 The Focal Blur Filter of Picsart
Radial Blur: This filter creates a shaky frame by turning your photo into a spinning vortex, which is suitable for planes, trains and automates with high velocity.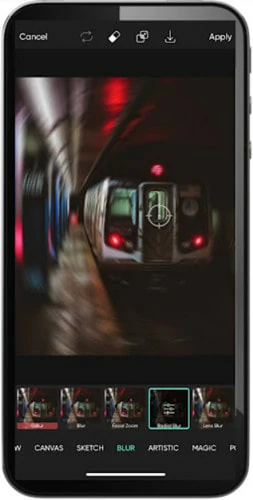 The Radial Blur Filter of Picsart
Quick Tutorial on How to Create Videos Online with FlexClip
The Bottom Line
Adding the motion blur is an excellent way to get shaky photos. This article introduces three methods to shake an image online and offline. Pick your favorite one and use it to make your pictures move now!