2x videos are widely used to create a sense of tense atmosphere in sport highlight, add funny elements to your social media videos and shorten the video length effortlessly. It's easy to change a normal speed video to 2x with a simple video speed changer. No need to look further! Here we'll take though 4 ways to make a 2x video on computer, iPhone, Android and also Online. Let's dive in it right now!
Free and Customizable 2x Speed Video Templates for You: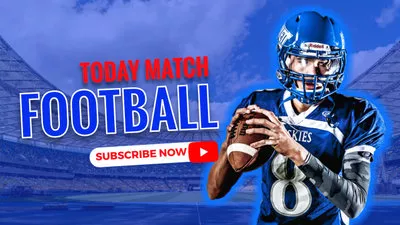 Football Highlight Youtube Intro Outro
Part 1. How to Make a Video 2x Faster Online
If you have yet to find an ideal tool to speed up your video or dislike any software load, then FlexClip is your must-go choice. It's a free and rich-feature video editor that allows you to easily make a video 2x speed in one-click operation: the audio segment, the visual part or both. Besides, if offers a quick solution for sharing your 2x videos on social media platforms like YouTube and TikTok. No editing experience needed. Check the steps to speed up your videos using FlexClip.
Step 1
Import your video footage to FlexClip and apply it to the timeline. Detach the audio from your video if you only want to speed up the soundtrack/visuals.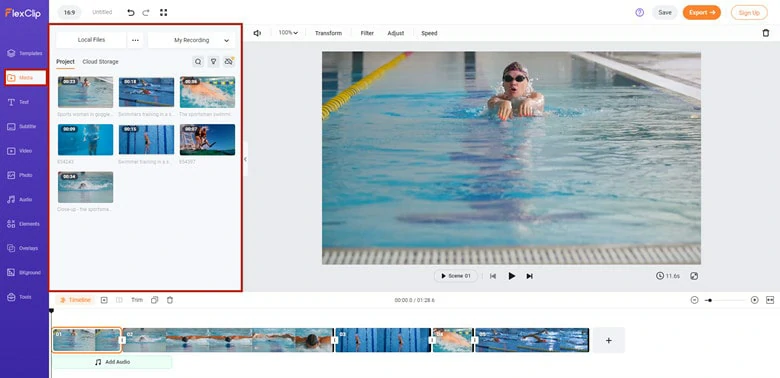 Upload Footage You Wish to Speed up to FlexClip
Step 2
Go to the Speed panel and drag the sidebar to speed up the entire video to 2x. If you want to change speed of your portion video, you can trim or split it into small parts, then use the speed control tool to make it at 2x speed.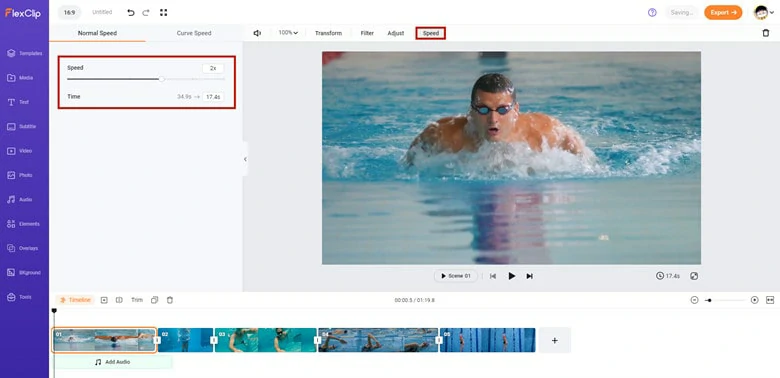 Change the Video Speed to 2x
Step 3
To help your viewers manage 2x videos better, subtitles are necessary. Here are three easy-to-use workarounds for you to select: auto subtitle generator, upload a subtitle file or manual add-in. Select the method you like and design the subtitle style with ease.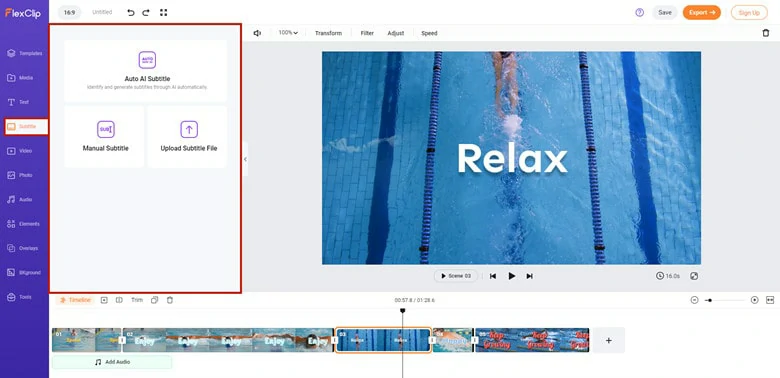 Pair Your 2x Video with Subtitles
Step 4
When finishing edits, export to save your videos at 2x speed or post it via a clickable link on your social media.
It's more often the case that people set different speeds at different parts of video to create a highlight effect. For example, the shot before an exciting movement is usually slow and the next scene will abruptly speed up to emphasize the shot. Want to have a try? Here is FlexClip's curve speed feature for help and follow the steps to learn how to make parts of your video 2x speed.
Step 1
Load the video you want to speed up and drag it to the timeline.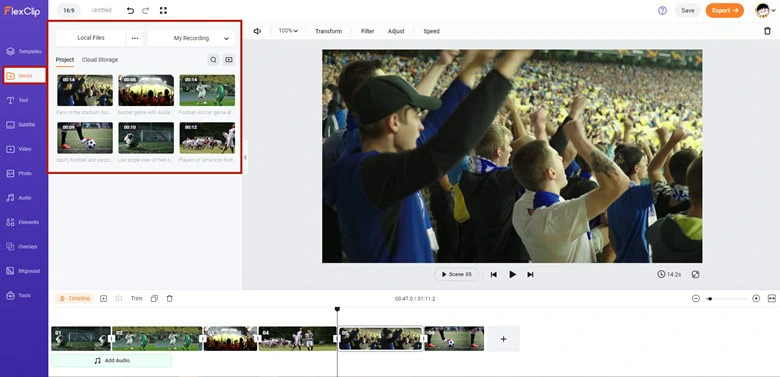 Upload Your Desired Video to FlexClip
Step 2
Hover over to the toolbar and tap the Speed icon. From the pop-up window, switch to the curve speed interface.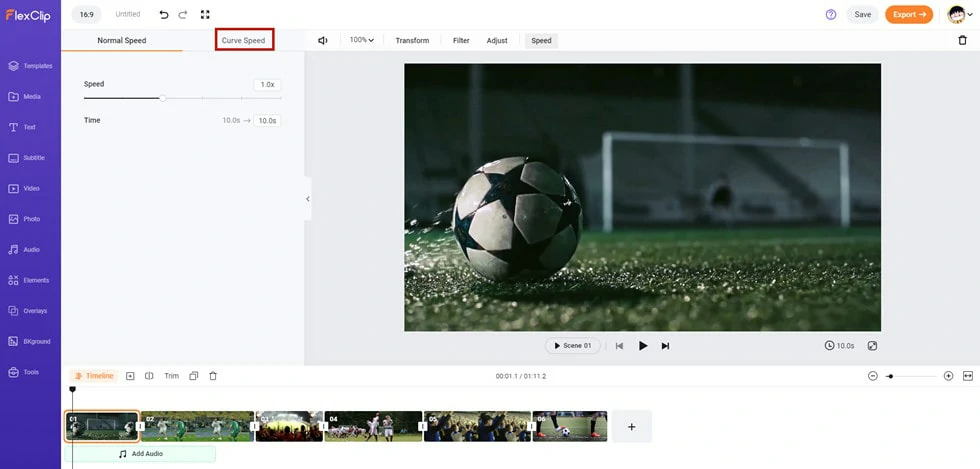 Find the Curve Speed Interface
Step 3
There are six presets (montage, hero time, bullet, jump cut, flash in and flash out) and you can also customize the effect as you want. Here we set the montage option as an example.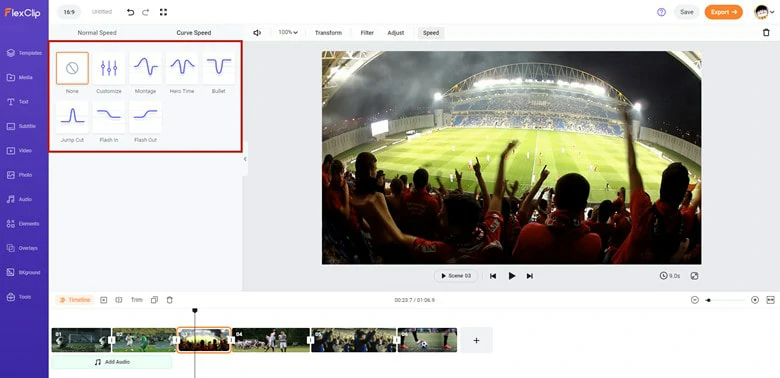 Select your favorite Curve Speed Preset
Step 4
By default, there will be 5 points that control different speeds at different parts. You can add as many points as you want. Here we directly drag the second point to 2x place and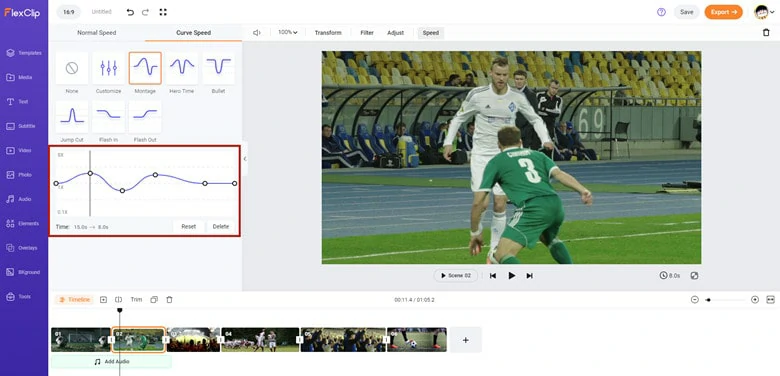 Change the Portion Speed of Your Video to 2x
Step 5
Perfect your video with subtitles, music and other edits. When you finish edits, tap on Export icon to download your 2x speed video or share it with ease.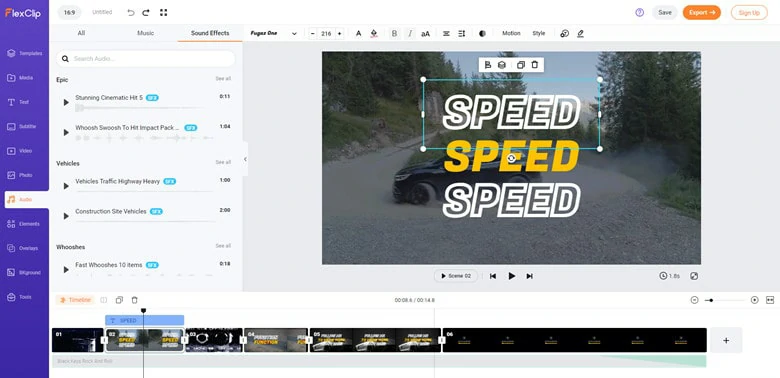 Sound Effects in FlexClip to Perfect Your 2x Video
Part 2. How to Change the Video Speed to 2x on Computer [ Windows & Mac]
When it comes to speeding up videos, Premiere Pro is the first-choice for the professionals. This software stands out for its powerful editing features and flexible parameter adjustments. To make your videos faster in 2x using Premiere Pro, follow the instructions below.
Premiere Pro offers three ways to speed up videos: Speed/Duration Command, Time Remapping and Rate Stretch Tool and here we set the first option as an example.
Step 1
Download and install Premiere Pro to your computer.
Step 2
Import your video and apply it to the timeline.
Step 3
Right click the clip and choose the Speed/Duration option. In the pop-up window, increase the speed percentage as you need and remember to check the Ripple Edit box if there is a gap between two clips.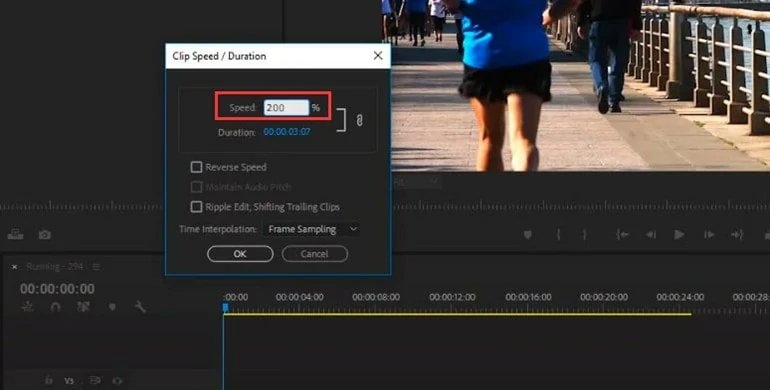 How to Make a Video 2x Speed in Premiere Pro
Part 3. How to Increase the Video Speed to 2x on iPhone
If you're an iPhone user, you have access to one of the best free video editors - iMovie. Many social media influencers and amateur users apply it to create videos at the beginning. This app is pre-installed on your iPhone and provides a speed controller of up to 2x. Follow these instructions to change the speed of your video.
Step 1
Launch iMovie app on your iPhone and open a movie project.
Step 2
Click the video in the timeline and tap the Speed button to reveal the yellow Speed slider.
Step 3
Move the slider right to increase the video speed to 2x. If you only want to change the speed of just a segment of the clip, just split the video into pieces by tapping the Timeline, then Split. Then select the part that you want to modify and change its speed as described above.
Step 4
When you're finished, tap Done to save all changes.
How to Increase the Video Speed to 2x on iPhonee
Part 4. How to Speed up Videos to 2x on Android
Video Speed Changer is a reliable Android app that increases or decreases video speed. When speeding up a 2x video, it allows you to speed up the entire video or select a particular part of the video to edit the speed. After that, you can share the edited videos directly on social media.
Step 1
Download Video Speed Changer to your mobile phone from Google Play.
Step 2
Open this software and tap the Select Video option to load your video.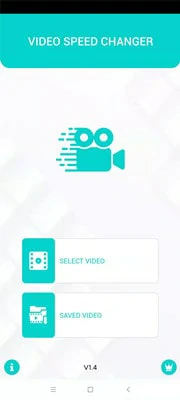 Open Video Speed Changer on Your Phone
Step 3
Press the video and the speed controller icon will appear and scroll down the circle shape to apply the 2x option. If you want to speed up the whole video, you need to move the slider to cover all the segments.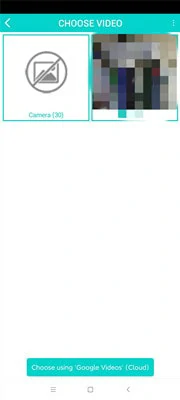 Choose the 2x Speed Option
Step 4
Hit the checkmark to save your changes and it takes a few moments to render the video. After that, preview the edited video.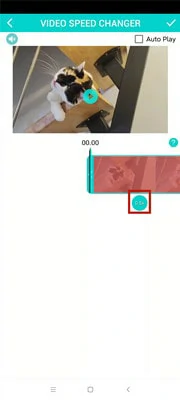 Save Your Changes
Step 5
Share the video directly on social media or save it to your photo library.
Export Your 2x Speed Video
For Samsung users who want to increase the video speed to 2x using Samsung Gallery, simply launch the gallery app on your mobile and open the video whose speed you want to change. Then Tap on the Edit icon at tbe bottom of your screen and speed up your video to 2x at the Speed panel. After that, hit on Save icon to save all your changes.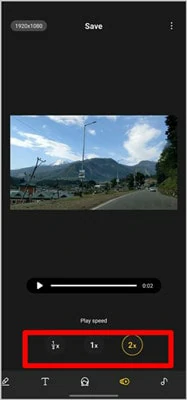 How to Increase Video Speed to 2x on Samsung
Part 5: Frequently Asked Questions
1.How to Speed up YouTube Videos to 2x?
If you're watching a video on YouTube, it's easy to speed up the video with the playback speed feature. Tap the Settings icon and choose the Playback speed option, then select the 2x button to speed up the video you watch.
2.How to Make a 2x Video on TikTok?
TikTok allows you to create a video of 2x speed. To do this, open TikTok on your mobile phone > Tap the + icon on the homepage > Select the Speed icon > choose the 2x option > Tap the Record icon to shoot your videos.
When finish recording, you'll get a 2x TikTok video. But to speed up a recorded TikTok videos to 2x, you'd better use third-party video editor like FlexClipto do that.
3.How to Make a Slow Motion for Free?
Slow-motion and speed-up are two widely used techniques in video editing. To make a slow-motion video, FlexClip is the easiest tool you can rely on. To decrease the video speed, you just need to upload the video, then drag the speed controller to any speed option you like. After that, you can make further edits or easily share the video.
The Bottom Line
That's all for how to make a video 2x speed on a computer, Andriod, iPhone and online. To quickly change video speed, FlexClip is a reliable and free option for you. Can't wait to edit your videos? Now, it's your turn!