Do you know how important music is for an Instagram Reel to go viral? The truth may cause your jaw to drop. According to LaterBlog, an Instagram reel with music contributes to evoking emotions and getting more views. At the same time, Instagram's algorithm prioritizes content that incorporates more than just static images, such as Reels and Stories containing audio, and shows it to a wider span of users.
But how to add music to an Instagram Reel? Where to find trending music? Well, that's what we talk about today, providing all the things that matter to put on music on Reels. Let's explore it right know!
Free and Customizable Instagram Music Templates for You: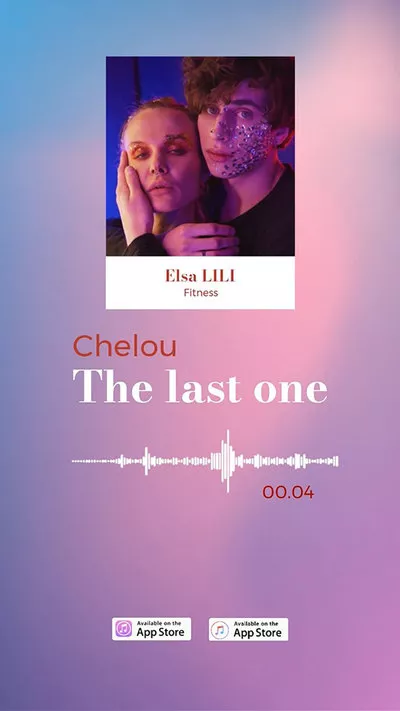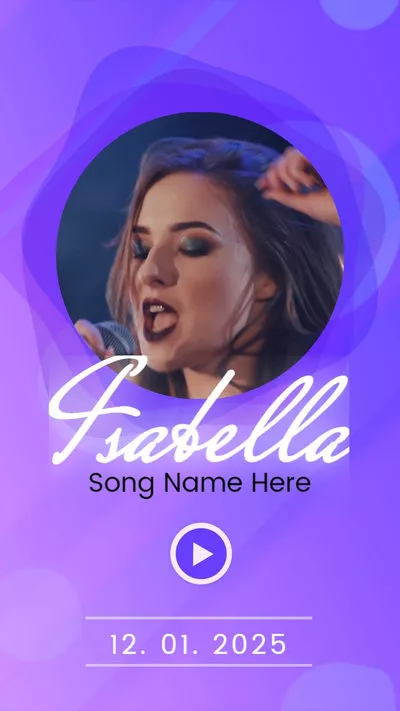 Can't Miss: How to Add Music to an Instagram Story>
1.Add Music to Instagram Reels from Instagram Library
Instagram includes a collection of popular soundtracks you can use in your Reels. You can add music either before recording or while recording. Here follow the steps below to create your Reels with music in minutes.
Step 1
Launch Instagram and Enable the Reels Feature
Open your Instagram and tap on the Stories icon, then at the bottom slide to select the Reels icon.
Step 2
Record Reels and Find Music Option
When you finish recording, you'll see a bunch of feature icons on the screen. Move to the Music option to choose background music.
# On the "Saved" section to pick sound from your added collection
# Browse songs Instagram recommended to you
# Use the Search Music function to get particular music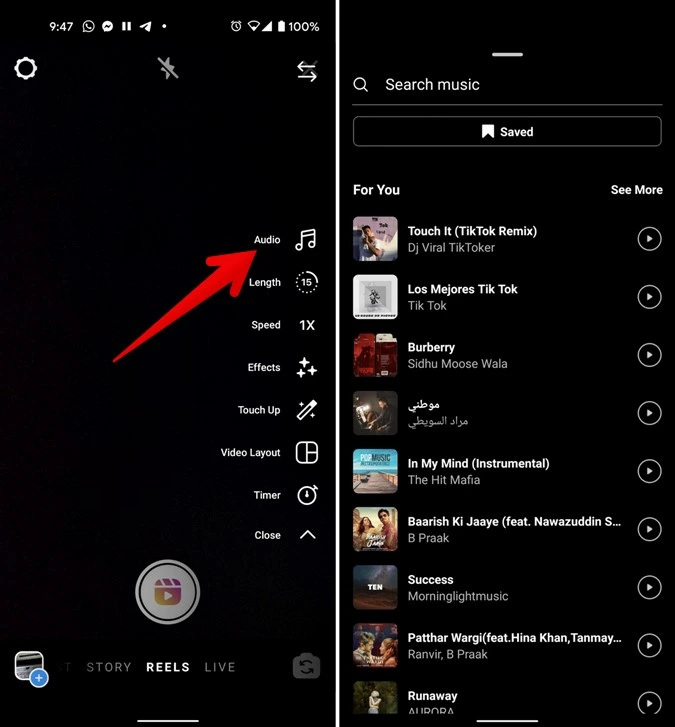 Credit by:https://techwiser.com/
Step 3
Add Music to Your Instagram Reel
Once you've selected the music, the editing page will appear and you can drag the slide bar at the bottom to find your wanted part of the song. To make things easy, Instagram lets you know about the most popular part of the song. For that, look for the pink dots on the slider.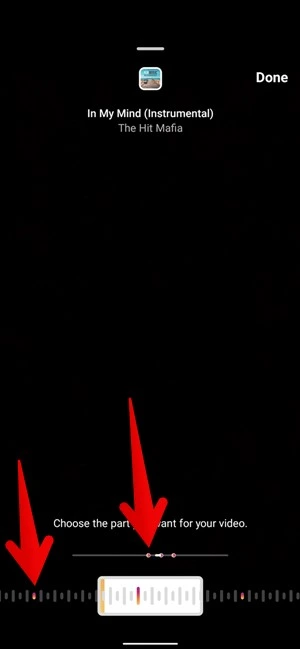 Credit by:https://techwiser.com/
Step 4
Add Effect and Share
Adjust your Reels by adding effects, texts and other edits. After that, share your video with hashtags, captions and more.
2.How to Add Music from Other Reels
If you're watching a viral Reels video and desire to create Reels with the same sound, here's what you can do.
Step 1
Go to the Reels you like and tap on the music at the bottom of the video.
Step 2
Now record Reels with music in it and that's all you have to do.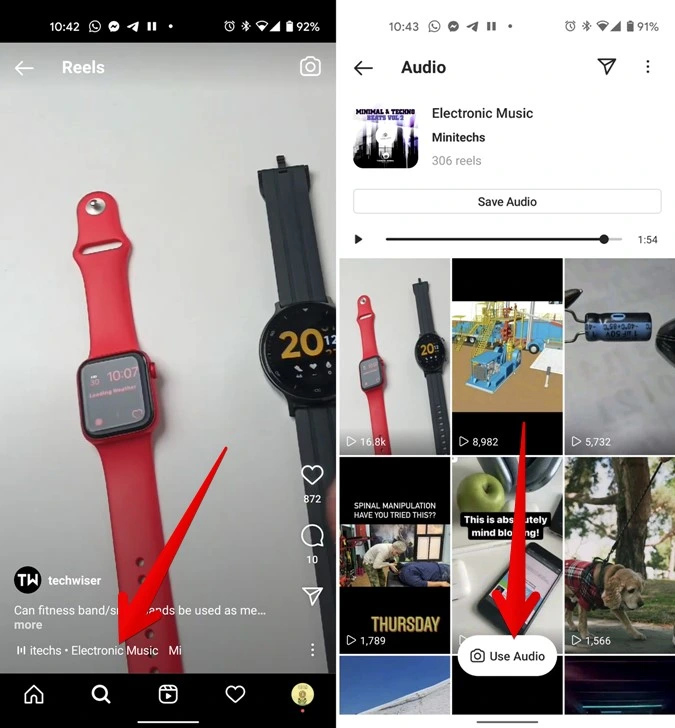 Credit by:https://techwiser.com/
How to Add Original Music to Instagram Reels
Want to use your original music in your Reels? While Instagram doesn't include a feature that allows you to add original audio to Reels, you can still use your original sound with the help of a workaround.
It's simple and straightforward. You just need to play the music using an app on your phone when recording Reels, then the music will be added to your Reels.
Your original audio will be added with your username and accessible to other users. And, if you use an artist's music, Instagram might change the description to show the artist's username or song.
How to Add Music to Only Part of Your Reel
What if you want to add music to a part of your Reel? Or you'd like to have full control over audio segment. Then an easy-to-use third-party video editor like FlexClip is what you need.
With millions of soundtracks, FlexClip allows you to add music from its library or import your original music to your reels, along with edits like trimming, splitting and adding fade-in effect. Besides, there are professional sound effects to help you trigger the viewer's emotions effortlessly. No download or editing skills is required.
Let's learn how to add music to reels using FlexClip
Step 1
Import all the resources into
FlexClip's editor page
. You can also rely on the ready-made Reels templates for free.
Step 2
Once loaded, drag them to the timeline and adjust the sequence if necessary.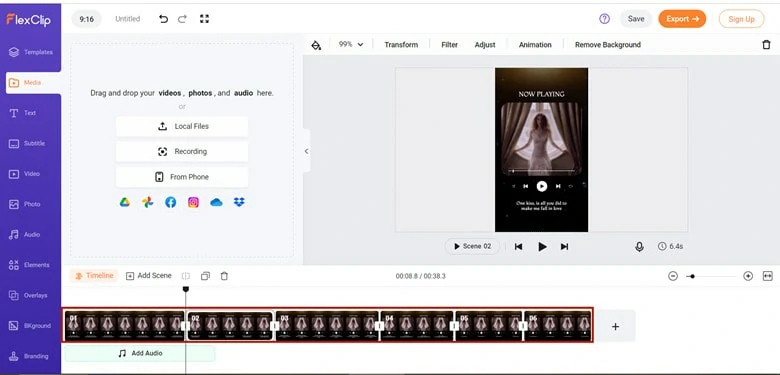 Drag the Resources to the Timeline
Step 3
Tap on Audio to find suitable music and you can also add your original audio to the timeline. Then drag the slider to determine the duration you want to use the
background music
.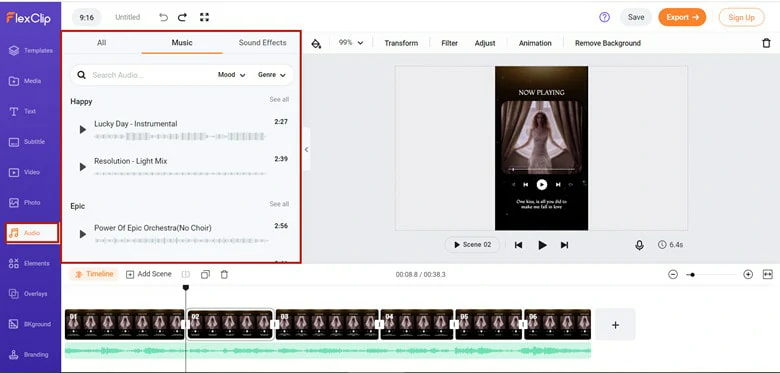 Add Music to Your Reels
Step 4
Shift to the
Sound Effects
panel to perfect your audio with some amazing effects.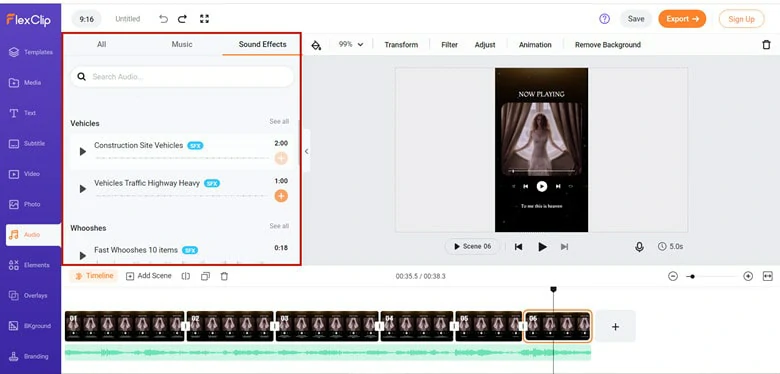 Add Sound Effects to Your Reels
Step 5
Preview the edited video and post it on your Instagram Reels.
While you're in the editor, you can use FlexClip's tools to make any other edits you'd like to your reels:
Add & edit text animation to the video;
Add transition effects, 
filters
 to the video;
Add watermark, overlays & voice over.
Frequently Asked Questions About Adding Music to Reels
1.Why I Can't Access to Music with A Business Account?
If you're using a business account on Instagram, you won't have access to music from recording artists due to copyright issue. So how can you access the right songs for your Reels if you have a business account?  Try creating reels on FlexClip without limitation and then sharing them on your Instagram.
2.Where to Find Trending Music for An Instagram Reel?
We all know that using popular music can help Instagram Reels go viral. But the problem is where to find the trending music. Well, you can explore it by following the tricks below.
3.How to Add TikTok Music to Instagram Reels?
If you can find the same music clip on Instagram, go and record an Instagram Reel containing this popular music. But this audio is unavailable on Instagram, you need to operate as below.
Step 1: Save the TikTok video with the audio you want to use in your reel to your phone's video library.
Step 2: Open Instagram and move to Reel tab. On the right of your screen, tap tap the 'music' icon.
Step 3: Click the Import tab and choose the video with the sound you want to import. Instagram will take the sound from the video and once you have this audio, tap the done option.
Step 4: Start to recording video using this sound and make edits as you like.
The Bottom Line
That's all for how to add music to Instagram Reels with original audio, TikTok trending tunes and Instagram library. To sum up, FlexClip is the best choice if you want to release your creativity without limitation.