Birthday is one of the most critical events in our lives. Creating a birthday video for your loved ones can be a meaningful way of celebrating a person's birthday. However, the chances are that you may find it hard to make a birthday video due to lacking video editing experience. No worry! In this article, we share a powerful tool that can help you make a happy birthday Instagram Story with great ease. Besides, We also offer you some birthday ideas which are conducive to making your birthday video more attractive. Let's check them out!
Happy Birthday Templates for Instagram Story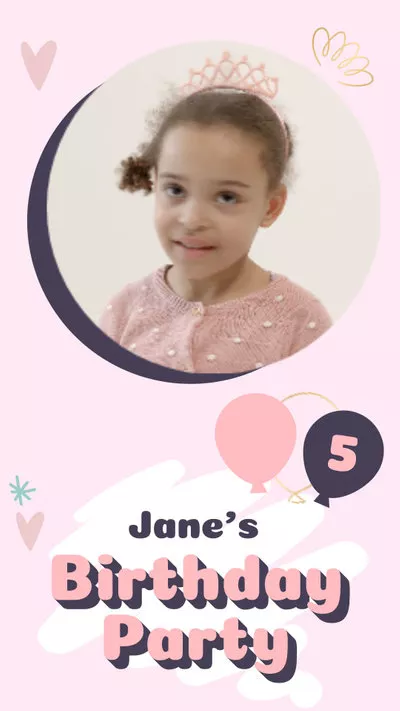 kids-birthday-party-invitation
Part 1: Happy Birthday Instagram Story Ideas
Typography is the art of arranging texts, which makes the texts legible and appealing. Compared with a long sentence, typography is more attractive and capable of conveying specific messages and eliciting certain emotions. Here is an example of kinetic typography.
John Mulaney - Birthday Sign Kinetic Typography
Pay the people a compliment
Most individuals care about how other people think of them. So, you can tell the person how awesome he or she is. Praising words can make them happier on their birthday.
Use old pictures or videos
Old pictures/ videos can always remind people of the precious moments that they have gone through. Hence, it makes your birthday Instagram story more heart-touching.
Don't just use texts or pictures! People are fond of interesting things. So, please try to make the video as interesting as possible, for instance, telling a joke.
Part 2: How to Easily Make a Happy Birthday Instagram Story
FlexClip is a FREE and all-in-one online video maker, offering professionally designed happy birthday Instagram Story templates that is perfect for beginners. Whether you want to make a birthday video for friends, husband, grandma, or kids, you can easily get your project done with the ready-made birthday video templates.
Aside from basic editing tools, you can also enjoy dozens of stylish texts, funny birthday stickers, various transitions, as well as royalty-free background music, and more. When the video is done, it allows you to export high-definition video without quality loss. You can quickly get started by clicking the button below.
Let's see how to make a creative birthday video using templates:
Step 1
Upload your birthday video clips or pictures.
Click on "Media"> Local Files.
Step 2
Choose an export ratio.
Go to "More" and select the export ratio you need. Normally, the 9:16 is perfect for Instagram Story.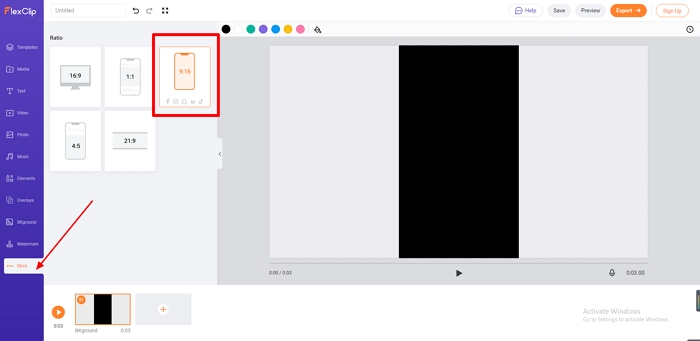 Make Happy Birthday Instagram Story - Step 2
Step 3
Select a birthday template.
Navigate to "Templates" and search for "Birthday." Then, select the birthday template you like.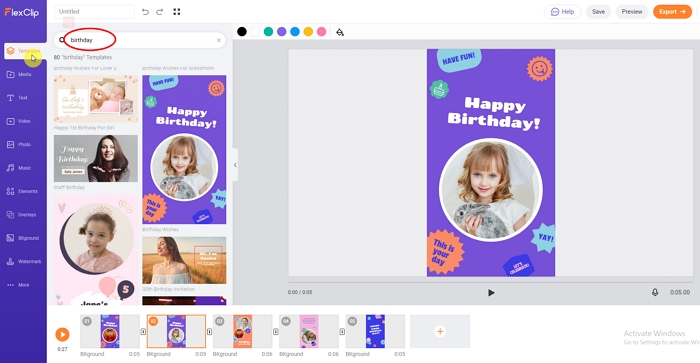 Make Happy Birthday Instagram Story - Step 3
Step 4
Apply your video clips or photos to the template.
Click on "Media" again and drag your picture/video to the editing section where the picture is displayed.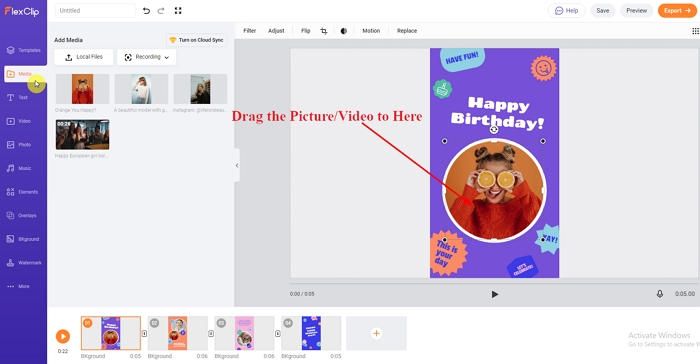 Make Happy Birthday Instagram Story - Step 4
If you want to add more pictures/videos to the template, click on the "Picture In Picture" icon at the bottom-left of the photo and crop it the way you like.

Make Happy Birthday Instagram Story - Step 4-1
After that, you can edit the texts, add stickers and transitions as you desire.
Step 5
Add background music.
Access "Music"> search for "birthday"> select the one you like. Or you can upload your local music.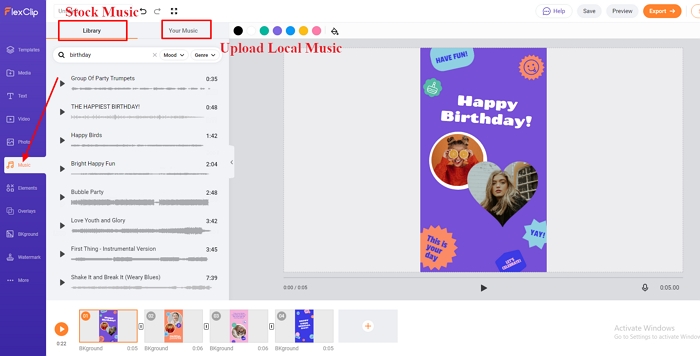 Make Happy Birthday Instagram Story - Step 5
Step 6
Download the video and share it on your Instagram Story.
Hit the "Export" button at the top-right corner of the screen.
The Bottom Line
As you can see, making a happy birthday Instagram Story is so easy as long as you find the right tool. Hopefully, the tutorial and birthday ideas mentioned are helpful to you when you create a happy birthday video for Instagram Story. If you have any other questions, please let us know via live chat, YouTube, Twitter. Now, it's your turn to make an eye-catching birthday Instagram Story. Get started free!