Here in this blog, you will find five of the best online video resolution converters. With any one of them, you can change your video's resolution to 360p, 480p, 720p, or 1080p in easy steps.
Video resolution refers to the number of pixels that can be displayed on the screen. Common resolutions are 480p, 720p, 1080p, 4K, etc. As different devices and platforms have different resolution requirements, in order to get the best viewing experience, we often need to change the video resolution. To do this, you need a video resolution converter.
In the following parts, we'll introduce you to five of the best video resolution changers online so as to help you convert your video to other resolutions in a few clicks.
Also Read: Top 4 Online 4K Video Converters
5 Best Video Resolution Changers Online
First on our list is FlexClip Video Converter. It proves to be the best free online video resolution converter. It not only allows you to change video resolutions but also reduces video sizes. No download or installation is required. Just input your video and set the output resolution as 360p, 480p, 720p, or 1080p. It's worth noting that once you're done with the resolution conversion, you can also do more editing on your video, such as adding text, adding filters, rotating the video, etc.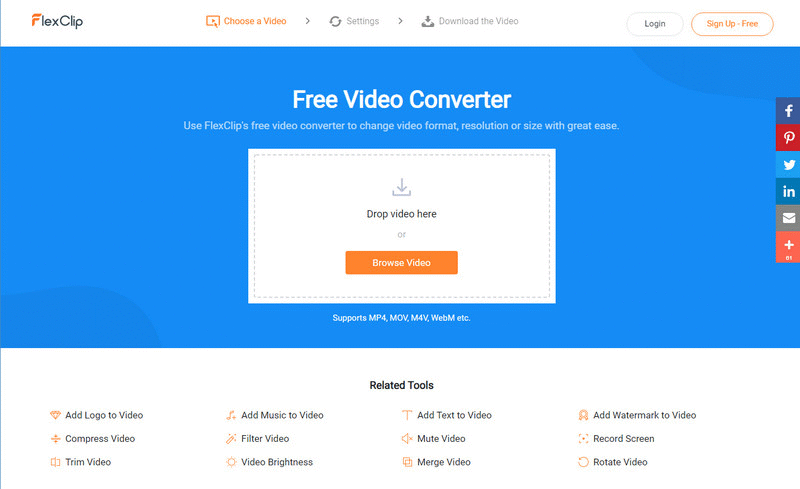 Image Board: Change Video Resolution with FlexClip Video Converter
Step 1
Upload a video you want to convert to FlexClip Free Video Converter.
Step 2
Set your desired video resolution (from 360p to 1080p), format, and quality level.
Step 3
Click the Start button, wait for a moment, and download the result.
2. Online Video Converter
As its name suggests, Online Video Converter is a popular web-based video converter you can use to convert video formats, change video resolutions, and reduce video sizes. A wide range of video formats is supported by the conversion tool. Although it's totally free to use, you can get access to all its features, and there's no limit on the file numbers you can convert. You can also edit file parameters like resolution, video and audio codecs, and output file size.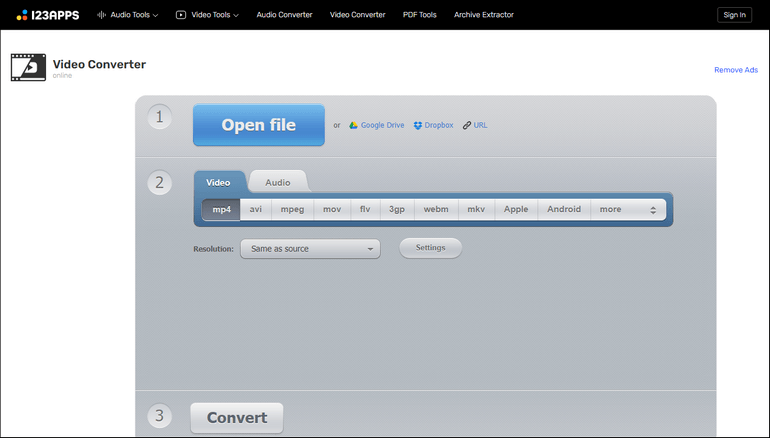 Image Board: Change Video Resolution with Online Video Converter
Step 1
Add a file to the online video resolution converter.
Step 2
Change the video specs: format, resolution, output file size, etc.
Step 3
Convert and download the result.
3. HDconvert.com
HDconvert.com is another video resolution changer worth trying. The conversion tool allows you to convert videos to Full HD and 4K quality at an incredibly fast speed. There's no limit on file size and no software or plugins to download. The downside is, your converted videos come with a watermark if you're a free user. For faster conversions and watermark-free videos, you can upgrade your account from free to premium for a small fee.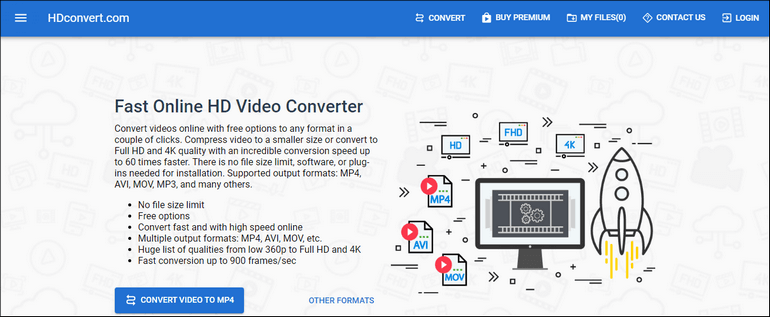 Image Board: Change Video Resolution with HDconvert.com
Step 1
Upload video files you want to convert.
Step 2
Select output format and quality.
Step 3
(Optional) Adjust video settings.
Step 4
Select convert options and start the conversion.
4. Files-conversion
Files-conversion is a widely used video converter fully capable of changing video resolution online. It works in browsers, meaning you don't need to download any software to your PC. The resolution conversion is quick and easy. No sign in or sing up is required. Simply upload a file from your computer, choose a quality level you need, and start your conversion.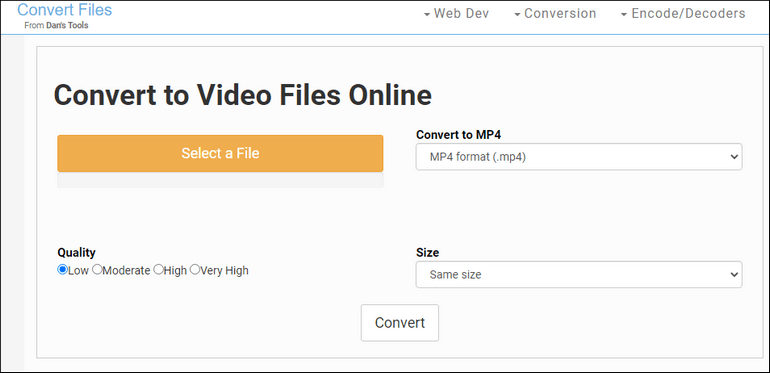 Image Board: Change Video Resolution with Files-conversion
Step 1
Select a video file from your computer.
Step 2
Choose a video quality you need.
Step 3
(Optional) Change video size and format according to your needs.
Step 4
Click Convert, wait for the conversion process, and download the result.
5. FreeConvert.com
Last but not least is FreeConvert.com. It is a decent web-based app for converting video formats from one to another in a few steps. The converter supports various video formats, including MP4, MOV, MKV, and more. In addition to video format conversion, it is also good at changing video resolution. You are allowed to adjust the resolution, bit rate, and other video settings to help you get the best video.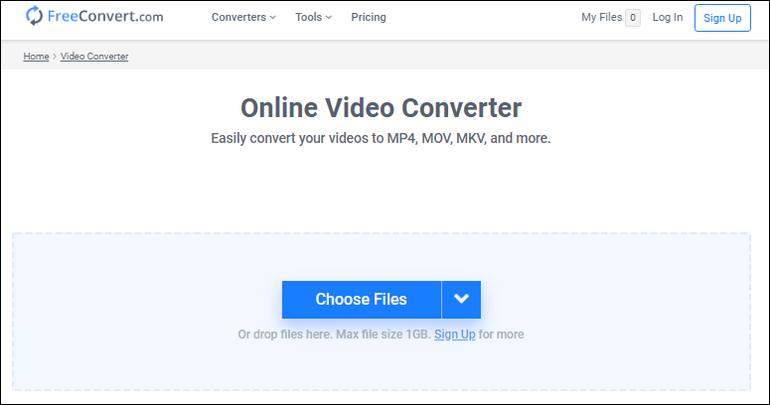 Image Board: Change Video Resolution with FreeConvert.com
Step 1
Upload the videos to be converted to the tool.
Step 2
Click Convert to start the conversion.
Step 3
Wait for the conversion process and download the converted video.
The Bottom Line
Above are the top five online video resolution converters we'd like to recommend to you. Have you found the one you need and want to give it a try first? By the way, FlexClip is a powerful and professional video maker with all the tools your need for video making and editing, making it hassle-free to create a video you're satisfied with. It also provides you with millions of royalty-free media resources that can level your videos up. Give it a try now. No experience or skills are required.