Looking for the best iPad video editor? You've just come to the right place. Here in this blog, you will find five best video editing apps for an iPad. Have a look now.
As the iPad grows in popularity, so does the need for people to edit videos on it. Tools and devices have the same importance if you want to make a good video . As you probably know, of all the iPads, the one best suited for video editing is the iPad Pro. The question is, what is the best video editor for iPad?
Many of the powerful video editors we know, such as Final Cut Pro, don't support iOS, but we do have some iPad-friendly editors to choose from. The following is a list of the top 8 iPad video editing apps. Choose one of the best iPad video editors and let it help you out.
You May Also Like: Best 6 Free YouTube Video Editors on PC/Mac
The thing is, we don't really recommend using iPad or any mobile devices to make edits. Most video editing apps require an enormous amount of computing power, which challenges your iPad's processing speed, RAM, and storage capabilities. If your iPad is not powerful enough, you might find that editing a video on iPad is sluggish, and the application might corrupts from time to time. In this case, we highly recommend an online video editor for computer like FlexClip. You don't need to download anything or register. Powerful but easy-to-use video editing tools help realize all your ideas in clicks. Besides, there are millions of royalty-free media resources that can level up your video. Why not give FlexClip a try?
FlexClip Overview
6 Best Video Editing Apps for iPad
1. iMovie - Free Video Editor for Beginners
iMovie, developed by Apple Inc., is a powerful video editor that works well on Macs, iPads, and iPhones. It is totally free to use and will never add a watermark to your video. It has all basic video editing features you may need and allows you to create a stunning video on your iPad in a few steps. iMovie is the premiere basic video editing app for you if you are new in video editing and don't want to spend money on it.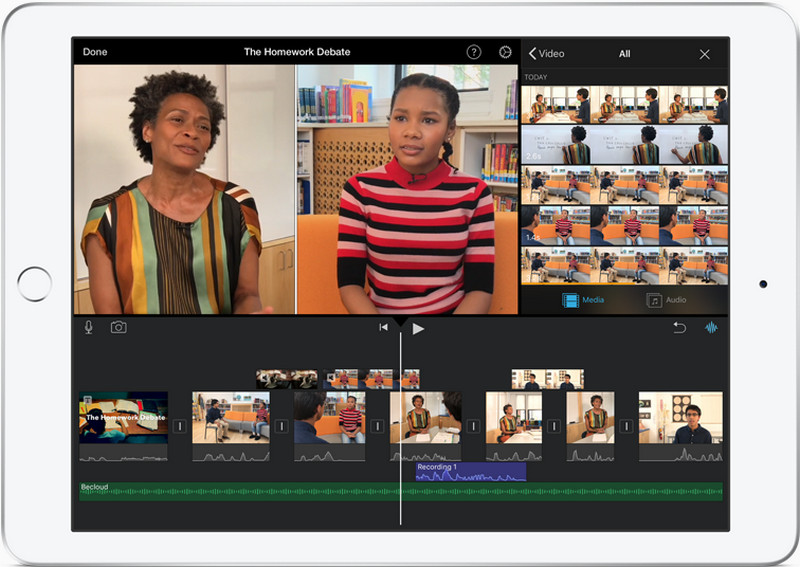 iPad Video Editor - iMovie
Pros:
Free and easy to use.
No watermark and no ads.
4K resolution support.
Cons:
Limited text and transition options.
No video templates.
2. LumaFusion - Professional Video Editor
LumaFusion is a professional video editing app for an iPad. It is a full-featured video editor with an intuitive interface. Mobile journalists, filmmakers, and professional video editors often use this robust multi-track video editor to create compelling video stories. Here are some noticeable features: multi-tracks for video and audio, tons of effects, slow and fast motion, up to 4K resolutions, etc.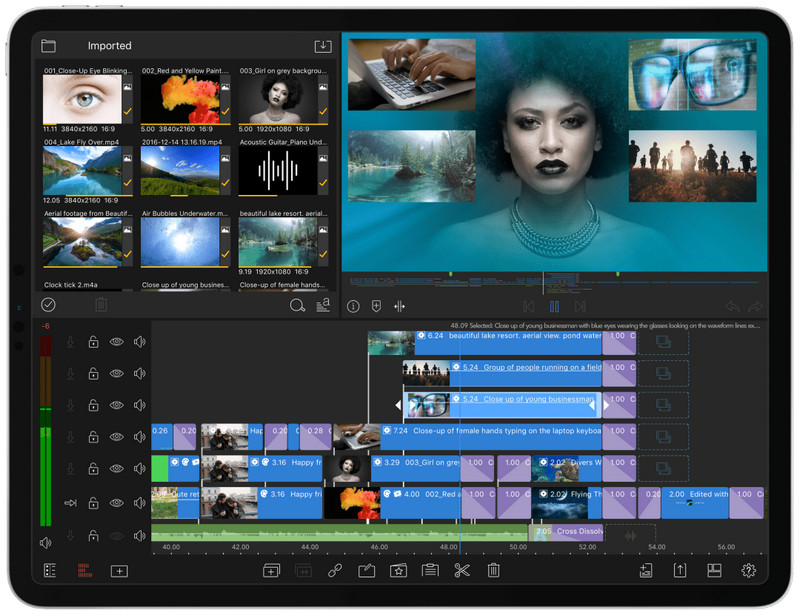 iPad Video Editor - LumaFusion
Pros:
Powerful and professional.
Multi-track video editor.
Loads of effects.
Cons:
Pay to use and no free trial.
Difficult for novices.
3. Adobe Premiere Rush - Ideal for Making YouTube Videos
Adobe Premiere Rush is another iPad video editor we'd like to recommend. It is an easy-to-use, all-in-one video editing tool that can be used on many platforms. With a slogan of "Go shoot. Go edit. Go share.", it is much-loved by YouTube users. Unfortunately, it has limited features with its free version and only allows you to export three videos at no cost. However, you can enjoy unlimited exports and full access to its features and contents at $9.99/month.

iPad Video Editor - Adobe Premiere Rush
Pros:
User-friendly interface.
Up to 100GB of cloud storage.
Cross-platform video editor.
Cons:
Limited features with the free version.
Lack of video templates.
4. Quik - Free GoPro Video Editor
Quik is an iPad video editing app developed by GoPro. It is one of the easiest and free to use video editors to create awesome videos with a few clicks. Simply add some photos and video clips to Quik, choose a video theme that meets your needs, and start to edit your videos. By the way, Quik offers you more than 100 free songs, and you can export videos in resolutions up to 1080p.

iPad Video Editor - Quik Video Editor
Pros:
Free and easy to use.
26 themes and 100+ free songs.
HD 1080p support.
Cons:
Limited text effects.
Basic video editing.
5. Splice - Simple and Powerful Video Editor
Splice also made by GoPro is an easy to use iPad video editor and a video maker. Simple yet robust, the app enables you to create professional-looking videos on your iPad with great ease. There are limited features with the free version. But you can get access to more advanced features with a payment of $2.99/week..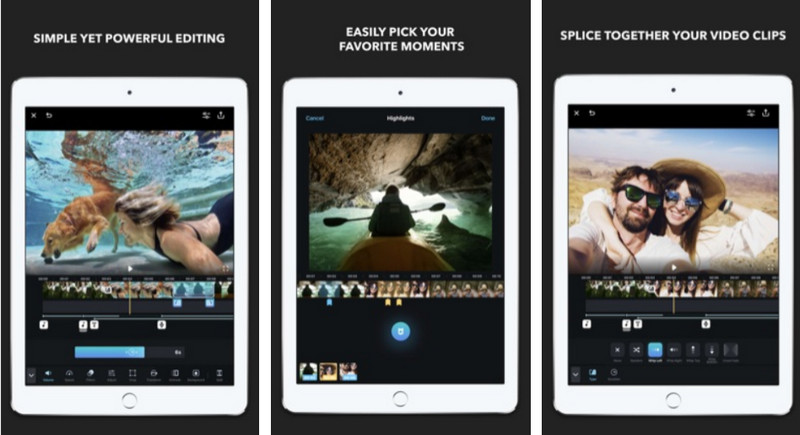 iPad Video Editor - Splice
Pros:
Easy to use.
Choose from 23 video themes.
Free music library.
Cons:
Lack of professional features.
Crashes sometimes.
6. Capcut - Best for Social Media
Capcut is launched by ByteDance to encourage viewers to create more videos and publish on TikTok. Since it is only made for creating videos for social platforms, Capcut doesn't have much video editing tools. The features include auto-caption, body effects, chroma key, keyframe and tracking, 3D zooming. Even though Capcut is a timeline-based video editor, you can only add one video and audio track to it.
The best part of using Capcut is its free, popular resources. You can literally find any TikTok-popular background music, video effects, fonts, memes. Numerous already-made templates will also be there for you to use.
Pros:
Completely free video editing tools.
Mobile-friendly interface
Various stock sounds and animations
Directly export to TikTok
Cons:
add only one video and audio track.
15-minute video limit.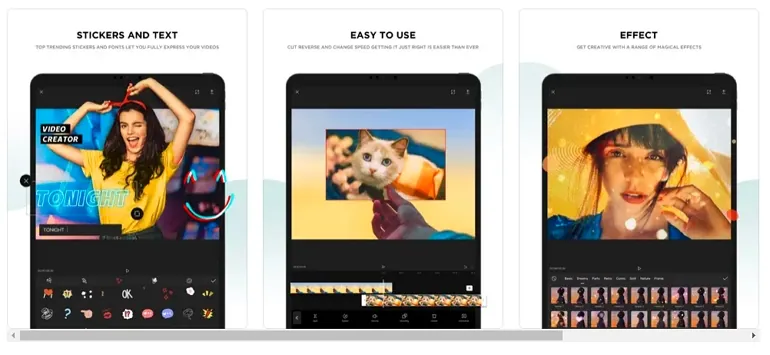 iPad Video Editor - Capcut
FAQs About Video Editing Apps for iPad
1. What is the Easiest Video Editing App?
If you are not familiar with video editing, you can give iMovie a try. The built-in video editor of Apple devices meets your basic video editing needs, such as video trimming and splitting, adding text and music, adding transitions, etc. After editing a video, you can export it for totally free and without a watermark.
Is iPad Pro good for Video Editing?
Yes. The iPad Pro 2020 has a large screen size and runs fast. Besides, it supports 4K video. All these features make it ideal for video editing. As long as you're not to make a long-time, memory-intensive video, the iPad Pro is up to the task.
The Bottom Line
Above are the five best iPad video editors we want to share with you. Have you found the one you need? By the way, FlexClip is a free online video editor that includes all the video editing tools you need. It enables you to turn videos and images into stunning videos in minutes. No experience or skills are required. Give it a try now.