Every year, the rush of Christmas-themed commercials is one of the earliest signs that the holiday season has arrived. Each brand and retailer uses the last month of the year to put out their best work to help us get into the holiday spirit, and, of course, convince us to buy their products with some Christmas adverts.
It's that time of the year where you should focus on holiday promotions now.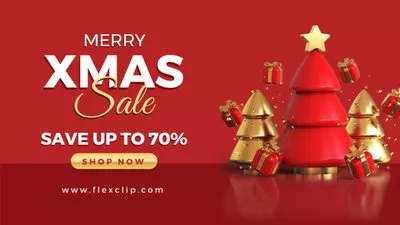 Merry Christmas Menu Restaurant Promo Ad Sale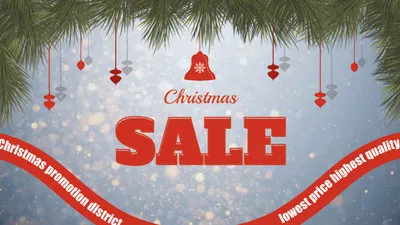 Christmas Sale On Electronics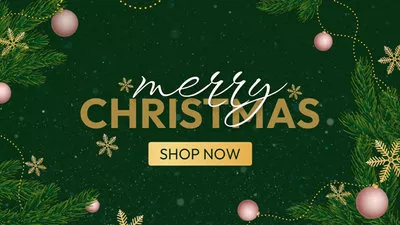 Merry Christmas Sale Day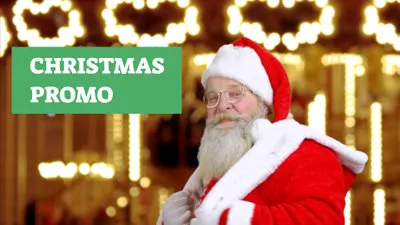 Christmas Promo For Gifts
Quick Navigation
Also Read: New Year Video Templates for New Year Wishes & More: Make Your Own Easily>
Recommended: Free Christmas Ad Maker for a Low Budget Christmas Advert
For those small businesses or online shops who are on a budget to make a Christmas ad, FlexClip must be the most economical way to create the best Christmas ad videos. With the powerful and professional video editing tool, you can make your own best Christmas advert videos just with a little fortune or even totally free.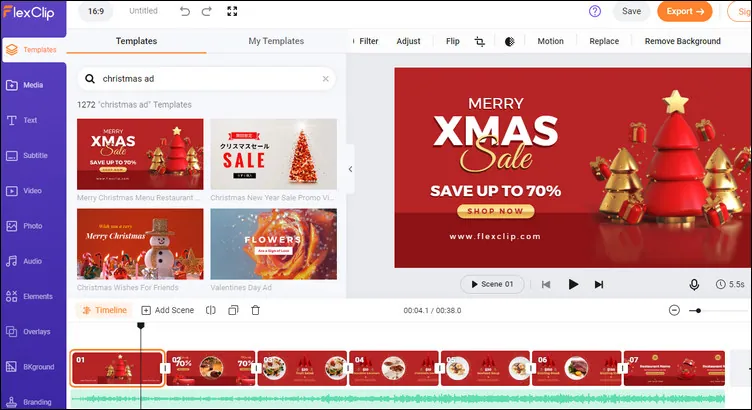 FlexClip Christmas Ad Video Maker
FlexClip makes it pretty simple to create your own Xmas ad, with its easy-to-use Christmas video ad templates. Check out a few of our favorites below: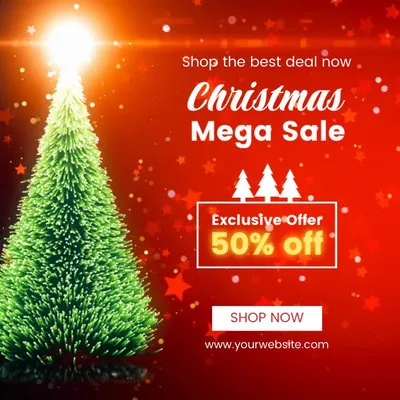 Red Christmas Mega Sale Post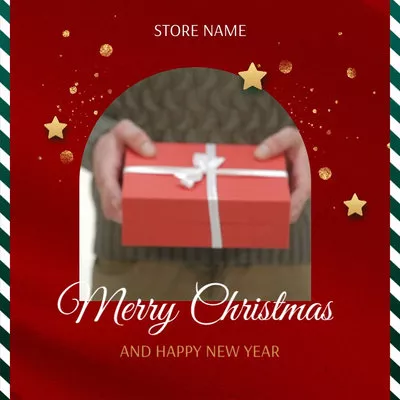 Store Christmas Product Sale Post
Christmas Giveaway Promotion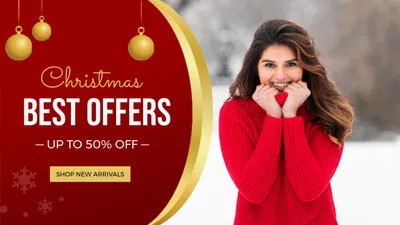 Christmas Clothing Offer
For more funny and creative Christmas ad video templates, you can turn to our template page and start making your Christmas ad video with FlexClip video maker!
Part 1 Best Christmas Ads of All Time for Your Christmas Ad Inspiration
Here, we've listed our favorite Christmas adverts to help you get endless inspirations to make your own Xmas ad! Whether heartwarming and serious, or humorous and sad, here are some of the best Christmas commercials of all time. Let's walk through them one by one:
John Lewis 2018 Christmas Advert - The Boy and The Piano
When it comes to Christmas adverts, we must mention the John Lewis who have mastered the art of Christmas ad. John Lewis's Christmas adverts have got millions of views on YouTube.
"The Boy and The Piano" tells a story about the power of a gift. And you can see how that gift inspired, changed and influenced the course of a little boy's life because some gifts are more than just a gift.
Depict video: John Lewis 2018 Christmas Advert - The Boy and The Piano
Sainsbury's Christmas Advert - 1914
Sainsbury's Christmas advert, 1914, is a dangerous and disrespectful masterpiece. This ad depicts the events of Christmas Eve during World War I: British and German soldiers met a brief Christmas celebration when they fought on either side of the trenches.
It's a remarkably well-done advert that teaches people a little about the history and inspires them to think more about sharing while also being an ad for chocolate bars.
Depict video:Sainsbury's Christmas Advert - 1914
Apple's Christmas Advert - Frankie's Holiday
Frankie's Holiday is one of the more memorable Apple adverts. In this ad, a Christmas-loving boy, Frankenstein, prepared a song on his iPhone 7 to show the local villages in the Christmas. With the theme "open your heart to everyone", Frankie's Holiday must be the wonderful shots.
Depict video: Apple's Christmas Advert - Frankie's Holiday
Edeka's Christmas Advert - Homecoming
Homecoming must be one of the most beautiful Christmas ads ever and can remind you that Christmas isn't about money or presents or getting drunk. It's all about being with the ones we love.
Edeka's Christmas Advert - Homecoming
Coca-Cola - Holidays Are Coming
This classic Christmad advert of Coca-Cola has been aroud for several years. Holidays Are Coming shows a little boy ringing a bell to signal that thr Coca-Cola Xmas trucks are making their way to town. Just get really into the Holiday spirit with Coca-Cola.
Depict video: Coca-Cola - Holidays Are Coming
Hershey's Kisses - Christmas Bells
The commercial has aired each Christmas period since 1989, making it the longest running Hershey commercial ever. And there are someone even said that "Not Christmas until I hear this commercial!!"
Depict video:Hershey's Kisses - Christmas Bells
What other Christmas ads you like? Just share them with us via Facebook!
Get inspired and try to make your own Christmas ad video for your business? Turn to FlexClip and browse its extensive template library and use one of them to get started easily.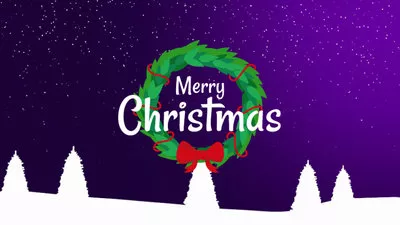 Spanish Christmas Discount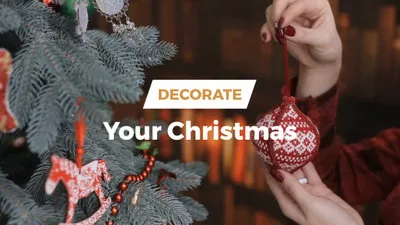 Christmas Decoration Sale
Part 2 Practical Tips on How To Make Best Christmas Ads
Here, we show you some practical tips on how to make the best Christmas ads below. Check them out!
1. Make Your Christmas Ad Emotional
Emotions matter in all advertising, so does it in a Christmas advert. When you make your own Christmas commercial, you need to think less about the creative appeal and more about emotional appeal.
During the Christmas period, people are always shopping with their hearts rather than their heads. So having strong emotional appeal is even more critical in a Christmas ad.
2. Pick the Right Emotion for Your Christmas Ad
Now, you've known you need to make your Xmas ad emotional. But which emotions should you pick for your Christmas ad? Here we show you a chart below, and you can see that the emotions that are more likely to resonate during the Christmas period.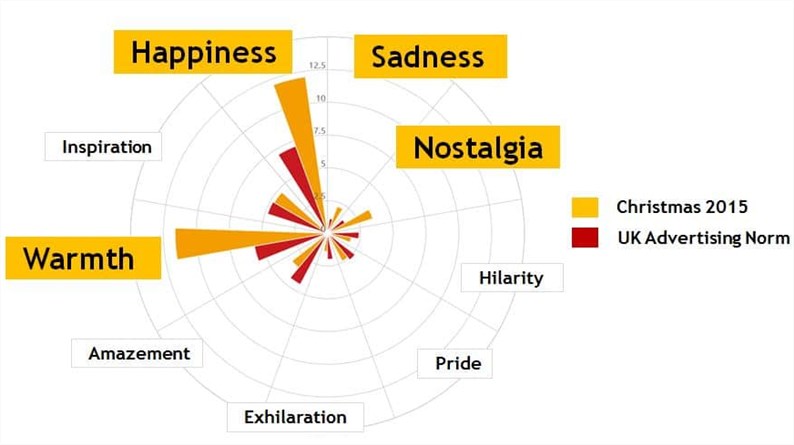 Pick the Right Emotion for Your Christmas Ad (source:unruly.co)
As you can see, compared with UK advertising norms, the average Xmas adverts are much more likely to make people feel warm, happy, nostalgic, and sad.
3. Capture the Voice and Identity of the Brand
The best ads always communicate the spirit of the brand, including the voice and identity, in order to appeal to the viewers that the commpany want to reach.
4. End with a Call to Action
Christmas is a great peroid for you to build trust and brand awareness, so you need to make your Xmas ad end with a call-to-action. But notice that avoid doing that too deliberate, a simple wish of show the viewer a "merry Christmas from X brand" is always a good try.
5. Don't Release it too Early
Why we side that do not release your Christmas ad too early? Here we share a case for you:
In 2013, Kmart released their first Christmas commercials in early September, before some children had even returned to school after the summer break, and most families were still in the thick of back to school shopping. So they received some grief: "It's too early for Christmas, so just to be clear, this is not a Christmas commercial".