AI technology has been an integral part of our daily lives, from recommendations to work forms. Nowadays, the internet is buzzing with AI websites that can do everything for you, including making videos, creating music and generating photos in a matter of minutes. To simplify your daily routine, here we've gathered 10 best AI websites to ease your life and bring fun. Let's check the list right now!
10 Best AI Websites to Ease Your Life
ChatGPT - AI Chatbot Website
ChatGPT is definitely the hottest topic that broke the internet in 2023. Developed by Open AI, it's a web-based conversational chatbot for users to refine and steer a conversation based on your prompts. It leverages state-of-the-art language processing AI models and was trained on millions of information databases, including books, web texts, Wikipedia, and other pieces of writing on the internet. To use ChatGPT, you just need to enter some keywords or a descriptive sentence and ChatGPT will generate human-like responses to your queries.
The use of ChatGPT varies according to your actual needs: you can utilize it to do research, gain inspiration and get a summary of a new topic. In a nutshell, ChatGPT is just like your virtual personal assistant.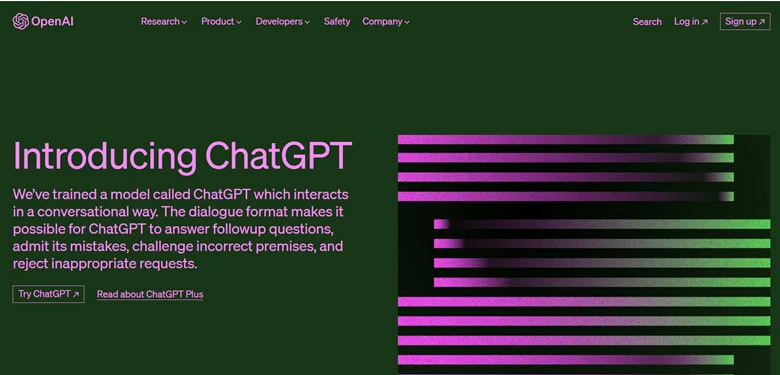 ChatGPT - AI Chatbot Website
Key Features of ChatGPT
Multi-language support: Generate text in over 90 languages.
Human-like chat expensive with successive quires.
Capable of understanding complex text.
Learn and adapt to new situations and contexts.
See Also: How to Make Faceless YouTube Videos with ChatGPT & AI Video Maker>
FlexClip - AI Video Creation Website
With FlexClip, you no longer have to spend hours on learning video production or hire a team to make professional-looking videos. Powered by the AI algorithm, FlexClip can easily convert your plain text into eye-catching videos with a one-click operation. Meanwhile, FlexClip enables you to generate original art photos, create human-like voiceover and get a video script, which greatly smooths your creation process. You can use it to produce all sorts of videos, regardless of your editing experience, including business promo, wedding videos, movie trailers and more.
It is very simple and straightforward to use FlexClip. All you need is to hit the Create a Video icon, enter your text and wait for the magic to happen.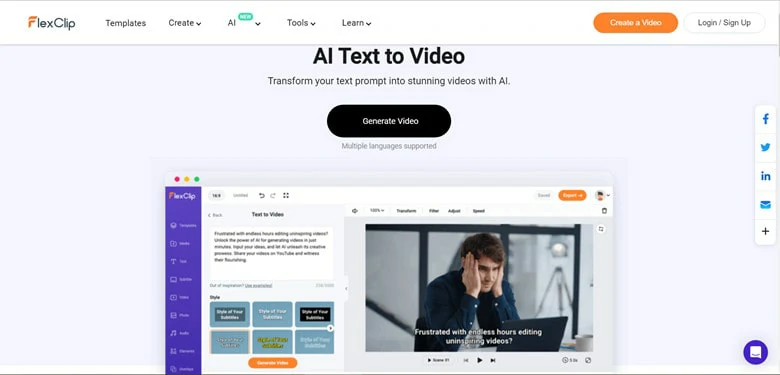 FlexClip - AI Video Creation Website
Key Features of FlexClip
A library of designer-made
templates
to simplify the creation process.
Massive AI tools like auto subtitle generator to choose from.
Quick text-to-video conversion.
Soundful - AI Soundtrack Generation Website
Soundful is an AI website that empowers content creators and music artists to create unlimited soundtracks quickly and easily. Once you've signed to the website, you'll be navigated to choose a genre of your preference, tailor your inputs and make tracks according to your actual needs. What's more, there are massive high-quality music samples to help you produce a satisfying soundtrack in a short amount of time. The AI website provides its users with free, premium, and enterprise plans. While with a free version, you're limited to features and music templates.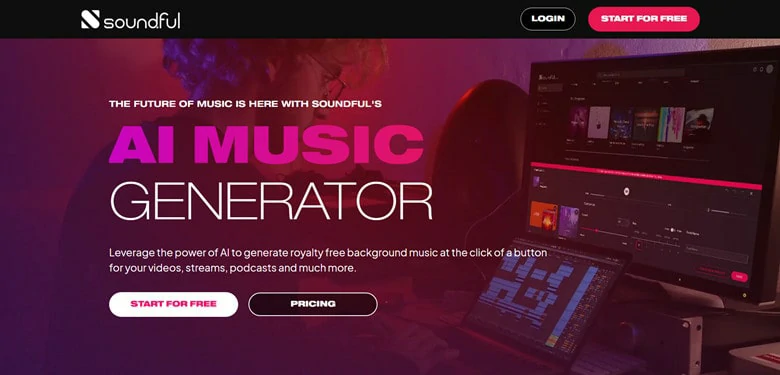 Soundful - AI Soundtrack Generation Website
Key Features of Soundful
Easy to use for producing high-quality soundtracks.
Output edited soundtrack without quality loss.
Ready-made samples to create music easily and quickly.
All the creation is royalty-free.
Talk To Books - AI Website to Explore Books
If you're an avid reader, you're probably always looking to read new books. Absolutely, the perfect book for a reader is like a gourmet paradise for a foodie. For people who relate to the same feeling, this AI website will be a treasure chest in the world.
Talk To Books is an experimental AI website released by Google to explore ideas and discover books. Just as its name suggests, it works as the way we talk to humans: just ask anything on the dialogue box and it will return the extracted semantic pieces of answers that match your quires best. Meanwhile, it has an extensive collection of books, which can not only be a fun way to explore new ideas or questions, but you can even use it for school projects or reports.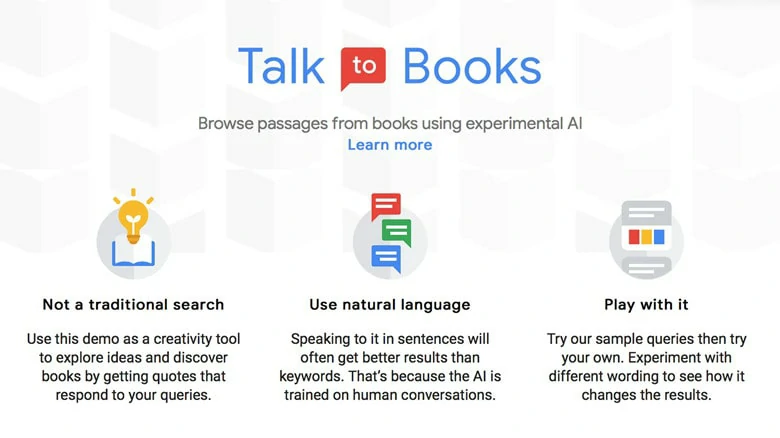 Talk To Books - AI Website to Explore Books
Key Features of Talk To Books
Match books to your ideas on the search box.
A fun way to explore new ideas and books.
Samples of over 100,000 books.
It uses a natural language learning model.
Duolingo - AI Website for Students
The development of AI has altered many aspects of our lives, including language learning. Duolingo, an AI website, is a bonus for students to master a new language. With a simple user interface and fun-but-competitive leaderboards, Duolingo supports 40 languages across 100+ courses. Using AI algorithms, it can estimate the most proper time for you to practice language learning and also integrate the assessment test to examine what you've mastered.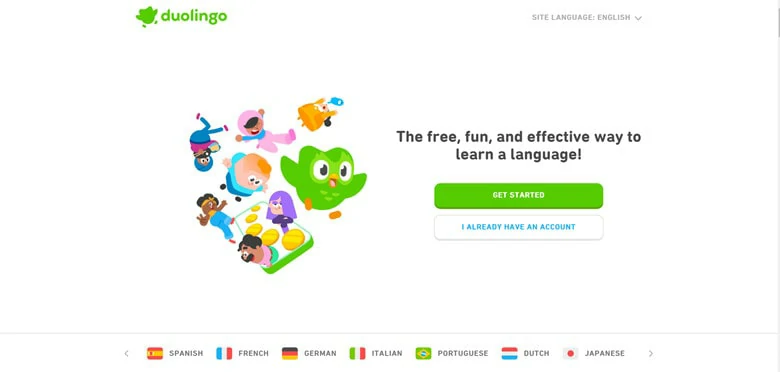 Duolingo - AI Website for Students
Key Features of Duolingo
Support 40+ languages learning.
Web, Android and iOS versions are available.
Fun and free AI learning website.
The learning path and progress tracking.
Let's Enhance - AI Image Enhancement Website
Looking for ways to make your blurry photos clear? Let's Enhance will lend you a hand. With a one-click operation, you can improve the quality of your photos, making them look crisp and clean. Moreover, if you wish to transform low-resolution images into high-resolution ones, Let's Enhance can make it happen with the latest AI algorithms. No matter how old your picture is, this AI image website can refine and polish it as you need.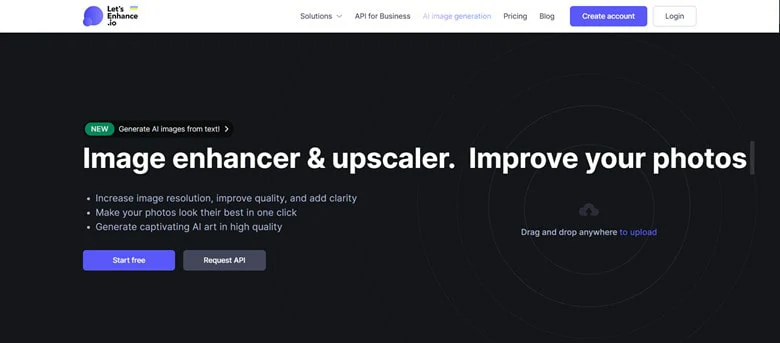 Let's Enhance - AI Image Enhancement Website
Key Features of Let's Enhance
Upscale photos without quality loss to 16x.
Batch image processing feature.
Auto photo enhancement with AI technology.
You can change the tone, color and texture of your image.
Cutout - AI Image Productive Website
Cutout is one of the most popular AI websites enabling you to animate portraits and turn photos into videos. Simply upload your desired portrait and Cutout will instantly bring your portrait into life. Besides, it includes various image AI tools such as video/photo background remover, face cutout, AI art generator, etc. With the help of image productive website, you can create and refine your photos with inspiration limitations.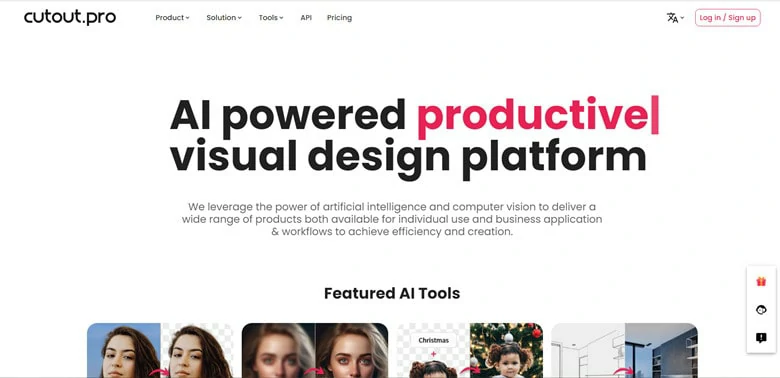 Cutout - AI Image Productive Website
Key Features of Cutout
Animate your photos with facial actions.
Auto sharpen and enhance your photos.
A full set of AI removal and cutout tools.
Support AI art generator to generate creative photos.
Rytr - AI Writing Website
For many of us, writing is not an easy thing. Whether you're writing an Instagram post, a blog or even a book, finding inspiration for your content takes time. Thankfully, with the advent of Artificial Intelligence, AI writing tools like Rytr can help you do that. It supports customization of the language, interface and even the tone in which you wish the text to be written. Besides, you can use it to combine your text with different writing styles and levels of creativity. This AI website is an ideal platform for copywriters, academics, marketers and content creators.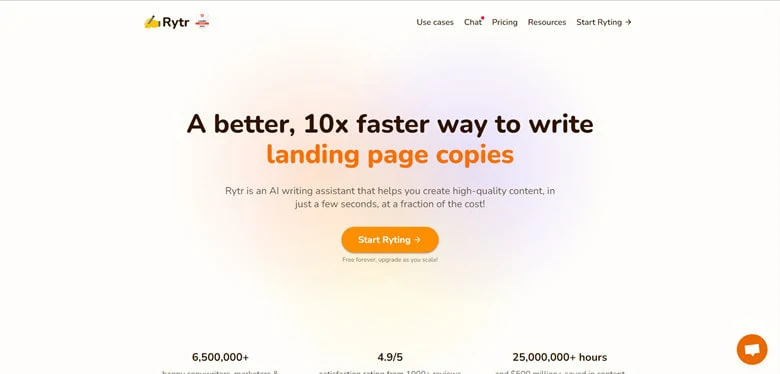 Rytr - AI Writing Website
Key Features of Rytr
Support thousands of topics to write on.
You can customize the interface, tone and language.
Multiple writing styles to match your different needs.
It has a built-in rich text editor so you can fine-tune the copy on the website.
Supermeme. ai - AI Meme Generation Website
Memes have evolved into a language in itself. Today, many of us even the company, are trying to use memes to make the conversation exciting and create engaging content. Supermeme. ai is a website where users can turn their creative ideas into original memes using an AI engine. It supports 110+ languages, which means you can generate memes in different captions. While if you're looking for some existing memes, this website offers a search engine to explore your favorite memes instantly.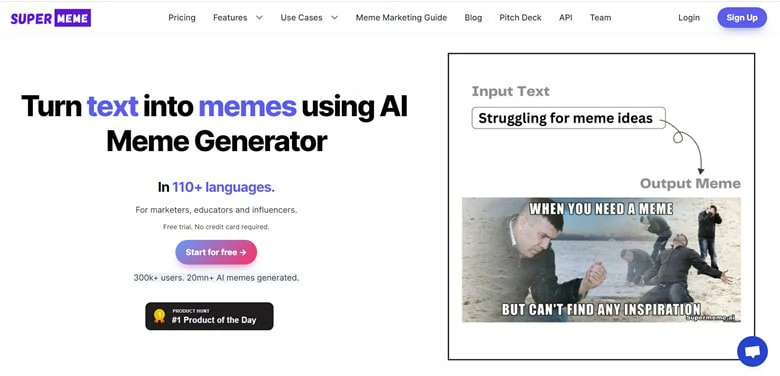 Supermeme. ai - AI Meme Generation Website
Key Features of Supermeme. ai
Support more than 110 languages.
Turn your text prompts into life with pictures.
It serves as a search engine to explore your favorite memes.
Beautiful . AI - AI Presentation Maker Website
Beautiful. AI changes the way to make presentations. By virtue of this AI presentation tool, you just need to type in your theme and demands, then this AI website will automatically generate a stunning presentation for you. It saves time and provides creative inspiration since you don't need to edit it or plan all the tiny details manually.
Furthermore, Beauful. AI has a wide range of AI features like automatic layout design, smart resizing and content suggestions to help you refine the presentation without effort. If you need to create a presentation in a short amount of time, Beautiful. AI will be a nice option for you.
Beautiful . AI - AI Presentation Maker Website
Key Features of Beautiful. AI
Multiple presentation templates are ready for you.
Automatically generate presentations based on your text prompts.
Smart resizing and content suggestions to refine your presentation.
Collaboration and integrations- Slack, Monday.com, Dropbox, and PowerPoint.
The Bottom Line
These 10 AI websites come with cutting-edge technology and provide satisfying solutions for different situations. After reading this blog, try to use these AI tools and see how they can help you improve efficiency and simplify your life.