Ever wanted to create realistic-looking human faces but lacked artistic skills? The good news is an AI face generator can do the job for you.
As the name suggests, AI face generators are AI tools that use Artificial Intelligence to help users create realistic human faces. They utilize advanced machine learning algorithms to generate new and unique human faces, which you can use for many purposes, including art, gaming, virtual reality, etc.
With an AI face generator, you can easily create a fake face that you can use for many purposes without being an artist.
There is a list of the best AI face generators you can easily use for creating realistic fake faces for any purpose. Let's check the list right now!
Must-Try Online AI Face Generators
AI-Related Templates You May Like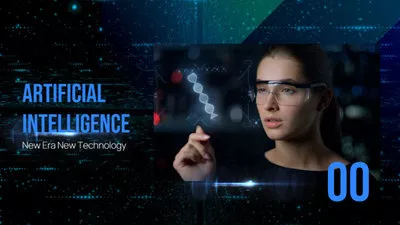 Ai Robot Presentation Technology Universal Simple Company Webinar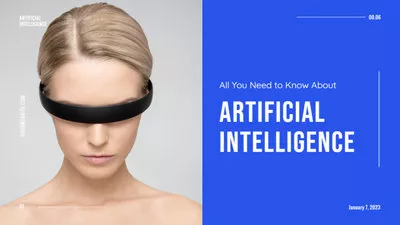 Artificial Intelligence Presentation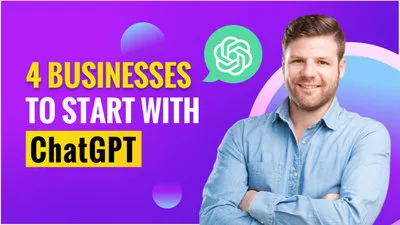 4 Business To Start With Chatgpt Youtube Tutorial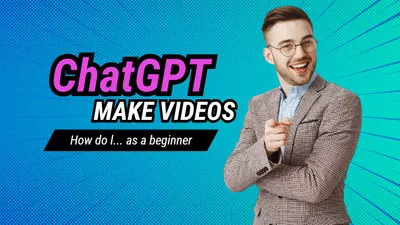 Make Youtube Videos With Chatgpt
Must-Try Online AI Face Generators
There are hundreds of online AI face generators ready for you to use. Below are some of the best AI fake face generators for your reference.
FlexClip
Powered by Stable Diffusion AI, FlexClip's AI image generation tool is a must-try AI face generator to create face images from text prompt. Realistic photos, Anime, 3D and more styles are available at FlexClip, so you can create a fake face image in any style you want. Simply enter your text prompts, select the desired face image ratio and style, then you'll get two generated fake face images. Moreover, you can hit the Regenerate icon to get more results.
By the way, more than just a fake face generator, FlexClip's AI image generator can help you create almost everything - anime characters, landscapes, paintings, and more AI art you could ever imagine. All you need to do is enter your text prompts, and the system will transform your ideas into reality. What's more, besides the image generator, FlexClip includes various other AI tools, such as AI image background remover, text-to-video tool, AI script generator, and auto subtitle, to save time and effort on creation.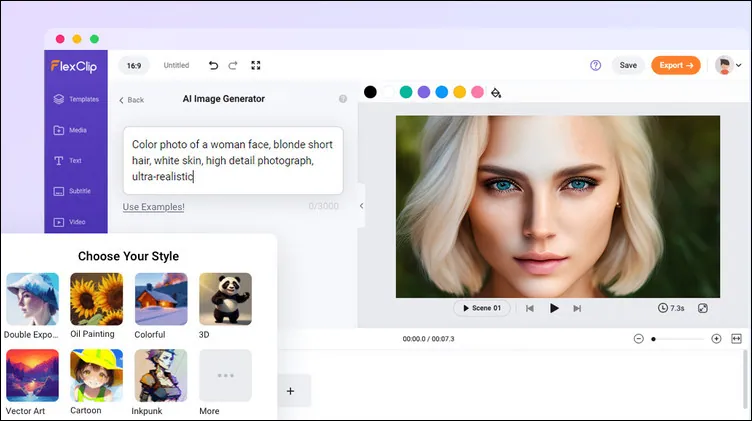 Online AI Face Generator from Text - FlexClip
Fotor
Powered by artificial intelligence and deep machine learning, Fotor's AI face generator also helps you create realistic human faces from text prompts in seconds. Just input your text prompts to tell Fotor what you want, gender, age, skin tone, hairstyle, and other traits, and then watch the AI face generator bring them to life. This streamlined process saves you time and effort while still delivering impressive results.
You can try Fotor's AI face generator to create a realistic face photo, or test out other different face images in various styles - 3D, illustration, anime, cyberpunk, and more. It also allows you to fully customize the appearance of AI-generated faces. Just pick a preferred art style for your desired face image to start now!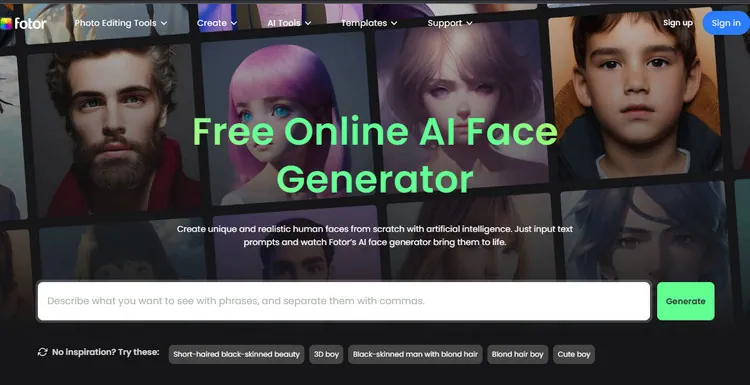 Online AI Face Generator - Fotor
NightCafe
Based on Stable Diffusion, NightCafe's AI face generator also offers a unique way to create fake faces using text prompts and/or existing images. Its face generator algorithm was trained by viewing millions of images and text pairs from the internet. Through this training, it's learned to generate faces based on textual descriptions and help you improve creativity and accuracy when creating a fake face image.
With NightCafe's AI face generator, you can generate fake faces that look much like real ones. Simply enter a text prompt, choose one of the preset styles, then click "Create" and wait for your face to generate. You can even generate multiple faces at once! What's the best is that it doesn't only generate faces, it is actually general, and you can also try generating an image of a dog, a castle, a fantasy landscape, or anything that comes to your mind.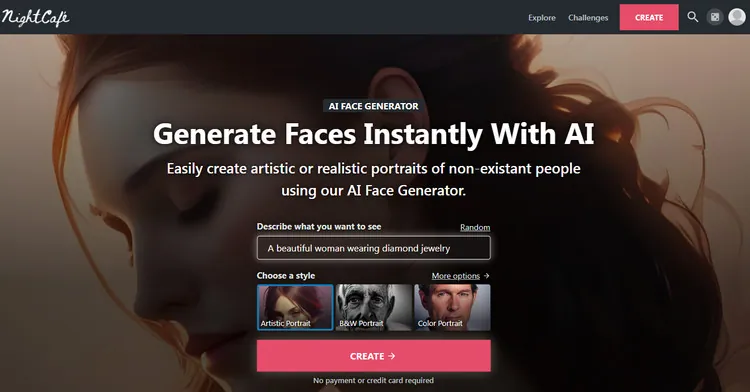 Online AI Face Generator - NightCafe
This Person Does Not Exist
This Person Does Not Exist is another popular online AI face generator that uses machine learning algorithms to help you generate realistic human faces in seconds. Typically, the generated fake faces on this site are available for non-commercial use for free, allowing you to explore and experiment with the AI-generated face images for personal or educational purposes.
Everything works very simple in the online AI face generator. When you access the website, it automatically creates a new face image for you. Here, you can You have to choose the gender, age, and ethnicity of your desired fake face, and the system will create a face based on that. If unsatisfied with the output, you can refresh the image for a new result. Once you are satisfied, you can download it and use it in any of your projects.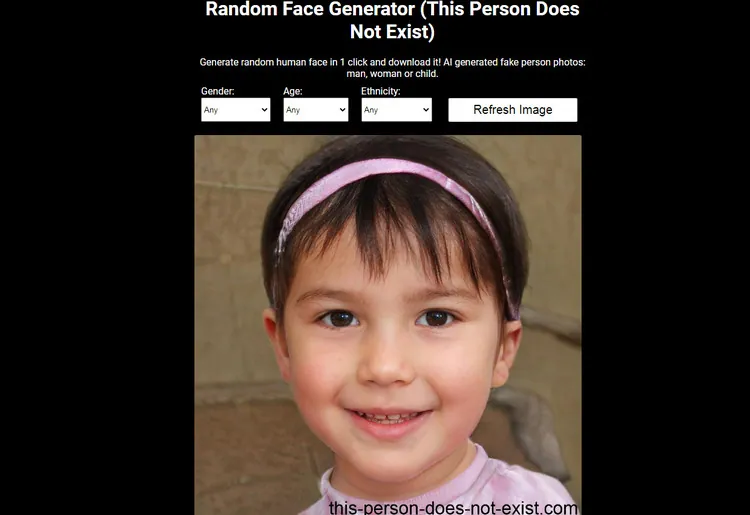 Online AI Face Generator - This Person Does Not Exist
Fy! Studio
Another great online AI face generator you can't miss is Fy! Studio. This online AI face-generation tool can generate faces from the text. No more wasted hours arranging a photoshoot - just type in your text prompt to describe the face you'd like to see and Fy! Studio will generate your AI face according to that in seconds.
Besides creating fake human face images from text, Fy! Studio also makes it possible to transform your selfies into AI faces. You can create a fake face from text or existing photos in a range of different themes, including modern art, watercolor, and line art. Additionally, Fy! Studio's AI tool isn't limited to creating fake faces. You can also try creating images of various objects, including animals, buildings, fantasy landscapes, or anything that sparks your imagination.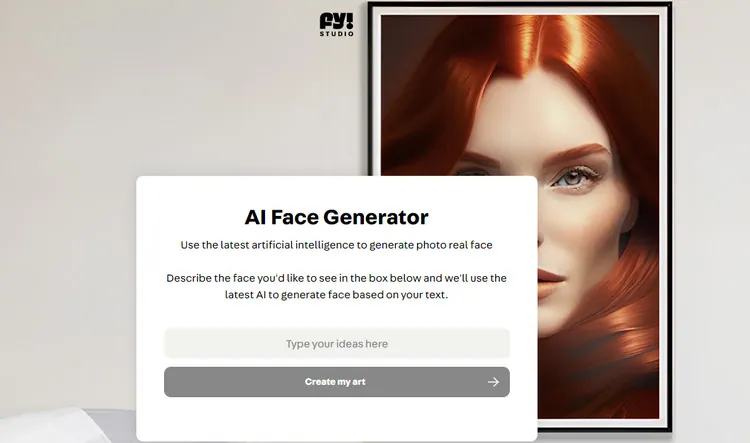 Online AI Face Generator - Fy! Studio
SoulGen.ai
SoulGen.ai is also a great option for creating a fake face image from text, especially for generating a girl's face image. All you need to do is type in a text prompt and choose a soulmate style - a real girl or an anime one, and then SoulGen.ai will generate an AI face instantly. This tool generates a face image based on your description, and the unique text prompt will make AI generate a face image unique.
Besides the AI face image generation tool, SoulGen.ai also offers a smart AI editing tool allowing you to use simple text prompts to edit your image: add, extend, and remove content from the image, etc. Simply upload any existing images or select from your fake face creations, then choose content from your image and input text prompt, and you will get what you want.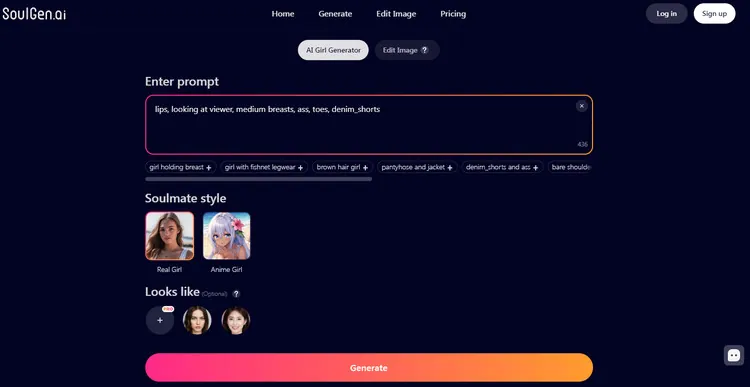 Online AI Face Generator - SoulGen.ai
Final Words
With the above 6 AI face generator, you can always generate a realistic fake human face image you like from any text prompt. Please feel free to try one of them to create a fake face image for any of your next projects.