We have good news for all the users of TikTok who want to know how to make a 3-minute TikTok. All TikTok subscribers can now make films up to three minutes long as the app proceeds to enable the consumers to increase the length of a video clip essentially. This recent growth is part of TikTok's ongoing effort to broaden how users engage with the streaming site. The increased video run length will change how artists display and organize much more data in a specific video, rather than enticing consumers into viewing serialized films on a subject.
To get you started, we must answer how you make 3-minute videos on TikTok by briefing you below in specific steps so that there is no hindrance in your way to getting started.
How to Make a 3 Minute Video on TikTok?
You can record or post a 3-minute clip or a movie longer than 60 seconds on TikTok in two ways. The first option is to record and modify the video independently of the TikTok software before uploading it to your Tiktok profile. The second method is defined below within several steps for better understanding.
Step 1
Go to the TikTok application and run it.
Step 2
Proceed to the camera display where you can choose between '15s,' '60s,' or '3m' from a swipe across menu directly above the huge red record button when you're on the camera interface.
Step 3
Click the three-minute option given with various others, and the camera will start recording up to 3 minutes of the film directly within the application.
We understand that TikTok only offers consumers brief music clips. The author's music is used as the background music in videos in under three minutes. If viewers want to learn how to upload a 3 min video on TikTok or make a three-minute TikTok video with a soundtrack, they should follow the procedures below to make a long video for TikTok and upload it to their forums.
3 Minute Long TikTok Video Feature
How to Create a 3 Minute Video on TikTok & Upload
The most generally adopted exemplary application to generate a long video for TikTok is FlexClip, an extensively known freeware program that includes a diverse selection of processing possibilities.
The first reason why FlexClip wins our recommendation is that FlexClip is much easier to convenient to use. All powerful tools can be used in several clicks. Secondly, you have access to FlexClip's rich media resources. Millions of music, photo, and video resources are waiting to level up your TikTok videos.
Since Flexclip has made it quite easier for us to make videos using its distinctive features, we shall learn how to make 3-minute videos on TikTok and later upload them using this wonderful editing tool. Click on the Create a Video button below to get started.
Step 1
Click on more. For your video, there are some aspect ratio options accessible, such as 16:9 and 1:1. You may create a video that is ideal for a variety of devices and social media sites using these options. Choose the correct aspect ratio for your video, which is 9:16.
Change Video Aspect Ratio as 9:16
Step 2
Proceed to the left-hand Media area and fill in the vacant section with your images, videos, or stock media materials. Use them on the storyboard by clicking and dragging them there.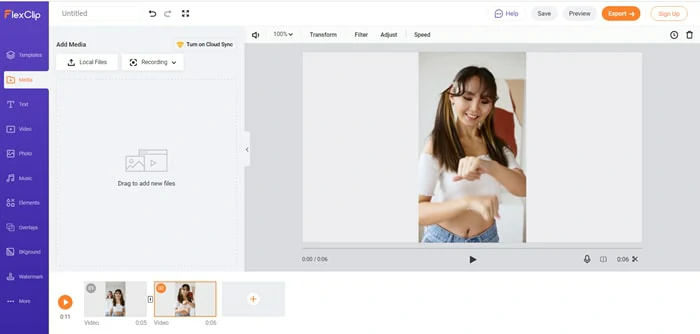 Upload Media Resources to FlexClip
Step 3
Continue by clicking the Music icon, where you can input an MP3 file or select royalty-free music for your TikTok video which is not available on the application directly but through FlexClip. You can even record your voice overs and add them to the mix.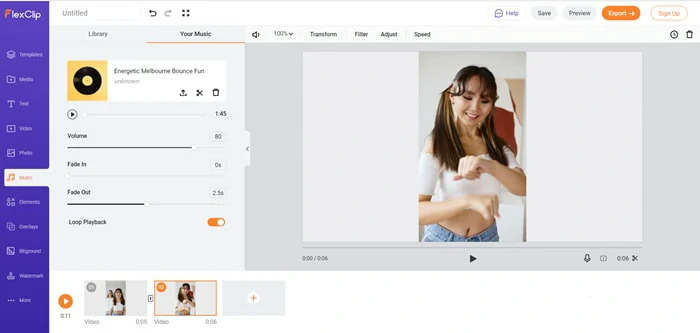 Add Music to Video
Step 4
Moreover, you can add certain effects to your video by adding different filters to make it look captivating, along with inserting texts which can make your video more appealing especially for the ones who like reading subtitles on the videos. You can also alter the speed if you find the audience might lose their interest and skip your video.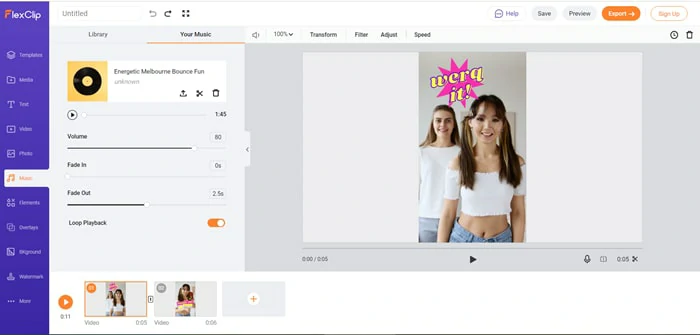 Add Text to Video
Step 5
Once you are done making the amendments and rechecking your video quality, you may save it to Dropbox and download it to your phone or any other gadget that you are using to edit your video.
Step 6
Head over to your application of TikTok where you will now upload the video you created using Flexclip. Once you have opened the application, click on the + icon to choose the video you created previously.
Step 7
Finally, upload the video that you made by adding a tag and a description of what the video is about among your followers and potential audience.
The Bottom Line
We apprehend now you know how to make 3-minute videos on TikTok or even longer ones. Making a TikTok video, we believe, must be pretty thrilling and fun for you. Now that we've figured out how to attract more viewers for you simply by following these simple FlexClip video creation methods. As a result, we recommend that you use FlexClip not only to make TikToks, but also to make YouTube videos of any category, Facebook clips, Instagram reels, and posts, as it offers a variety of editing possibilities that can quickly propel you to popularity. Remember to give it a try!
Simple Tiktok Outro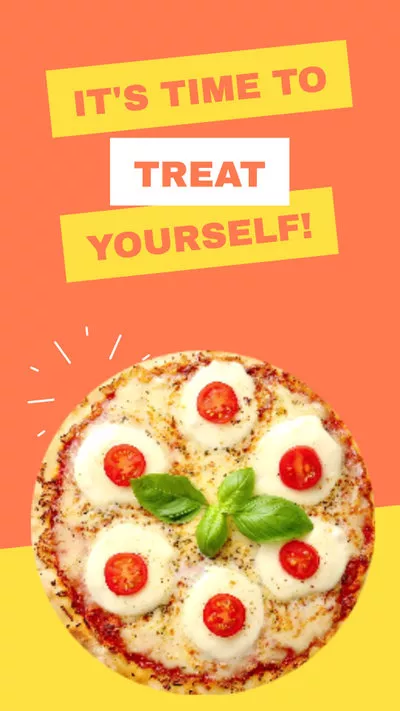 Tiktok Food Ad
Travel Agency