Seen a few interesting TikTok video effects? One that is popular is the Velocity Effect, which is simply the combination of speeding up and slowing down effect.
Want to do the latest velocity trend on TikTok, showing your dancing, skateboarding, workout routine, and more?
In fact, making velocity edits on TikTok is not that easy as it doesn't offer a direct option to make the speed ramp. But you can try other editing tools to achieve the velocity effect for your TikTok video within clicks. So, here we'll show you how to make a velocity TikTok easily using Capcut and an easy online velocity video editing tool.
Free Editable Templates for Your TikTok Inspiration: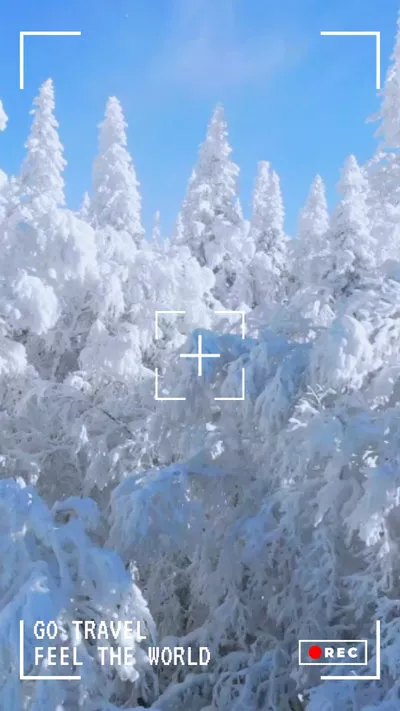 Instagram Reels Snow Mountain Travel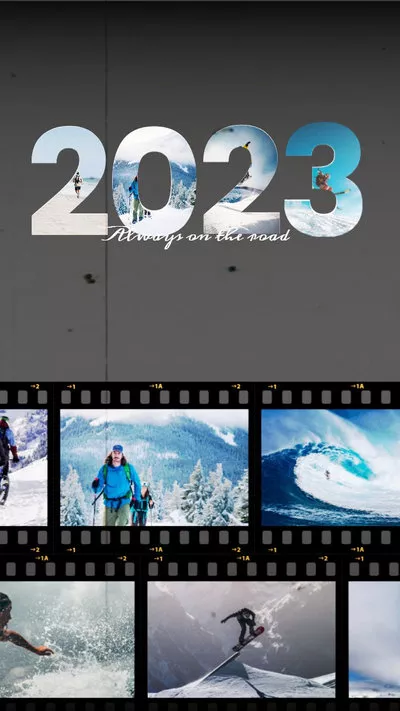 Bright Travel Journal Slide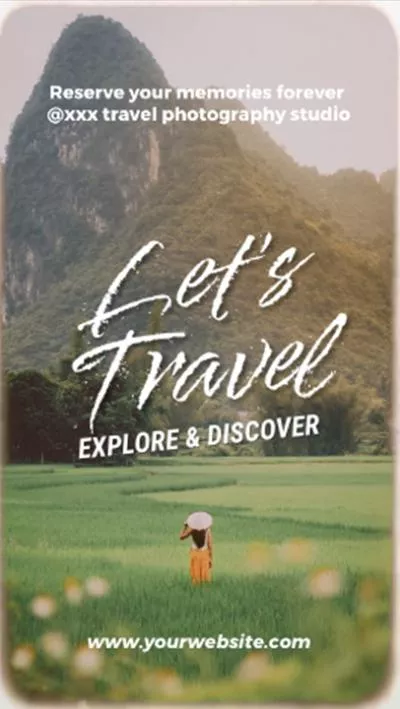 Rhythm Film Travel Photography Studio Photo Display
How to Make a Velocity TikTok Using Capcut on Mobile
CapCut is a famous video editing app that is used by TikTok, and you can use it to easily do smooth velocity edits for making a cool TikTok velocity video on your mobile phone. So, let's find out how to do it.
Step 1
Launch CapCut on your Android or iOS mobile phone, and click the New Project button to create a new video editing project for a velocity TikTok video.
Step 2
Select the video footage you want to edit into a velocity TikTok video from your camera roll to add to CapCut. Then, click the button "Add" at the bottom right corner of the screen to confirm the adding.
Step 3
Now, you'll be led to the CapCut editing screen, where you can do various video editing with CapCut. To make a velocity edit, tap the Edit at the bottom left corner, and click the Speed option.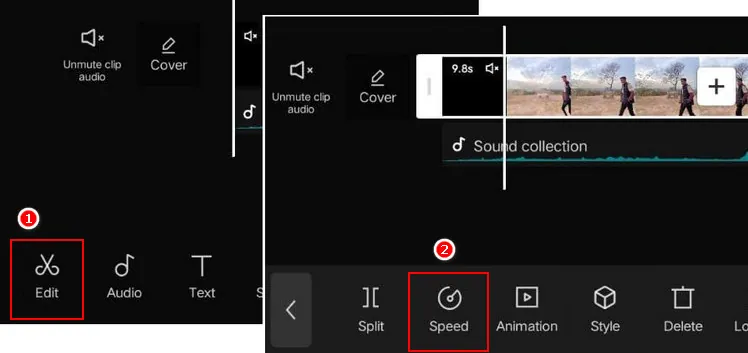 Make a Velocity TikTok with CapCut - Speed
Step 4
After you tap Speed, two options will pop up at the bottom - Normal and Curve. Here, we choose the Curve option to make a velocity edit for TikTok. Then, you will see the Custom option as well as some presets for velocity editing, including Montage, Hero, Bullet, Jump Cut, Flash In, and Flash Out.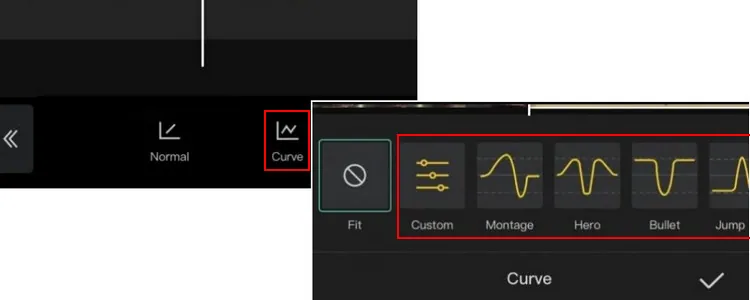 Make a Velocity TikTok with CapCut - Curve Speed
Step 5
Here, we'll go with Custom to make a customized velocity edit TikTok. Drag and drop the dots in the spectrogram to adjust the placement of the velocity edit, and customize a speed change from a range of 0.1x to 10x. Also, you can add beats in the timeline by hitting the Add beat button to create a more frequent velocity altering.

Make a Velocity TikTok with CapCut - Adjust
Step 6
When you are done, click the tick button at the bottom to apply the effects, then hit the export button from the top-right side to save and export the velocity edit video to TikTok.
Beside making the velocity edits manually as we introduced above, CapCut also offers velocity video templates and auto velocity feature to help you make a velocity TikTok easily, yo can check our post 3 Easy Ways to Make a Velocity Edit on CapCut for details.
How to Make a Velocity TikTok with FlexClip Online
Looking for an alternative way to make velocity TikTok on your computer? Try to use a professional video editor like FlexClip. As a powerful online video editor, FlexClip enables you to make velocity edits for TikTok easily with lots of velocity presets and easy customization options.
With FlexClip, you can do professional velocity edits in just clicks. Moreover, it has over 5000 free video templates and a media library with millions of video clips, and music ready to use, which would save you from the trouble of finding the right resources for a TikTok velocity video.
Whether you're a master or newbie, this easy-to-use and full-featured velocity editing tool will help you get the satisfying velocity edit video for TikTok in clicks.
Step 1
Choose the ratio as 9:16 for a TikTok project first, then upload your video from a local folder or mobile device to the Media section and apply to the timeline. Or you can pick some stunning resources from FlexClip's extensive video library.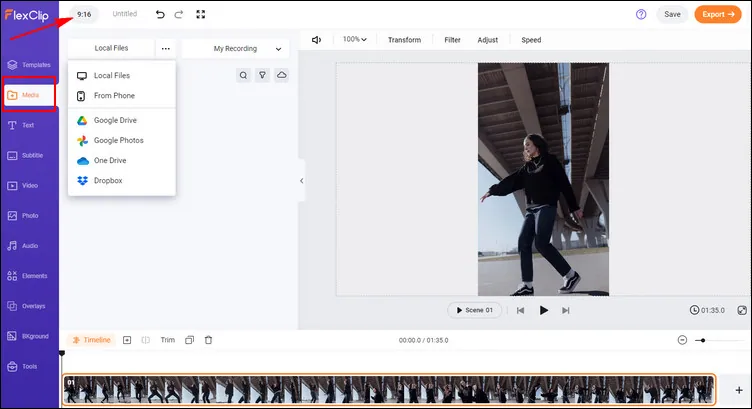 Make a Velocity TikTok with FlexClip - Add Footage
Step 2
For making velocity edits, go to Speed on the top menu, and select Curve Speed, and choose one of the presets or customize option to do the velocity effect video for TikTok.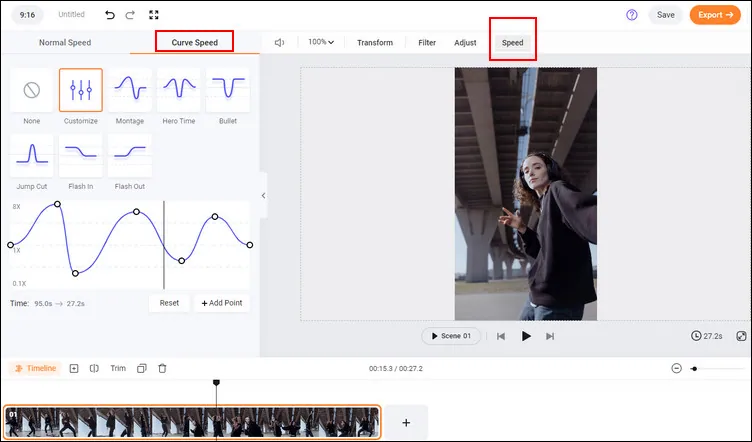 Make a Velocity TikTok with FlexClip - Change Speed
Step 3
(Optional) Make more edits to level up your video with FlexClip's powerful features and stunning effects, like
adding auto subtitles
, adding music or sound effects, applying beautiful overlays or filters, etc.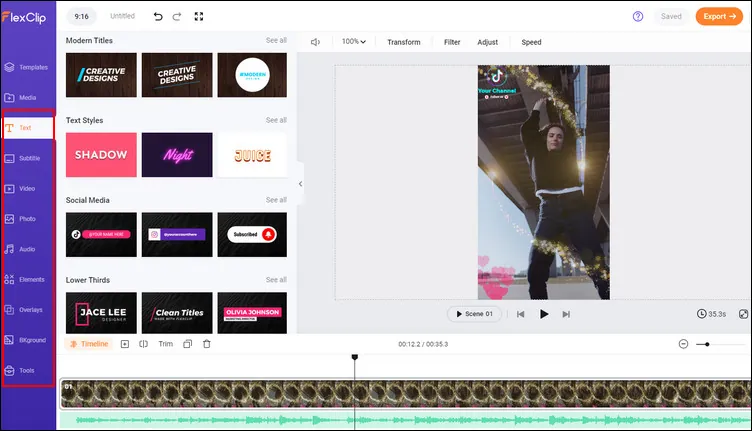 Make a Velocity TikTok with FlexClip - More Edits
Step 4
After the edit, you can preview the video to check the final effects, and then, click the export button to download the video and share it to TikTok. Can't wait to post on TikTok? You can try FlexClip's social sharing feature to upload the video to TikTok in one click!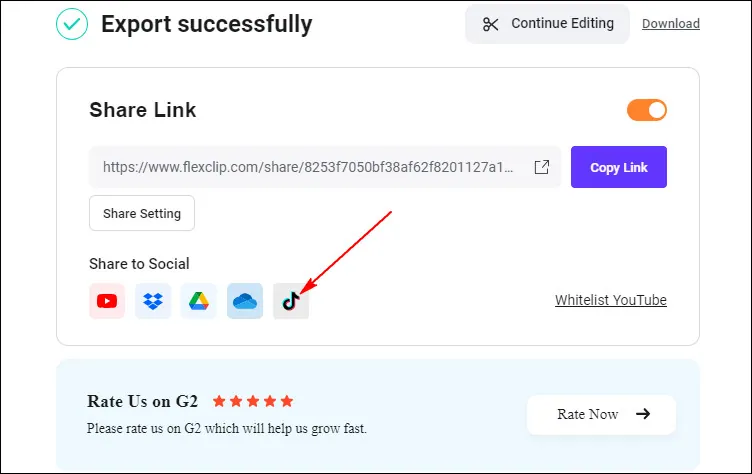 Make a Velocity TikTok with FlexClip - Share
Conclusion
That's all for how to make velocity edits for a TikTok. CapCut's velocity tool offers an easy way to achieve the velocity effects for a TikTok. FlexClip can do exactly the same. Try both of the tools and create a nice TikTok with velocity edits.