Briefs: The article has collected 10 most common problems uploading to YouTube. Also, we've attached solutions respectively, so that you can easily troubleshoot "YouTube upload failed" issue.
When you've produced a video/Vlog or capture a hilarious family video successfully, it's a good idea to share your video with YouTube platform. However, trouble comes - when you upload video to YouTube, uploading gets stuck or failed. Why can't you upload a video to YouTube?
If YouTube upload failed, here are several things you can do to identify & troubleshoot YouTube uploading errors.
CONTENTS:
Part One: Troubleshoot 10 Most Common Errors Caused YouTube Upload Failed
#1.Slow or Unstable Network
Slow or unstable networking is the top reason, when YouTubers upload videos to their YouTube channels but see a failure.
Troubleshoots: Under this circumstance, you'll need some patience to wait longer for the uploading video to finish. Or, you can install some network booster for help.
YouTube: How to know your network is slow or not? & How to fix slow network?
#2.Heavy Uploads Traffic
If you upload your video to YouTube in a busy time, you are suffering heavy uploads traffic. Evening usually sees peak traffic.
Troubleshoots: You can upload your video at other times when fewer people use the Internet, such as, morning, noon, or holiday, etc.
#3.Video Too Long or Too Large (Video Length & Size)
Without question, uploading a large-size video costs more time than a small-size. YouTube platform restricts basic accounts to upload a video within 2 GB or 15 minutes.
Troubleshoots: YouTube allows those YouTubers with 100,000+ subscribers to verify their channel accounts (by bonding a telephone) and enable uploading & sharing longer and larger videos. What if you don't have that many subscribers? Trim your video or resize your video. Here are the best video trimmers for your reference.
#4.Upload a Duplicated Video
YouTube forbids uploading duplicated videos. When you forget that you've uploaded a video before and try to upload it again, YouTube will return you a YouTube upload error. If you rename a duplicated video, YouTube will view it the same as a duplicated video.
Troubleshoots: The only solution is editing the duplicated video content at least a little. We recommend you adding something new & creative by editing, since too duplicated contents are meaningless for both audiences and YouTube.
#5.Video File Type/Format
YouTube has set rules on the formats of upload videos. If you shoot a video or save a video edit in a video format that YouTube doesn't support, you will receive the upload fail message.
Troubleshoots: Simply try to convert your uploading video to MP4. The free online FlexClip video converter will render you a lossless, smaller-size MP4 in minutes for free.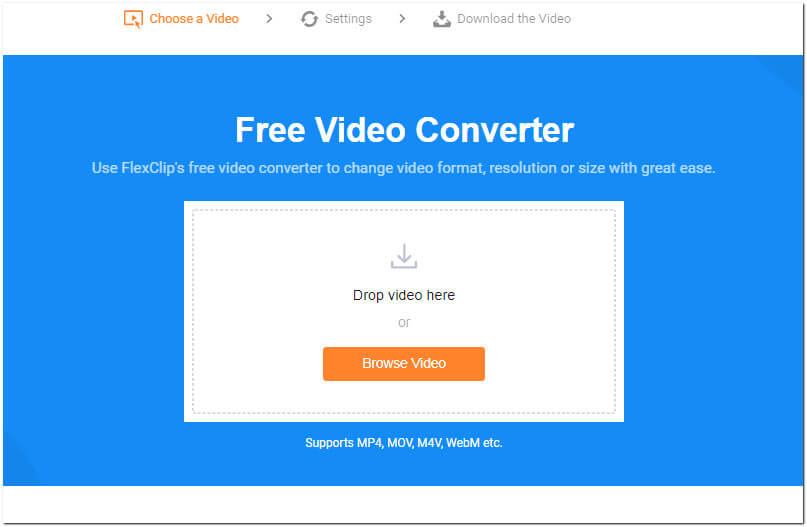 #6.Reach Upload Limits
To ensure video contents are high-quality, YouTube platform has set limits on daily uploads. The limits vary by region, channel quality, channel history, etc.
Troubleshoots: If you upload several videos in a day and fail to upload another, don't worry. You can try uploading it in 24hrs after that.
#7.Upload High Resolution Video
4K+ resolution turns out to be not much friendly to YouTube, comparing 1080P, 720P and 480P videos. Though YouTube allows users to upload 4K resolution video, it's surely much slower to upload (because it has a much bigger size).
Troubleshoots: Converting your 4K video to 1080P content seems wiser, since playing 4K video is not available in most cases.
#8.Upload Unauthorized Music/Download Video
When you upload a download video or the video music is copyrighted, YouTube is likely to reject the video upload. Whenever YouTube feels a video problematic or invalid, it will return an error.
Troubleshoots: Try replacing the background video music with a piece of royalty-free music. If you don't know where to find trouble-free music, give a search in YouTube music stock or FlexClip music stock. For download videos, we recommend you to cut and edit it.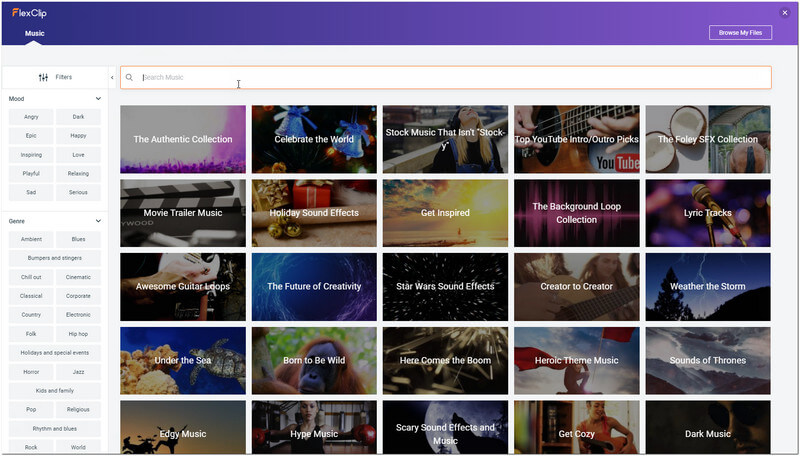 Image: Search royalty-free music for your video creation.
#9.Video File Corrupt
If you mistakenly upload a corrupt video, YouTube, without exception, will throw you an error message.
Troubleshoots: If situations & errors above do not apply to your case, then check your upload file to see if you upload a wrong video production.
#10.Your Internet Provider Caps Bandwidth
A few cases of YouTube upload failed are because Internet Provider has capped user's bandwidth.
You can install a network speed detector or try an online Internet speed tester, and check real-time download data. When you upload a video, real-time download data goes high and returns to 0 (or a low digit) very soon, and you can guess your Internet Provider restricts your Internet.
Troubleshoots: Speedtest online - https://www.speedtest.net/ is helpful to test your network speed. If you find your Internet Provider has capped your bandwidth, you can make a phone call or contact your Internet Provider for help.
YouTube: How to know your ISP deliberately is slowing your internet speed?
Part Two: Last Words
Above are the 10 most common reasons that make YouTube upload fails. If you face YouTube upload failure, check with these 10 points. Welcome to join us and discuss your opinions with us.