As a YouTuber, you must know that title is key to getting more views on YouTube. After all, your title is the first thing potential viewers will see when they come across your videos. If it's not attention-grabbing, they will move on to something else.
Thus, a title can make or break your YouTube video. If you're struggling to create catchy titles or want to get more clicks on your YouTube videos, a good YouTube title generator is what you need. Here we've compiled 5 best YouTube title generators to hook people to watch your videos in no time. Let's go ahead right now!
Here are some stunning YouTube video templates for you: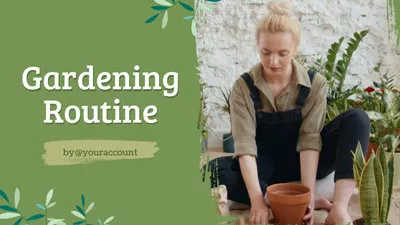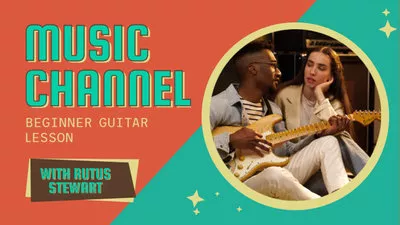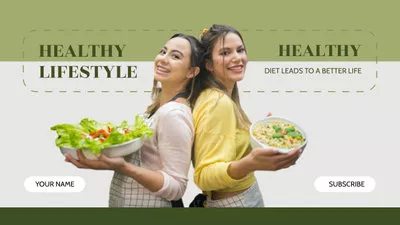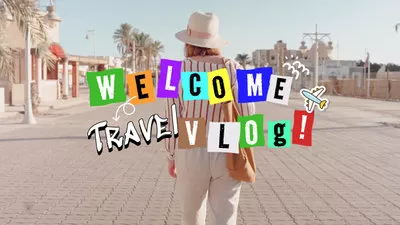 Can't Miss: How to Make a Good YouTube Video in A Few Steps>
What Is a YouTube Title Generator?
Just as its name suggests, a YouTube title generator is a tool that helps you create a video title based on your keyword or topic.
With a fantastic video title generator, you simply enter basic information about your video, then this tool will generate a list of available titles you can choose from, which drive more clicks and views to your YouTube videos.
What Attributed to a Good YouTube Video Title?
Actually, there are many factors that consist of a good video title for YouTube videos. But an ideal YouTube video usually has elements as below:
1. It contains the keywords you're attempting to rank.
2. The title length is suitable to show your video title ultimately.
3. It should be catchy, straight to the point and persuasive.
#1 TubeRanker
TubeRanker is an SEO tool that optimizes your YouTube channel to help you get more views at a high rank in research results. With this YouTube title generator, you just need to enter a keyword and then get bursts of title ideas within 2 contextual 'buckets': Person or Place and Content Topic to make your video out.
Key Features:
It creates video descriptions
Extracting hashtags from someone else's video
Pricing:
TubeRanker offers a free version with limited features while it also has two subscription plans for users who want to use this tool at will.
The difference between two plans is that you have maximum volume in keyword tool research and keyword tracked with an advanced plan.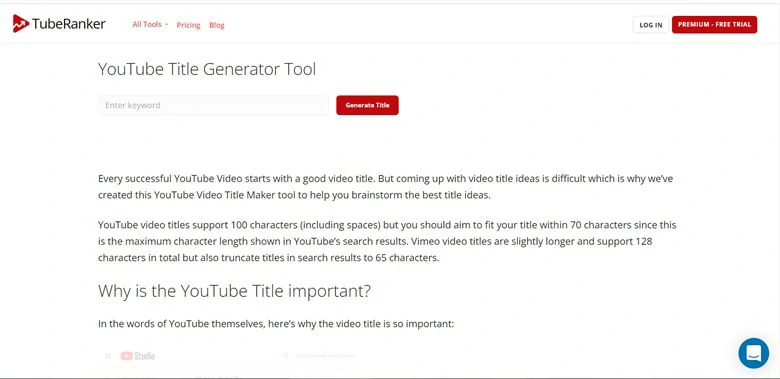 Best YouTube Title Generator - TubeRanker
#2 Weshare
Weshare is an ideal YouTube title generator for you to get the perfect title for your video and learn some helpful tips for thinking about the best video titles. To generate a perfect name, all you need to do is type some keywords.
Besides the YouTube title generator, it also packs extensive YouTube tools & resources designed to help your channel out, including a name generator and a YouTube description generator.
Key Features:
Free YouTube title generator
You can get many suggestions from their blog
Provide 250+ creative YouTube video title ideas
Additional tools like YouTube name generator and YouTube description generator
Pricing:
This YouTube video title generator online is free to use.

Best YouTube Title Generator - Weshare
#3 Copy AI
Copy AI is an AI-powered platform that helps you generate titles, descriptions and tags for your YouTube videos. It's super easy to use for coming up with an attention-grabbing title.
To generate an intriguing title, you just go to its YouTube video title template page and enter your topic with some keywords, then Copy AI will create several potential titles you can choose from.
Key Features:
It's a free YouTube title generator online
You can get many title ideas in no time
Over 90 copywriting tools to help your creation process
Pricing:
Copy AI provides free tools with a limit of 2,000 words per month. If you want more features, you can upgrade to their paid plan which starts at $49/month.

Best YouTube Title Generator - Copy AI
#4 AISEO
AISEO packs a free YouTube title generator tool that changes your boring title into an interesting one. As an AI-powered title generator, it uses a variety of data sources, including current news and trends, to generate titles that are sure to be seen. Generally speaking, it's a nice choice to try.
Key Features:
40+ tools to make your content stand out
It's a free tool to create great titles for your YouTube videos
You can use the caption generator to improve your search ranking
Pricing:
This YouTube video title generator is free.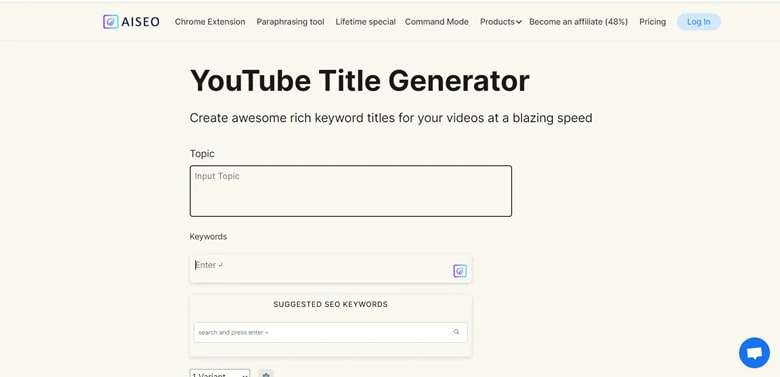 Best YouTube Title Generator - AISEO
#5 TunePocket
TunePocket is a free tool that generates catchy and SEO-friendly titles based on the keyword and topic you provide. Just type one keyword in the space box and this video title maker will create 5 random titles in no time. If you need more options, click on the Run Again button to get another 5 random titles to rank your videos.
Key Features:
A free YouTube title generator for all
It generates 5 random titles at one time
You can use the clipboard to copy and paste the titles quickly
Pricing:
It's an easy-to-use YouTube title generator for free.

Best YouTube Title Generator - TunePocket
Frequently Asked Questions About YouTube Video Title
1. Does Changing YouTube Titles Affect Views?
Yes. Although the act of changing the YouTube title doesn't inherently trigger YouTube to increase the impressions for a video, it will engage viewers to watch your video, depending on how appealing your title is.
2.What Is the Appropriate Length of a YouTube Title?
YouTube allows you to create a title with a 100-character limit, including spaces. But the best title length is around 70 characters, as it will display fully on most devices, and anything longer will appear as a truncated title.
3.What Are the Best Video Title Generators for Free?
There are many excellent YouTube title generators you can use for free. In this blog, Weshare, TubePocket and AISEO are the best free online tools to generate catchy titles for your YouTube videos.
Bonus Tips to Create Awesome YouTube Videos Easily
Already generate an attention-grabbing title? Combine it with an appealing clip to make a perfect YouTube video. To create stunning YouTube videos, FlexClip has much to offer, including extensive media resources, handy editing tools and more.
Besides, it has 3000+ professional-looking templates and royalty-free music stock to level up your YouTube video. Whether you're a rookie or pro who wants to make a stunning YouTube video with a catchy title, you can get satisfying results in minutes.
Below are some highlights of FlexClip to help you know more about it:
Pretty easy and free to use
Flexible and handy editing features
Loads of stunning YouTube video templates
Millions of royalty-free media resources
Extensive special effects
Multiple sharing paths you can choose
Conclusion
An engaging YouTube title helps your video go viral. If you run out of ideas to come up with creative titles, a YouTube video Title generator is all you need. Quickly pick your favorite option and start to generate your attention-grabbing titles in minutes.