Creating an eye-catching YouTube requires loads of time. You have to first write an excellent script, film, and then edit. On average, it takes 10 hours to create a YouTube video.
Thanks to the development of AI, now, creating videos for YouTube only takes minutes. With the launch of ChatGPT 3.5, lots of AI tools now can write excellent YouTube scripts, saving you much energy to do brainstorming.
If you are trying to find a good YouTube script generator, stop doing endless searching and comparison. Here is a list of the best YouTube video script generators on the market. Check it out and see which AI YouTube video script generator is right for you. Let's dive in.
Also Read: Best Text to Video Generators to Try >
Slideshow Video Templates Free to Use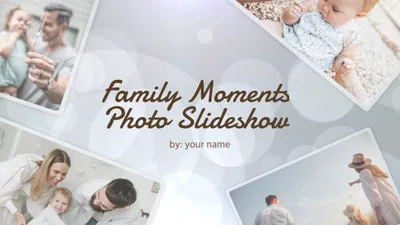 Family Moment Collage Slideshow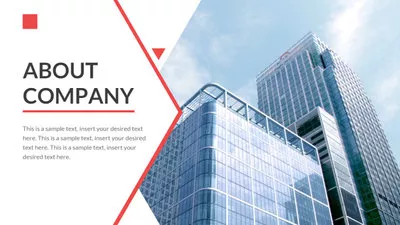 Minimalist Geometry Style Company Presentation Slideshow
Best 6 Free AI YouTube Script Generators
1. Maekersuite
Maekersuite generates attention-grabbing YouTube video scripts in minutes with the powerful AI tool. It doesn't provide you simple sentences generated from the topic you entered. Instead, it searches for the popular YouTube video titles and creates a new title and scripts. That makes sure you are creating videos that drive traffic to your channel effectively. The whole process takes less than a minute.
Each script has various sections that include ideas that need to be present in your videos. You can automatically generate content for each section to make the script perfect.
By the way, Maekersuite can also be used to help you generate YouTube descriptions. In a word, with Maekersuite, you don't have to write a word by yourself while creating a YouTube video.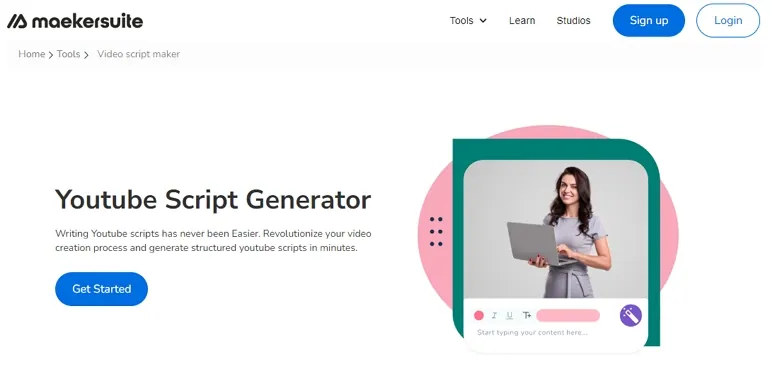 Best AI Video Generator - Maekersuite
2. Tinywow
Tinywow creates the best YouTube script by offering you many options. After entering the script topic, you can choose the tone of voice, and length. Click on Generate, you will have the YouTube video script in minutes. If you are not satisfied with part of the script, you can even ask it to rewrite.
In general, it creates a good script. However, a good YouTube script doesn't guarantee good traffic. To win more views, you might have to manually modify the script to match the search engine's ranking system.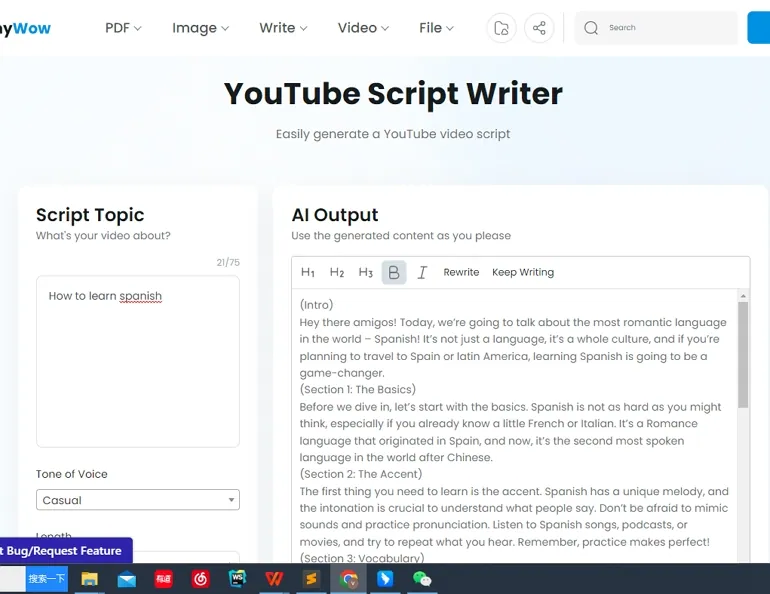 Best YouTube Script Generator - Tinywow
3. Jasper
Jasper YouTube script writer helps you create high-quality scripts for YouTube videos. It has a user-friendly interface, every feature is only a few clicks away. To create a script, you only need to give some info, like a title, description, keywords. Jasper can analyze it and create scripts or ideas for your YouTube video.
What we love Jasper most is its valuable suggestions on commands. There is a video on its website's main page that shows you how to create a good YouTube script with the right commands.
Best YouTube Script Generator - Jasper
4. Veed
With Veed's AI video script generator, you are the master producer and creator. Tell Veed the video topic, set the vibe to be funny, informal, creative or something else, you can have a YouTube video script in seconds without signing up or downloading any software, extensions to the computer.
Veed doesn't only offer you a script. Besides the script, it also describes the scenes need to be filmed. You don't have to picture where you should film according to the script. Moreover, Veed has numerous video editing tools. You can generate a script and then get started with creation right now.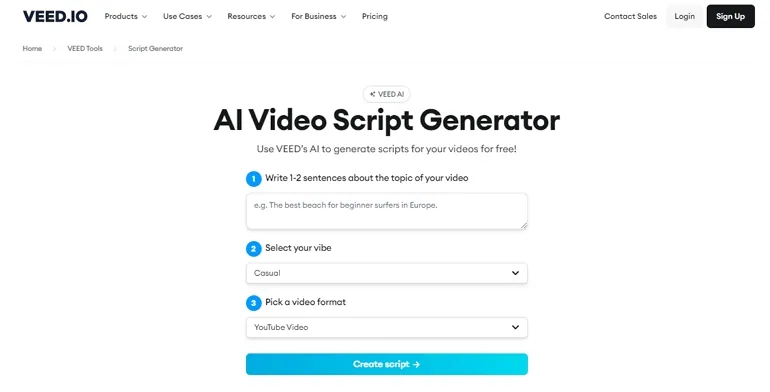 Best YouTube Script Generator - Veed
5. AtOnce
AtOnce is one of the best YouTube script generators to help make engaging YouTube videos. This software understands your video's purpose and target audiences. The YouTube video scripts are tailored to your needs.
It is also easy to use AtOnce. You just need to insert the video title, video keywords, and the words account, It can quickly generate a video script for you. After that, you can make changes and optimize the content for future use.
What makes AtOnce different from other YouTube script generators is that AtOnce's algorithm delivers content that drives maximum engagement and conversions. That is quite helpful for business YouTube channel owners.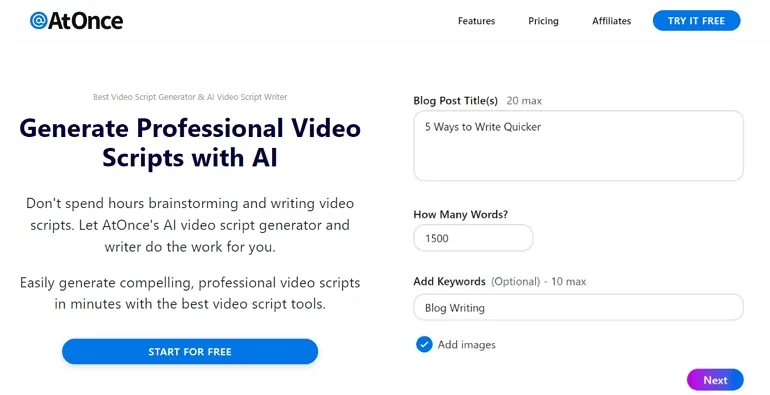 Best YouTube Script Generator - AtOnce
6. Neuroflash
With Neuroflash, you can generate hundreds of unique texts in different styles based on a short brief within a few minutes. Besides English, it can create YouTube scripts in over 80 languages. Create any script in your language.
You have full control over the texts. You can choose the best script Neuroflash generated for you. You can also edit the texts manually.
The best tool of Neuroflash is its SEO tool. It automatically searches for articles or videos with the highest rank, analyzes them and then tells you the most frequently used words. You would be able to optimize the script so that your YouTube video gets a better rank.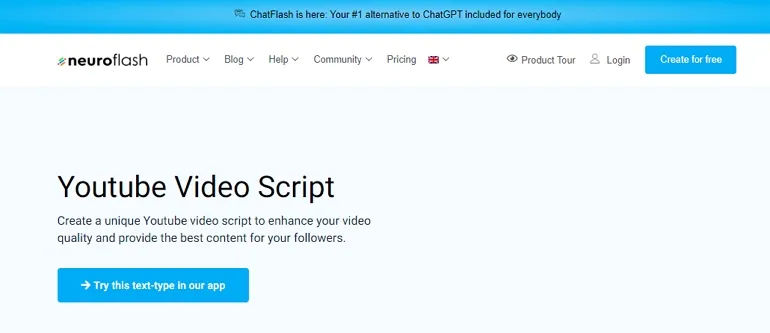 Best YouTube Script Generator - Neuroflash
The Bottom Line
The above 6 tools are the best YouTube script generators to help you create excellent YouTube videos. If you find this post helpful, please do share it so that others may benefit from it. More ideas? Share with us via Facebook!