Briefs: YouTube creators will find this article about YouTube audio quality informative and helpful. Here, you'll read what's YouTube audio quality, tips to improve it, as well as how to make/fix a YouTube with better audio for free.
Audio quality is the primary criteria for video. For YouTube creators, a YouTube video is screwed when its audio craps. YouTube audio quality determines a lot! (Because humans are auditory creatures.)
CONTENTS:
Part 1 - About YouTube Audio Quality
Types of YouTube Audio Quality
For YouTube Music download, you have 3 options for YouTube audio quality - low 48kbps AAC, normal/default 128kbps AAC, and high 256kbps AAC. (Refer to YouTube statement here. )
For YouTubers or creators, YouTube audio quality is determined by video bitrate or your uploaded audio quality.
Here, we mainly discuss how to improve the second YouTube audio quality - the audio quality determined by video bitrate or uploaded audio quality.
What's The Best YouTube Audio Quality?
For all YouTube audio quality, we don't recommend you to use 48kbps, however, 128kbps and 256kbps are strongly suggested. The higher the digit is, the better your YouTube audio quality will be.
Part 2 - Six Tips to Improve YouTube Audio Quality
#1.Make sure your audio doesn't overpower you with your voiceover.
To have a clear YouTube audio, you won't want your background audio volume louder than your voiceover. Or, audiences have difficulties in hearing what you say.
#2.Keep your voice volume in a stable state.
Another essential tip to improve YouTube audio quality is keeping all YouTube audio in a similar volume. A sudden louder/lower volume is a disaster to a good user experience - viewers may jump out of the video when they can't hear a thing or get yelled at.
#3.Vocal projection.
Talking quietly won't result in a good video audio recording. Throw your voice, boost your voice volume to boost your audio.
#4.Record your voice in a quiet space/room.
A room with good acoustics is the best choice to record sound & dampen the other sounds.
#5.Pick a cool microphone.
If you have some budgets, you can afford a cool microphone for video recording. Without doubt, it's the best choice. However, if you lack budgets, we have an alternative solution - Grab your smartphone/recording camera close to your mouth and speak to the onboard mic; this way, you can also have better recording audio.
#6.Use professional noise remover to remove inevitable noise.
No matter which device you grab, there might be some mixed noises in your audio. When it's your case, you can take a look at some renowned noise remover. These tools will help you get a crystal clear voiceover.
Part 3 - How to Make/Fix a YouTube Video with Quality Audio?
Separately preparing a high-quality audio/sound doesn't guarantee your YouTube video with quality audio. When you grab a video maker to join audio and video, the YouTube audio quality can change in the output. Therefore, you'll need a qualified video maker to get better audio in YouTube video.
FlexClip video maker is one of the most trusted video editing software online that ensures you better audio quality for YouTube. You can upload quality audio to FlexClip, for example, 128kbps or 256kbps audio in formats of AAC, MP3, M4A, FLAC, OGG, WAV, and output your YouTube video in 128kbps quality. FYI, audio sample rate of FlexClip video maker is 48000Hz, which saves everything human can hear clearly.
Tips: Main audio sample rates have 11025Hz, 22050Hz, 24000Hz, 44100Hz and 48000Hz. Get to know more about audio sample rate:
| Audio Sample Rate | Sampling Using Cases |
| --- | --- |
| 8,000Hz | Telephone audio |
| 11025Hz | AM radio audio |
| 22050Hz, 24000Hz | FM radio audio |
| 44100Hz | Boundary for CD audio quality: MPEG-1 audio (CD, SVCD, MP3) |
| 50,000Hz | Digital Voice Recorders |
| 96,000Hz, 192,000 Hz | DVD-Audio, some LPCM DVD audio track, BD-ROM audio track, HD-DVD |
| 2.8224 MHz | Direct Stream Digital 1st sigma-delta modulation |
Make/Fix a YouTube Video with a Quality Audio within 4 Steps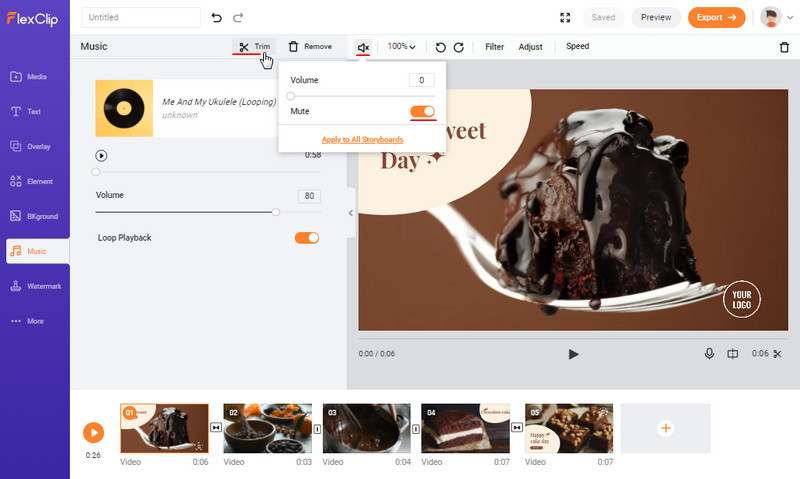 Image: Change video sound with quality audio.
Step 1 Prepare your audio file and video footage. Visit flexclip.com.
Step 2 Upload your video footage as storyboard, and mute storyboard video.
Step 3 Upload audio and adjust its starting point to fit the video.
Step 4 Output your video.
Part 4 - At Last
It's easy to improve YouTube audio quality, as long as you've found the right approach.