VLC subtitles not showing issue sets off a heated discussion on the VideoLAN Forums like a raging fire, including subtitles not showing, broken subtitles on the Android app, VLC hardcode subtitles not working, etc.
VLC subtitles not showing. I'm trying to watch this soft subbed anime and subtitle words are not showing fine(show squares). But videos play fine with subtitles on other players, but not VLC? - from VideoLAN Forum
If you want to enjoy subtitled videos with a hassle-free experience, this post lists why VLC subtitles are not working and the solutions to solve specific problems accordingly.
There are some stunning video templates with cool subtitle effects for you: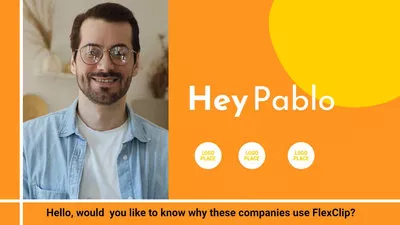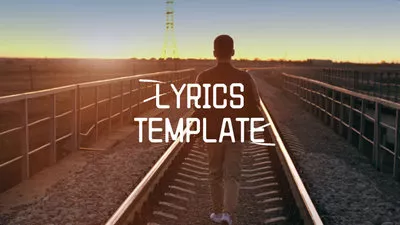 Can't Miss: How to Add an SRT File to a Video>
Part 1. Causes of VLC Subtitles Not Showing Properly
Many factors may cause VLC subtitles not showing problem. For example:
The subtitle file of this video is empty or corrupted.
The video and subtitle file doesn't share the same name.
The subtitles are not using UTF-8 text encoding.
The subtitle file is put in a different folder from your video.
VLC Media Player subtitle setting is not turned on or encounters some bugs.
All of these reasons above could lead to VLC subtitles not showing correctly. To fix this problem, follow the tips to find the reason and solution.
Part 2. How to Solve VLC Subtitles Not Showing
Solution 1. Check If the Subtitle File is Empty or Corrupted
VLC can't load the subtitle successfully if the file is empty or corrupted. To check this, open your subtitle file with tools like Notepad to see if it works well. If needed, download a new subtitle file instead.
Solution 2. Check the SRT File Title Matches Its Video's Filename
The subtitle file and video should share the same name and be stored in the same folder to work perfectly. If the subtitle is separate, change the file name and save it to the same folder as the video.
Step 1
Open the folder containing the subtitle file VLC doesn't display.
Step 2
Move the subtitle to the same folder as its video.
Step 3
Right-click on the subtitle file and select Rename option.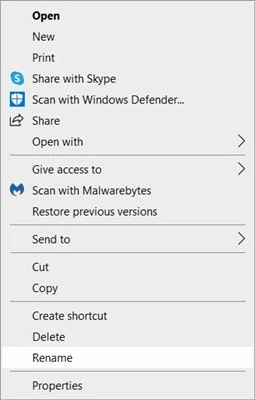 Rename Your Subtitle File
Step 3
Right-click on the subtitle file and select Rename option.
Step 4
Type the video file name and make sure the file title has the SRT extension at the end of it.
Solution 3: Convert the SRT file to UTF-8 encoding
To convert your SRT file using UTF-8 encoding, just follow the tutorial below.
Step 1
Firstly, open the SRT file with Notepad to check if it includes the right subtitle text.
Step 2
If the subtitle file doesn't use UTF-8 encoding, you can convert it with a tool like Convert files to UTF-8 web app.
Step 3
On the browser page, Click the Choose Files button to add the subtitle file not using UTF-8 encoding.
Step 4
After that, click the Convert to UTF-8 button to start the conversion process.
Step 5
Click Download to save the file to your hard drive.
Solution 4: Manually Load Subtitle File to VLC
If VLC doesn't load the subtitle file successfully when playing a video or DVD, manually add the subtitle file to the VLC media player.
Step 1
Open and play the video you want to add subtitle with VLC.
Step 2
Click on the Subtitle icon and choose Add Subtitle File option from the drop-down menu.
Step 3
Add the subtitle file from the pop-up folder and click Open.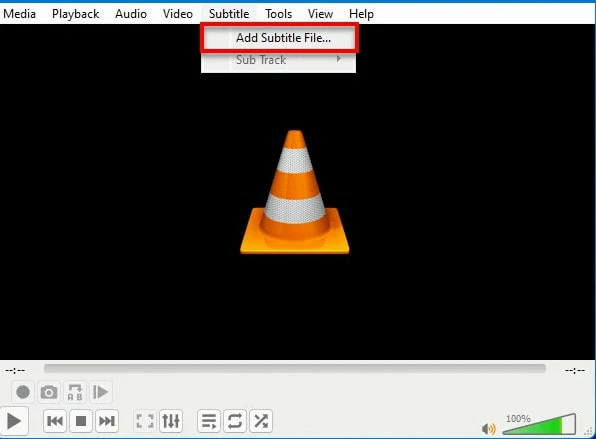 Load Subtitle File to VLC Media Player
Solution 5: Check Subtitle Settings in VLC
Your video is unable to play with subtitles if the settings is misconfigured. To fix this, you need to check the settings as below.
Step 1
Open VLC media player and click on Tools menu.
Step 2
Choose Preferences in the menu bar and switch to Subtitles/OSD option.
Step 3
Select the Enable subtitles option if it's not selected and then choose the Auto option on the Font size drop-down menu.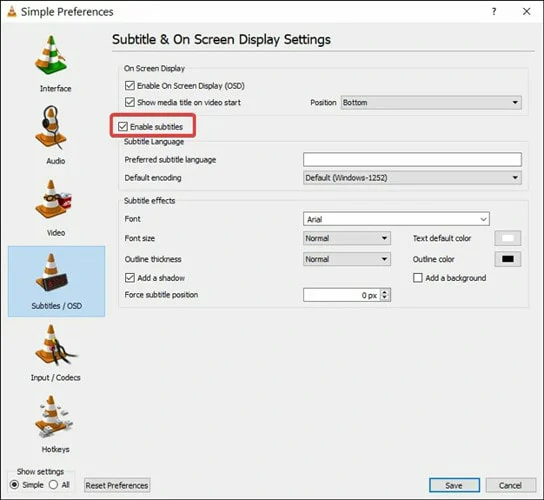 Enable Subtitles Option in VLC Media Player
Step 4
Click on the Save button and restart VLC Media Player.
Step 5
Make sure the Force subtitle position option is configured to 0px.
Step 6
Set your default text color as plain white and click Save to apply the settings.
Solution 6: Reset the VLC Media Player
Sometimes, this problem happens if VLC Media Player has some bugs. Under such circumstances, all you need to do is reset this application.
Step 1
Click Tools button and select Preferences option.
Step 2
Choose the All button at the bottom left of the Interface tab.
Step 3
Press the Reset Preferences button and select the OK option to save your changes.
Part 3. Best Alternative to Automatically Subtitles to Video/Movie Online
If none of tips is helpful or you need a quick solution, it's time to turn to a VLC alternative. FlexClip, an easy-to-use and powerful video editor, will lend you a hand when it comes to subtitle editing. Whether you want a subtitle file or automatically extract subtitle from movies or combine downloaded subtitle files to video permanently, FlexClip will get you all covered.
Supporting high accuracy rate and customization, its AI-driven auto subtitle generator will automatically generate subtitles from movies, videos, TV series and more with custom subtitle layout and settings. Additionally, subtitle file(SRT, VTT, SSA, ASS, etc) download, upload or conversion on this platform are all available, making your subtitle process a breeze.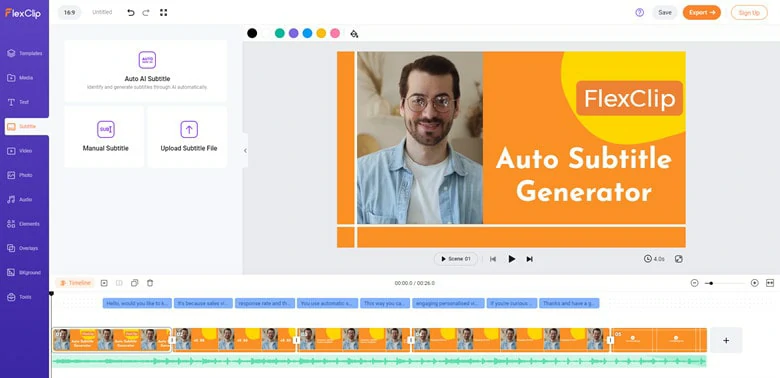 Best VLC Subtitle Alternative Online - FlexClip
Key Features of FlexClip:
Able to turn subtitles into speech in clicks
Hundreds of modern and dynamic text styles
Combine subtitle files with videos permanently
Multiple subtitle styles are available
Use text to generate video, script and image.
Many handy and powerful editing tools
No editing experience needed
Part 4. VLC Subtitle FAQ
1.Does VLC Support SRT Subtitles?
Yes. VLC supports many subtitle formats including SRT, SSA, SUB and ASS. However, the VLC SRT file is not working if it's empty, corrupted or doesn't share the same name as its video.
2.How to Solve VLC Subtitles out of Sync Issue?
VLC subtitle out of sync is another problem that many users face. It often happens with images, audio and subtitles are out of sync. Don't worry, you can fix it in minutes.
Step 1
Play the video with VLC media player and click Subtitle > Sub Track to check if subtitles are enabled.
Step 2
Tap Tools and choose Track Synchronization.
Step 3
On the new page, edit the Subtitle track synchronization to make subtitles synchronized with your video.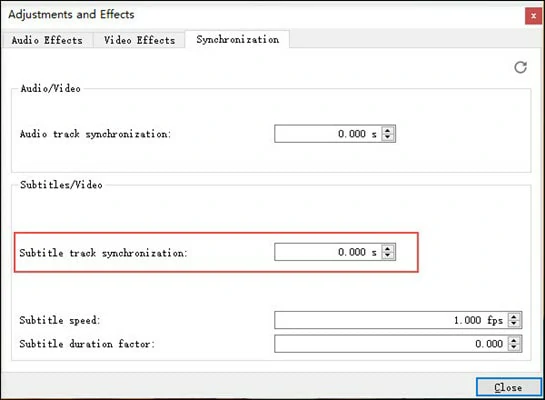 Solve VLC Subtitles Out of Sync
The Bottom Line
That's how to fix VLC subtitles not showing issue. Try to follow this guide to solve your problem. If you need a quick solution, don't forget to use FlexClip to add subtitles manually.