Taking pictures during vacation has gone beyond just having a nice natural background to something more artistic; it has a way of making the whole thing look artistic and photogenic. Although on some occasions, applying a vacation slideshow template can be the perfect way to hide some not-so-good parts of a picture. Also, you won't get to manually slide through a bunch of pictures: just do the necessary settings, and the slideshow will conveniently slide through each of your pictures as you watch.
To come out with a good vacation slideshow requires a good tool, which is why there are a lot of them out there. But most of these tools has issues; while some are prone to distorting pictures, other often encounter problems relating to complicated user interface. And to some other vacation slideshow tools, you may even go as long as editing the slides over again after it is complete. Unfortunately, those few good ones are paid.
But that won't be a problem; we have not only explained how to create a vacation slideshow below, we have explained it using one of the finest tools for creating a vacation slideshow. Please follow.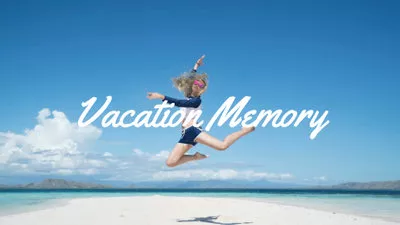 Vacation Slideshow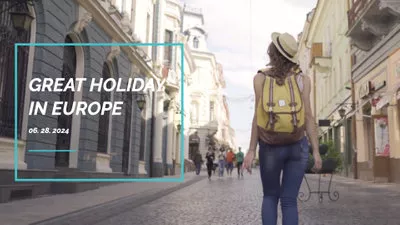 Unforgettable Holiday
How to Make a Vacation Slideshow
Step 1
Go to FlexClip Editing Panel
Before we continue, let's take a few seconds to explain FlexClip. FlexClip is the best online slideshow maker today. It helps people create an appealing vacation slideshow with elegant fonts, rich music, photo, video resources, and powerful editing tools like transitions, filters, and more.
What are you waiting for? Now, click on the Create a Video button to enter the editing panel. You are also welcomed to browse more slideshow templates by clicking the View Templates button.
It is time to upload all the pictures you wish to convert to a slideshow. To do this, click "Media," then drag and drop the uploaded videos and photos to the timeline. Click on the Add to Timeline button will also do.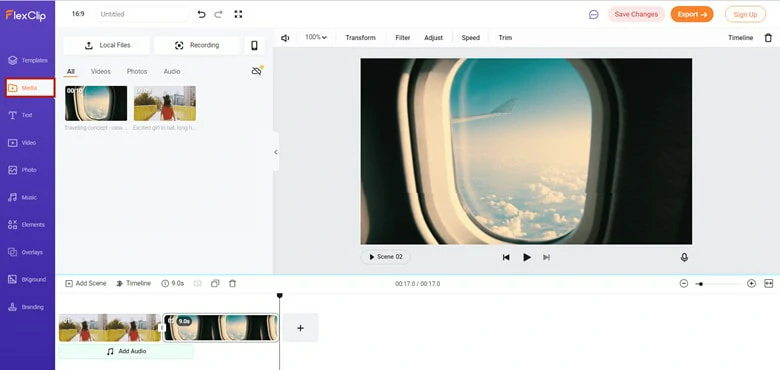 Create a Vacation Slideshow - Upload Assets
Step 3
Edit the Photos and Videos
Click "Text" to add texts to the slideshow, and make other necessary filters to the slideshow. Doing that will make it appear better when you are done.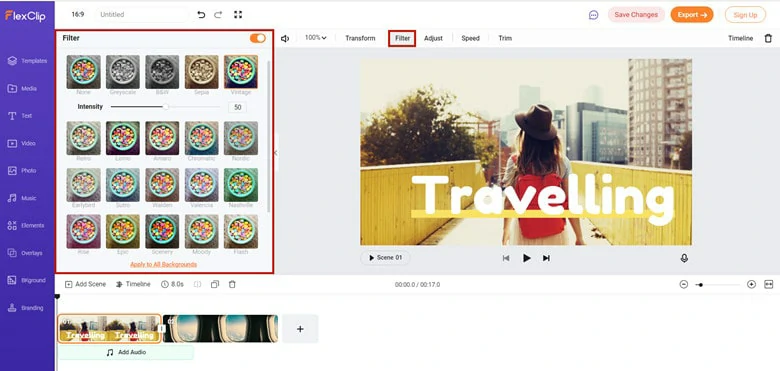 Create a Vacation Slideshow - Edit the Photos and Videos
Step 4
Add Animations and Transitions
Select any photo, and go to the animation section. You will have absolute control of how the pictures are moving. You can also add some transitions between the scenes to make each scene go natural.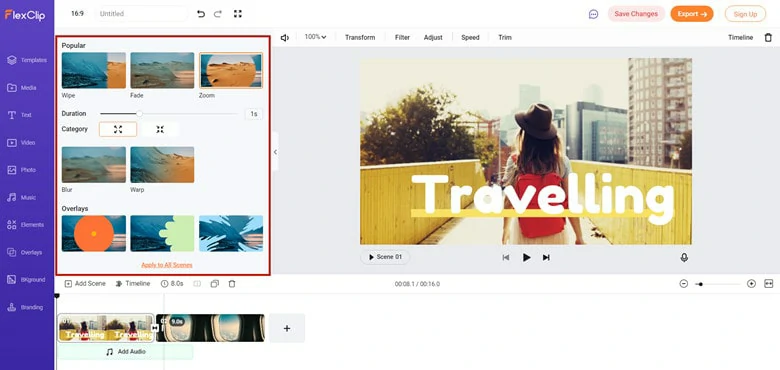 Create a Vacation Slideshow - Add Animation and Transitions
Step 5
Pick the best music
Upload an MP3 file from the "Media" section of the sidebar and set as BGM. It is important we add that FlexClip comes with a free music library, unlike others where you will be meant to pay for it. And to do that, click the "Music" from the sidebar. And pick the song that suits your slideshow.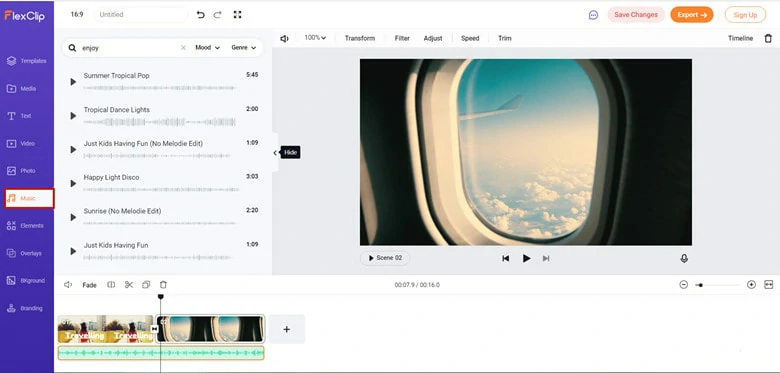 Create a Vacation Slideshow - Add Music
Now you are done. Click "Preview" from the top right to preview your slide, and "Download" or "Export" to either download to your local disk or share on any social video sharing platform.
What If I Don't Have Any Experience in Making Vacation Slideshows?
If you are in this category, you don't have anything to worry about. Like we have always said, FlexClip got your back. FlexClip is a free online-based slideshow tool. But unlike some other vacation slideshow makers, it comes with an automatic slideshow generator. Pick a vacation slideshow template you like, upload your photos, you will have a vacation slideshow in seconds.
The Bottom Line
If you have an eye for quality and artistic prowess, FlexClip is giving you that opportunity to make the best out of its features and create something beautiful out of your vacations. Use it to create a slideshow right now! By the way, don't forget to share and like this post if you find it helpful!