Uploading podcasts on YouTube is a new feature they have released, giving creators a new way to share their message and connect with their audience.
Ready to start podcasting on YouTube? Check the video - How To Create a Podcast in YouTube Studio - below to learn how to create a Podcast in YouTube Studio and get more!
How To Create a Podcast in YouTube Studio
Pretty easy, right? But wait! Only video podcasts are supported, not audio podcasts!
Well, that's right, the video site, YouTube, still requires video files only!
So, if you are already filming, recording, and editing your podcast into a video, you can simply upload your video files to YouTube; but, if you're getting an audio podcast in hand, you need to turn the audio podcast into a YouTube video for posting on YouTube first.
In this article, we'll show you how to upload an audio podcast to YouTube, including how to turn an audio podcast into a YouTube video. Get ready? Let's dive in!
Contents:
Music Radio Podcast Audio Trailer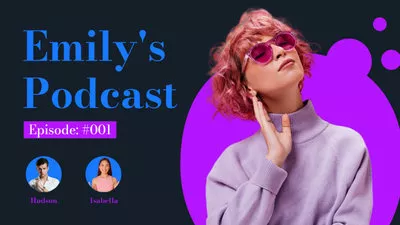 Movie Talk Show Podcast
Also Read: How to Add a Subscribe Button to Your Videos>
How to Upload Audio Podcast to YouTube
Unfortunately, if you have your podcast in an audio file, an MP3 or a WAV, YouTube still doesn't offer the option to upload a podcast as a audio file directly. So, you'll need to turn your podcast into a video for uploading on YouTube first.
How to Turn Podcast into a YouTube Video
How to turn your podcast into a video for sharing on YouTube? Here, we have FlexClip, a free online tool that allows you to convert your podcast audio file into a video in order to upload to YouTube.
Now, follow the simple steps below to see how you can easily turn your podcast into a video and upload to YouTube.
Step 1 Upload Your Audio Podcast File
To begin with, you'll need to upload your podcast audio file to FlexClip. You can drag and drop it to the Media section directly, or upload the audio file from your phone or some third-party platforms, such as Google Drive, Dropbox.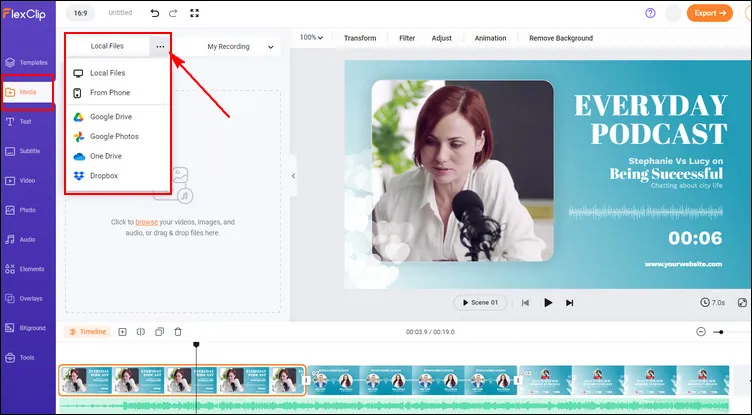 Upload Your Podcast Audio File
Once uploaded, you can click the plus icon or drag and drop the audio file to add it to the Timeline directly.
Step 2 Add Video Elements for a Video Podcast
Now, you need some kind of video element to upload a podcast to YouTube. It can be as simple as a static image, just have something "playing" in the background.
At FlexClip, you can upload your own images or any clip to accompany your podcast; have no proper footage in hand? You can also pick some stunning resources from FlexClip's video and photo library.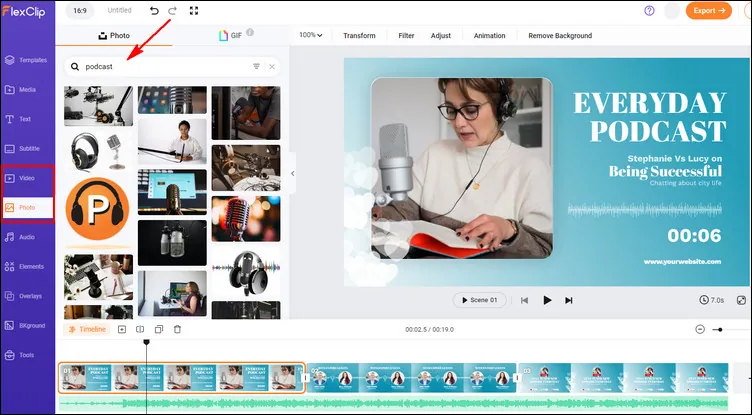 Add Video Elements for a Video Podcast
Moreover, you can even try FlexClip's advanced AI text-to-video tool to generate desired visuals for your podcast from related keywords.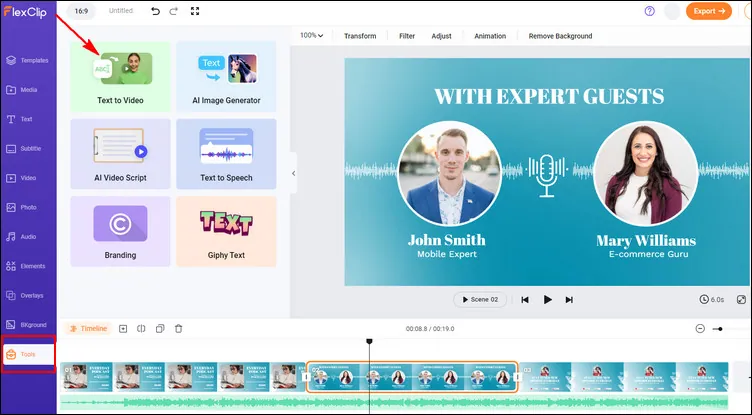 Add Video Elements for a Video Podcast with AI
Need more ideas for a podcast video? The pre-made templates are ready to help you out!
Pop Music Youtube Intro Outro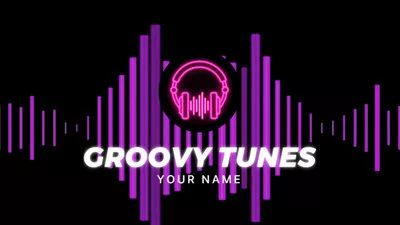 Groovy Music Intro Outro
Here's one thing you need to keep in mind: once you add the footage, remember to adjust the duration to make sure it fit the length of your podcast audio.
Step 3 More Edits to Make it Appealing
A simple video with a static image just isn't that engaging to make the audience stick around to hear your full episode. So you can make more edits to make it appealing by animating it, adding text, and also making visually attractive slides to go along with different sections of your podcast.
For example, you can add your logo, name ("Hosted by…"), website URL, and any other pertinent information on that background visual. Or, transcribe your podcast and add the subtitle to your podcast to make your content clearer with FlexClip's AI subtitle generator.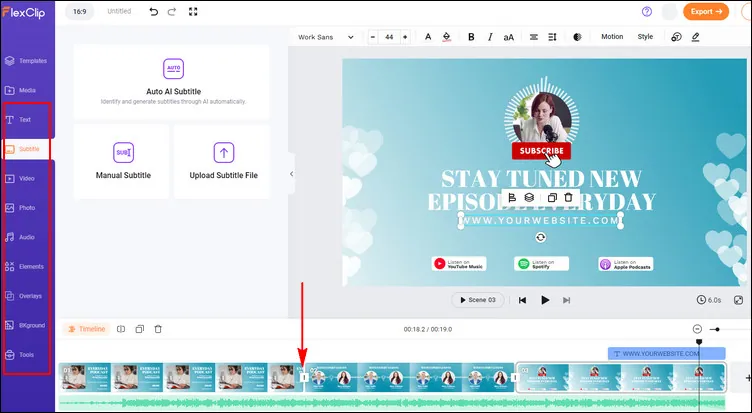 Make More Edits
Step 4 Export as Video Podcast for Uploading to YouTube
Once you done the edits, you can preview the whole video to check the final effects, If satisfied, you can export the podcast video that is ready for posting on YouTube. You can try FlexClip's quick share feature to share it as a normal video to YouTube in one click or follow the tutorial below to post the podcast in YouTube Studio.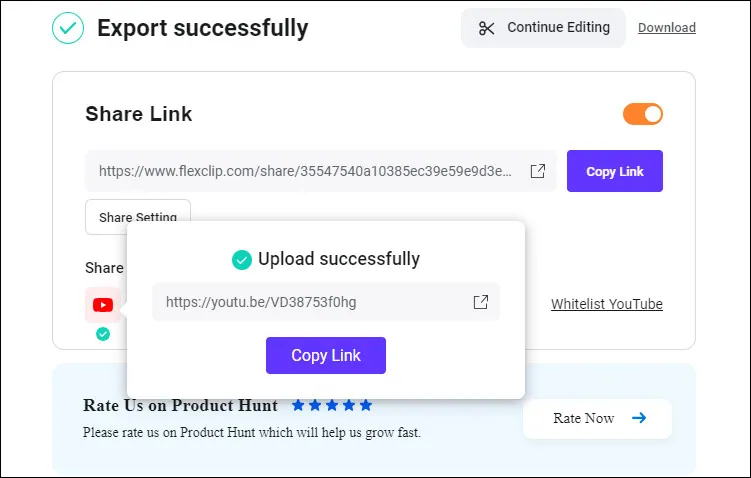 Upload the Podcast to YouTube
How to Post a Podcast on YouTube
Now, you've got a podcast video ready for uploading to YouTube, just follow the steps below to post it on your YouTube channel.
Step 1
Open YouTube and go to the YouTube Studio, then click the "Create" button in the top right then "New podcast".
Upload Podcast on YoUtube - New Podcast
Step 2
Then, a New Podcast window will pop up, select Create a new podcast from the pop-up to create a new playlist for you podcast. (Or, if you'd like to turn an existing playlist into a podcast, you can select Set an existing playlist as a podcast.)
Upload Podcast on YoUtube - Create a New Podcast
Step 3
Now, you can enter your podcast details, including Title, Description Visibility, and Thumbnail on the podcast details, and then click "Create" to save.
Upload Podcast on YoUtube - New Podcast Detail
Step 4
Once you've created your podcast playlist, you can upload and add any video to it for posting your podcast on YouTube.
Final Words
Starting a podcast on YouTube is a new and great way for creators to grow audiences. Are you ready to post your first podcast on YouTube? With the method we shared in this article, we hope you can successfully start your podcast journey on YouTube!