Today's fast-paced world is filled with a wide range of fantastic technological inventions, including video QR codes. As the name implies, it is a type of QR code that can instantly turn a video into a QR code. It is widely used in different fields nowadays, such as business, education, and health care.
With all the things mentioned above, why do you think many people want to turn a video into a QR code? There are many answers, but one of the most significant reasons is that it brings so much convenience. Not to mention, it can also provide an exciting experience, especially for those who are still exploring its benefits and features. Just like any other type of QR code, a video QR code is very easy and fun to use. It works by scanning the QR code using any QR code scanner app, and you will be easily directed to the video's web page or app. You can also scan a video QR code using the camera on your latest smartphone.
If you're still not convinced about turning into video QR codes, the following content will surely help you! Read on, and you'll find out more about the benefits of a video QR code. Aside from that, you will also learn how to turn a video into a QR code and what QR code generator is the best to use.
QR Code Generator
A popular online code generator that can be used to add editable and trackable QR codes. Also, users can add their preferred logo on the center and create multiple QR codes in just one sitting with no expiration. And yes, this code generator supports videos from local folders, cloud storage, or social media platforms. All these for free!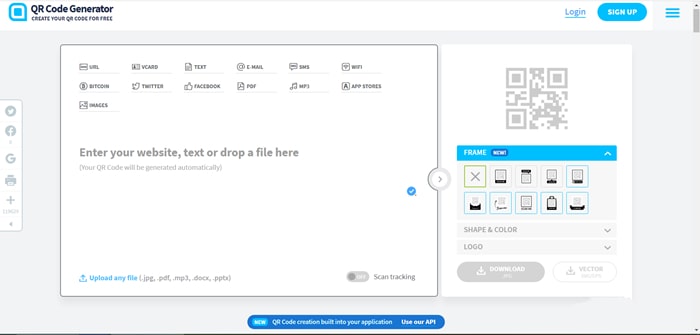 Best QR Code Generator - QR Code Generator
How to Use QR Code Generator:
Step 1
Create a free account.
Step 2
Select the type of Qr code you want to generate.
Step 3
Fill in your details.
Step 4
Download the QR code.
Mevie
Instantly convert your video to QR code or URL format with Mevie! Once you are registered, you can enjoy storing videos and generating them into QR codes later on. It also provides a guide and tutorial on the website that can help first-time users to explore the app. This video QR code generator online is free.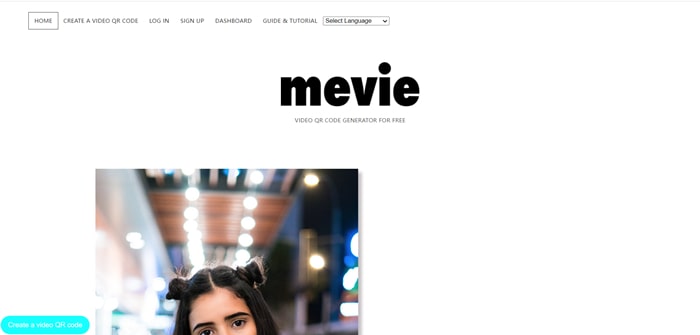 Best QR Code Generator - Mevie
How to Use Mevie:
Step 1
Create an account.
Step 2
Upload your video.
Step 4
Download the QR code.
Scanova
Scanova is an online code generator app that lets you create customized QR codes fast and hassle-free. Its features include dynamic QR codes, 2 Qr code design options (logo and background), analytics, engaging content, mobile landing pages, high-resolution QR codes, lead generation, and enterprise features. It offers a 14-day free trial with access to all features. You can also subscribe to its "Lite" version for as low as $15 per month, the "Standard" version for $50 per month, or the "Pro" version for $100 per month.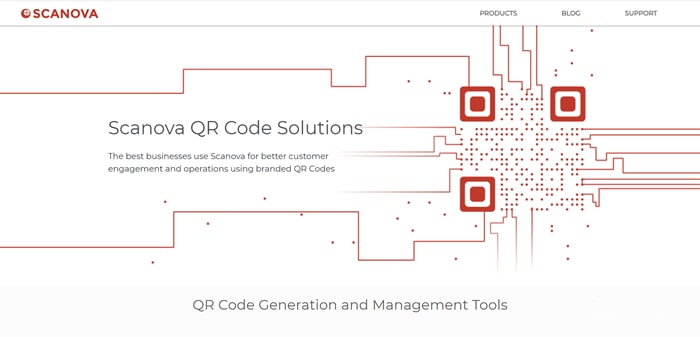 Best QR Code Generator - Scanova
How to Use Scanova:
Step 1
Sign up for an account.
Step 2
Choose your preferred QR code category.
QRcode Tiger
Another custom QR code generator app online, QRcode Tiger, has advanced QR code generating features where you can also add a logo on it. It provides QR code sizing, positioning, and design customization all in one place. It offers a free trial version with limited features; regular version for $7 per month; advanced version for $16 per month and; premium version for $37 per month.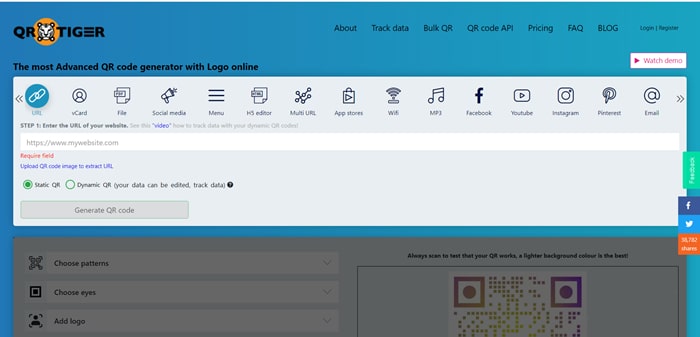 Best QR Code Generator - QRcode Tiger
How to Use QRcode Tiger:
Step 1
Enter the URL of your website.
Step 3
Customize your QR code.
Step 4
Download the QR code.
Bonus Tip: The Best Video Editor You Can't Miss
Of course, before you can create a video QR code, you need to provide a video first. However, creating and editing a particular video, be it for your business or personal use, requires skills and time. That's why considering a video editing tool with lots of dynamic features will provide you with so many benefits. Luckily, there are several amazing video editing tools online like FlexClip that you can always count on.
With the right video editing tool, you can produce stunning and worth-watching videos that will surely wow your target audience. So for your next video project, make sure to turn to FlexClip and experience fast and convenient video editing
Edit your video effortlessly with FlexClip's amazing features. You can cut, trim, or customize your video based on your preferences and requirements. It also provides HD outputs, so you don't have to worry about the quality of your videos.
It provides thousands of templates, over 3 million animated text and elements, and over 4 million stock assets for FREE!
The Bottom Line
It's crazy how the world gets more and more convenient through the years. With the help of video QR codes, it's easy to manage and access video files in just a snap. Thanks to reliable video QR code generating tools, people learn how to turn a video into a QR code with little to no hassle. And also, big thanks to video editing tools online like FlexClip for providing us with the best videos we could ever hope for. Try FlexClip and experience all these benefits in your future video projects!