It is all fun and games when you are using a Mac and have an Android phone, but what do you do when you want to transfer files from your phone to your laptop? Well, the situation could arise when you want to make more space on your Android device or edit the videos with more options available to you.
However, the process can get complicated, especially when you realize that you cannot access any file on Mac that has come from an Android phone. So, if you want to solve this issue, you can follow the steps below and learn how to transfer video from Android to Mac.
Can't Miss: Make A Video With Photos And Music For Free>>
How to Transfer Video from Android to Mac
Transfer Videos from Android to Mac via Cloud Services
If you are wondering how to send videos from Android to MacBook, you can use cloud services, such as Google Drive to make the process easier. Such services are compatible across various platforms and can be used on an Android phone, as well as on your laptop.
This method allows you to create a backup of all your important files, including videos, that are present on your Android phone. You can then proceed to save them on your cloud service and sync it to your Mac, so that you can later on access it with ease. But the greater the size of your files, the more will be the associated costs incurred. It is up to you and whether you want to minimize this cost.
The following steps will tell you how to import videos from Android to Mac with the help of cloud services, such as your Google Account used for Google Drive.
Step 1
Install the app for Google Drive on your device that uses Android and launch it.
Step 2
Select the '+' icon.
Step 3
Then, choose the option to upload.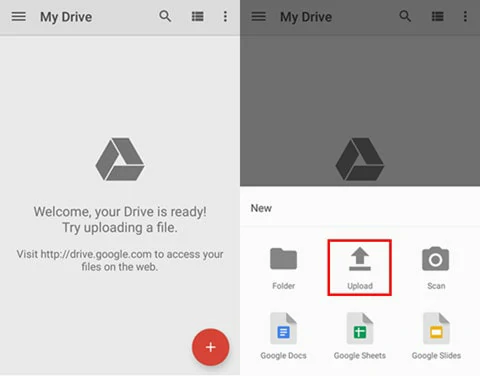 Download Google Drive and Move to Upload Panel
Step 4
Now, pick out the desired pictures and upload your files to the Drive.
Step 3
Then, choose the option to upload.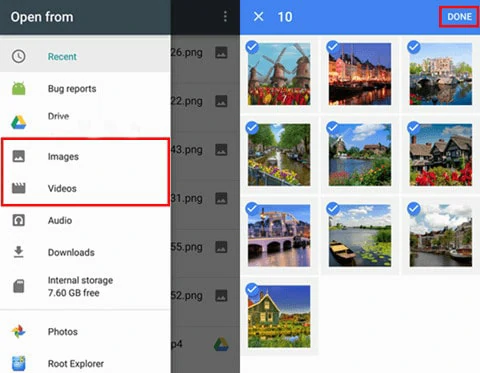 Upload Media Resources to Google Drive
Step 5
Open up the website for Google Drive from the browser of your laptop and put in your login credentials.
Step 6
Select the file that was recently uploaded and download it in order to transfer it to your laptop.
Transfer Videos from Android to Mac via a USB Cable
It is a known fact that you will find complete support from Android phones to a PC based on Windows. However, the same cannot be said for Mac and Android devices, which is where things get a little complicated and challenging. But there is nothing to worry about. There is a solution out there! If you are hoping to learn how to transfer video from Android to Mac, then you can also do so by using a USB data cable.
To successfully do this, you need to configure the settings on your Android device and make it so that it can be detected by your Apple laptop. But this is a risky option, as you could potentially lose your data at the time of the transfer. It is up to you to tread carefully if this is the method you have chosen to transfer videos from Android to MacBook.
Below are some steps to help you through this process.
Step 1
Use a USB cable to connect your Android device to Mac.
Step 2
Swipe downwards to open up the notification bar from the top of the screen.
Step 3
Next, select the USB connection option and choose USB mass storage to allow your device to be detected by your laptop as just another removable drive.
Step 4
Tap on the removable disk icon two times when it appears on the screen of your laptop and gain access to the device file folder on your Android device.
Step 5
Now, you need to click on the folder that contains all your videos and files you want to delete, at least two times on your phone.
Step 6
Choose the videos you want to transfer or drag and drop them onto the desktop of your Mac.
Step 7
After the files have been transferred successfully, you can simply unplug your Android device from your laptop.
How to Transfer Files from Android to Mac Using a USB Cable
The Bottom Line
While transferring videos from Android devices to MacBook can present its fair share of obligations, it is not an impossible task. All you need to do is follow the steps mentioned above down to a tee and your process will be made a lot easier. Moreover, all your files will be safe and sound on your laptop.
In addition to moving files using cloud services and a USB cable, there are different methods that you can try. All you will need to do is some research and your files will easily be transferred onto your laptop. If you found this information helpful, then be sure to like and share it so that it can be passed on to others who stand to benefit from it. Good luck!