Briefs: Teaching videos are a very effective way to share knowledge and course. Come with us to find easy free ways to make & record instructional videos for various requirements.
CONTENTS:
When people don't understand a thing (i.e., a concept/technology/course), they are likely to search related teaching videos online for help. Also, instructional videos allow a teacher to share his/her class with a much larger population & get more useful feedback.
Part 1 - How to Make a Teaching Video Using FlexClip for Free?
FlexClip Video Editor is a powerful, online video editing & video capture tool. It helps edit all kinds of footage & videos, and record video of whatever is on the screen (You can record from videos, browsers, live Windows, streaming services, and more).
Teachers can make use of it to prepare a teaching video for class and after class. For both students and teachers, FlexClip is convenient & useful to download a course video online via screen capture. (You don't need to install anything. Greater is it's free & watermark-free to download your screen recording/teaching video.)
Key Features about FlexClip Video Editor for Teaching Videos:
Record teaching course on computer screen from the entire screen, any application windows, or browser tab.
It allows you to record instructional video via webcam or screen capture.
Compile & edit your screen recording, illustrations & graphics, and tutorial videos at one go.
Add texts/scripts, upload audio/record voice to assist your visual teaching.
How to Make a Teaching Video using FlexClip Video Editor?
Step 1 Pay a visit to FlexClip.com, hit [Make a Free Video], and go [+ Start From Scratch] to start a teaching video project from zero.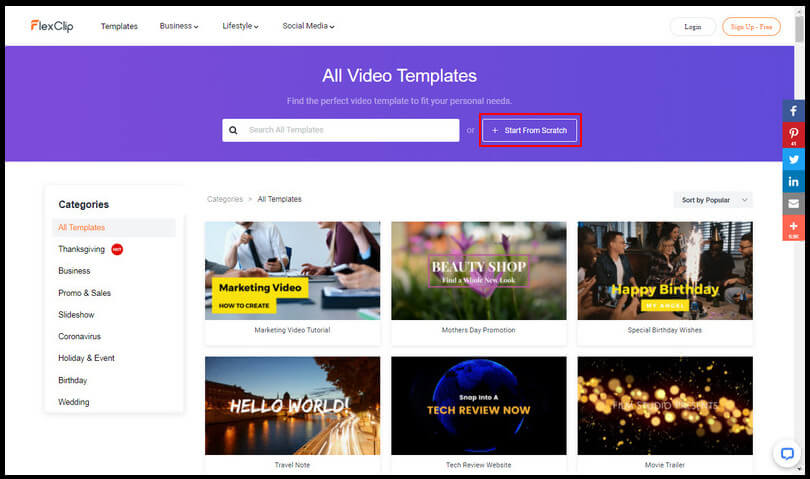 Image: Launch a blank video project for teaching video.
Step 2 Upload your teaching footage, tutorial pictures as storyboards for your teaching video. You can also record some teaching courses via webcam or screen capture (i.e., PPT, experiment, etc.).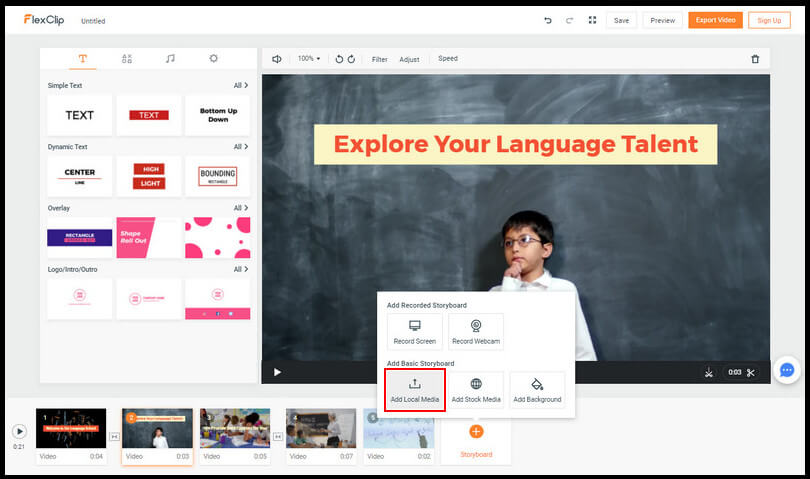 Image: Upload teaching videos and images.
Step 3 Add decent intros and outros to your teaching video by following [+Storyboard] > [Add Stock Media] and search "intros"/"outros".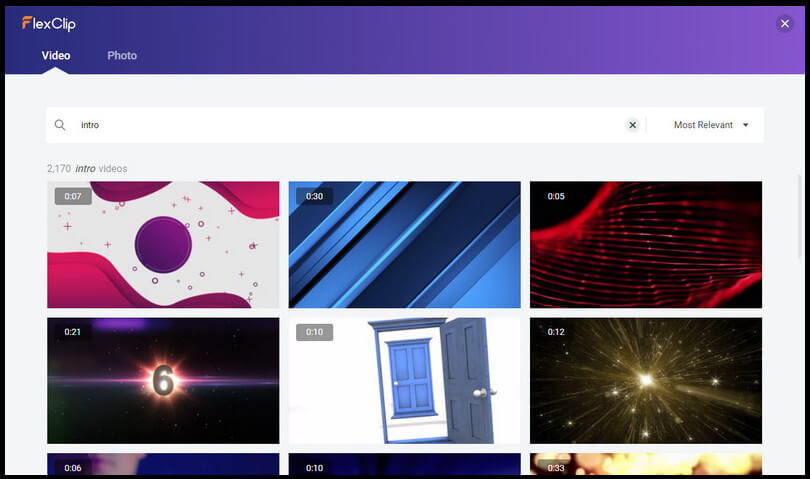 Image: Find & add intros/outros for your teaching video.
Step 4 Edit your teaching video. You can add voiceover, scripts, or change the speed of each video storyboard.
Step 5 Preview and download your teaching video to an MP4 video in 480P, 720P or 1080P.
Part 2 - How to Record Instructional Videos with Online Screen Recorder?
For hard-to-learn courses, it's beneficial for students to record/download the course video, then they can replay & recap the course.
RecordCast is an advanced yet convenient way to record courses online. Here are concrete steps to record versatile instructional videos.
Step 1 Head to RecordCast - https://www.recordcast.com/, and go [Start Recording].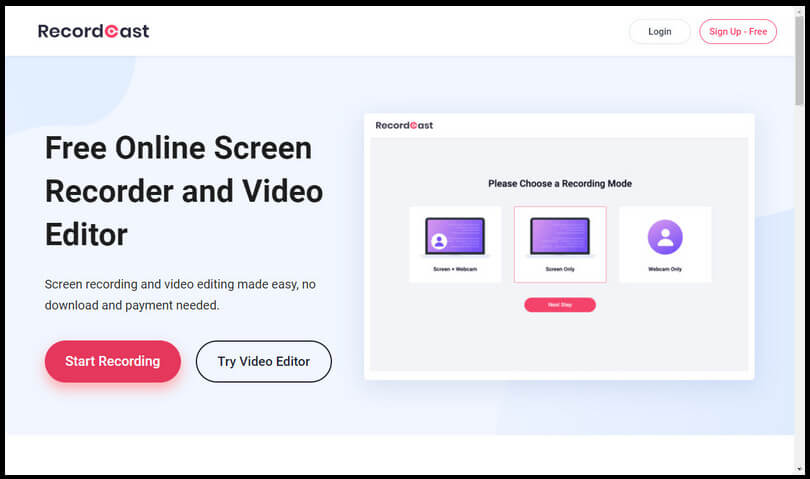 Image: Click recording button.
Step 2 Choose your screen capture mode from 3 types - Screen + Webcam, Screen Only, or Webcam Only. (Screen + Webcam will render picture-in-picture video recording.)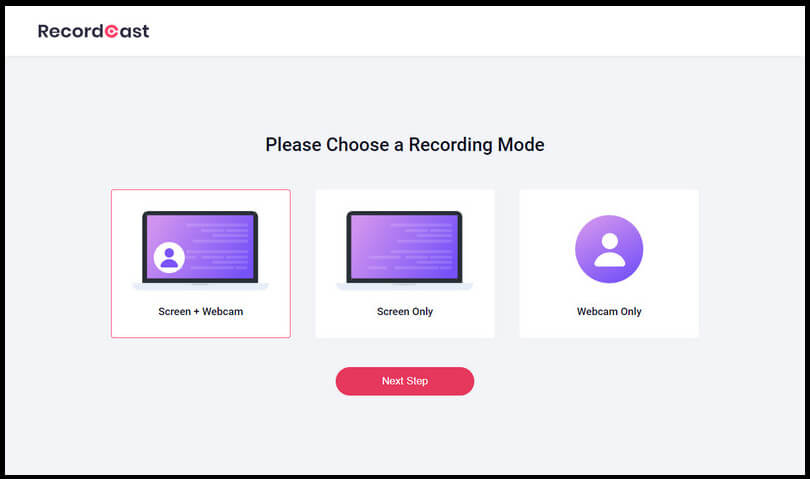 Image: Choose a recording mode to capture your instructional video.
Step 3 Choose your audio recording option. There are "Microphone + System audio", "Microphone", "System audio" and "No audio" altogether for you.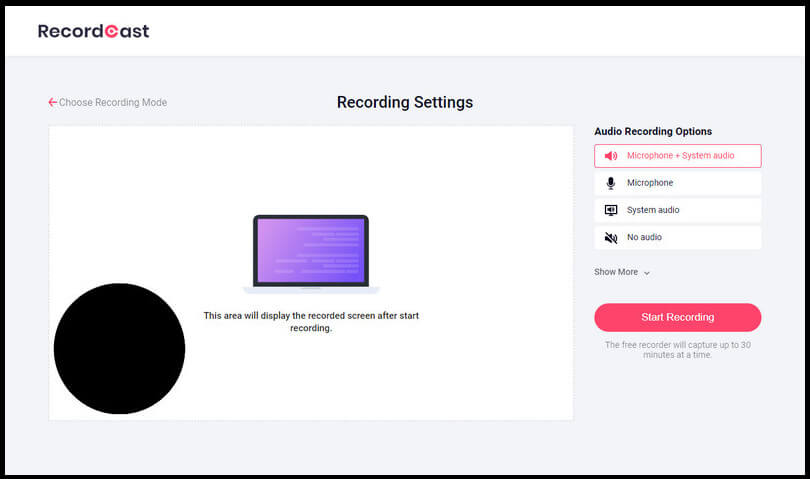 Image: Choose recording audio for your instructional video.
Step 4 Select where you want to record the course: Entire screen, a browser's tab, or application Windows(i.e., recording word, PPT, OneNote, MATLAB or a programming studio).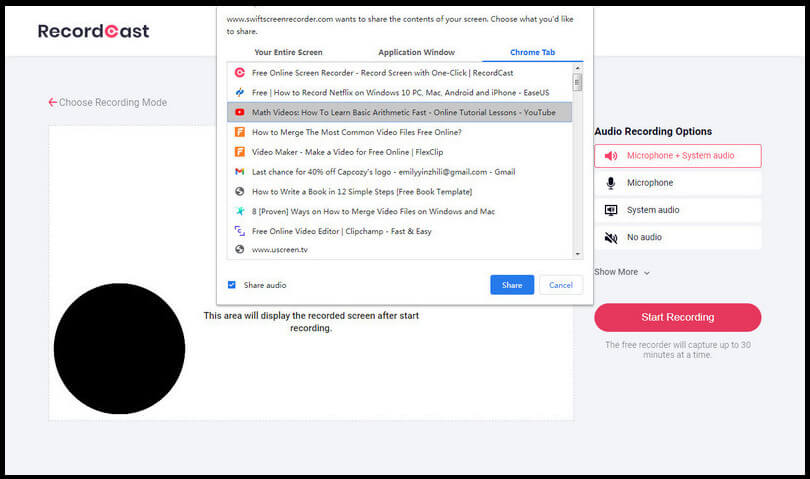 Image: Select the playing tutorial video to record.
Step 5 Finish recording to download the instructional video.
Part 3 - Five Teaching Tools That Assist You to Record/Make a Teaching Video
Besides these apps making/editing/recording a teaching video, there is a list of useful tools for online courses and classes.
MS OneNote - OneNote is an intuitive document software that allows users to add math graphics and equations.
MS Office - Office is very useful to explain writing or language lessons. Teachers can use it to correct writing papers, make notes, or make a conclusion.
MS PPT - Power Point is a welcome educational software among teachers and students. A coach/teacher can try explaining his presentation while recording a teaching video.
DesignCap - Visuals & illustrations are the best way to say something clearly enough. And DesignCap will help you create a table, chart and illustration fast.
XP-PEN - Sometimes, the teacher wants to write something/draw something in his instructive video. And an XP-PEN can help.
Part 4 - Suggestions for an Effective Teaching Video
What merits should a good teaching video have? Here are answers from thousands of students and audiences. And you can consider these points when making your own teaching video:
Clear & easy to see. (Bold, large font)
Smooth, not choppy.
Speak naturally, don't talk like a robot.
Make it funny.
Make video short and to the point.
Don't blur the video image.
Part 5 - The End
It's not difficult to make a teaching video or record an instructional video, as long as you've found the right tool to use, for instance, FlexClip & RecordCast.