Briefs: If you have any interest in video montage, this article covers your needed things, including, video montage concept, a free easy video montage maker, and techniques & tricks to make video montages.
Part One: What Is Video Montage? [Montage Concept]
Video Montage Concept from Wikipedia: Montage is a film editing technique in which a series of short shots are sequenced to condense space, time, and information.
Video montages edit & modify a sequence of videos & photos by changing their tempo, speed, rhythm, etc. As a result, it presents something very fresh & innovative to viewers.
Video Montages Twist How Audiences Interpret Videos: Although the using footages are normal, montage videos create an immersed & cool visual experience that's very different from ordinary perspectives. Montage enhances emotions/feelings greatly and serves to video expression with your full creativity.
YouTube: Stunning video montages used in movie The Bourne Identity.
Part Two: Online Montage Maker [Free & Easy]
If you have dozens of family videos and images and want video montages, our presented FlexClip montage maker - flexclip.com can deliver you much help.
About FlexClip.com: FlexClip is a powerful free video editor online, embedding hundreds of video editing functions for video montages. For example, you'll find FlexClip useful to change video speed, find proper music for montage, and add montage transitions, etc.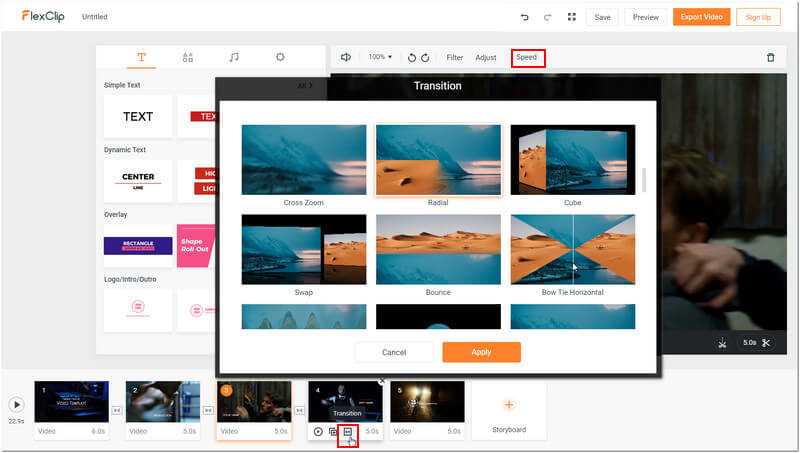 Image: Add video montages freely in FlexClip.
Platform: Online, Web-based;
Reasons to Choose FlexClip to Create Your Montage Video:
Very user-friendly, no design experiences required.
Free to use with a free download option(480P watermark-free).
Easy to adjust video speed: Speed ranges from 0.5x(slower) all the way up to 3x(faster).
Combine your videos and photos swiftly. Also if you prefer to make a lovely picture to video montage (for family reunion, birthday, wedding, anniversary, celebration, holiday, travel, etc.), it will be easier with FlexClip tool - online slideshow maker.
A group of video transitions available for photos & videos.
Hundreds of stock montage videos for your free use.
Edit videos freely, including merge, trim, add effects, filters & emojis, etc.
Offer a large extensive library with millions of royalty-free music, photos & videos.
Shortages You May Feel:
Free is not included for 720P, 1080P video downloads. (720P & 1080P are in paid subscriptions, but they are cost-effective.)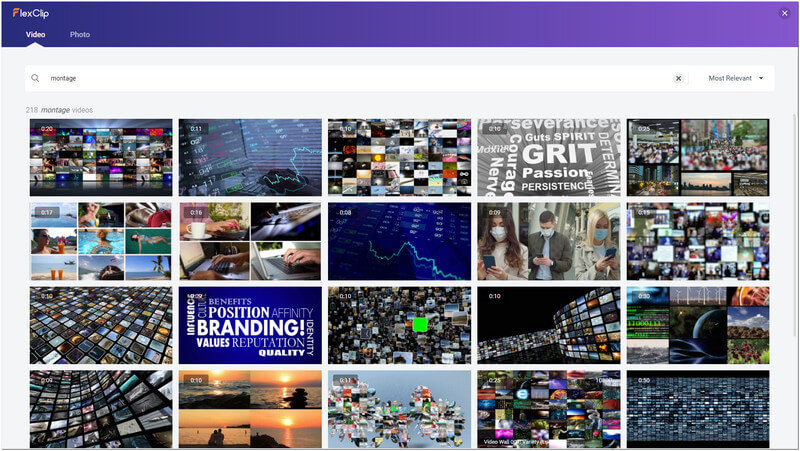 Image: Find various stock montage footage.
Just 3 Steps to Create Video Montage:
Step 1 Upload your video in FlexClip video editor.
Step 2 Adjust video speed.
Step 3 Add transitions, or seach for montages & transitions in its massive stock media.
Part Three: 5 Video Montage Techniques & Tricks
It's fun to create video montages. Whether you want to create memorable montages for family videos or commercial videos, grasping video montage techniques and tricks is essential.
#1.Blurring Video Montage
Blurring the last frame video images is perhaps the most natural method to create video montage. It's almost in every movie.
#2.Slide in a Series of Photos Quickly [Change Time Tempo]
Gather a bunch of photos & videos with the same background, and let them slide in one by one quickly. By condensing the displays of photos & videos, your montage video can change viewers' sense of time & shape a brand-new time-space. Usually, it creates a tense/dangerous atmosphere and audiences will concentrate.
In police movie/TV, slide-in video montages are used a lot to present flash-backs or demonstrate proofs that police officers found.
#3.Zoom in & out/Scale Your Videos
Enlarge movement footage and let it fill the most of video frame, then connect long-range perspective footage. Via combining a close shot with a distant view, this kinds of video montages brings fantastic & unparalleled visual experiences.
In travel Vlogs and hiking videos, such video montages play a lot. Zooming-in & zooming-out montages show an impressive contrast - hikers' endeavors and optimistic attitudes compared with road hardships.
#4.Fast Forward Scenery Shot Montage
Many incredible scenery shots are fast-forwarded to render an impressive visual experience. This montage lets audiences feel "How time flies", "How beautiful scenery/nature is", or implies audiences a day/hour has passed (and new day footage will come next).
#5.Montage Combines Fast and Slow Motions
Another video montage technique is combining fast and slow motions. Fast-flipping videos & photos are often used to tell story backgrounds or bring back memories, and slow-motion footage is the "main course" - what you truly want to highlight and speak about.
Fast motions can demonstrate "What the surroundings go/run", "People come and go", or "Time flies". While, slow motion footage shows every detail of your paramount storytelling.
Related Reading: 11 Best Video Transitions That Genius Creators Use.
All these video montages can be easily created with FlexClip video maker. If you want to try some montage techniques above but have no idea where to begin, give a try on FlexClip!
Part Four: Over to You
Do you find the article any useful? Have you got what you need about video montages? If you find it's helpful, welcome to share it. Such an act will help more people in need. Who knows, it may help you make new friends.