Shadow overlays are one of the most popular photo and video editing trends. By casting an attractive shape to your footage, the creation you made will be more artistic and appealing to viewers.
There are several ways you can create a shadow effect to your footage and the most obvious way is using the sun to cast a shadow onto your composition. However, natural sunlights are unpredictable, so the best option is to use shadow overlays for post-production. Here we'll offer you a simple and quick you to achieve this shadow effect using an online video editor. Let's dive in!
The Online Video Editor for Overlaying Shadow Effects to Video
FlexClip is a simple yet full-featured online video editor, always providing the easiest solution for your video editing problems. Packed with 200+ overlay presets, it empowers you to superimpose special effects like shadow effects to your videos in a one-click operation. What's more, if you'd like to make personalized effects, a picture-in-picture feature is available. Most importantly, there are various AI-powered tools to simplify your editing work, regardless of your editing experience.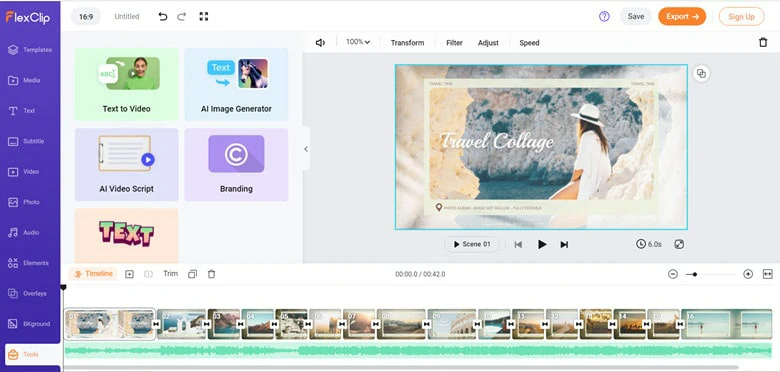 Best Shadow Overlay Video Editor - FlexClip
How to Add Shadow Overlay to Your Video
As a versatile online video editor, FlexClip has many overlay presets that can be added to your footage, including tree shadow overlay and leaf shadow overlay. Follow the steps below to give your video a fresh look now.
Step 1
Tap on Create a Video below to enter the editor page and import the video you want to add shadow overlay. Once it's loaded, drag and drop it into the timeline.
Step 2
The next thing you need to do is shift to the Overlays panel and choose the Effect Overlays option. Tap on All to show all the effect presets.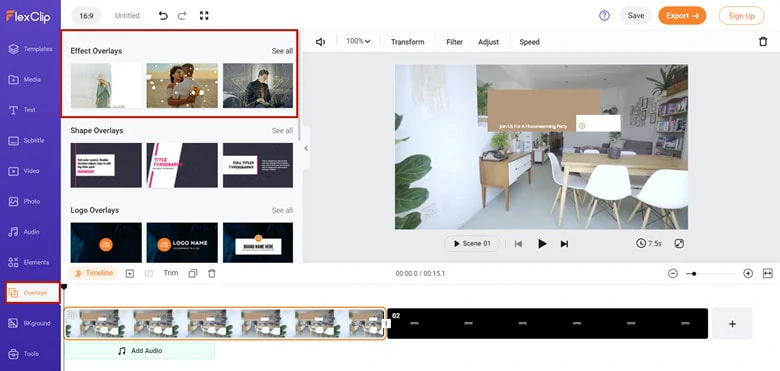 Go to the Overlays Panel
Step 3
Scroll down to find the Shadow overlay and put your mouse on the shadow preset you like.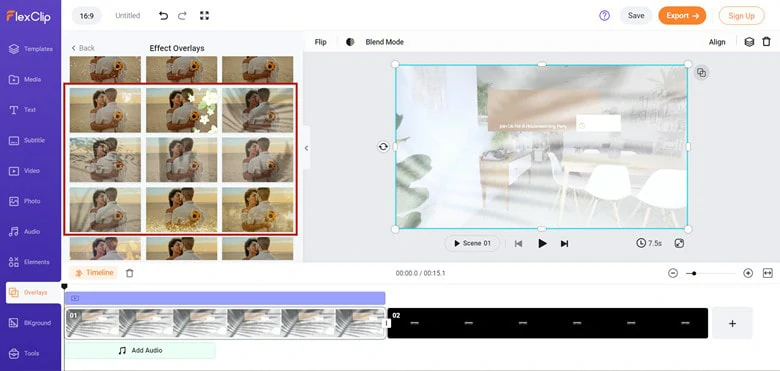 Apply the Shadow Overlay Effect
Step 4
Apply the shadow overlay to your video and make it adaptive by changing the opacity value and blend mode.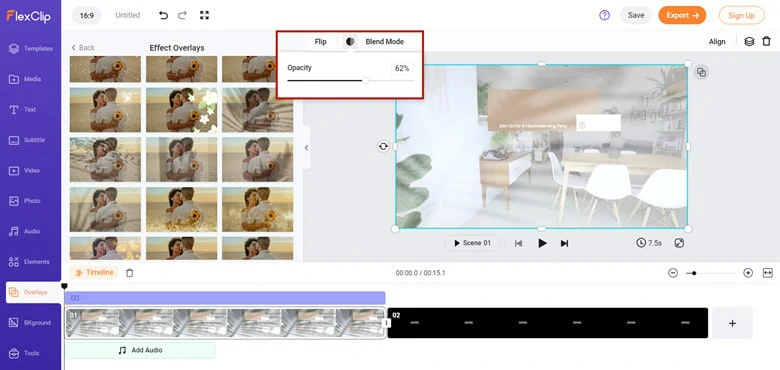 Change the Opacity Value to Make it Adaptive
Step 5
Add music, subtitles and transitions to give the shadow video some personal touches. After that, export the video or share it via an auto-generated link.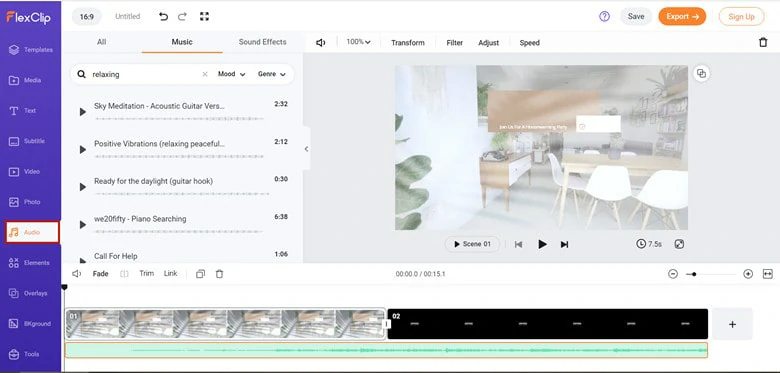 Perfect the Video with Music
How to Create Drop Shadow to Text in Video
Besides shadow overlays, FlexClip also enables you to create drop shadow effects for your text in seconds, which widely is used in fashion videos. To add a drop shadow effect text, follow the steps below.
Step 2
You can take advantage of trimmer to remove unwanted parts, use filter presets to give your footage a new look and add transitions to make it flow smoothly.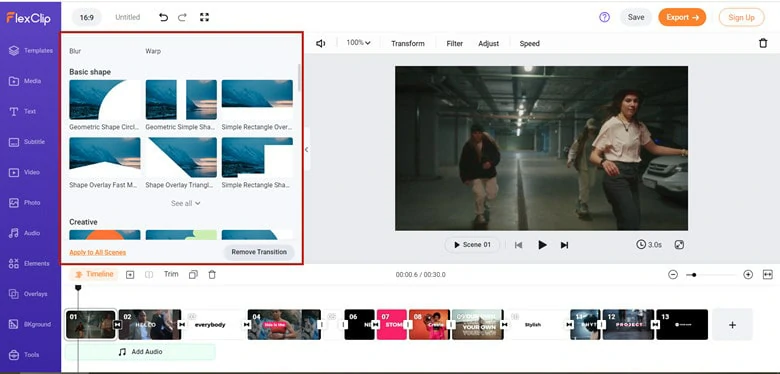 Make Raw Edits to Your Video
Step 3
Next hover to the Text panel and choose an option from the basic text preset. Enter your words on the text dialogue box and change the text's size, color and alignment as you like.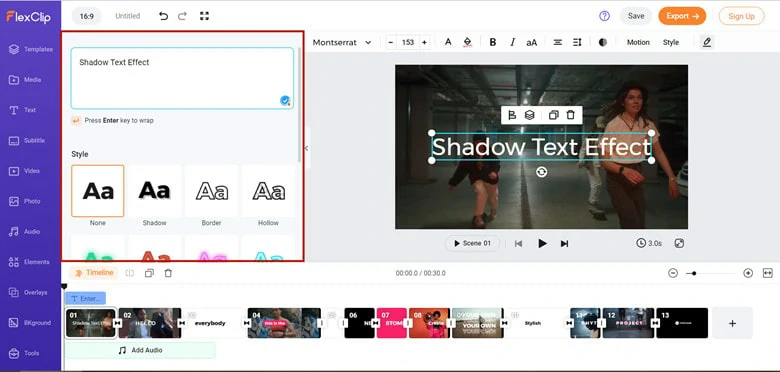 Add Text to Your Video
Step 4
Now it's a magical time! Move to the toolbar where you can find the style option, then apply the shadow effect to your text.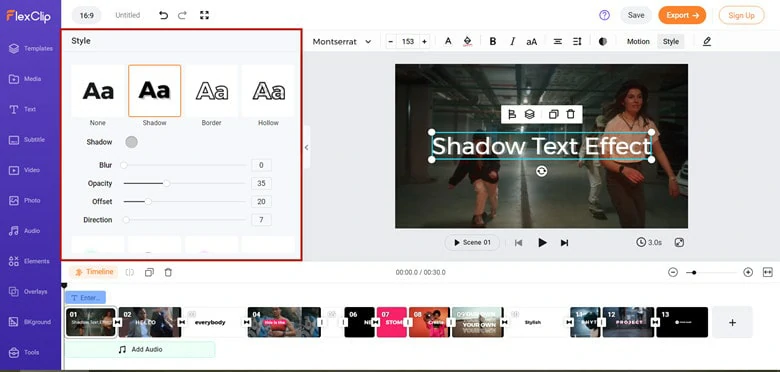 Add Shadow Effect to Your Text
Step 5
Perfect your video with a soundtrack and funny emojis. When finishing edits, tap on Export to download or make a one-click share via a clickable link.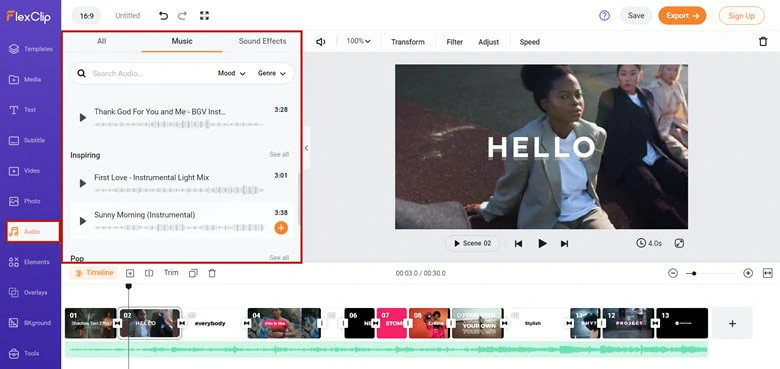 Perfect the Video as You Like
The Bottom Line
That's all for how to create shadow effects in your videos using FlexClip. It's easy to use and accessible for all. Simply get your footage and start to unleash creativity with FlexClip now!