It's not a wedding without giving confetti! Having confetti is customary at festive occasions for celebration, especially at weddings and paradises, as you can add a confetti overlay to highlight the happy atmosphere in your video.
Don't know where to find confetti overlay and how to add it? No worries! In this blog, we will take you through how to add confetti video overlays to your videos. Keep scrolling to know more!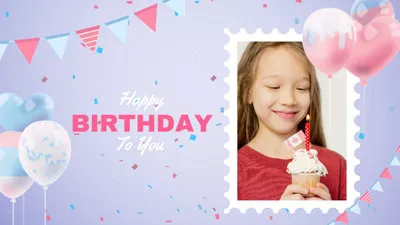 Framed Kids Birthday Slideshow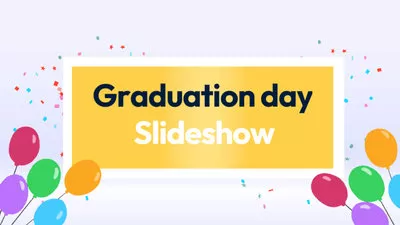 Balloon Confetti Graduation Slideshow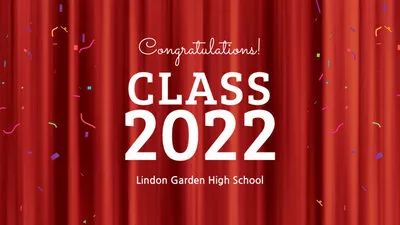 Graduation Ceremony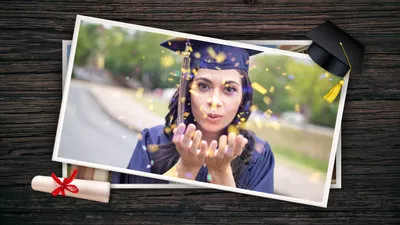 Wood Photo Frame Graduation Slideshow
FlexClip - Awesome Video Editor to Add Free Confetti Video Overlay
If you want to create a video with confetti effect, FlexClip is what you need. As an image and video editor, it allows you to make a confetti video with multiple pre-made confetti effects. Besides, there are multiple confetti green screens and videos that you can add to your videos for free.
Whether you're a rookie or master, you can create awesome confetti videos without quality loss in minutes.
Key Features of FlexClip:
Easy-to-use interface and full-featured editing tools.
Loads of awesome confetti effects and videos you can use for free.
Pre-made
templates
with confetti effects to sparkle your creativity.
Part 1. Create a Confetti Video with the Pre-made Effects
FlexClip packs many pre-made confetti effects you can apply to your video with great ease. Now follow the steps below to learn how to add confetti video effects to your videos.
Step 1
Go to Media panel and import the video you want to edit. Once the video is loaded, drag it to the timeline.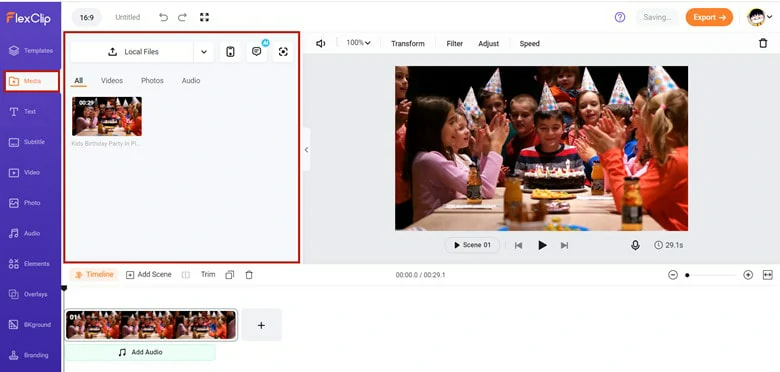 Create a Confetti Video: Upload Video to FlexClip
Step 2
Next head to Overlays section and select the Effects Overlays, then click See all to explore all the effects.
Create a Confetti Video: Go to Overlay Section
Step 3
Various effects will appear and you can scroll down to find your favorite confetti overlay.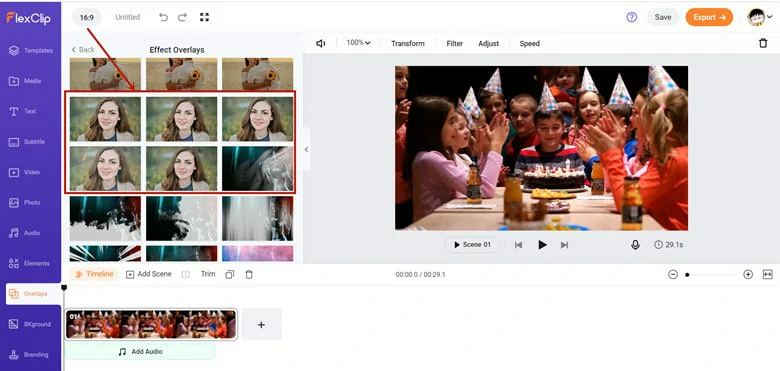 Create a Confetti Video: Pick Your Favorite Confetti Overlay Effect
Step 4
Add the effect to your video and use the toolbar to adjust the video. After that, add more edits to your confetti video like music, text, animations and more. When it's over, save and export it.
Here is an video example using FlexClip's pre-made confetti overlay effects.
A Birthday Video with Confetti Overlay Effects
Part 2. Use the Confetti Video as an Overlay
Apart from applying the confetti effect, you can still overlay any confetti video to get the same result. Follow the steps below to match your needs.
Step 1
Upload all the videos and drag them to the timeline.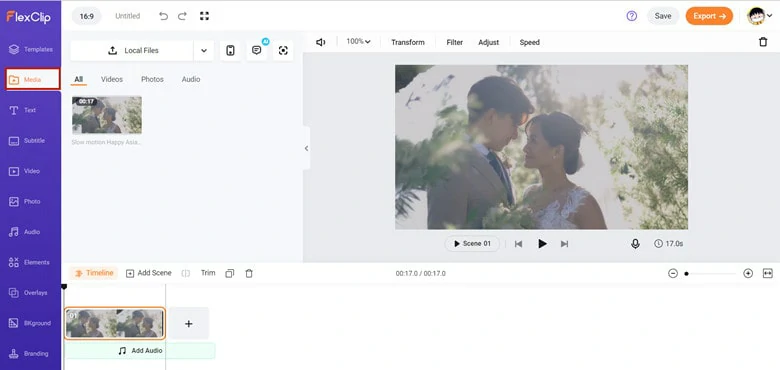 Import Video to FlexClip
Step 2
Find the confetti video you want to use as an overlay. If you already have one, directly upload it. Otherwise, go to the Video panel to get the desired option.
Find a Confetti Video to Use an An Overlay
Step 3
Now tap the Add As Layer icon to cover the video and adjust the opacity value to match your needs. After the process, feel free to level up the video by adding transition.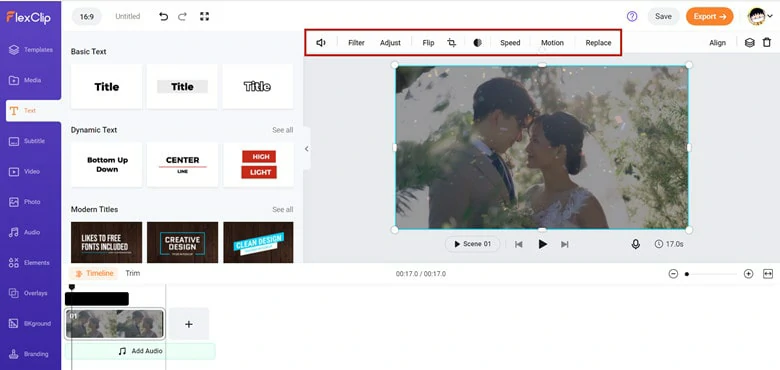 Import Video to FlexClip
A Wedding Video with Confetti Overlay
Part 3. Create Confetti Video with Free Confetti Animation
Want to make a confetti video in a funny and special way? You can do that by adding confetti animation. FlexClip provides you an extensive animation library including GIFs, stickers, emojis and much more. Let's learn how to add confetti animation.
Step 1
Import all the media resources and apply them to timeline.
Step 2
Move to Elements section and tap in keyword like confetti in the search box. Here you'll get lots of results immediately and add your favorite one to the video.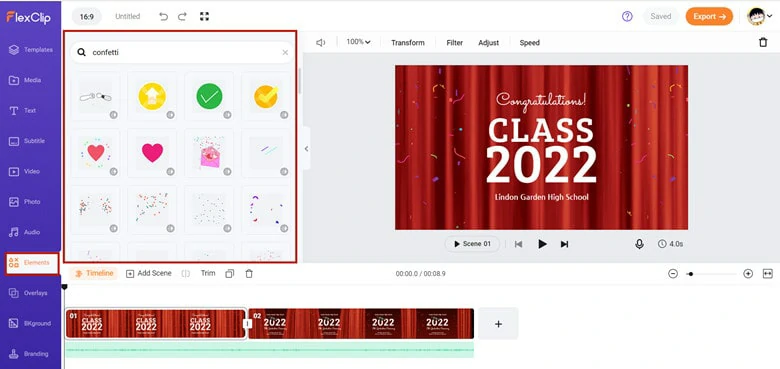 Move to Elements Panel to Find Confetti Animation
Step 3
Adjust the location, size and color to match your needs. To make your confetti video vividly, pair it with some confetti sound effects at will.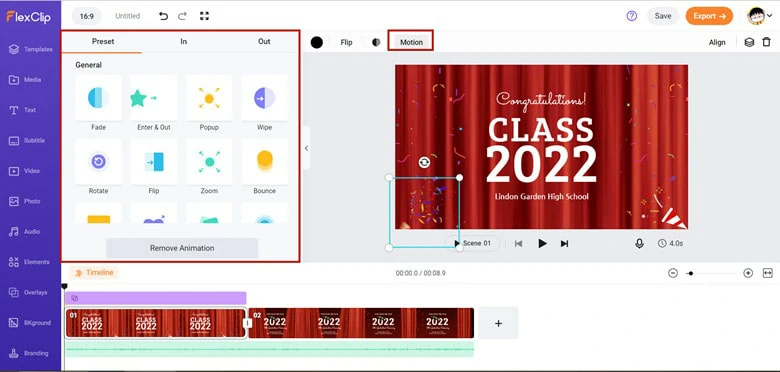 Adjust the Elements Location
A Congratulation Video with Confetti Animation
Bonus Tips: Use Confetti Effect After Effects to Make Confetti Video
After Effects is the top-notch software to add variety of effects to composite the video. Therefore, many professionals use this editor to create falling confetti effect. If you have enough spare time and want to create a confetti layer, follow steps below.
Step 1
Open up After Effects and import the background image or video you want to use, then hide it to make you focus on the confetti effect only.
Step 2
Click on Pen tool to draw out the confetti and choose a color to fill it. Then give the layer a name and copy it to get several confetti layers instantly. (You can change the confetti color as you need)
Step 3
Now right-click in the composition to create a solid layer to apply the particle effects. Search particle world in the Effects & Presets and double-click to apply it.
Step 4
Go to the settings panel and change the particle type, rotation speed, birth/death size, size variation and opacity as you need. You can adjust physics values to make the confetti appear in your desired way.
Step 5
Once it's finished, copy and paste to get layers you want. To make the confetti appealing, you'd better change each layer to different background color.
Step 6
Stagger all the layers to make them fall at different time. Now you get the video with desired confetti effect.
The Bottom Line
That's all for how to add confetti video overlay using FlexClip and After Effects. If you prefer a quick solution, just prepare your videos and open FlexClip on your computer, then pick one method to start now!