Old film effect is a technique used in videos to add a unique and artistic look to videos and also evoke a specific emotional response from viewers, especially in a storytelling. In today's digital age, where high-definition videos are the norm, both filmmakers and video content creators are applying an old-film effect to help videos stand out from the crowd and grab viewers' attention.
Interested in making a video with special effects dating back to the 1970s but have no idea where to get started? You've come to the right place. In this blog, we'll take you through two ways to add the vintage film overlay to your videos. Let's have a look right now!
How to Add an Old Film Overlay to Your Video
Free and Trending Old-film Effect Video Templates for You:
Film Style Wonderful Travel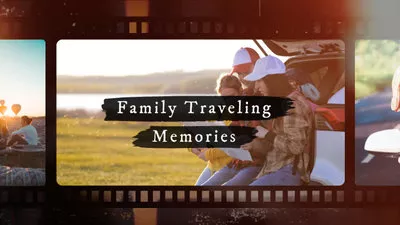 Family Travel Memories Slideshow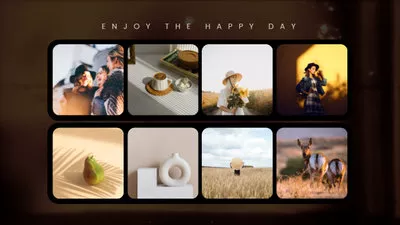 Universal Film Memory Photo Collage Slideshow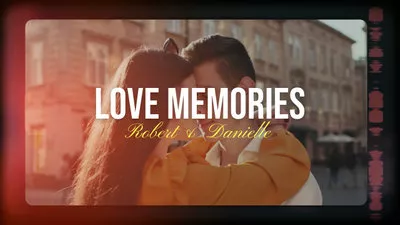 Wedding Announcement Memories Film Slideshow
Method 1: A Simple Way to Create Old-film Effect in Video Online
FlexClip is a powerful yet flexible online video editor that provides the easiest way to make old film videos. Packing various editing functions, it allows you to create an old-movie theme video by applying filters, adding old film overlays or superposing an old movie style video with the picture-in-picture effect. Besides, extensive movie style intros, countdown timers and nostalgic music to capture a simpler, more stripped-down artistic style.
Whether you're a novice or a tech-savvy who wants to create a vintage film overlay in your video, FlexClip is the best bet to match your needs without any editing experience.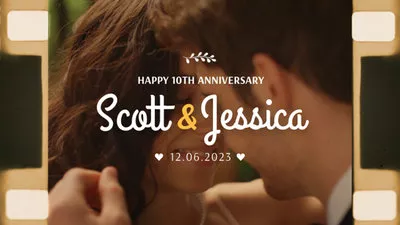 10th Anniversary Story Slideshow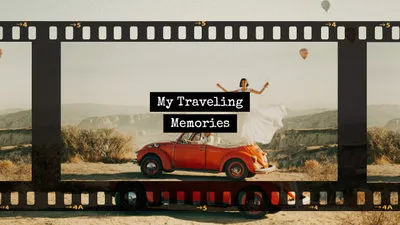 My Traveling Memories Slides
Millions of royalty-free soundtrack
Fancy text styles and designs to perfect video
5000+ video templates with different themes for you
Direct upload to YouTube and TikTok
Automatically generate subtitle with AI machine
300+ designer-made overlays to level up videos
User-friendly interface and free to use
a) Create an Old-film Effect Video by Applying Filters
The easiest way to give your normal videos a vintage look is to use a filter to darken the visuals. Ready to have a try? Let's get started right now!
Step 2
Hit Filter icon and select from multiple filter presets. To create a better old-film effect, filters named Greyscale, B&W, Sepia and Vintage are recommended. If you have multiple footage to filter, click on Apply to All Backgrounds to make all your visuals have the same style.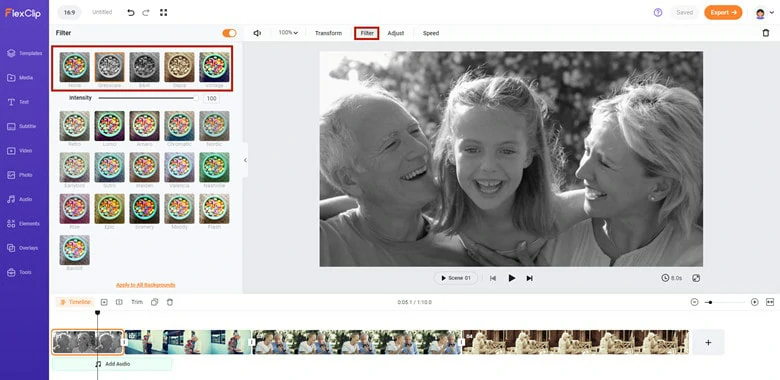 Add Video to Timeline and Apply a Filter
Step 3
Perfect your greyed videos with ink and brush overlays in clicks, which will create a simpler, more stripped-down artistic style. Additionally, countryside music or any soundtrack that can reaqch an authentic feel for a specific period piece is also suggested.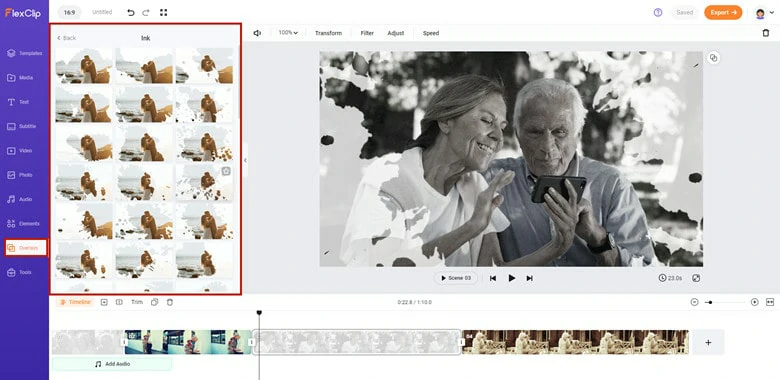 Perfect Your Greyed Video with Ink Effect
Step 4
Once you're done, save changes and export to share your artistic old-film video in seconds.
b) How to Add an Old-film Overlay to Videos Using FlexClip
Don't want to darken the video to create a nostalgic feel? Use FlexClip's old-film overlay for help! With only a one-click operation, appealing old-movie videos are within your reach! Follow this guide to see how it works now!
Step 1
Enter FlexClip's editor page and upload the videos you wish to add an old-film overlay under the Media tab. To produce a better performance, you can use a scrolling a film footage as the background and then add video with the picture-in-picture effect.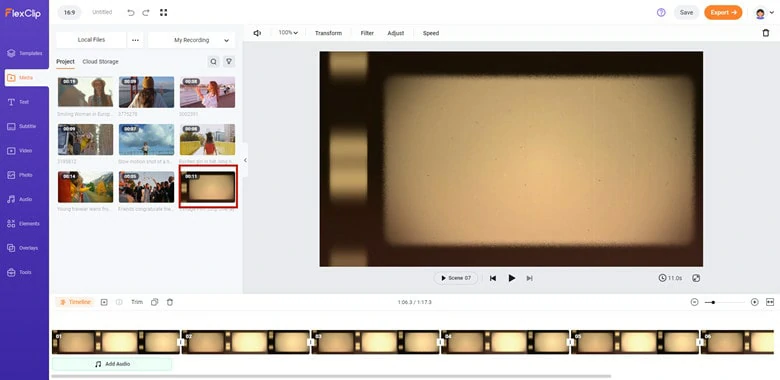 Upload Media Resources to FlexClip
Step 2
Select the video to manually trim out unwanted parts from your video under the Media panel and then tap on Add As Layer to add videos as an overlay.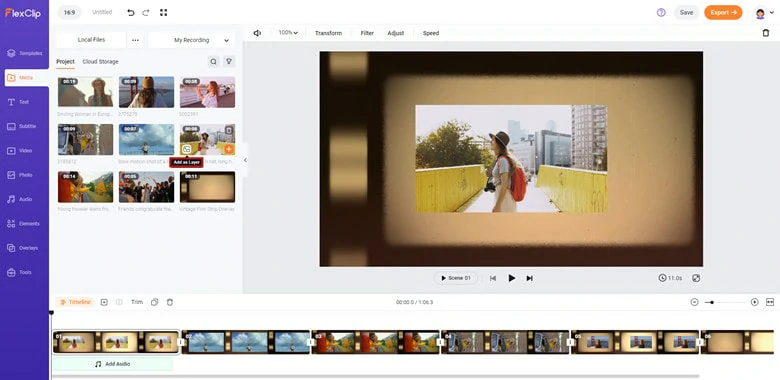 Add Video as Layer to Background Video
Step 3
Drag and drop the border to match your background. After that, go to Overlays and scroll to find Film, then just add the old-film overlay effect you like to your video.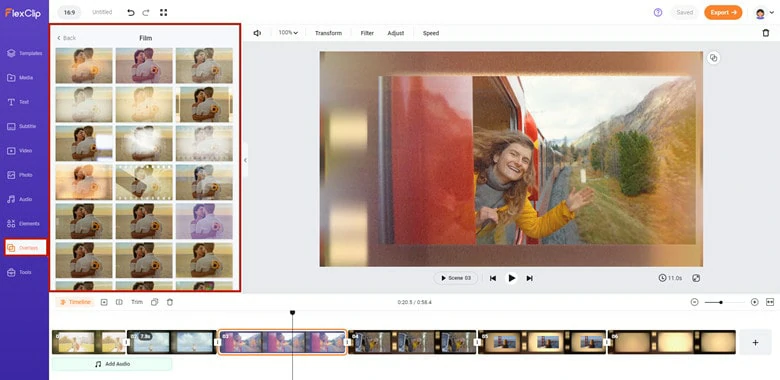 Apply a Ready-made Film Overlay to Create Movie-like Style
Step 4
Do further edits like adding stylish text, comfortable music and more to make the old-film video stand out. When you complete edits, export your video and share it with ease.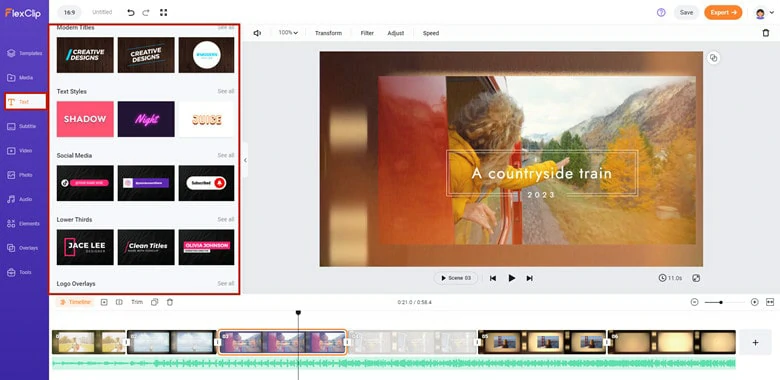 Make Further Edits to Old Film Videos
c) How to Overlay A Video as An Old-film Effect in Video
To create personalized old-film effect, you can also use a video to create the fantastic old-film effect in click. Simply do as follows.
Step 1
Enter the editor page by clicking "Edit a Video" below.
Step 2
Upload video clips and drag them to the timeline.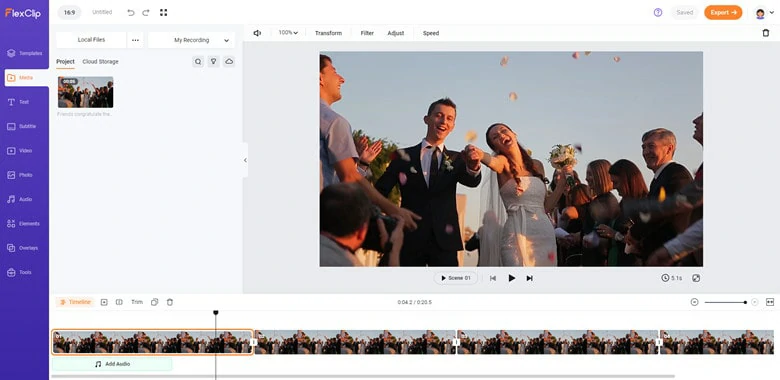 Upload Video Clips to FlexClip
Step 3
Hover to the Video panel and type "old film" to the search box. Then a variety of stock videos appear and pick one based on your needs. Click the Add As Layer icon to add an overlay and drag the frame to resize the whole video.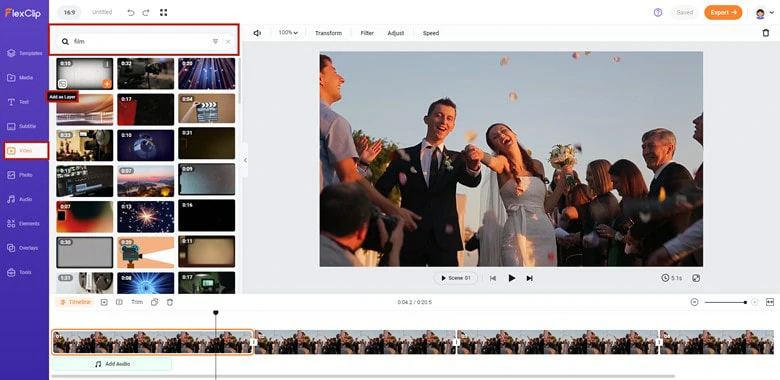 Search Old Film Video to Use it as an Overlay
Step 4
After that go to the Opacity area to drag the bar to change the video opacity and you can also change parameters of exposure, contrast, brightness, etc as you need.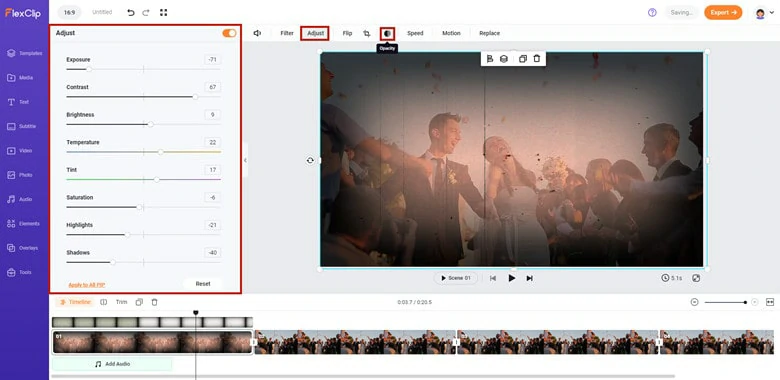 Adjust Parameters as You Want to Create a Realistic Old-film Effect
Step 5
Customize video like adding text, transition, and slow-motion to look more professional. With everything settled down, save and export the old film video to your local drive.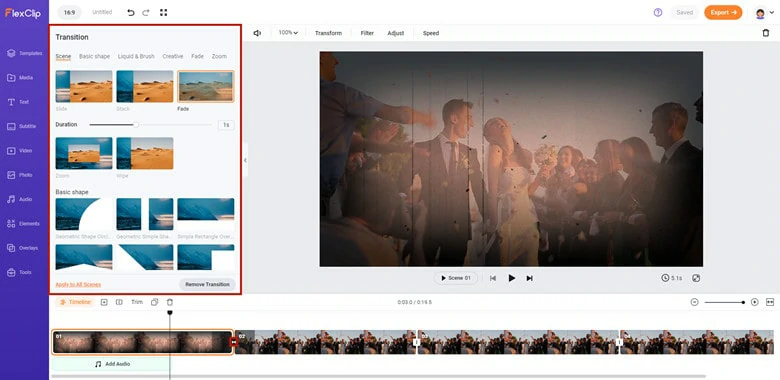 Make Further Adjustments to Video
Method 2: How to Create an Old Film Look in Premiere Pro
Premiere Pro, developed by Adobe company, is a non-linear editing video clip software with a full set of professional tools. Supporting multiple-overlay layers is the prominent feature of Premiere Pro. By adjusting the parameters of each overlay, you're able to create old film videos with high flexibility. Besides, the professional assets help you produce masterpiece in your tailor-made way. However, every coin has two sides. It requires a learning curve to master this software since it's targeted at professionals.
How to Add a Vintage Film Using Premiere Pro
Step 1
Download Premiere Pro to your computer and complete the installation process.
Step 2
Import presets from your local drive and drag the video clip to the timeline so that you can add old film overlay later.
Step 3
Create an adjustment layer: Right click the Project panel > New item > add an adjustment layer > drag the layer above your video and arrange the length to empty useless tracks.
Step 4
Go over to Effect > type wave warp/noise/gaussian blur/crop in order > drag each effect to the adjustment layer one by one.
Step 5
Hover to the Effect Control Panel and set the parameters like wave length based on your needs.
Step 6
Make more copies of your original video clip so that you manage each track with unique effect.
Step 7
In Effect panel > search RGB > drag RGB effect onto each one of your copies > go to the Effect Control Panel to implement adjustment.
Premiere Pro : Old Film Effect Tutorial
The Bottom Line
There are multiple ways to create an old-movie-theme video and one of them is to add an old film overlay. FlexClip is the quickest way to create a vintage film overlay without complex operations. Besides, it provides a vast quantity of available yet free media resources and editing tools to assist you in making videos. Pick one way and get started right now!
My Memories Love Story Slides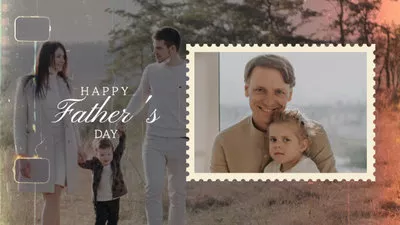 Warm Film Fathers Day Blessing Collage Sildeshow