Forewords: This is a beginner video cutting reference – It shares 3 practical video cuts that help cut out a professional video. In addition, we collect top 3 real free video cutters for you, including the easiest and the advanced.
Cutting video is an essential video making skill. There are tons of tutorials and tools out there, introducing how to cut a video with different tools. However, these tips render the same video cutting result, which is basic but somewhat feature-limited.
Today, we will push forward 3 video cutting tricks and tools: With top 3 free video cutters and 3 very practical cutting skills, you can level up any video production easily.
Whether you want to upgrade a standard video on YouTube, Vimeo, Facebook… Or, you have an average video story, music video, product explainer video, and hope to do something for it…This article will help you out to cut out a better video!
Note If you are a beginner and interested in shooting a better video, then we have prepared you some basic tips - "Beginner Videography - How to Shoot a Good-Looking Video?", "B-Roll & A-Roll Shooting Tricks".
Part 1: Two Practical Video Cutting Skills [Easy and Professional]
The primary goal of cutting a video is to complete it. A good video must be focused, informative, or do good storytelling.
Your footage, music, voiceover, and editing altogether are used to construct a visual story. If anything is unrelated to your story or makes your story redundant, it needs to be cut out. Or, audiences will get confused and click out soon, which is no good.
Grasping the 2 video cutting skills below, you can make a video that's more focused and intriguing.
Skill 1. A Universal Video Cutting Skill - Use Background Music Only
When you mute all footage and apply a story-fitting background music, audience response will never be bad. When necessary, you can add video captions to assist expression.
You can use this skill to your advantage. It helps avoid bad user experience when video mixes multiple different footage audio.
Many YouTube videos have adopted this video cutting strategy, and audiences do enjoy it. Take famous animations as the examples: "Dolby Presents: Silent, a Short Film", "Destiny - Animation Short", and many more.
Skill 2. An Advanced Video Cutting Skill to Switch Scenes Naturally
If skill 1 is not your choice, then this video cutting skill must meet your requirement to render a more natural transition.
Such as, shoot from different angles, or shoot at different time and space, those video graphics vary and merge them is not easy. A better cutting trick for it is to utilize the audio pre-playing trick:
Let the latter footage voiceover pre-play at the end of its former footage. Thanks to it, audiences get the audio spoiler of what will be seen soon, and the scene-switching will feel more natural.(You'll find out how to perform the trick of audio pre-playing with VSDC Video Cutter or Blender Video Cutter in Part 2.)
Skill 3. Cut off Scene or Footage That's Unnecessary or Unrelated
Video is to share some information, or a point that audiences care about. So, cut off those scenes or footage that's unnecessary or unrelated. It helps make video logic appear clearer, and make your video more concise.
Part 2: The List of Top 3 Free Video Cutters [The Easiest and The Advanced]
After grasping those 3 video cutting skills, you must be curious about how to do a real cut with a freebie. The contents below provide what you want.
Top 1. FlexClip Video Cutter (Chrome Online & Windows)
The Easiest Free HD Video Cutter - flexclip.com.
Image board: FlexClip free online video cutter.
Among dozens of self-proclaimed "Free Online Video Cutters", FlexClip is the few REAL FREE cutting software that makes no compromise in video quality when you download your cutting video. In most cases, cutting a video with FlexClip can be done within minutes.
FlexClip is a perfect tool to implement video cutting mentioned as skill 1 – Mute all footage and videos, then grab a suitable background music for the whole video. FlexClip integrates a licensed music library, which lets you use copyrighted music for your video. Also, you can search for more professional footage, images for use.
There is no time sequence editor. Therefore, you won't see (have to think about) any footage track, audio track, or timeline here. Instead, FlexClip uses storyboards for easier navigations, which you can easily delete (cross out) a split video, or drag a split video to another point.
It supports cutting and splitting those videos and footage that longer than 3 seconds, in a format of MP4, MOV, WEBM, and M4V. You will get back your cutting video in MP4 format. (MP4 is supported almost everywhere.)
If you want to use skill 2 to cut a video, then you must keep reading. Letting latter audio track pre-play on former video end is no easy task. The quickest way to do it is to use a time sequence video cutter. And that requires desktop video cutters below.
Top 2. VSDC Video Cutter (Windows x64, x32)
The Advanced Free HD Video Cutter - http://www.videosoftdev.com/free-video-editor/.
Image board: VSDC free video cutter.
VSDC video cutting software is one of the popular video cutters for Windows x32 and Windows x64, it leaves no watermark, when you download your cutting video.
To play audio pre-playing video cutting trick, you need to split the audio and video in "Properties Windows". (Scroll down to the end.) Then, split the video track and audio track respectively, and replace their positions. Not hard to do these navigations.
Top 3. Blender Video Cutter (Windows, Linux, MacOS)
The Advanced Blender Video Cutter(HD, 4K, 8K) - blender.org/.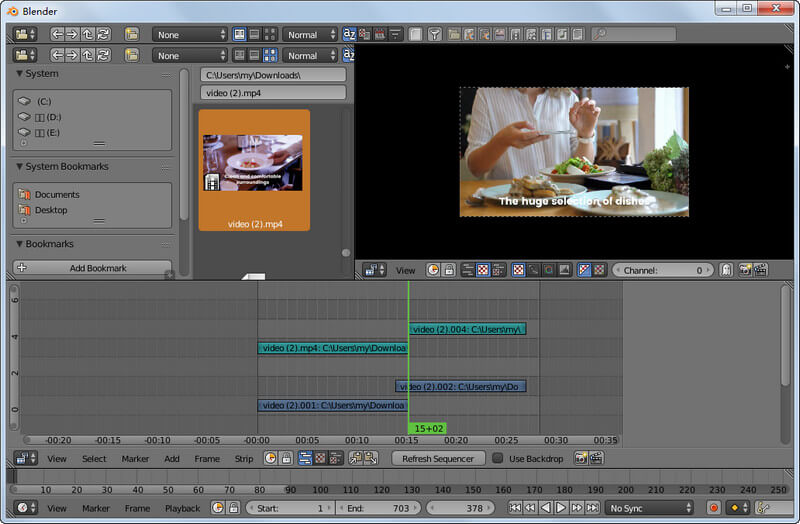 Image board: Blender free video cutter.
It's 100%-free, powerful video cutter with no watermark glued. Blender video cutter is embedded in the video editing interface. It lets you edit video and audio in track mode.
To use it well, you are required to remember its using code and a bunch of shortcuts. For example, right click + keystroke G will help you move a track. And the output needs a little bit of effort; Keystroke K will split a video…If interested, you can further read "How to Edit Video with Blender Video Editing Software for Beginner?"
Part 3: Wrapping It Up
Do you find this article helpful? Which part is more attractive to you - Video cutting tricks or the list of top 3 free video cutters?
A kind retweet or Facebook share will encourage us to bring more tutorials and tool reviews of high quality and be greatly appreciated! If you have any question or suggestion, no hesitate to let us know.