As an HR, it is hard to target and choose the right employee, thus, you will never want any new employee to struggle and eventually quit. However, the sad truth is 45% new employee leave in these first few weeks. A good onboarding process can make a great difference.
While most companies use only presentations in the onboarding program, more and more companies are starting to use onboarding videos. In a survey conducted among new employees, 80% of respondents said onboarding videos have a more positive impact on understanding the company culture. 70% believed that onboarding videos improve new employee's work efficiency.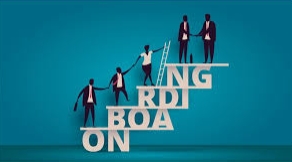 Image Board: Onboarding Video
Here in this post, we will show you how to create an onboarding video. If you have no ideas to get started, we also provide you the top onboarding video ideas and show you some onboarding video examples. Refer to the following part to get started.
Also Read: How to Create An Onboarding Video >
Part 1. Onboarding Video Ideas & Examples
Onboarding videos can be used on any phase of your onboarding process for different purposes. You might like to introduce your company history and company culture or work safety instruction or company executive organization. Whatever the case is, here are some of the best onboarding video examples.
Idea 1. Company culture
Only when employees understand and consent to the company culture, are they motivated to work. Company culture is not something dull, but alive, encouraging all staff to accomplish one single goal.
Depict video: "Company Culture Onboarding Video
2. Company achievements
Your company must have achieved many great goals. Show them to your new hires and they will want to work harder for another goal!
Depict video: "Company Culture Onboarding Video
3. One day at work
When new hires see how a day went by in the company, they can feel your working atmosphere so that they can adapt to the work loads much quicker.
Depict video: "One Day at Work Onboarding Video
4. Engage in other team members
Onboarding video doesn't always have to be about the company. The people who the new hires will communicate most is the colleagues in their teams. Introduce each member in a video, including names, job titles, habits, more importantly, a big welcome.
Depict video: "Team Members Onboarding Video
5. Work place rules
Where there is an office, there are rules. To work efficiently, the new employee must know these rules in the first day. If the new hires are exposed to some danger risks at work, a safety instruction video is also important.
Depict video: "Team Members Onboarding Video
Part 2. How to Create an Employee Onboarding Video
Now, you must have an onboarding video on mind. Let's create an excellent employee onboarding video quickly and effectively with FlexClip. No professional skills, no experience is required. Click on the Create a Video button to get started.
Step 1 Click on the "+" button to upload videos or images to the storyboard from the computer or media library.
Image Board: Create An Onboarding Video - Step 1
Step 2 Add text to your video. A subtitle will make your video much easier to understand.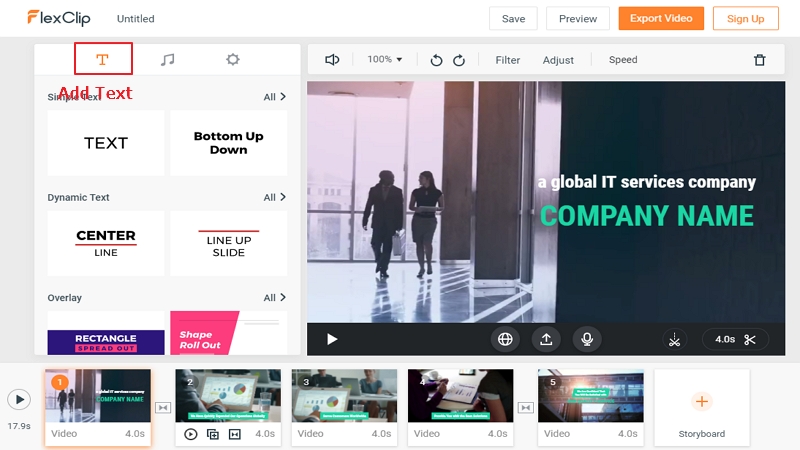 Image Board: Create An Onboarding Video - Step 2
Step 3 Add music or voice-over if you need.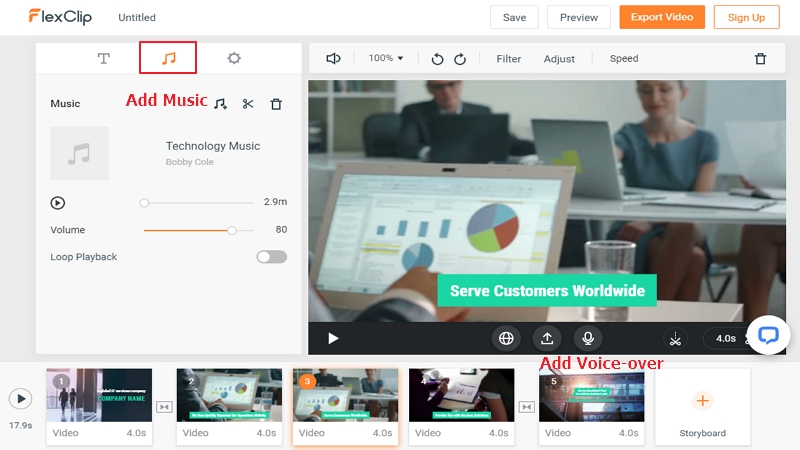 Image Board: Create An Onboarding Video - Step 3
Step 4 (optional) Make other edits, like adding transitions, filters, changing speed.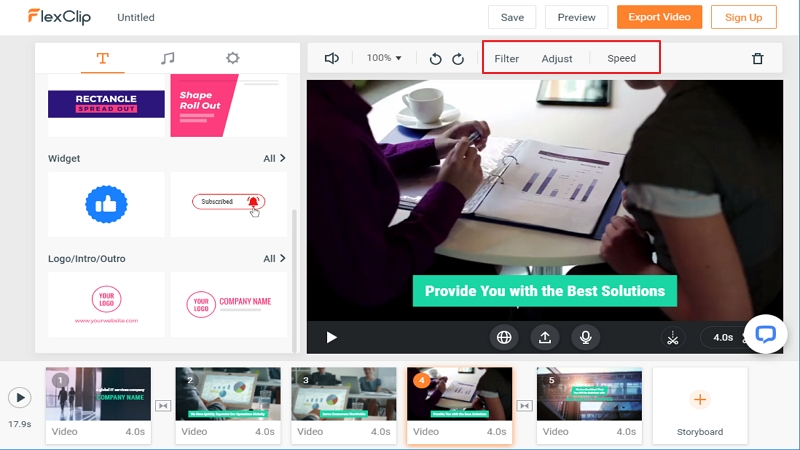 Image Board: Create An Onboarding Video - Step 4
Step 5 Export. Preview the video, continue editing or download to any local folder.
Note

1. FlexClip is equipped with a media library containing millions of music, photos, video clips. Use them for free!
2. FlexClip exports video 3X faster than any other competitors. Please make sure you have stable Internet connection.
3. FlexClip provides numerous video templates like company video, product explainer video. Edit to make them yours before anyone else.
The Bottom Line
Now, you must have the onboarding video at hand. As you can see, creating an onboarding video is effective and simple. Remember to give it a try for more possibilities!