Want to create an amazing HD nature videos? Follow the detailed steps below and a great nature video is only a few clicks away. No download, no experience required.
Ever since Jim Brandenburg and Laurent Joffrion started to collaborate to make Nature 365 Video, this program has won much popularity. Nature videos made by the two great men are bringing more and more surprises to all people.
You might rarely have the chance to go places like Amazon rainforest, Antarctic to film nature videos, but I am sure you can travel to some places with beautiful sceneries with which you want to make nature videos.
Want to make an HD nature video but don't know how to get started? Check this blog and get everything you need.
Also Read: How to Make a YouTube Video >
Nature Video Templates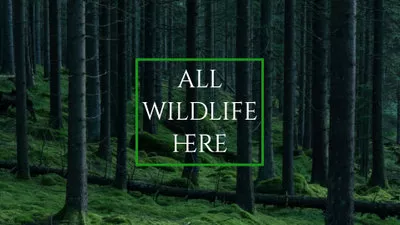 Wildlife Slideshow
How to Make an HD Nature Video
Investment on some equipment is necessary. Besides the camera, a map and a camp, you will also need a portable charger in case of any battery drain, an external microphone if you want to do voice over and a rain cover to protect your device.
Always remember, safety is a priority. Natural areas may contain unexpected dangers. Getting familiar with the place you are heading and finding travel strategies may keep you safe. If possible, get a book about the plants and animals you are going to film so that you could know when and where is the best time/place to shoot.
Step 2
Plan the Storyboard
* Plan your storyboard. Normally, an HD nature video should contain an opening, nature scenes, animal shoots and end, and information like the who shoot the video, where these scenes are shot, if necessary, a contact number or an URL.
It takes a large number of time to make arrangements. However, you can draw each scenes you are going to shoot on papers and film accordingly.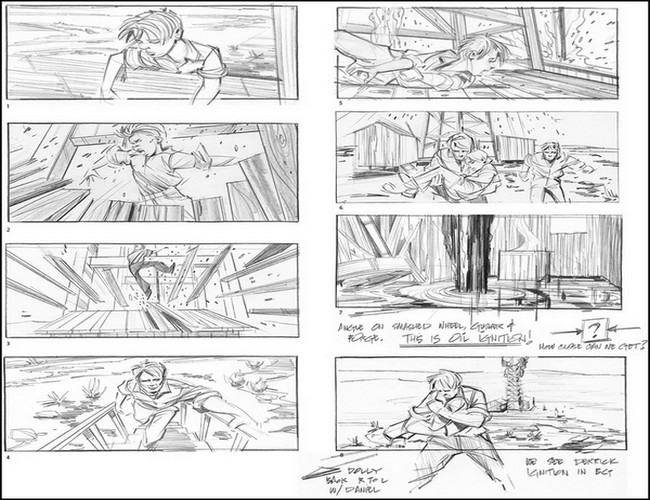 Storyboard from There Will Be Blood (source from dga.org)
You can find many tricks of filming online, but the most essential tips are as follows:
1. Hold the camera steadily and shoot in slow motion.
2. Capturing 60fps or more will give you more room for editing.
3. Always position your camera at eye-level so that the nature video would be more pleasant to view.
4. Don't do zooming. A professional film should contain no zoomed footages.
A good film is 1% of filming and 99% of edits. A normal video clip or a bunch of normal photos will be to make cool edits, you will only need FlexClip.
FlexClip is an online nature video maker that helps you make any edits you want. Its powerful features include beautiful transitions, photo animations, filters, speed changer and more. You can use them in several clicks. Now, click on Create a Video button and explore more possibilities with FlexClip.
# Step 1. Import all your video clips to the Media section and apply to the storyboard.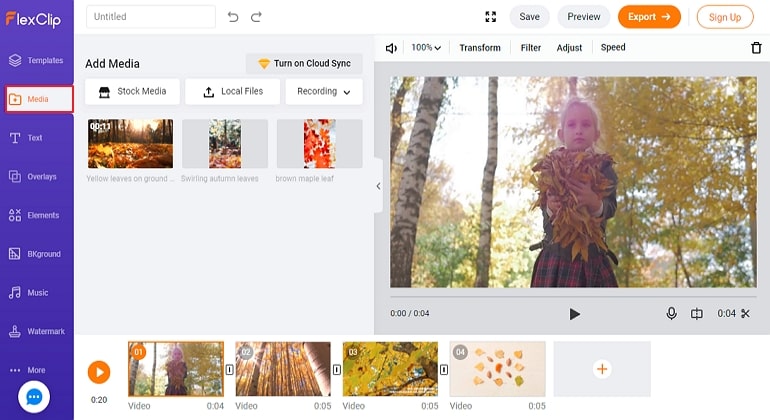 Make Nature Videos - Step 1
# Step 2. Add text to the storyboard.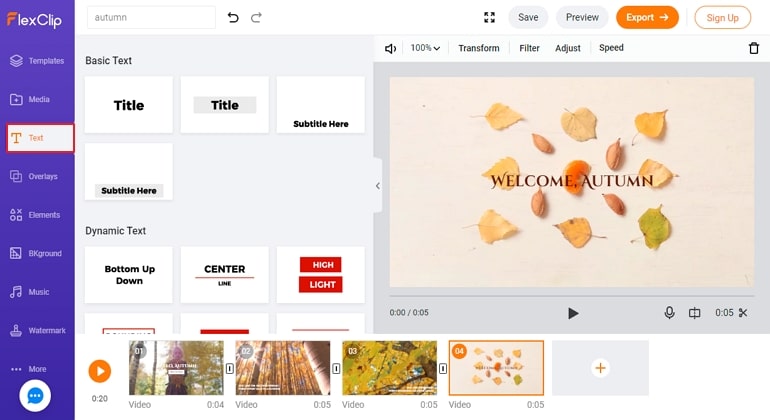 Make Nature Videos - Step 2
# Step 3. Make more edits to level up your nature video, for example, adding filters, transitions, and animations.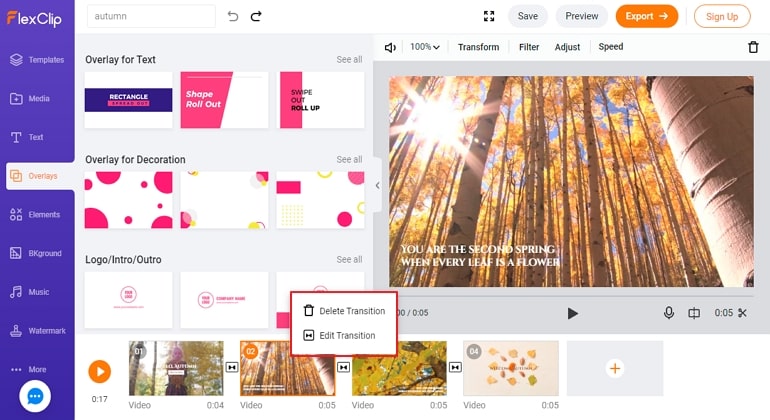 Make Nature Videos - Step 3
# Step 4. Add music to video. As for nature videos, we suggest using relaxing music. If you don't have any music file, get one from FlexClip's Stock Library.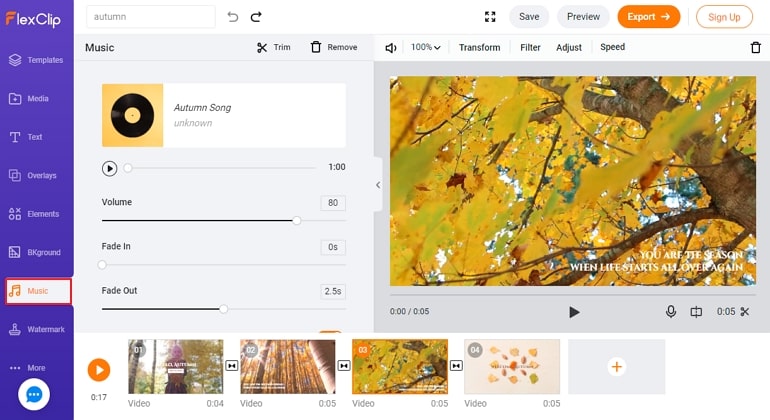 Make Nature Videos - Step 4
# Step 5. Preview and download. You can always come back for more edits.
The Bottom Line
With above steps, you can surely make an HD nature video. As you can see, FlexClip is an excellent nature video maker. It can also help you make travel video, promotional video. Remember to give it a try!.