Summary: Whether you're just getting started or looking to up your travel vlog game, check out the best travel vloggers to follow and learn the killer travel vlog tips from them.
Dream of being a popular travel vlogger with large fans? But do not know how to get started.
Maybe you're a beginner of travel vlogging who has yet to post your first travel vlog on social media.
Or you've been travel vlogging for a little, but aren't moving forward as fast as you want and are starting to get frustrated.
You've come to the right place!
This post introduces the top travel vloggers on YouTube and shares the killer travel vlogging tips to help you make a travel vlog that will interest, delight, and inspire your views.
Also Read: Large Collection of Vlog Ideas for You to Dominate YouTube 2020 >
Contents
Before we jump into how to make a travel vlog, let us have a look at some of the best travel vloggers on YouTube
Find some best travel vloggers to follow can make your travel vlog life a little easier and encourage you to plan your own crazy travel adventures.
Fun For Louis
When it comes to the best travel vlogger on YouTube, The first one that comes to my mind is Louis Cole.
Louis Cole is a travel enthusiast who spends his life traveling the world. He is also a well-loved travel vlogger of YouTube who records his life and travel adventures on his YouTube travel vlog, FunForLouis.
Louis's travel vlog will make the viewers binge-watching addictive and inspiring. He always does some fun projects with his friends in his travel adventure to inspire viewers to join the adventure.
Depict video: Travel Vlog from Fun For Louis
Wolters World
Interested in a vlogger that gives traveling tips? Mark Wolters is the best one you can follow. He offers travelers tips on his YouTube channel, Wolters Worlds, to help travelers have the best travel experience.
His travel vlogs are highly informative insights, which discusses the Best & Worst parts of traveling of each country in Europe.
When you watch his travel videos, you can know more about the city, country, or region you are going to visit, and you can get better prepared for your next vacation.
Depict video: Travel Vlog from Wolters Worlds
Kara & Nate
Kara and Nate, a travel-loving couple, have set a goal to travel to 100 countries and share their travel stories through daily vlogs on their YouTube channel - Kara & Nate.
Want to know how they share their experience and become one of the popular travel vloggers on YouTube? Just check out their adventure vlogs!
Depict video: Travel Vlog from Kara & Nate
Hey Nadine
Nadine Sykora, as the reigning female travel vlogger on YouTube, knows what YouTube audiences want - travel hacks, tips, advice, and planning guides, and she shows them on her YouTube travel channel, Hey Nadine.
Depict video: Travel Vlog from Hey Nadine
Mark Wiens
Are you travel for food? Mark Weins must be the best travel-for-food vlogger on YouTube.
He shows his passion for travel by recording food and all different cuisines he comes across and sharing his delicious travel vlog on YouTube.
Depict video: Travel Vlog from Mark Wiens
Actually, following the best travel vlogger on YouTube and watching their vlogs is the most crucial travel vlogging tip. Their vlogs are great learning material for improving your own traveling vlog skills. And here I'll share the killer tips for how to make a great travel vlog from those best travel vloggers.
✓ Record the Highlights of Your Trip, Not Everything
Most of the travel vlog beginners may take the common mistake that filming everything you experience in your travel. We know that you do not want to miss any single moment in your journey, but not all the memories are great for your travel vlog. Just record the highlight of your trip for a meaningful travel vlog. Doing in his way can help you save a lot of time and your camera battery.
✓ Keep Your Travel Vlog Clips Short and Concise
Although people will be intrigued at all of the cool things you saw and did, most people's attention spans are short, so don't take too much the same scene for your vlog. Just keep the clips of your travel vlog short and concise.
Besides, take shorter clips for your vlog, you will save you so much time during editing.
✓ Capture Things from Your Perspective
What the main difference between a travel vlog and a normal travel video? A travel vlog focuses a lot more on you and your personality than a normal one.
You need to add some video clips that captured from your point of view to make your travel vlog much better. This way, you can make your viewers feel like they are there with you. How cool it is!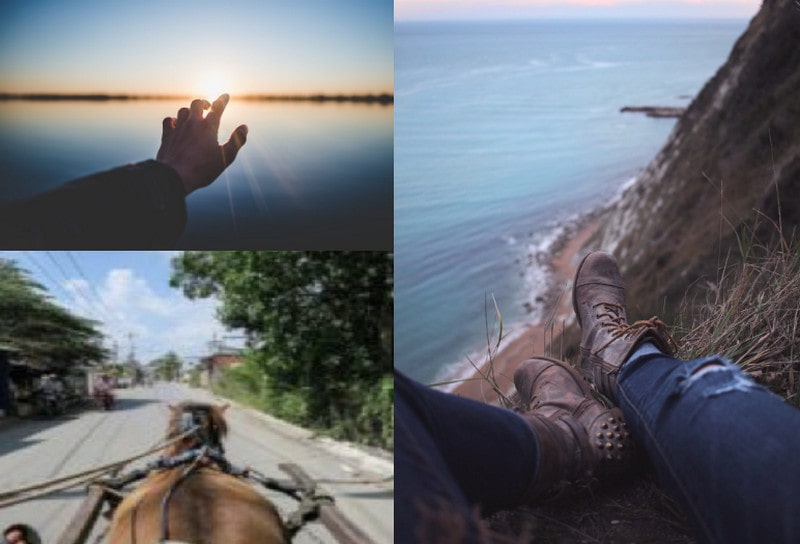 Image board: Capture Things from Your Perspective
✓ Include Other People in Your Travel Vlog
Including other people in your travel vlog can make your video far more interesting. The local must be your first choice to include in your travel vlog because they can help you shape your travel experiences and make the local culture come to life.
✓ Find the Best Vlog Editor to Edit Your Travel Vlog Wisely
Taking cool shots isn't enough for making a great travel vlog - you need to know how to edit them all together to achieve a far more travel vlog. Editing videos feels like a terrifying job, but once you get the right video editor, you'll be editing those travel clips into a masterpiece in no time.
A great travel vlog editor not only one powerful enough to meet your every need for editing your vlog (including trimming, splitting, adding transitions, watermarking), but a handy video editor easy enough to use so that even a novice can edit his travel vlog with great ease.
FlexClip Video Editor is such one that you need!
Besides, there are more reasons why I strongly recommended:
✓ Extensive media library offers numerous high-quality stock resources, including photos, video clips, music tracks, and sound effects, which can help you furnish your travel vlog well.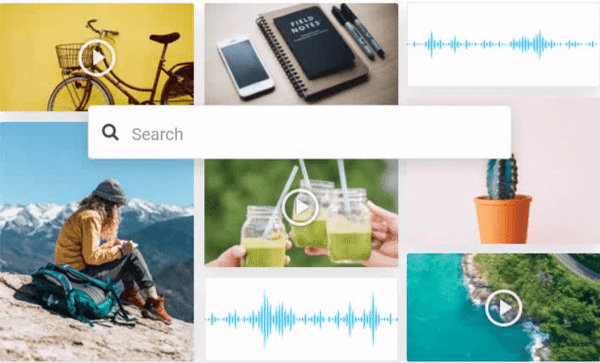 Image board: Extensive Media Library
✓ Various animated text effects and overlays are available for you to highlight your vlog content and make the text in your travel vlog stand out.
Depict video: Animated Text Effects and Overlays for Your Travel Vlog
✓ Here are also funny widgets you can use to decorate your travel vlog, like the subscribe button, like button, and other great gifs.

Image board: Funny Widgets for Your Travel Vlog
✓ Pre-made intro/outro templates can help you create your vlog intro/outro with great ease—each of them isis beautifully designed and customizable to fit your travel vlog theme.
Depict video: Intro/Outro Templates for Your Travel Vlog
More stunning features for you to explore; more surprises for you to reveal! Try FlexClip Video Editor to turn your travel vlog into a masterpiece now!