Summary: Want to create a good ASMR video that wins considerable traffics? You got the right guide! Follow these tips and the detailed steps to make an ASMR video. Check it now!
Some people like cat videos, some like funny videos, while some like enjoying ASMR videos to get relaxed. Ever since the first ASMR (autonomous sensory meridian response) video was published, people start to love the strange feeling this kind of video brought. It is like a warm effervescence, making its way down the length of the spine, and then turns into gratitude and wholeness. Till now, there is no scientific research about why people would like that feeling.
Ten years earlier, people barely know ASMR video. However, over the last years, more and more people show growing interest in it.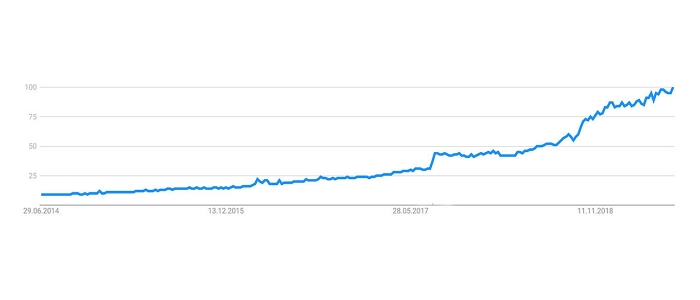 Image Board: YouTube ASMR Video Trend
If you intend to seize this hottest trend - ASMR video and win a huge fan base, this is the right moment. Follow the detailed steps to create good ASMR videos.
Also Read: 8 Best Video Background Music Resources >
Depict video: ASMR Video Template
How to Create a Good ASMR Video
Step 1 Content Planning
There are varieties of ASMR videos and each ASMRtist uses different techniques and triggers. Here are things that most ASMRtist would do:
1) Whisper or soft talk. Whenever ASMRtists speak in a video, they talk in a melodic voice, which can be relaxing to the listener. Different volume, tone, and emotion may bring different feelings.
2) Eating sound. This is one of the most famous scenes in ASMR videos. Noises with lips and tongue while eating or chips falling apart can trigger ASMR.
3) Fingernails gliding, scratching or tapping: We might occasionally find that the sound of fingers tapping on glasses, crumpling paper or rubbing sponges rather relaxing. Real ASMRtists use more daily items to make relaxing sounds than mentioned above.
4) Role-play. Pretend that you are a barber cutting hairs for customers in a hair salon or a policeman catching thieves. Due to the interesting plot, role-play ASMR videos are getting more popular.
5) Skincare or make-up. Doing make-ups are pleasant. So its sound is.
Step 2 Film
You don't need many professional tools to film an ASMR video. Any ordinary camera would do. But you need two good microphones and headphones to make sure your voice sounds great to customers.
Professional acoustically treated recording studio is not necessary to produce ASMR videos. You can film in rooms where street noises won't interrupt the filming.
Step 3 Editing
Good editing is vital in making good video clips. Here, we recommend you FlexClip to edit ASMR videos.
First of all, FlexClip is professional and easy to use. All practical editing features are at your disposal. Any edits can be done in a few clicks. Moreover, FlexClip keeps your video in high quality. No video or audio quality loss will occur. Besides, you can use FlexClip's media library containing rich music, picture, and video resources for free. Now, give it a try!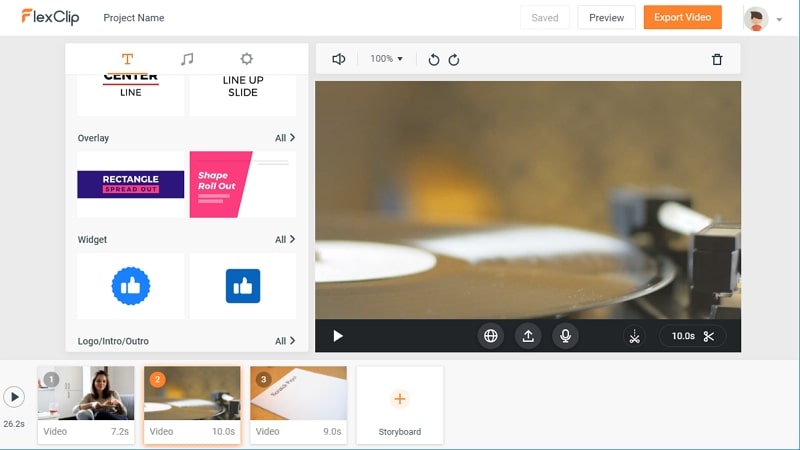 Image Board: FlexClip Overview
Here is how to use FlexClip to edit an ASMR video:
> Upload video clips to the storyboard.
> Add subtitles or dynamic texts to the video.
> Add music or do a duet if necessary.
> Preview. If you are satisfied with the video, export and upload it to any social media platforms.
Tips to Make Good ASMR Videos
1. Different strokes for different folks. Don't expect your ASMR video like by all.
2. Keep the tone of your voice caring and sympathetic instead of angry, frustrated etc.
3. Increase the sensitivity of your microphone. As ASMRtists always whisper, sometimes it is hard for microphones to collect all sounds.
4. Pay attention to daily items. You might grab an object that find new sounds. Pay attention to daily items.
5. Refuse any topics you don't like. If you received lots of weird requests for ASMR videos, remember, don't do any topics you don't like. Be yourself and spread love.
The Bottom Line
With above detailed steps and tips, you can easily create an ASMR video. Remember, ASMR videos are to spread love and help people get relaxed. By the way, FlexClip is a good video editor that creates all kinds of videos, like party videos, company videos. Give it a try!