Lightweight video editors allow you to create epic videos and awesome content without taking up too much space on your desktop. The market is full of overpriced heavy software that makes your device slow and even small tasks hectic.
In such a situation having the best lightweight video editor at hand can be a game-changer for you. Therefore in our today's article, we bring you the best lightweight video editors that are available free of cost and offer the most versatile features to make the magic you have always dreamed of.
So, let's put an end to your video editor hunt once and for all.
Also Read: The Best Online Video Editors No Download >
Best Free Lightweight Video Editors You Must Try
Best Free Lightweight Video Editors You Must Try
FlexClip
If you are new in the video editing world then FlexClip is the perfect lightweight video editor for you. With its user-friendly interface, it allows you to create videos that are impactful and enticing. Its robust features enable content creators and businesses to excel in their respective fields.
With its stunning video templates, motion presets, and royalty-free library, FlexClip has upgraded the standards ten folds. With FlexClip you do not have to be a pro in video editing, it just lets you work effortlessly and unleash your creativity without any complications.
Moreover, the software is all free to use. Upgrade to its Business Plan only if you need to create bigger projects.
Its Major Features include
Does not require downloading additional software
100GB of cloud to store videos
4,000,000+ royalty-free music, high-quality photos, and videos
Video formats: 480p, 720p, and 1080p
Supported file formats: MOV, M4V, MP4, FLAC, MP3, AAC, etc.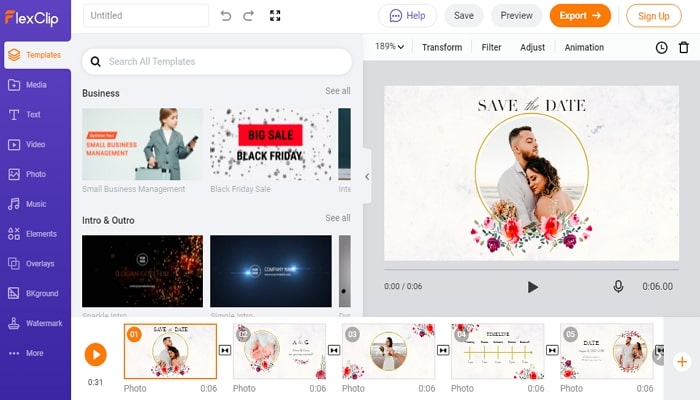 Lightweight Video Editors - FlexClip
Price:
● Free- 480p SD downloads
● Basic- $9.99/month higher resolution
● Plus- $19.99/month 1080p downloads
● Business- $29.99/month all features included
It is a lightweight video editor that takes about 220MB of storage only. As it is a launcher that allows access to the unlimited features of the online editing panel. The software shows no issues while downloading a 1 minute video.
Filmora Wondershare
Filmora Wondershare is another lightweight yet powerful software for beginners and semi-pro video editors. Along with its compatibility for a variety of video, audio, and image formats, it also allows screen recording, video trimming, editing, cropping, and much more. Its more than 300 special effects are our most favorite aspect of the editor.
Killer Features
Can handle professional tasks
Supported formats MP4, MPEG2, FLV, MKV, and HD videos
Mute or add audio, audio equalizer, and audio keyframing
Built-in video templates, overlays, transitions, royalty-free music, and text presets
Precise speed controls, fisheye lens correction, and video stabilization
The all-in-one editor is simple to master and takes up to less than 1MB storage on Windows and 2.5 on Mac. Filmora took 1 minute 16 seconds to render a 5-minute video.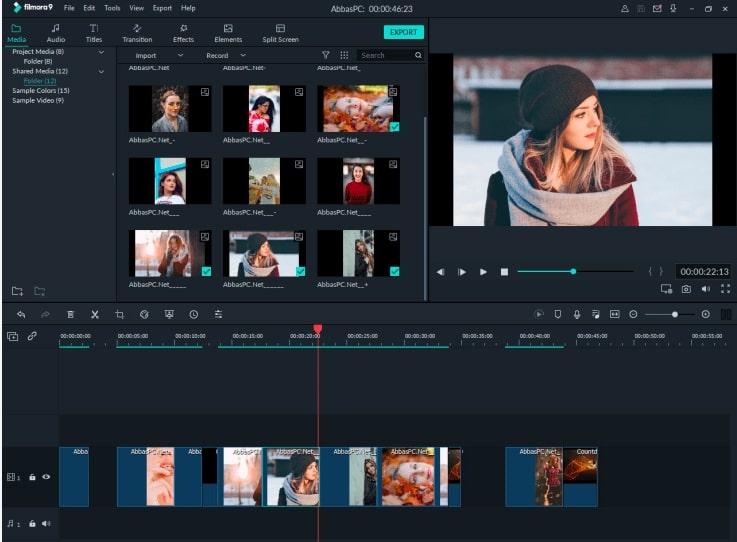 Lightweight Video Editors - Filmora Wondershare
Price
Free to access full-featured editing tools and built-in effects and templates
Premium version: $7.99 per feature, per month
Openshot
Openshot is the easiest editor that is open source which makes it accessible to everyone. Its intuitive and simple design is awesome for intermediate editors. If you run a small business and need to create an effective campaign then this is an excellent lightweight video editor for you to resize, scale, trim and rotate the videos.
Available for: Mac, Windows, and Linux
Killer Features:
Title template, 3D animated titles, title creation
Drag and drop, mapping, zooming, snapping allowed
Image overlays, watermark, and unlimited tracks and layers
Advance digital video effects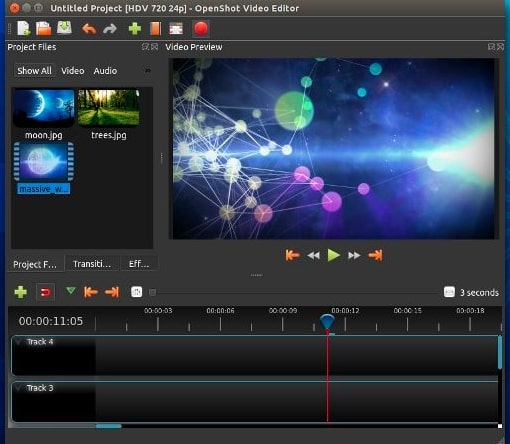 Lightweight Video Editors - Openshot
Price: Free
Shotcut
If you are looking for something that is professional yet not complicated then Shotcut is the answer. The immense range of formats, 4K resolution supports, interesting filters and advanced effects make it unique and worthy. The sophisticated timeline gives you the sense of professionalism and the distribution of this simple editor took 130MB only on disk.
Killer Features
Compatible with a wide range of file formats
AV1 decoding and encoding
Shotcut doesn't require you to import your video into the editor: this can be a timesaver if you are dealing with large video files. Moreover, the sophisticated software takes 130MB distribution on the disk and supports 1080p videos at 60FPS and 3 lossless export formats.
Lightweight Video Editors - ShotCut
iMovie
If you are a Mac user then iMovie is already available on your device. The amazing free lightweight video software is the perfect resort to make sheen professional videos. Its cloud-based work environment allows you to save your precious work on iCloud. Besides the software is already installed in your device which releases you from the complicated installing procedure.
Upload your content directly to social media platforms through iMovie only. It offers the opportunity to add tiles, backgrounds, and audio tracks to your clips which end up into extraordinary-looking videos to impress your audience in a snap.
Available for: Mac only
Killer Features
Enjoy extra special effects and features
Allows transitions and adding text in videos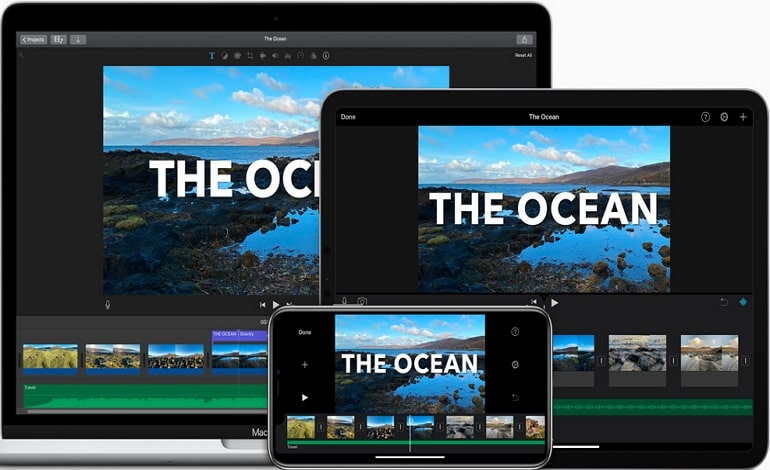 Lightweight Video Editors - iMovie
The Bottom Line
Now when you are aware of the best free lightweight video software on the web you can better decide which one best serves your needs. FlexClip being a comprehensive one-stop software for all your video editing needs allow you to create dramatic tutorials, business, music, sports videos and so much more easily and impactfully without overburdening your desktop.