Typically, having an intro into the first few seconds of the video will give your audience a clear understanding of what they can expect from your video and your channel. It's the first impression left on the viewer's mind and people often rely on it to determine whether continue watching or not.
Therefore, an intro is essential to hook more views and generate more followers. But where to find an intro and how to combine it with your videos? No worries, this blog includes an all-in-one tool to help you find and create charming video with intro background in minutes. Let's check it in!
The Best Place to Get YouTube Intro Background - FlexClip
FlexClip, a well-known intro video maker, has a variety of perfect intro backgrounds. No matter what type of intro background you need, you can find the suitable one in the background resources. To help you know what is the best intro background for you, here we list five popular YouTube Intro background for reference.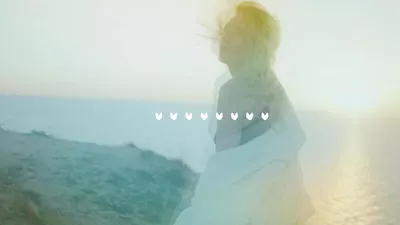 Travel Memory Intro Youtube
Neon Minimalist Modern Podcasts Tonight Youtube Intro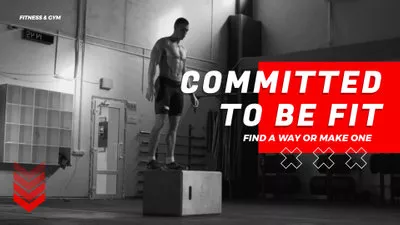 Youtube Intro For Sports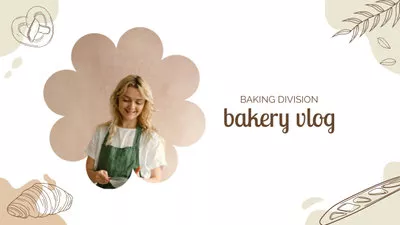 Bakery Vlog Youtube Intro
5 Popular Background for YouTube Intro
#1 Cute Background for YouTube Intro
If your targeted audience is kids, using this cute background for your YouTube intro helps you arouse viewers' interest. Colorful pictures and nursery rhyme can be attractive to children and make them watch the whole video.
This is an example of cute background from FlexClip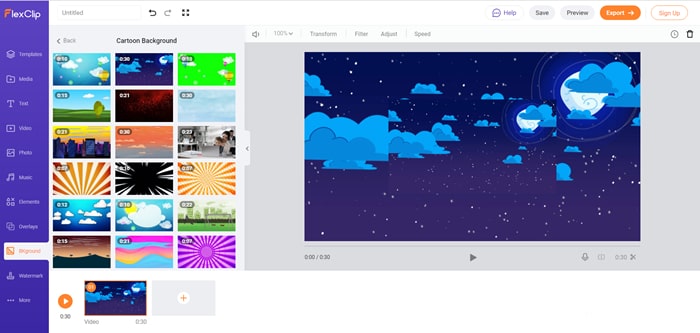 Cute Background for YouTube Intro
#2 Black Background for YouTube Intro
Black intro background usually takes a more serious tone than other types. It helps you highlight key points and focus the viewer's attention. Besides, the black background intro is easy to set up and it's portable for further editing. If you require a background without distractions, black intro background is a nice choice for you.
This is an example of black background from FlexClip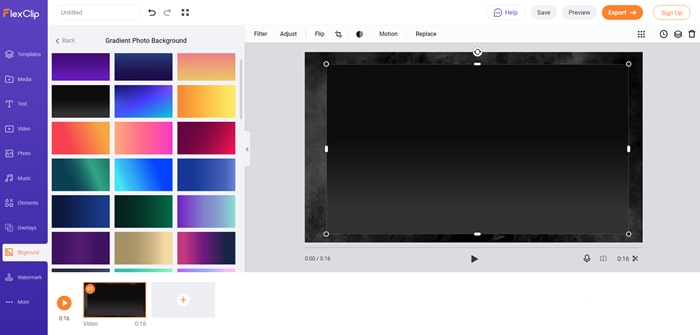 Black Background for YouTube Intro
#3 Cool Background for YouTube Intro
Cool intro background is usually used by YouTubers of technology and science. A cool intro background often comes with animation and compelling effects, which creates a fascinating atmosphere for the beginning part. You can customize the cool intro with stirring video effortlessly.
This is an example of cool intro background from FlexClip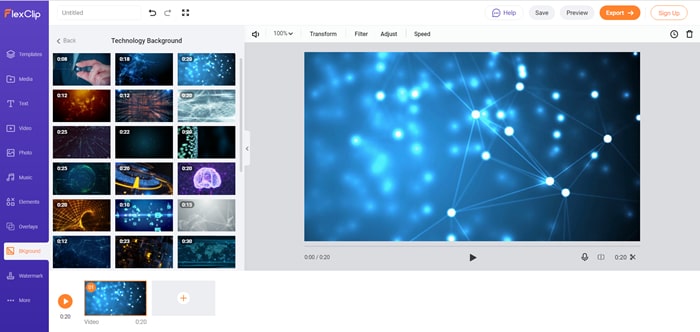 Cool Background for YouTube Intro
#4 Moving Background for YouTube Intro
The dynamic intro background represents scenes in a high-speed way with several clips transitions. Traveling YouTubers can take advantage of this intro to display vital clips in your journey and make people have an overview of your video.
This is an example of moving background intros from FlexClip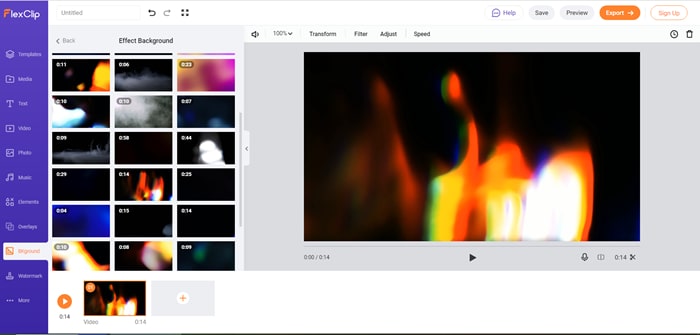 Moving Background for YouTube Intro
#5 Aesthetic Background for YouTube Intro
Aesthetic intro background is popular among painters and artists who demonstrate the painting tutorial or their works in a charming way. Classic blending colors and soft music helps smooth the process of your video.
This is an example of aesthetic background intro from FlexClip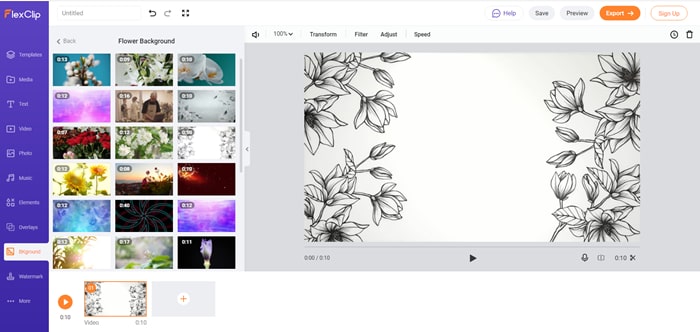 Aesthetic Background for YouTube Intro
In addition to intro background, you can also leverage FlexClip's AI toolkit and rich royalty-free resources to make your YouTube videos stand out. FlexClip has extra features as below:
A full set of AI editing tool:AI makes it easy to create stunning YouTube videos, regardless of your editing experience. FlexClip offers AI tools like text-to-image, background remover, text-to-video and more to help you unleash creativity in minutes.
Rich royalty-media resources:With FlexClip, you don't need to look around to find resources. It has a media stock providing millions of photos, videos, soundtrack and more and you can use it without copyright issue worries.
Extensive template resources:No matter what kind of YouTube videos you want to create, you can always find a designer-made template in FlexClip for reference.
Unlimited text, social icons and masks:Enrich your YouTube videos and increase engagement with FlexClip's shape presets.
How to Create An Intro with Beautiful Background Online
Intros mentioned above are some examples of FlexClip. Apart from these, FlexClip covers various background resources along with comprehensive editing tool to match your different needs. Now let's see how it works to make an intro background for YouTube.
Step 1
You can choose between the "Create a Video" and "View Template" buttons below. Here we set "View Template" as an example.
Step 2
Under the editor page, move to the BKground panel and you will see hundreds of ready-made background selections. Pick out one background to customize based on your needs.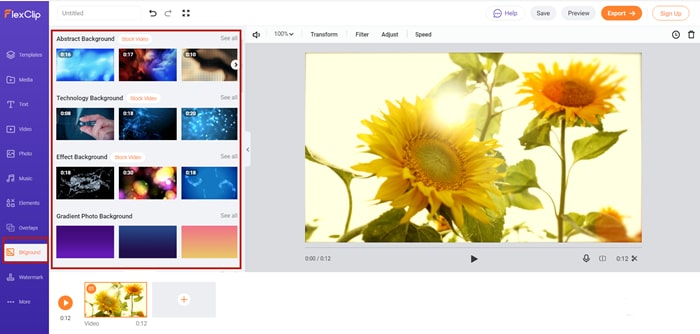 Get Intro Background with FlexClip
Step 3
Adjust your intro background in some aspects like adding text, transitions, animation and soft music. Feel free to unleash your creativity.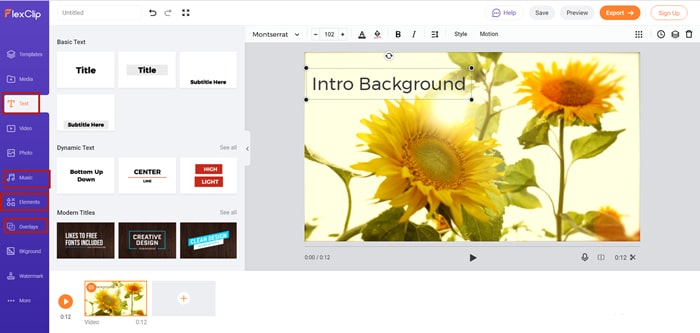 Adjust Intro Background with FlexClip
Step 4
Export the intro background video with the wanted resolution and format. Or you can combine this with your clips and directly share it to
Conclusion
Intro background is important for better engagement in your YouTube channel. FlexClip is the best place to make an intro background with different features. It provides various intro templates and a well-equipped editor to enhance your creativity process. Besides, FlexClip not only enables you to create intro videos but also make other types of stunning videos. No editing experience is required here. Don't wait anymore! Try it right now!