Instagram story animations are an extraordinary way to make super eye-catching content and proceed to be a developing trend on the platform.
Animated Instagram Stories are the hottest modern trend to take over our feeds — they're energetic, engaging, and certainly scroll-stopping, and the great news is that you don't need an expensive camera, software, or plan group to form animated Instagram Stories to wow your audience.
Creating animated Instagram Stories is an incredible way to seize your audience's attention and stop them from swiping past your story. While a lot of individuals tend to speed-tap their way through Instagram Stories, viewers are much more likely to stop and observe when a showy, moving animation catches their eye.
Text animation incorporates writing, fading in, bouncing, extending, swaying, and shining. This brings out the character in your content and includes another component to aim to improve viewer retention and engagement.
How to use Instagram story text animation?
Following are the steps that you can follow to add text animation to your stories:
Step 1
Open the Instagram app and swipe right to access the stories option.
Step 2
Take or upload a picture or video, or use the create function to create a stories post.
Step 3
Use the text tool option to add characters to your stories post.
Step 4
If you have access to this feature you may have 4 symbols at the top of your screen while editing content: alignment, color, background, and animation.
Step 5
Click on the animation icon.
Step 6
Instagram will show you a preview of the animated text to show you how it looks.
Step 7
If you change the style of the font, the animation will be changed.
Step 8
When you are satisfied with your content, press 'Done' in the top right-hand corner to proceed to alter your story's post or publish the story.
We all want our Instagram stories to be unique and interesting. If you are a brand, then stories are a great way to attract the audience. The new feature of Instagram that let you add text animation to the stories is a great way to enhance the charm of your stories. Many brands are already using it to promote their product in a better way. It would be a big hassle if is not working properly.
How to Add Animated Text to Instagram Stories
What to do if you are facing Instagram Story Text Animation Not Showing Issues:
If you are facing the issue of Instagram story text animation not showing, then don't worry we got you covered. Just follow these simple steps:
1. Log Out and Log in from the app:
The first and simplest step is to log out of your Instagram account and then log in again. Try this for some time.
2. Clear Instagram Cache:
This could moreover happen when the cache is building up within the phone memory; you will have to near the app, clear the cache, and relaunch. Clearing your Instagram cache is very simple for both iOS and Android gadgets. All you need to do is follow the steps that are mentioned below.
1. Go to your 'Settings' on your Insta profile.
2. Click 'Security'.
3. Click on 'Clear Search History (for iPhone) or 'Search History' (for Android).
4. Click on 'Clear All'.
3. Delete Instagram and download it again:
Another thing that you can do to resolve this issue is to uninstall the Instagram application from your phone and then re-install it. Hopefully, it will help in solving the bug.
4. Download the Latest Version of Instagram:
New features don't show up on your app if you are using an old version. It is important that you have downloaded the latest version of Instagram to enjoy all the fun features.
5. Get VPN and Change to Another country:
Instagram has some features that are limited to some areas. You can change your locale by using VPN and gain access to all the features.
6. Contact the Help Center:
If you are still having a hard-luck after trying all these steps, you can also contact their help center and share your concern with them.
7. Try Other Video Editing Tool:
There are several other video editing and designing tools available that can help you edit your stories. The best one among them is FlexClip. It is packed with tools, layouts, and animated design to assist you to create high-quality story content. This is an incredible way to add a component of surprise to your Instagram Stories and stop your viewers in their tracks.
FlexClip has everything you need to create stunning stories, with hundreds of beautifully animated formats for whatever sort of content you're posting. Whether you're including a touch of animation in your text or a subtle movement in your graphics, FlexClip is perfect for making your stories more eye-catching. Create an eye-catching Instagram story video with beautiful text animation in seconds now!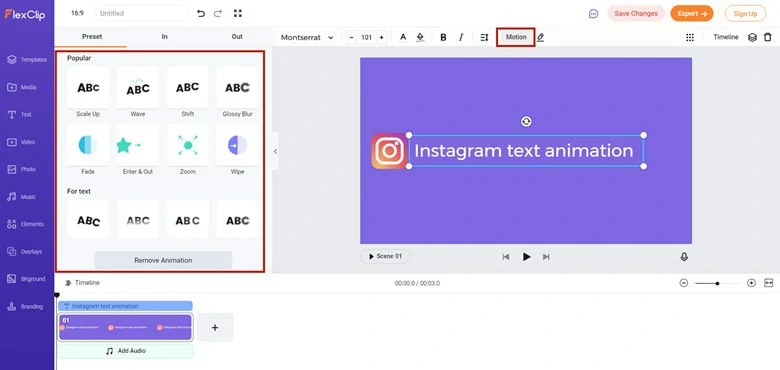 Create Text Animation with FlexClip
The Bottom Line
In this article, we have mentioned how to use Instagram's new feature text animation in your stories. We have also discussed what to do if you're facing Instagram story text not showing issues. Hopefully, it will be helpful for you, and do not forget to like and share, you never know who is facing the issue.