iMovie is a simple editing software that provides many basic effects and features. It can be very beneficial for new editors to create stunning videos with simple steps. But you may encounter these problems: the background music you want to apply is too short to fit the whole video or the video is too long to find a matchable audio soundtrack.
Under such circumstances, looping audio in iMovie is a feasible solution you can rely on. In this article, we will discuss how to loop audio/music in iMovie and also recommend 3 best audio loop makers for you. Let's dive in.
Free and Customizable iMovie Video Templates for You: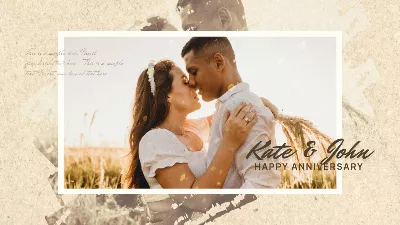 Love Romantic Wedding Anniversary Memory Floral Slideshow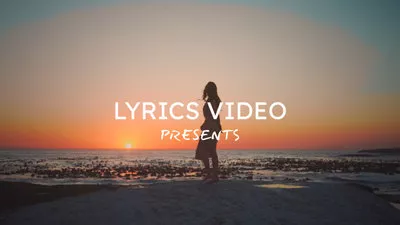 Animated Lyric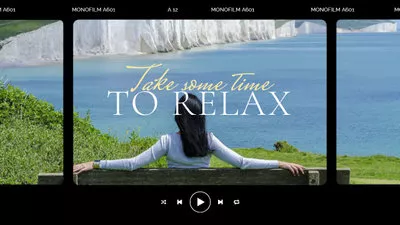 Music Beat Travel Slideshow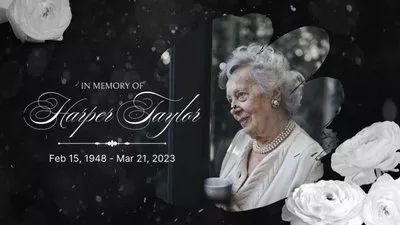 Memorial Funeral Mourn Nostalgic Slideshow
3 Best Audio Loop Makers to Loop Audio Easily
Can't Miss: How to Loop Songs on Spotify on Desktop or Mobile>
Part 1. How to Loop Audio in Your Video on iMovie
iMovie allows you to loop audio tracks with simple operations but it takes a little time. If you want to create audio tracks in your videos, just do as the following steps.
Step 1
Launch iMovie and open the project you want to work.
Step 2
Click the "musical notes" icon under the Video Player to display all the music and audio files in your iTunes folder as well as your iMovie's sound effects. Then select the audio track you want to use and place the track on the timeline.
Step 3
Tap the audio track in timeline, then click "Edit" and "Copy" to make a copy of it. Continue pasting to get more versions of the audio track onto the Timeline.
Step 4
Adjust the level of each audio track and the length of time it fades in and out by double-clicking the track, then choosing "Audio" from the popup menu. When you've made the desired adjustments, tap Done to save changes.
Step 5
Preview and check whether the loop sounds the way you intent. After that, export the looped audio to your local file as MP3 or save it as an MP4 file.
If you play this looped audio file on other platforms, you might find the loop effect disappears, as it only works with QuickTime Player.
Part 2. 3 Best Audio Loop Makers to Loop Audio Easily
iMovie provides a straightforward solution to loop audio but it's the exclusive trick for Mac users. What if you need to create a looping audio on Windows or you might look for other professional audio looping tools? Don't worry. Below is a list of 3 best audio loop makers to match your different needs.
FlexClip - The Best Audio Looper Online
Want to loop audio without software download? Or are you looking for an iMovie-like audio looper with more flexibility? Here comes FlexClip's audio online looper! Whether you want to loop a whole music or a particular portion of your audio file, FlexClip will help you achieve the goal.
The workaround is super easy: it generates a loop audio by duplicating your audio files as many times as you want. Besides, you can leverage the fade in/out effects to stitch your audio clips seamlessly. With a few clicks, you can get the original-like loop audio without any lag.
How to Loop Audio Online Using FlexClip
Step 1
Import your footage from PC, Google Drive, Dropbox and mobile phone. When they're loaded, drag them to the timeline. If you already have a soundtrack, upload it as well.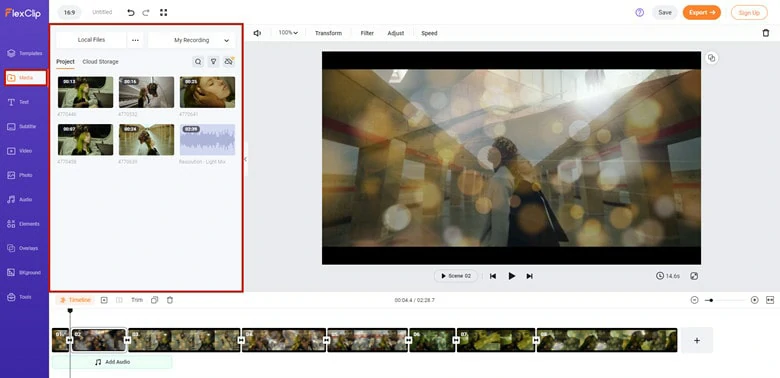 Upload Your Footage File to FlexClip
Step 2
Add an audio track to your video. You can pick one from FlexClip's music library or upload your audio from the local file. Split the audio file if you only want to loop a specific segment.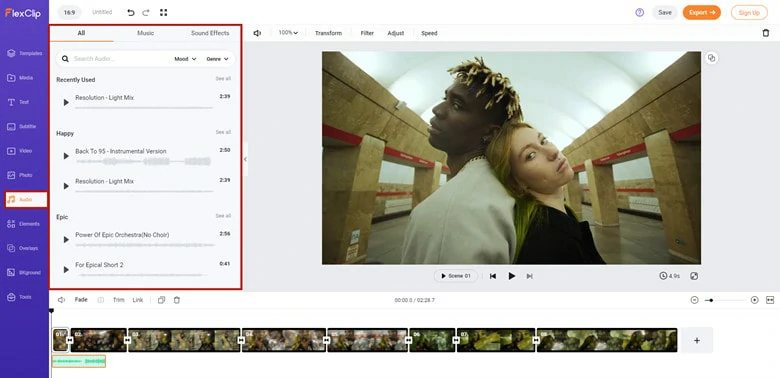 Add Your Audio to Video
Step 3
Select the soundtrack and hit the Duplicate icon to get an audio copy. Line the audio clip in the same layer and repeat multiple times to make the audio loop back to back.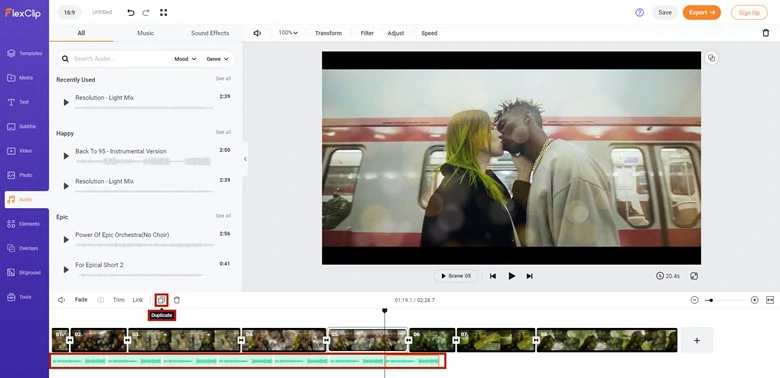 Duplicate Multiple Audio Files
Step 4
To stitch audio clips smoothly, you can apply the fade-in effect in every beginning part of your audio and also add the fade-out effect to the end part of each audio clip. By doing so, you can avoid the abrupt jump between two audio clips.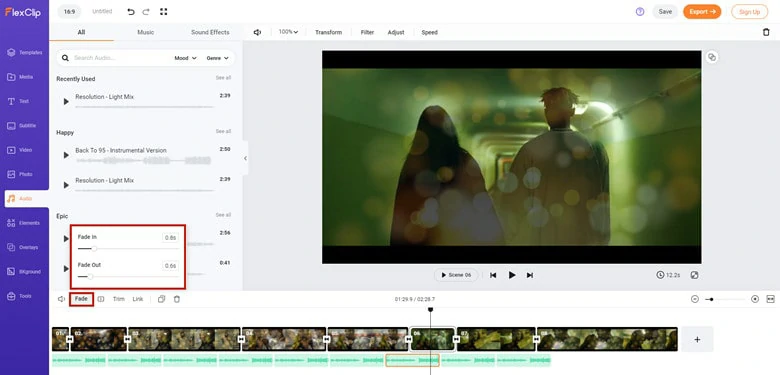 Add Fade-in/out Effect to Your Audio Clip
Step 5
When finishing edits, play the looping audio and tap on Export icon to save it on your computer.
Note: Currently, FlexClip only saves your looping audio project as an MP4 format. But it offers a free yet quick video-to-audio converter to help you get an MP3 looping audio.
How does it compare to iMovie
It has a gigantic inbuilt collection of royalty-free music and sound effects that you can directly use without searching and downloading.
Support multiple audios(like voiceover, background music and sound effects) in different layers in your videos that is unavailable in iMovie.
Thousands of stunning video templates with background music.
Compatible with Windows, Mac and Linux users as long as they install Chrome browser on their computers.
Instantly sharing to multiple social media platforms like YouTube and TikTok.
Audacity - Professional Audio Loop Maker
Unsatisfied with the results of iMovie audio loop? Need a seamless audio loop that can be played with great ease? Try Audacity - the most popular professional audio loop maker!
Audacity is a free and open-source audio software that performs great edits, recording, looping, and much more. The option to loop in Audacity is very straightforward and can be done in a few ways. Let's find out how.
Step 1
Open Audacity on Your Computer
Open Audacity and create your track by recording or loading the previously saved one from your file.
Step 2
Find the Loop Function
Go to the Transport menu and find the Looping function. When hovering over the option, you will see 5 options, one of which is to toggle the loop function.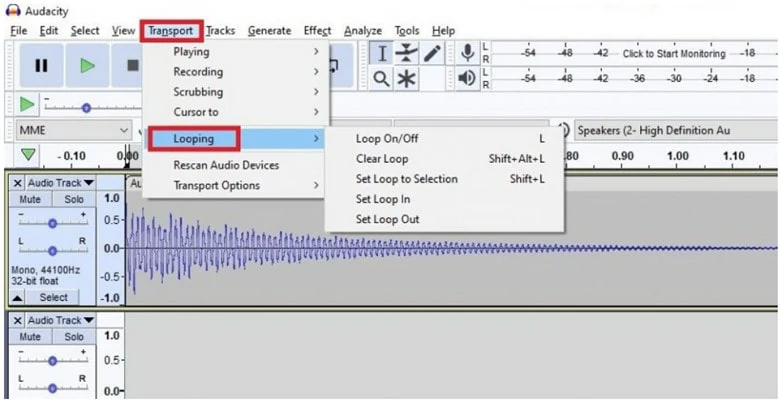 Find the Loop Function
To loop the entire audio, simply toggle on the loop function, and this will make your entire audio track in a loop cycle. If you only need to edit a particular section, simply select the part you want to loop and press L hotkey to enable the loop function.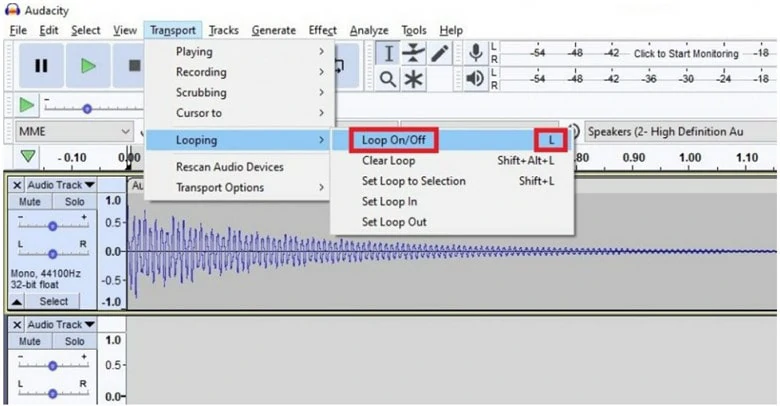 Loop Your Audio
Tap Play icon to preview the looped audio and add fade-in/out effects to loop smoothly. When finishing edits, export it to your local file.
Note: As Audacity is an audio editor, it only allows you to save your looping audio as an audio file. If you need to pair the loop audio with your visuals, rely on third-party video editors like FlexClip to do that.
How does it compare to iMovie
Loop audio with a one-click operation.
Add unlimited audio layers as you want.
Compatible with all the audio file formats on the market.
Save your looping audio in multiple audio formats.
Premiere - The Top-notch Audio Loop Maker
Premiere falls on our list for its professionalism and popularity, crown as the top-notch video and audio editor on the market. As for audio editing, it packs a set of features like audio track mixer, audio filters/transitions, audio quality improvement and also audio looping.
The old way to loop audio in Premiere is setting your in and out point and drag it to the timeline, then duplicate or drag a copy besides it. After that, listen over and over again to see if it loops perfectly. But here we will introduce a new way to easily loop audio in Premiere.
Step 1
Find the part of the song you want to loop and drag it to the timeline.
Step 2
Click and hold on the Ripple Edit Tool and choose the Remix Tool. Now the sound panel will open automatically and click on Music to see if the desired clip is selected.
Step 3
Now it's magic time! Just go to your music track and click and drag the end of the clip to match whatever the length you need it to be. Premiere will update the loop audio result in seconds to you.
Step 4
Export the looped audio to your computer when you feel satisfied.
How does it compare to iMovie
It comes with a wide array of audio editing tools.
Loop audio of your song smoothly and perfectly.
Able to enhance audio quality as you need.
FAQ
How to Loop Music on TikTok
To loop music on TikTok, you can apply all the methods in this article. Instead, you can directly repeat the song on TikTok to create a loop effect.
Open TikTok app > upload the song you wish to loop > tap Next > select Effects > Times where you can choose the audio portion you want to loop on the Timeline. After that, use the time warp effect under Repeat panel to create a loop music. When it comes to an end, hit on the Save icon.
How to Loop Audio on iPhone
For iPhone users, you can take iMovie to loop your audio files. If the audio is on page, you can loop it as follow.
Tap to select the audio on the page > Tap Audio > Choose the way for audio to loop: play in a continuous loop or loop back and forth. While if you're handling a recorded audio, you can only use the first option.
The Bottom Line
That's all for how to loop audio/music on iMovie. If you are not satisfied with the solution offered by iMovie, try other audio loop makers in this article like FlexClip. Pick the method you like and try to unleash your creativity right now!