With the rise of platforms like Instagram, Reels have emerged as a highly engaging medium for entertainment and creativity. From viral dance challenges to comedic skits, the possibilities are endless when it comes to showcasing your creativity. Whether you are a seasoned content creator or just beginning your journey, mastering the art of syncing Reels to music can take your videos to the next level, captivating audiences and leaving a lasting impression.
To help you sync Reels to music beat, this article includes three free ways to make your video follow the beat effortlessly. Let's dive into it right now!
Free and Trending Reels Templates Synced with Music for You: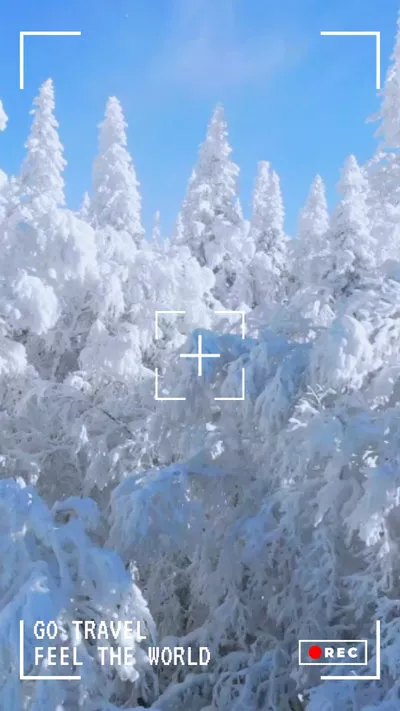 Instagram Reels Snow Mountain Travel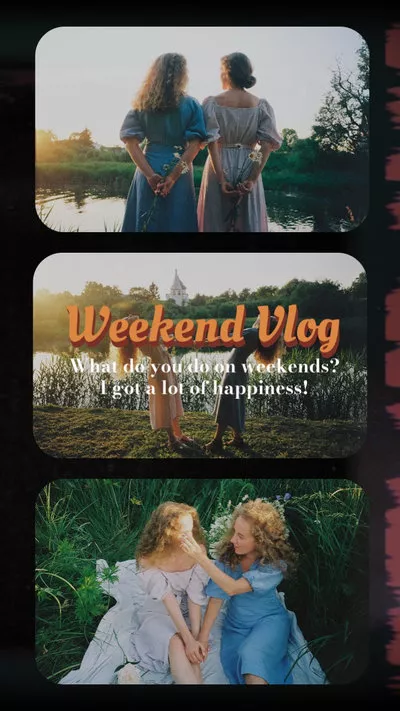 Weekend Vlog Instagram Reels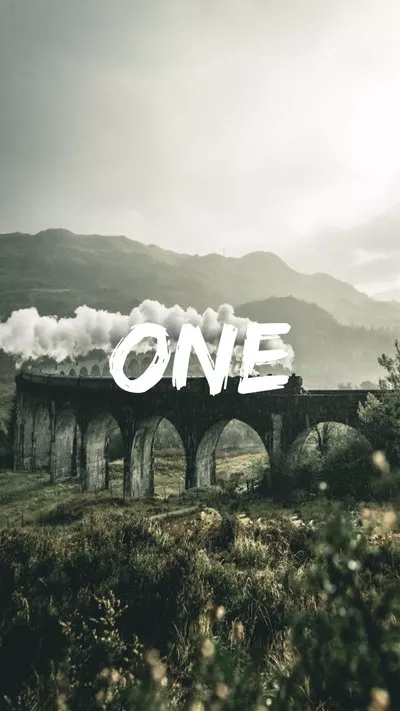 Rhythm Travel Vlog Social Reels
Also Interested in: How to Add Music to Instagram Reels>>
1.Use a Reels Template to Sync Reels to Music
The easiest way to sync clips to music on Reels is using an existing Reels template. You must have seen the button - Use Template that indicates this Reel can be used as a template when you swipe up watching Reels on Instagram. Templates simplify your process to streamline the video creation and editing as they allow you to copy the formatting of other Reels you're going to use.
To sync Reels to music with a template, follow the steps below.
Step 1
Find the Template you want to use when swiping up on Instagram. You can recognize this with the Use Template button.
Step 2
Click on the Template tab and select photos and videos from your phone library, which will be synced up to the timings of your Reels.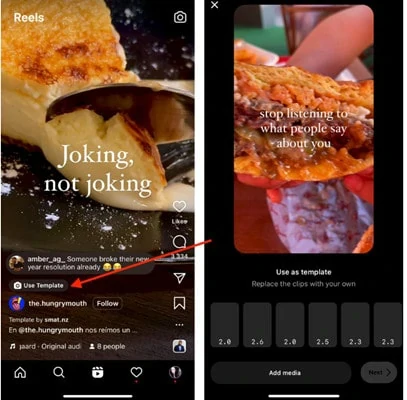 Use an Existing Reel as Template to Sync Music
Step 3
Preview the synced video and share it on your Reels.
2.Use Instagram Grooves to Sync Reels to Music
Instagram Grooves is a feature hidden within the upload interface that can help you create captivating Reels synced to the music. It looks like a scissor icon and can be found when uploading video clips from your camera roll. The edit is automatic and only takes a few seconds to complete the process.
However, currently, this feature only supports vertical videos fitting the Reels formats from your camera roll, which means that you can't apply this function in your still images or directly record a video with this feature. After understanding every detail of Grooves, let's get to know how it works.
How to Use Instagram Grooves on Your Device
Step 1
Open the Instagram app and select the Reels by tapping the + icon to create a new piece of content.
Step 2
Upload video clips from your camera roll and find the Instagram Grooves scissor icon.
Step 3
Trim your video within the time limit for this feature using the bar at the bottom of the screen.
Step 4
Tap the Add button in the top-right corner and then Instagram Grooves will automatically edit your project.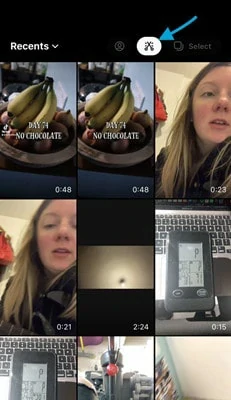 Use Instagram Grooves to Automatically Match your Reels to Music
Step 5
Instagram Grooves will create a Reel with a bounce effect by default. If you want to change the effect, tap on the Styles icon and switch the effect to Smooth.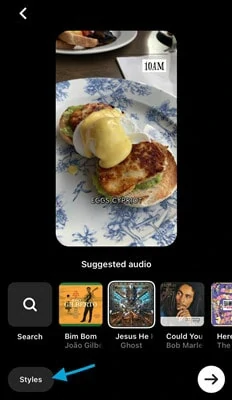 Change the Default Bounce Effect to Smooth
Step 6
You can also change the background music by searching Instagram's music library. When everything is OK, post your Reels synced to the music rhythm.
3.Use Third-party Instagram Reels Editor to Sync Reels to Music Beat
Want to create Reels with your horizontal videos from the camera roll? Or are you looking for ways to sync photos to music beats on Reels? Try this online Instagram Reels AI video editor called FlexClip for help!
No matter what type of content you use, FlexClip allows you to make the visuals follow the beat in minutes manually. Besides, AI tools like text-to-speech, an image generator and text-to-video can greatly simplify your creation process and let you catch up with the trend quickly. Moreover, finding royalty-free resources is never a challenge for you as FlexClip has millions of royalty-free media resources and also 4000+ captivating templates. No download or editing experience is needed!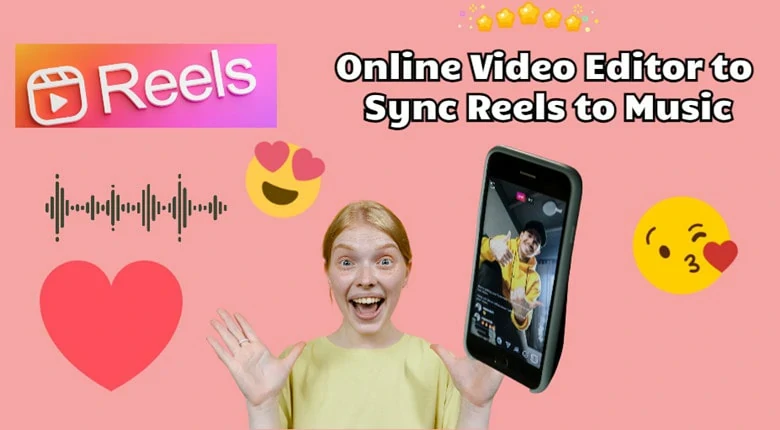 Online Reels Editor to Sync Reels to Music - FlexClip
How to Sync Reels to Music with FlexClip
Step 1
Open FlexClip's official website on your computer and start to upload your videos and photos from your mobile phone, PC, Google Drive or Dropbox. When they're loaded, add them to the timeline.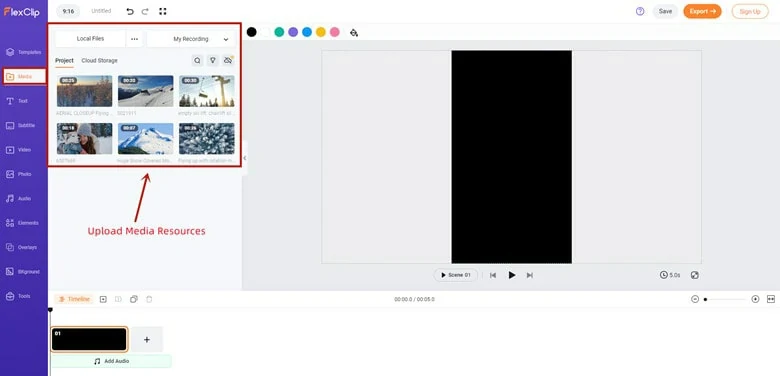 Upload the Reels Content You Want to Edit
Step 2
Edit your raw clip by trimming out unwanted parts or split long videos into small clips. For horizontal videos, change the video aspect ratio to 9:16 and adjust the position to cover the content you want to share.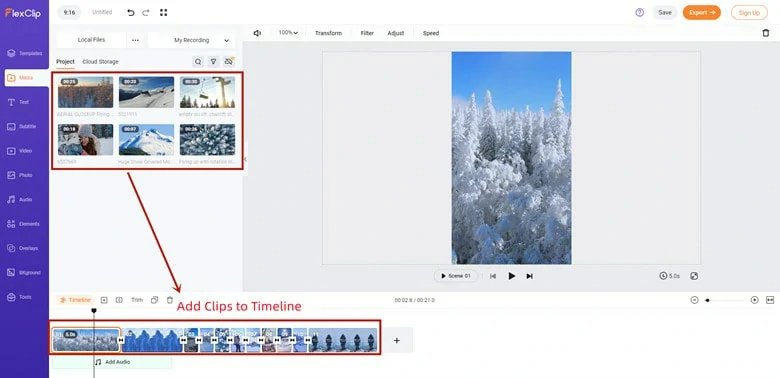 Trim the Video as You Like
Step 3
To give your video a professional look, try to add transition effects to make the video smooth naturally.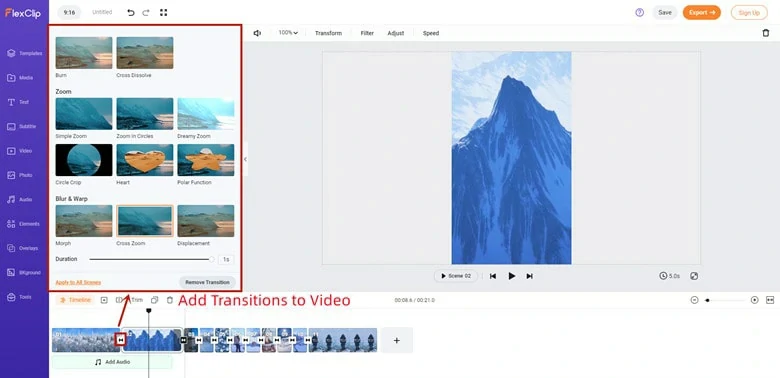 Add Transitions to Your Reels
Step 4
Now it's time to add a soundtrack. To create an engaging cut to beat Reel, a high-tempo or storytelling audio clip is recommended. You can directly upload one from the local drive or get one from FlexClip's music library.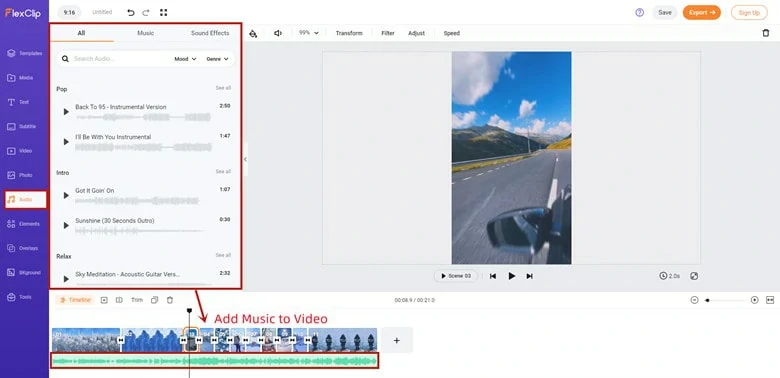 Add Music to Your Reels
Step 5
Find the Speed icon on the top toolbar menu and select the Curve Speed option in the new interface. Choose the preset you like and begin to add points by checking the soundtrack wave in the timeline. After that, you can drag and drop the points to make the Reels flow with the music beat.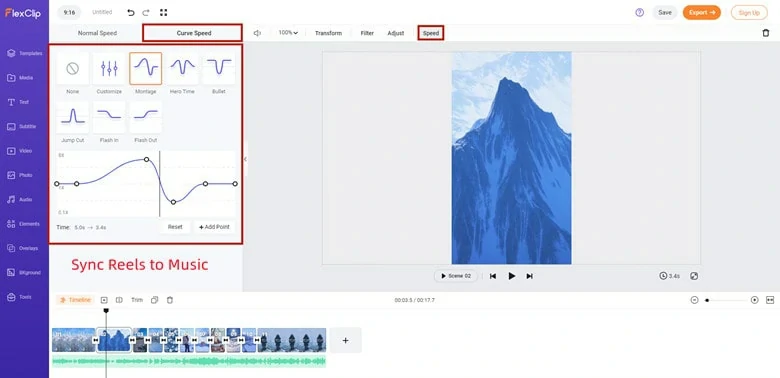 Sync Your Reels to Music
Step 6
Aside from music, the stylish text is another essence for your Reels going viral. Directly upload your font or select from FlexClip's hundreds of eye-catching text presets to add your text. To make your text engaging, apply trending animation effects with ease.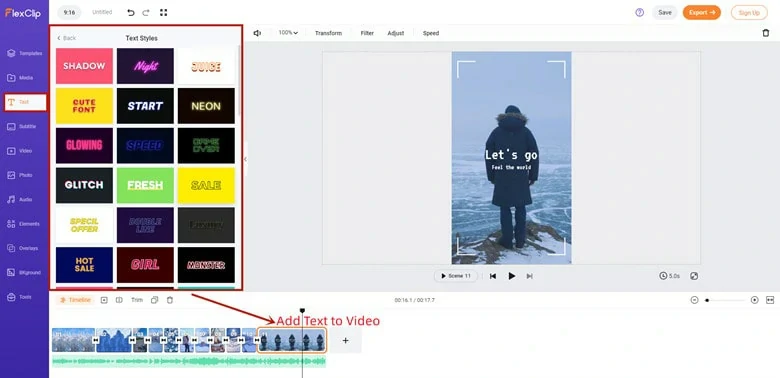 Add Text to Your Reels
Step 7
Congratulations! You've got a synced Reel. Tap on the Export icon to download or share it with a clickable link.
The Bottom Line
That's all for how to sync Reels to music using Instagram inbuilt ways and also along with a third-party Instagram Reel editor - FlexClip to help you create synced Reels with ease. Now it's your turn to leash creativity right now!