Reddit is a popular discussion-based forum that allows you to share links, post text, images and also videos. But before August 18, 2017, Reddit users couldn't directly upload videos. Instead, they need to upload video on third-party hosting sites like YouTube and then post the shareable links to Reddit. It is time-consuming and negatively affects the user experience.
Thankfully, Reddit rolled out the the native video hosting feature and users can upload videos to the Reddit app as the way they want. If you're going to post video on Reddit, this blog will help you check it out!
The Video Requirements of Reddit
Like other video-sharing platforms, there are also some requirements for uploading videos on Reddit. Let's check it!
Supported video format: MP4, MOV
Maximum video size: 1GB
Maximum video length: 15 minutes
What If Video Breaks the Reddit Policy?
If your video is larger than 1GB or longer than 15 minutes, then you need to trim or resize the video. Besides, if the targeted video is not MP4 or MOV, converting is a necessary step for a successful uploading.
It's easy to fix these problems with an all-in-one video editor like FlexClip. This tool can not only compress the video to a smaller one, trim the video as you need but also convert videos to MP4 or MOV. Besides, you can perfect the video by adding transitions, music, overlay and text with great ease.
Free FlexClip Tutorial Video
How to Post Videos on Reddit
Reddit users can upload videos either from their computers or mobiles. Here we'd like to talk about the step respectively.
Upload Video to Reddit from Computer
Step 1
Open Reddit website and log into your account.
Step 2
Click on + (Create Post) icon and the new post form will appear. Then tap Choose a community menu to search for a community where you want to post videos or select one from the subreddit list.

Create a New Reddit Post
Step 3
Step 3: Click the Image & Video tab and Click Upload to load your video from the computer.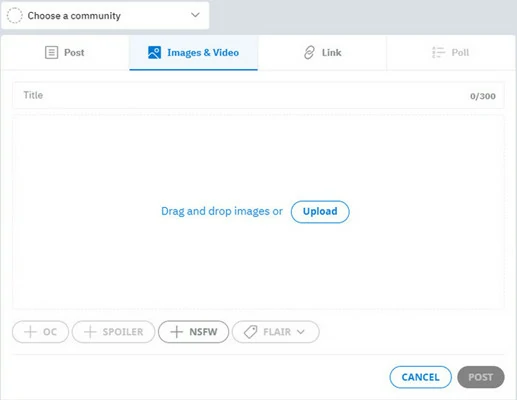 Upload the Video to Reddit
If the red circle comes with a line through Image & Video tab, it suggests that you are not allowed to upload videos to this Reddit community as not all subreddits are video-enabled.
Step 4
Give your post a title at the Title field, select thumbnails, and also add tags.
Step 5
Finally click on Post button to upload your videos.
Upload Video to Reddit on Mobile Phone
Aside from website version, Reddit also launches the application for Android and iOS users. If you're a mobile phone user, upload your videos to Reddit as following.
Step 1
Download, install and open Reddit application on your device.
Step 2
At the bottom center, tap the pencil (New Post) icon.

Create a New Reddit Post on Mobile
Step 3
Click Video button to create a new post. Next, you need to Choose a community and select a subscribed subreddits.
Choose a Community to Post Reddit Video
Step 4
Then you will see two options: CAMERA and LIBRARY. You can tap the camera option to record a video or use the library option to choose a video from your device library.
Step 5
Enter an interesting title for your video post and click on Post button to upload it.
Why the Uploaded Video Has No Audio?
A lot of people encountered the problem that the becomes mute and there is no sound after they've uploaded on Reddit. Indeed, this is a frequently asked question in Reddit.
Videos on Reddit app are muted by default and you have to enable the sound manually. If you can't hear videos on Reddit mobile app, find the mute icon in the bottom left on the video you're viewing and tap on it to turn on the audio.
If you still can't hear audio from the video, try the following methods. One of them may work for you.
Instead of dragging videos to Reddit, use the Upload function to import your videos.
Check if you're watching videos in an NSFW community as the platform automatically mutes the videos that users watch here.
Upload video to a third-party hosting site like YouTube and then share the video link at Reddit.
Update the app to the latest version or re-install the application.
The Bottom Line
That's all for how to post video on Reddit. Now follow the guides above to post your videos to Reddit to get views, likes, and discussions. And, if this blog helps you a lot, don't forget to share this guide with your friends.