Bored with the classic white Google Chrome background and wanna personalize it by setting an animated GIF as Google background? In this post, we've you all covered.
We will walk you through the aspect ratio, format, and file size of Google background GIFs and introduce you to an easy way to make your Google background a GIF using videos or GIFs.
Here is what you will learn:
Google Background GIF: Aspect Ratio, Format, and File Size
Format: PNG
You might be wondering why it's not the GIF file format. Well, the tricky thing is that to upload an animated GIF as a Google background, you need to manually change a GIF format to a PNG format. After you upload this PNG file to Google background, it will loop as an animated GIF.
Aspect Ratio: 16:9 aspect ratio or landscape
Although any 16:9 or horizontal GIF will fit Google background image, if you convert your video into a GIF or download a GIF online, 1920x1080P video and GIFs with higher FPS work best for smoother Google GIF background. Set the right aspect ratio for your video.
File Size: no specific Limit
Yes, we know how crazy it sounds. Currently, there is no limit on the file size and time limit of a GIF uploaded to Google background. That means you can find or convert a video to a GIF with the best quality regardless of its file size.
How to Make Your Google Background a GIF
Well, of course, you can freely download any GIF found online and upload it to Google Chrome as your Google homepage background. However, a more flexible way to do it is by using FlexClip, a free and all-in-one online video editor and GIF generator.
Versatile FlexClip video editor
How FlexClip will help you make a GIF for Google Background:
FlexClip's 4M+ royalty-free and high-res videos and dynamic backgrounds will be a valuable source for making a GIF.
With fine integration with GIPHY, FlexClip allows you to easily find the trending and funny GIFs from GIPHY within the video editor and use them for your GIFs.
No software install needed, versatile & extremely easy-to-use
You may upload your video or GIF assets. If you don't have ideal ones, no worries. Just head to the "Video" or "Photo" tab on the left menu and enter keywords to look for a pleasing video from FlexClip's stock assets or a funny GIF from GIPHY and then add it to the storyboard. You may trim the video or GIF as well.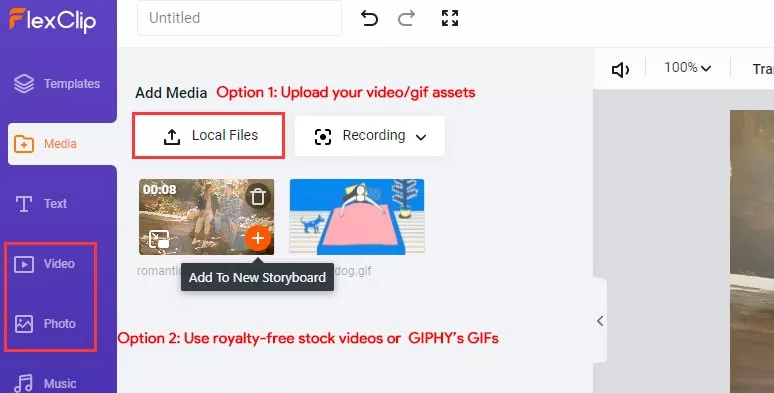 Upload video or GIF assets to FlexClip or use its royalty-free stock assets
Step 2
Customize the Video or GIF
Select the "Text" or "Elements" tab on the left sidebar, then you can add designer-made animated texts and customize their fonts, color scheme, and style, and motions or add decorative elements. Just give full play to your creativity and have fun playing with it.

Add animated texts or dynamic elements to the video or GIF
Of course, don't overdo it because too many texts won't look good when uploaded to Google background. Check how to make an animated Google search bar in a video.
Step 3
Preview and Export it as a GIF
Once you are happy with the overall effects. Hit the "Export" button on the top right corner and select 'GIF'' and the best quality for a local download.

Export as a GIF file
Step 4
Rename GIF Format to PNG and Upload to Google Homepage
Find the exported GIF file > manually rename the "xxx.gif" file as "xxx.png" file > open a new tab in Google Chrome browser > find the little pencil icon on the right bottom corner and click on it > select "Background" > hit "Upload from device" > upload your PNG image. Then your Google background will be instantly changed to an animated GIF.

Make a GIF as your Google Background
The resulting animated GIF Google homepage background from the above example:
Now, It's Your Move
Though Google allows you to upload static images for Google background or, change the color scheme, or use artist collection or landscape images for your Google homepage background, none of them can beat making your Google background a customized animated GIF. Hopefully, our tutorial and recommended tool--FlexClip can help you make eye-catching GIFs as your Google background. So, start using your videos or GIFs for Google background with FlexClip, now!