Taking selfies is never new. From ordinary people to celebrities, everyone loves to take a selfie and post it on social media when you have something exciting to share with other people.
But, nowadays, selfies can be more than still images. With growing social platforms like Facebook, Discord, etc. supporting GIFs for news needs and profile pictures, it's time to take your social posts up a notch by using an animated selfie GIF.
So, in this post, we will walk you through how to easily make a selfie video into an animated selfie GIF using your phone and computer. Let's get into it now!
Here is what you will learn:
How to Make a Selfie GIF on Your Phone
Nothing makes creating a selfie GIF easier than using your phone. A great selfie GIF app recommended is GIPHY, the most prestigious GIF maker and the largest GIF search engine you can find both online and app store on iPhone and Android.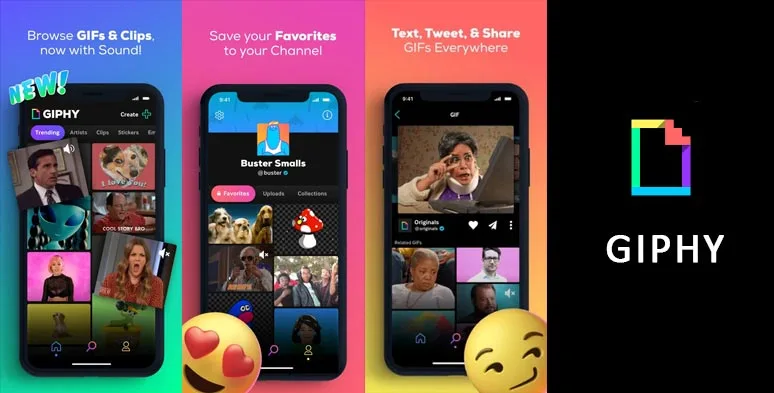 GIPHY selfie GIF maker for iPhone and Android users
Step 1
Launch the GIPHY app on your iPhone and Sign into It
Step 2
Tap the "Create" button or an "+" icon on the top right corner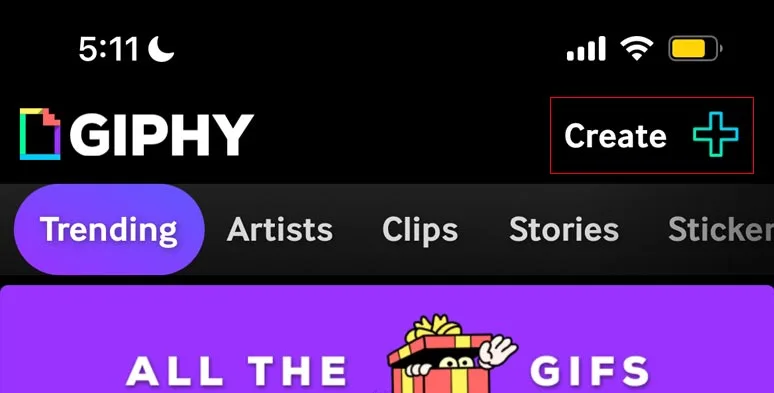 Tap the "Create +" button on GIPHY
Step 3
Hit the Camera Button to Record a Selfie Video
After a selfie video is made, you may trim the video length or crop the selfie video into 1:1 or 3:2, 16:9, 4:5, 9:16. You may also pinch the video to zoom in/out for the perfect angle. Check how to zoom in/out in a video.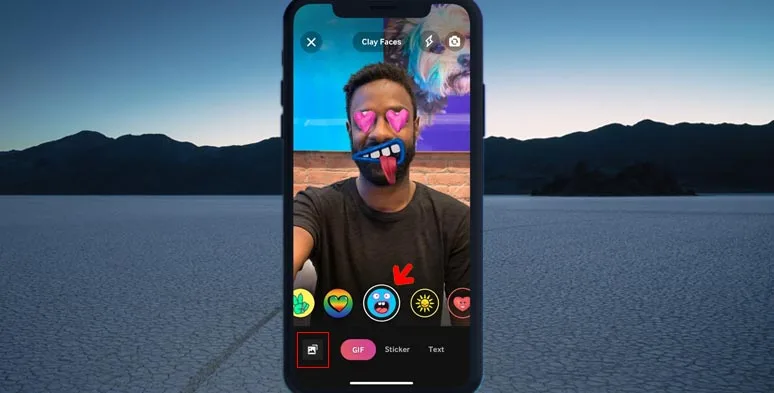 Take a selfie video and make it a selfie GIF by GIPHY
What is worth mentioning is that GIPHY offers you options to add funny face filters, stickers, and text animations as well. Just have fun playing with it.
If you have a previously-taken selfie video in the camera roll, you may also import it to GIPHY to create a selfie GIF. Just tap the photo tab next to the camera button. Then you can edit your selfie video and convert it to a GIF using GIPHY.
Step 4
Share Selfie GIF or Upload it to GIPHY
Done with the editing. Just hit the "Share GIF" button and save the looping selfie GIF on your phone or share it for iMessage, Snapchat, Instagram. Or tap the "Upload to GIPHY" to share your selfie GIF on GIPHY.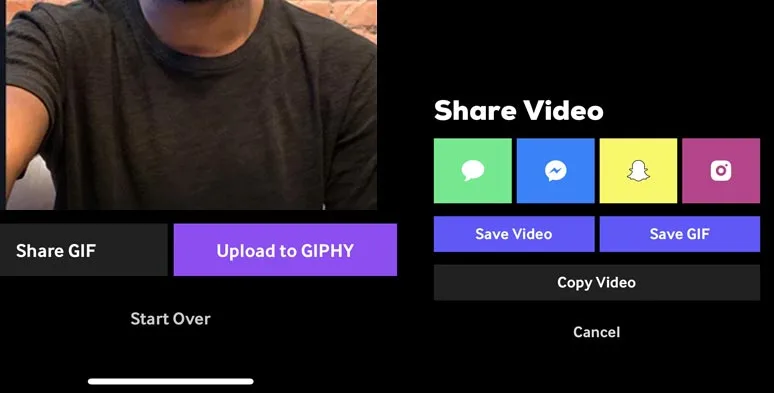 Save selfie GIF on phone or share it to GIPHY
How to Make a Selfie GIF by PC
Apart from using apps on your phone to make a selfie GIF, if you have ideal selfie video assets on your computer or your laptop has a webcam, you can also easily make a selfie GIF.
A great in-browser tool you may use is FlexClip, a free and feature-packed online video maker. With FlexClip, you may upload your selfie video assets for the edit or use its webcam recorder to directly record your selfie video and then add animated texts or funny elements and finally export the selfie video as an animated GIF.
User-friendly FlexClip video editor
You may upload your selfie videos to FlexClip or use its webcam recorder to record a selfie video. To use FlexClip's webcam recorder, go to the "Media" tab > hit the "Recording" option and select "Record Webcam". After a selfie video is recorded, it will be automatically imported into the FlexClip video editor. Then you can add it to the storyboard for editing.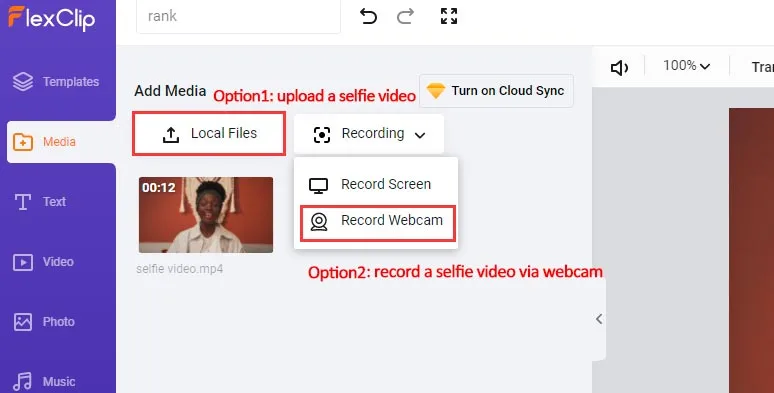 Upload your selfie videos or record a selfie video via FlexClip's webcam recorder
If you want to crop your selfie video to a 1:1 or 4:5 aspect ratio, just head to the "…More" tab on the left menu. Then you can add your selfie video and adjust accordingly.
Step 2
Customize Selfie GIFs
After you add the selfie video to the storyboard. You may trim it to have the exact frames you want. Or head to the "Text" and "Element" tab on the left sidebar to add designer-made animated texts or funny emojis and other elements to add personal flair to your selfie GIF.

Add animated texts and elements to selfie GIF
Step 3
Preview and Export it as a GIF
If you are happy with your selfie, then hit the "Export" button on the top right corner. Then select "GIF" and quality to download the animated selfie GIF on your local PC. Done.

Export it as an animated GIF
The resulting selfie GIF from the above example:
Dos and Don'ts When Making a Selfie GIF
Finally, we would like to offer you some bonus tips as to how to make a great selfie GIF.
As you use the GIPHY on your phone to make a selfie GIF, do use its face filter feature to create hilarious visual effects. It makes your selfie GIF funnier and grabs more eyeballs.
When you record the selfie GIF video, you may add some movement to it, such as waving hands, love gestures like hand heart or finger heart, a wink, or an air kiss. It will bring your looping selfie GIF to life and look more dramatic.
If you use your webcam on the laptop to make a selfie GIF, make sure your webcam is slightly above your eye level and avoid overhead lighting and any light source that may cast a shadow on your face. Otherwise, all people see is the flaring nostrils and dark face like I have. Besides, don't get too close to the webcam since most of the webcam has a wide-angle lens and it will distort your face.
Now, It's Your Move
So, that's how you can make an animated selfie GIF from a video on your phone and PC. Hopefully, our tutorial helps you a lot. Now, start making your first selfie GIF for Facebook or Discord's profile picture.