A video with interesting and moving objects is widely used by creators to attract viewers' attention. Whether you're a beginner or tech-savvy in video making field, you must have sought skills to create exceptional videos and adding moving objects to a video is a tip to make your content stand out from the crowd.
There are many tools to meet your needs: some are easy and others are difficult. To save you from endless searching and testing, we've already picked out two popular ways to make objects move in videos. Let's get started right now!
Method One: How to Add Moving Objects to a Video with Premiere Pro
As the leading software in the post-production area, Premiere Pro has a variety of powerful editing tools which are competent for text, video and audio processing. When it comes to making objects move in video, it enables you to follow the movement of another entity of the same footage or make any external objects move freely.
With the help of Premiere Pro, you can manage your video by adding external objects freely moving on the screen with great ease. This has to do with any type of graphics: it can be text and it can be PNG. Let's begin to learn how to add moving objects to a video with Premiere Pro.
How to Add Moving Objects in a Video
Step 1
Download and install Premiere Pro to your Windows or Mac.
Step 2
Open Premiere Pro and import the desired video. After that drag it to the timeline for further editing.
Step 3
Find the image you want to put in and click the image to bring up your editing panel. Under the Effect Controls interface, move your cursor to find the position icon.
Step 4
Click the toggle animation icon to enable the animation which helps you manipulate the objects with more interesting behaviors. Then you can see a little diamond icon below the image which is a keyframe.
Step 5
Place the object to where you want it to start and move across the timeline of the image to the ending point of the path. You can repeat the operation to create different trajectories of your object.
Step 6
Make further adjustments like rotation to polish your video. After you finish editing, export the video to share.
Move/Animate Objects in Premiere Pro CC
Method Two: How to Make Objects Move in Video with FlexClip
Impeded by the complicated steps of Premiere Pro? No worries, we would like to introduce another easy-to-use video tool to simplify your editing process and it's called FlexClip that features multiple editing tools to help you add a moving object effortlessly.
Whether you want to animate elements or add moving text to your video, by using FlexClip you can complete in minutes. Moreover, with rich media resources and clean navigation, you can customize your video in flexibility without editing experience.
1. Make Objects Move in Video by Animating the Text
An animated text is easier to create using FlexClip. You can choose to add a dynamic text or edit the text with special effects. Let's see how it works as below:
Step 1
Enter the Editor Page and Upload Your Assets
Tab the "Create a Video" button to open the editor page and import all necessary media resources.
Step 2
Move to Text Panel to Add Text
Here are two ways to add animated text: directly choose one dynamic text style or apply the motion effect to your text. If you select one dynamic template, you just need to type in words then the text will move by default. Otherwise, double-click the text and find the Motion icon on the top interface and loads of text effects jump to your eyes.
Note: to animate the text in sentence, you'd better choose effects like rotate, flip. While if you want to emphasize each letter, make a choice from the For Text section.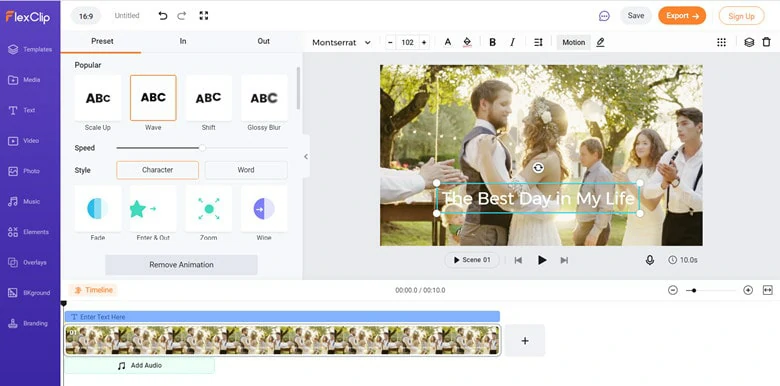 Add Animated Text to Video
Step 3
Adjust Video and Export
Make adjustments to your video using additional tools such as trimmer, watermark, transition to beautify the content. With all things settled down, export your video to the local file.
A Video with Animated Text
2. Make Objects Move in Video by Animating Pictures
Animating pictures is another popular way to create the animated effect in your video. It's easy to do this with FlexClip as follow:
Step 1
Import Your Videos and Pictures to FlexClip
Import all your videos and pictures under the Media panel. Once the footage is loaded, drag the video to the timeline.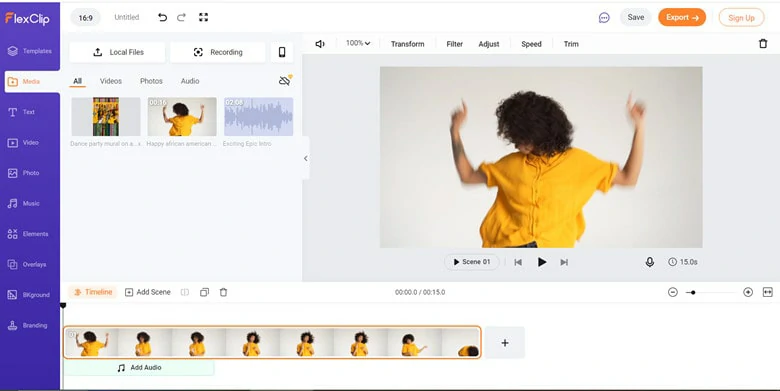 Upload Media Resources to FlexClip
Step 2
Use the Picture-in-picture way to Add Your Photo
Hover your cursor to photo and click on the Picture In Picture icon to add this photo. Then navigate to the Motion to animate your picture by shaking, rotating, flipping and more.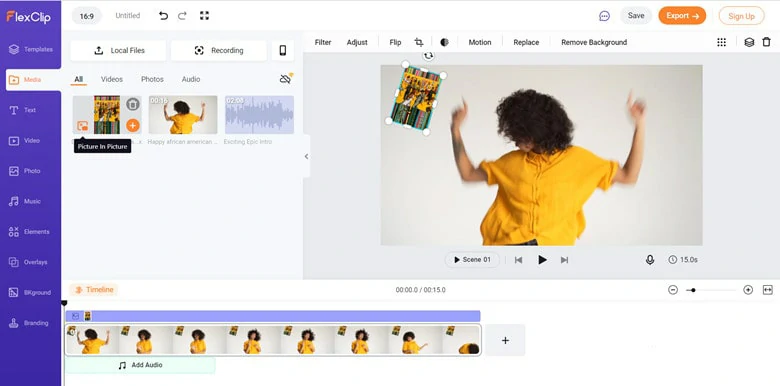 Add Motion Effect to Animate Pictures in Video
Step 3
Make Additional Edits and Export
Feel free to pair your animated video with a beautiful song and add transitions to combine each scene smoothly. Additionally, you can do anything you want to make your video unique. When finishing editing, export the video to local or share it to social media platforms.
Animated Picture in Video
3. Make Objects Move in Video by Adding Emoji
Step 1
Add all your assets to the timeline and place them in your desired order.
Step 2
Go to the Elements and type in keywords like smile to get your favorite emojis. If you need a GIF file, do the same way. After selecting your desired emoji, add it to your video right away. If necessary, make additional edits to your video like adding background music, transitions, overlays to perfect the video.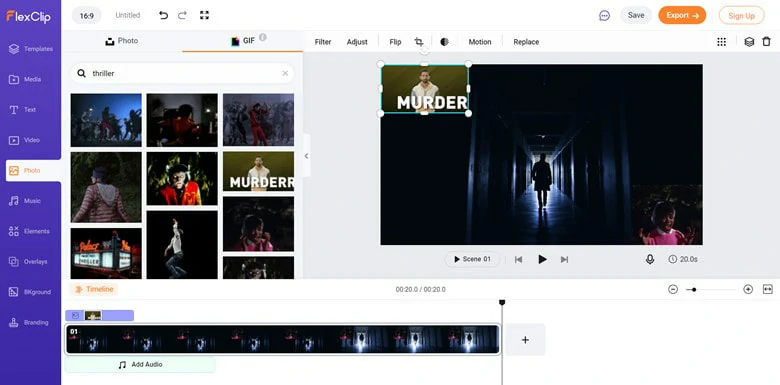 Add Proper GIFs to Your Video
Now you can download this animated video to PC or share your creation via the auto-generated link right now!
A Video with GIFs
The Bottom Line
Adding moving objects in video is one creative way to make fascinating products. Premiere Pro is superior to making objects move with a professional and subtle step. Therefore, it requires a long-time learning tutorial.
If you need a quick solution for creation making, FlexClip performs better with easier operations. Meanwhile, professional editing features and rich media resources are available to you without cost. Have a try now!