We see looping videos on social media platforms every day. Indeed, looping videos are fun to watch and fascinating to spread. If you want to loop a video on your iOS device, there are various ways at your disposal. Here you will learn several methods to make a loop video on your iPhone. Let's go straight to it!
There are some stunning template for a looped video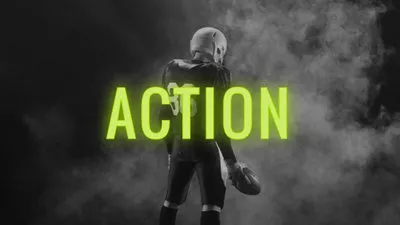 Text Animation Video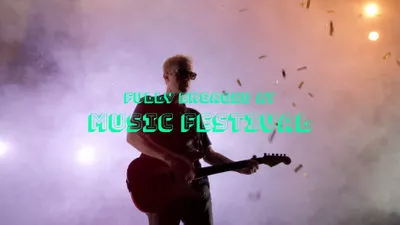 Lyric Video
Method One: Convert the Live Photos to a Loop Video on iPhone
Live Photos help you loop a video continuously or back and forth without downloading any third-party software. Before looping a video, make sure the Live Photos are saved on your iPhone or directly recording one.
Step 1
Open the Photos app and view all the Live Photos saved on your iPhone.
Step 2
Go to Album > Media Types > Live Photos and see all the Live Photos here. Find the desired photo and select.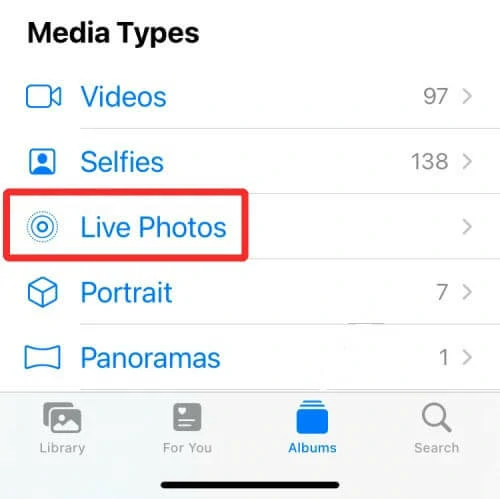 Find the Live Photos on Your iPhone
Step 3
You can see the Live option on the top-left corner, where can select different effects: the Loop means that the video keeps playing from the beginning, while the Bounce option makes the video play forward and backward until you stop it.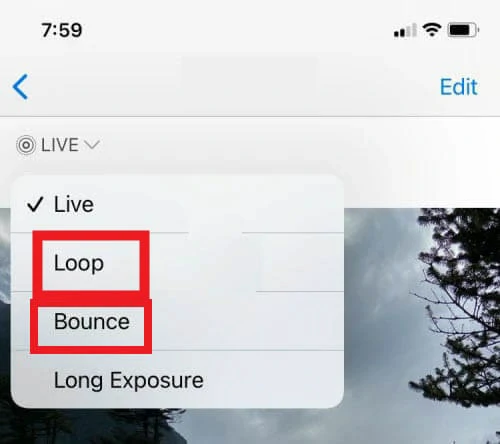 Use Wanted Effect to Loop the Live Photos
Step 4
Save the video to Files or share it on your social media sites.
Method Two: Loop a Video on iPhone Using the Repeat Slideshow
iPhone has the feature of turning your stunning photos and videos into slideshows. Therefore, you can use it to create a loop video.
Step 1
Open Photos and select one or more files, then tap the left button to choose the Add to Album option.
Step 2
Next, go to the album and click on the settings button to select the Slideshow button.
Step 3
Now the video begins playing but it stops when finished. No worries! Here you can go to Options and toggle the Repeat icon on. The video is playing in a loop until you stop it.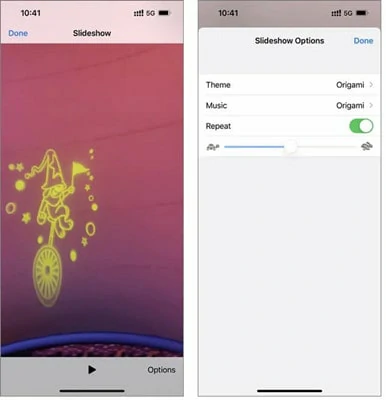 Loop a Video Using the Slideshow
Method Three: Loop YouTube Videos on iPhone
If you're watching a YouTube video on an iOS device and want to loop it, you can easily do this on YouTube itself.
Step 1
Launch YouTube on your iPhone and log in to your account if you are not ready to log in.
Step 2
Search the video you want to loop and add it to the playlist first. After that, go back to the main menu and find the Library.
Step 3
Select the playlist you added and play the video. Now tap the loop icon to make the video play all the time.
How to Loop a YouTube Video on iPhone
Method 4: Using Boomerang for Looping Videos on iPhone
If Instagram has already installed on your iOS device, then you can use Boomerang to loop your videos. It's capable of looping live photos and existing videos on your iPhone. Let's see how it works:
Step 1
Open Instagram on your iPhone and tap the + icon on the top-right corner of the screen to select the Story option.
Step 2
To import an existing live photo into Boomerang, swipe up from the Story screen to open your camera roll. Then find your wanted live photo and tap the boomerang icon to load it.
Step 3
Now, tap and hold anywhere on the screen or click on the Boomerang icon to convert it to a looped video. You can save the looped video to the camera roll or share it with your friends.
Like looping live photos, it's also available for looping an existing video. The only difference is that there is a length constraint when looping a video. Therefore, you can only loop a small portion of the whole video.
How to Loop Video on iPhone Using Boomerang
Method 5: Loop Video with Boomerang Maker App on iPhone
If you want to loop a complete video, not just a tiny portion as Boomerang does, you should consider a delicate app that has been designed for that purpose.
Boomerang Maker is a popular tool that enables you to loop videos up to 4 times. Besides, you can make edits like reversing and changing speed with the same software. Learn how to use it as follows:
Step 1
Go to the App Store and install Boomerang Maker on your iPhone.
Step 2
Open this app and tap an option to define how you want this program to access the media files on your phone, then load the video you want to loop.
Step 3
Now, choose the length of video you want to loop. You can loop the entire video or trim it as needed. Next, this app prompts you to select the video direction and adjust the number of repetitions.
Step 4
Tap the Save icon to export the looped video on your iPhone.
Method 6: Loop Video Online for Free - FlexClip [Recommended]
If you want to loop videos for free yet edit the video with great ease, then FlexClip is what you need. No download, no editing experience needed.
On one hand, FlexClip loops your video without quality loss. On the other hand, it offers loads of editing tools to take your video to the next level. In a nutshell, it's a good choice for looping videos online.
How to Loop Videos Online with FlexClip
Step 1: Upload the Video
Click on Create a Video below to enter the editor page. Once the interface is loaded, tap the Media icon to import videos from your PC or mobile phone.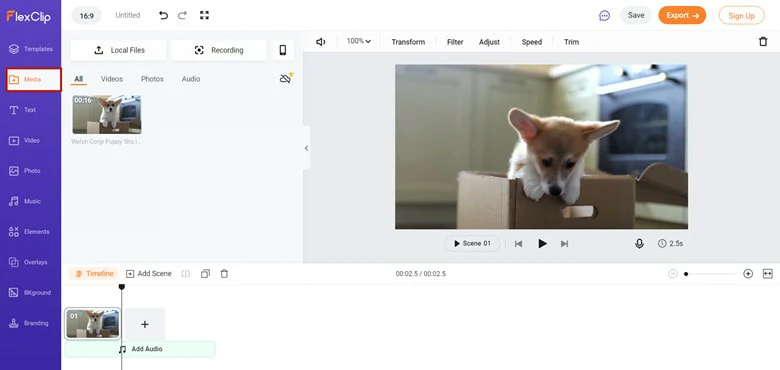 Upload Video You Want to Loop to FlexClip
If you want to discard some unwanted parts, trim the video to your desired length.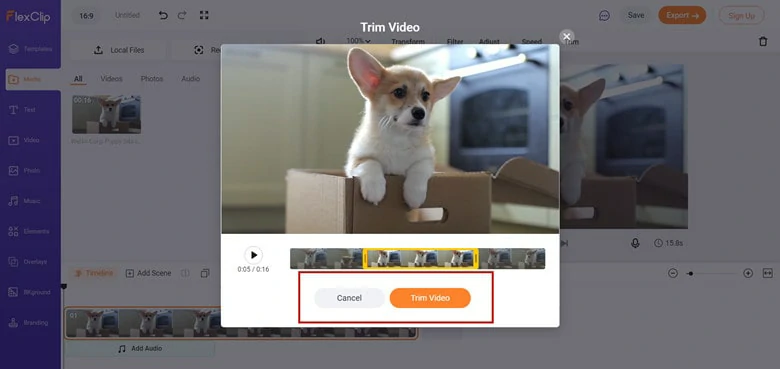 Trim the Video as You Need
Step 2: Repeat the Video
Copy the timeline with videos as many times as you want by clicking the Duplicate icon.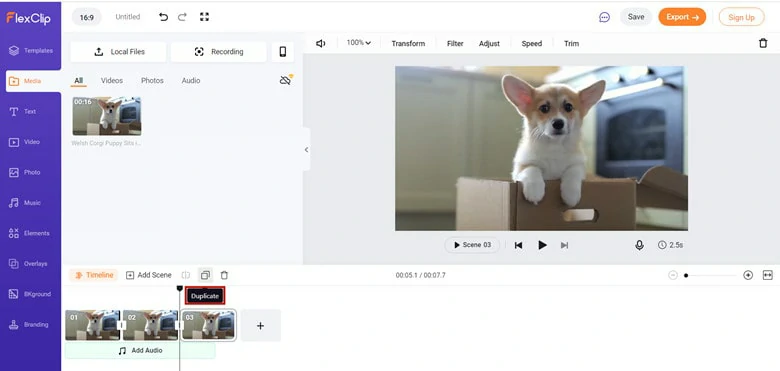 Loop the Video by Repeating
Step 3: More Edits to Refine Your Video
Refine your video by adding music, transitions, filters and changing video speed.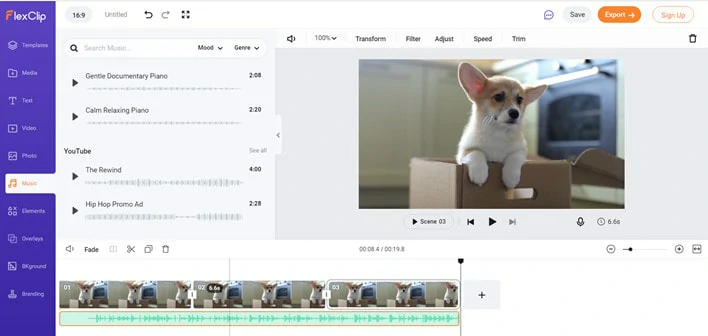 Refine the Looped Video
Step 4: Export the Video
When finishing editing, hit the Preview button to check the video. After that, save the video as GIF or export it to your local drive.
The Bottom Line
That's all for how to loop a video on iPhone. Depending on your requirements, you can choose any of the methods above to make a loop video on your iOS device. If you're looking for a free tool that offers the best service without quality loss, FlexClip will lend you a hand. Give it a try now!