Obsessed with memes? You are not alone. In fact, using hilarious memes has become the popular way to poke fun at an idea, share an awkward experience, or express your current emotions when chatting with your friends.
Though it's easy to download funny memes on the internet, the best memes are those original ones created by yourself, either a photo or video meme.
So, in this post, we will be walking you through how to use top-rated online meme makers and phone apps to edit a picture or a video into witty memes like no other. Let's dive right into it now.
A funny meme made by FlexCLip meme generator
Here's What You Will Learn:
How to Edit Memes by Meme Maker Apps on Your Phone
Also, read 4 Best Podcast Intro Makers to Make Great PodCast Intros Online.
Essentials for Creating a Great Meme
To create a viral meme, firstly you need to figure out how a meme works.
What does a great meme look like? An iconic meme can take many forms. It could be a static photo, a video clip, or an animated GIF. No matter how it looks, a great meme often contains an amusing image or scene and humorous captions that best describe a situation or emotion people can identify themselves with.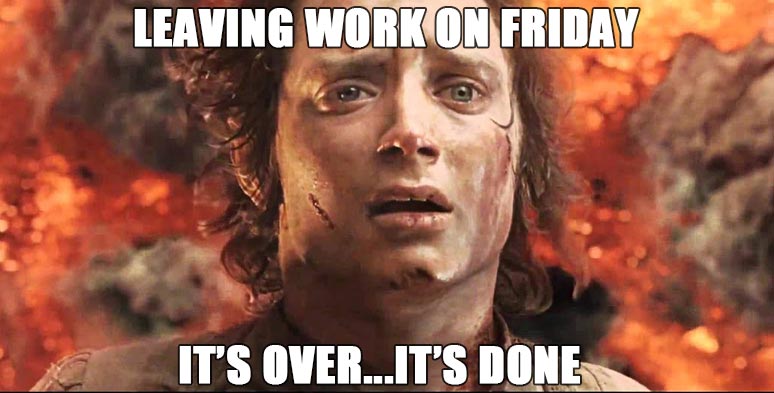 Great memes convey emotions people can resonate with
What font is used for editing memes? Fonts are crucial for creating memes. The top 6 popular fonts for editing memes are Impact, Arial, Comic Sans, and Myriad Pro and Helvetica, and Montserrat. They are often placed at both the top and bottom of a photo meme. While the position of a video or gif meme is more random. Besides, the typical font of a meme is often bold and capitalized in white with a thin black outline.
How long should my gif or video meme be? Short and punchy, memes are instantly consumed comedic content. We found that the most popular duration of a gif and video meme stays between 2 to 5 seconds. So, keep your memes short and to the point, otherwise, the magic of memes would be gone.
How to Edit Memes Using the Best Online Meme Makers
Well, while there are many professional meme generators like Adobe Photoshop that can create extravagant memes, to most computer novices like you and me, the best and quickest way to make viral memes is by using free and use-to-use meme makers online.
In this respect, the following 4 popular online meme makers deserve your bookmarking. So, let's find out how to use them to edit memes.
1. FlexClip
FlexClip is a user-friendly and feature-packed meme generator that allows you to easily upload your photos and video clips to its in-browser meme editor and edit a picture or video into a meme in just a few clicks. You may add customizable meme fonts, dynamic elements, music, or adjusting its aspect ratio for different social media.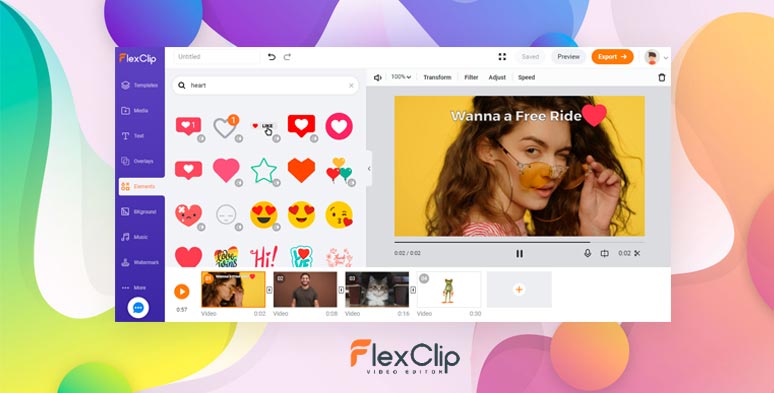 Use FlexClip meme generator to create memes
What is worth mentioning is that FlexClip has two editing modes, i.e. storyboard mode and timeline mode, for both entry-level and advanced users. Besides, the vast royalty-free stock assets (HD videos, photos, and music) in its media library and free meme templates help bring your inspiration into full play.
How to Edit a Picture or Video into a Meme by FlexClip:
You may also hover over to "Template" on the left menu and enter the keywords "meme" to look for the free meme templates for a quick start or you can explore FlexClip's millions of license-free HD videos and photos its stock media.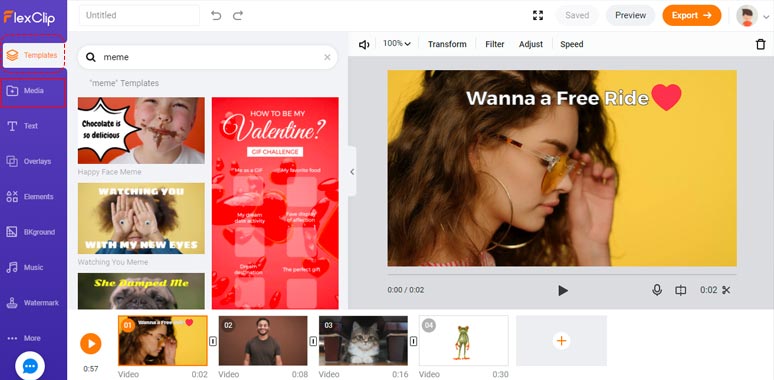 Upload assets to FlexClip meme generator or use free meme templates
Step 2
Add An Image/Video to the Storyboard for Editing
If you use a video, you can drag and drop the trimmer to decide the exact duration of your meme.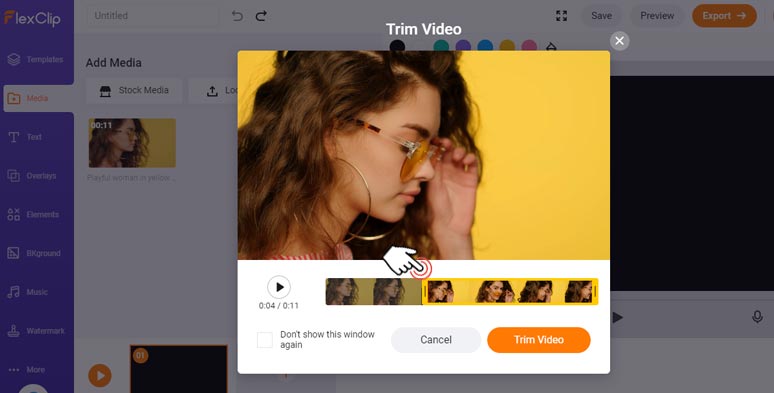 Use the trimmer to trim the video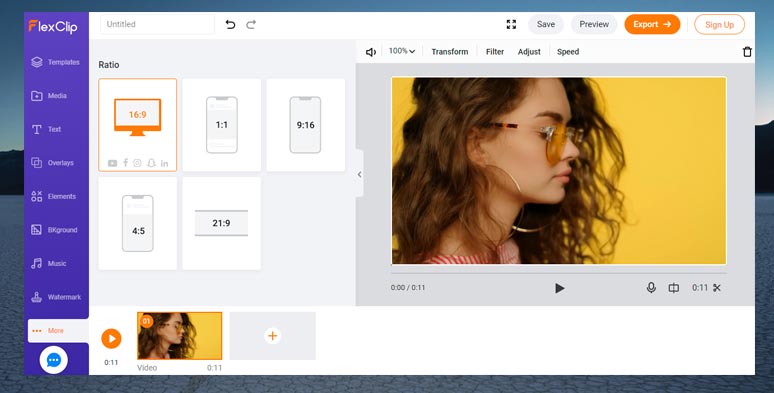 Adjust aspect ratio of memes
Step 3
Customize Your Meme
Head to the "Text" on the left panel to enter your caption. Then click "the Style" to select Montserrat font for your meme's character and customize the typical meme color scheme, i.e. font in white with the black border. Then place it properly either above or at the bottom of the image/video.
Use toolbar to customize fonts, color scheme, animation, speed, layers, etc.
Next, add a dynamic element to make your meme truly second-to-none. Finally, use "Timer" to decide when the font and element show up. That's it.
Step 4
Preview and Export Your Meme to a Gif without a Watermark
You can even customize the resolution and fps for your gif meme.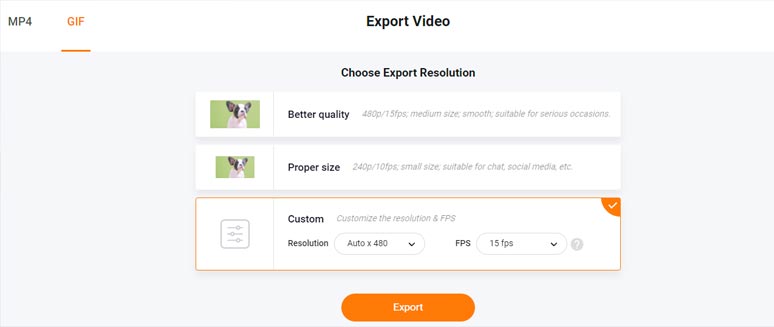 Customize gif meme before exporting it
2. Canva
Canva is one of the prestigious online graphic design platforms and its free meme generator is another gem for creating funny memes. You can select from its over 5,000 free meme templates and quickly personalize your memes with meme fonts and dazzling animations with ease.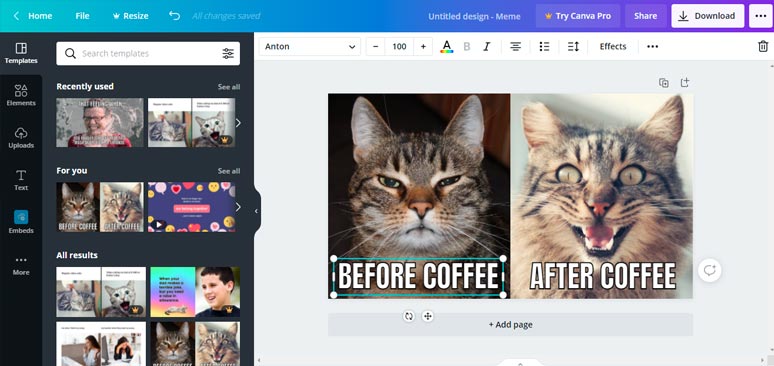 Edit meme templates of Canva meme generator
A handy feature of Canva is you can directly upload a gif meme to its meme editor and add captions to it to edit a meme of your own. Pretty useful, isn't it? Besides, Canva also has apps for mobile phones, which makes it easy for you to edit memes with photos and clips from your cellphone's gallery.
Though the interface of the Canva meme generator is intuitive and well-organized, you can only edit one meme at a time on a single canvas in Canva's meme editor. While the resize tool of the Canva meme generator is only open to paid subscribers.
How to Edit Memes by Canva Meme Generator:
Step 1
Access Canva Meme Generator
Step 2
Select a Free Meme Template or Upload Your Photo or Video
Step 3
Customize Your Meme by Choosing Font, Color Scheme, and Animation
Step 4
Preview and Download the Meme as JPG, PNG or GIF without a Watermark
Though Canva boasts of over 5,000 free meme templates, most of them are not that trendy and you get no animated gif memes from hilarious TV shows or movie scenes. So, we recommend that you
go to Giphy
, the best site for the newest and most funny Gifs and animated stickers, to get free Gifs as a stock for creating Gif memes in Canva.
3. Kapwing
Widely known as an expert meme editor, Kapwing offers you up to 10 categories of free meme templates, ranging from popular animal memes to satirical political memes, lovely Spongebob memes, sports memes, rarely-seen diagrams memes, comical drake memes to crying and amusing memes, etc. Gee, Kapwing truly captures the whole universe of meme creation.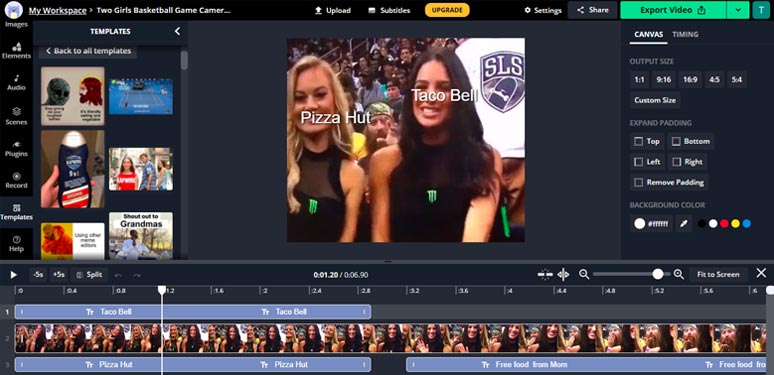 Kapwing meme generator
Besides, you can discover the most trending meme templates in Kapwing, which gives you the edge over other meme makers. So, do give it a try.
How to Edit a Meme by Kapwing's Free Meme Templates:
Step 1
Select a Free Meme Template
Step 2
Personalize You Meme in Kawping Meme Editor
Kapwing is one of the few meme makers that have a whole collection of meme fonts. So you can easily customize your meme fonts and trim gifs or videos on the timeline. Meanwhile, you can add scenes to edit multiple memes at one time. And the integration with the big names as Unsplash, Giphy, Pexels, Pixabay, etc. allows you to select an unlimited source for meme creation.
Step 3
Preview and Export Memes as GIF, MP4, or an Image without a Watermark
4. Imgur
Imgur online meme generator offers you a quick and easy way to edit a meme. You can select from default meme templates or upload your images to quick edit captions to create your memes. Unlike the versatile mem generators mentioned above, there is no meme editor for personalizing meme fonts and animations. So, for beginners and those who don't have advanced needs, it could be a viable and fast alternative to editing a meme.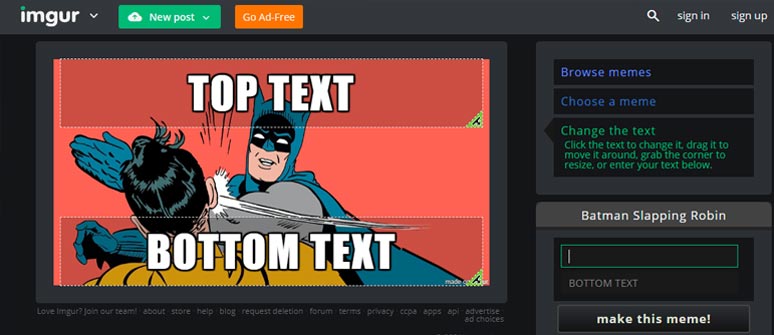 Use Imgur meme generator
The one drawback is if you upload a gif to Imgur, it will convert it static png file after you download it. Besides, since there is no download button, you have to right-click to save the image to your computer as a PNG file with a tiny watermark in the right button corner.
How to Edit a Meme by Imgur Meme Generator:
Step 1
Step 1: Access Imgur Meme Generator
Step 2
Select a Pre-made Meme Template or Upload Your Image
Step 3
Enter Captions and Position Them
Step 4
Right-click to Save the Meme as a PNG File with a Tiny Watermark
How to Edit Memes by Meme Maker Apps on Your Phone
Believe it or not, a great number of chic memes are edited by meme apps on mobile phones. You can instantly take a snapshot by your phone and edit it into a meme for Instagram, Facebook, etc. Here we handpicked two popular meme apps for iPhone and Android users.
1. Mematic (ios)
Mematic is a lightweight and versatile meme makers for iPhone and iPad users. You can start editing memes by choosing pre-made meme styles like the freestyle or the classic two captions on the top and bottom of an image, etc., or begin by selecting a layout. You may also upload your images or clips to create a hilarious meme or pick a popular or newest meme from Unsplash, and Tenor Gifs.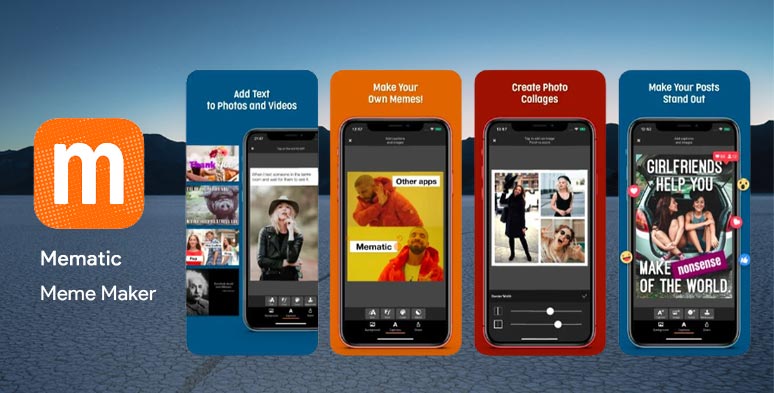 Mematic meme maker for iPhone memers
Useful tools to adjust aspect ratio, background color scheme, and meme fonts, or rotate fonts, etc. are also available. To remove the watermark and all fonts, filters, and custom watermarks, you need to upgrade to the pro subscription ($4.99/month).
How to Edit Memes by Mematic Meme Maker Apps
Step 1
Upload an Image/video or Select Popular Meme from the Media Library
Step 2
Customize the Aspect Ration of the Canvas, Color, and Meme Fonts, Emojis
Step 3
Export the Meme to Photo Gallery or Sharing Directly to Social Media
2. Meme Generator Free (Android)
Boasting 1,000 high-quality meme templates (updated weekly) and 60 meme fonts, Meme Generator Free is one of the handfuls of watermark-free meem generators that have awful lots of features for creating the funniest memes.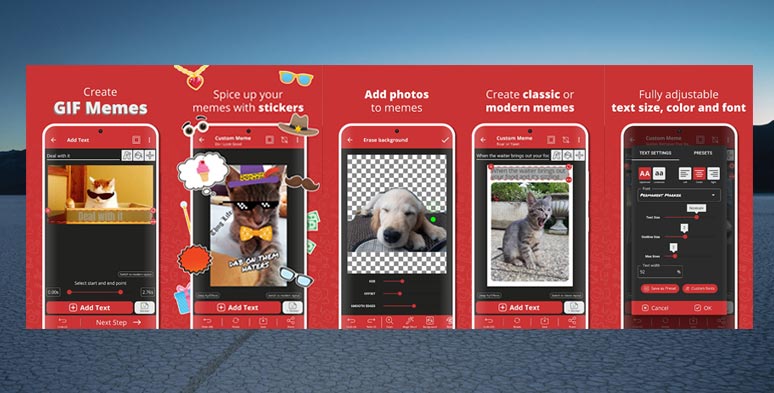 Meme Generator Free for Android memers
For avid memers, not only can you use Meme Generator Free to edit classic memes but also create trendy breaking news memes like what you see on CNN and upload images and remove their background as Photoshop does. Animated Gif memes, funny stickers, and meme filters are also available. You can even select meme sources from Tenor Gifs.
Overall, Meme Generator Free is a valuable all-rounder for making memes on Android, though mild ads can be frequently seen as you edit memes.
How to Edit Memes by Meme Generator Free:
Step 1
Use Your Image or Select a Free Meme Template to Start Editing Memes
Step 2
Customize Your Memes by Adjusting Fonts, Colors, Animations, Stickers
Step 3
Save Memes to Photo Gallery or Upload to Different Social Media
Final Thoughts
Now, you have learned how to edit memes using both online meme makers and popular meme apps on your phone. So, start having a new meme editing experience from FlexClip now, and tell us on Facebook which meme makers you find it most comfortable with when editing memes both online and on your smartphone. Much appreciated in advance.