Home organization also named decluttering, is a trending lifestyle among people who want to transform their space as recently discovered needs and live a simple life. At the same time, loads of organization companies and YouTubers see business opportunities from the new topic.
So, no matter you're an organization business owner or a beginner for lifestyle YouTube videos, a home organization video is your best bet. Here we will take you through popular organization videos and also a full guide on how to create an engaging home organization. Let's dive in right now!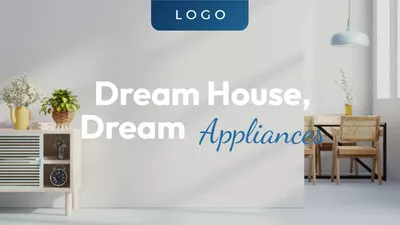 Household Appliances Shop Ad
Best Types of Decluttering Videos You Can Try
For most people, seeing is believing. A before and after home organization video makes a strong comparison to show how messy your space is and what it looks like after making changes, which usually intrigues the desire to keep watching and have a try. Besides, this type of video helps viewers immersed in your video content and brings high engagement to your YouTube channel.
A Before and After Home Organization Video
2.Home Organization Tips/Hacks
Sometimes the reason for a cluttered home is the need for more useful hacks or misuse of storage tools. Under such circumstances, a video sharing home organization hacks is helpful, especially for beginners. From storage tools selection to article display, any tips related to a clean space can be the topic of your organization video.
Home Organization Tips/Hacks Videos
3.Home Organization Cases Sharing
Life varies among different people and home organization methods remain too. Visit people's tidy homes and invite them to share special home organization ideas in your videos. Be it for kitchen storage or tips to fold clothes, anyone who is experienced in decluttering can be the role in your YouTube videos. Additionally, if you're making a promo video for your organization's business, this video type is also suitable for you.
Home Organization Cases Sharing Video
4.Home Organization Book Reference
There are hundreds of books talking about home organization on the market. Compared with video learning, system learning allows people to understand the home organization deeply. Classic books like "The life-changing magic of tidying up" written by a Japanese, which influences millions of people to transform their space worldwide, can fall on your book reference list.
Home Organization Reference Book Sharing Video
A Powerful Video Editor for Stunning Home Organization Videos
With hours of home organization videos, where to turn the raw material into an engaging YouTube video. Bingo! A video editor is what you need. Professional video editors like iMovie, Final Cut Pro and Adobe series are popular among video creators, but they're expensive, huge storage space and curve learning. So an online powerful video editor like FlexClip is a wise option.
Firstly, it comes with an extensive media stock offering 7M+ royalty-free videos and photos to enrich your content. Additionally, you can harness the power of AI technology to simplify your creation process: use AI script to generate a video outline and enter the script prompts in the text-to-video box to automatically produce videos. After that, leverage the text-to-speech feature and auto subtitle function to make your home organization videos descriptive.
On top of that, there are 6000+ ready-made templates to match your needs, be it vlogs, lyrics videos or promos. For engaging YouTube videos, simply add icons to engage with your audience like subscription icons, like icon and more you want. After editing, you can directly upload the edited home organization videos to Your YouTube channel without any download.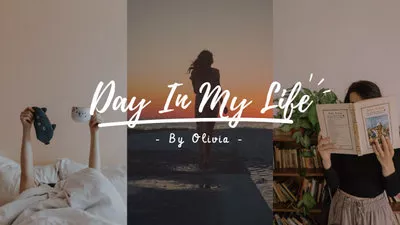 A Day In My Life Vlog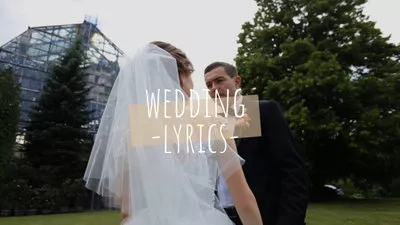 Wedding Lyric Video
Summer Travel Seaside Vlog
Other Awesome Features of FlexClip
100+ transition options with cool effects.
300+ stylish masks,
overlays
and sound effects to make professional videos.
Hundreds of text presets with stylish design and animation.
Support multiple video formats, ratios, resolutions, import paths and sharing ways.
Offer basic editing toolkits like trimming, fading and merging.
How to Create Home Organization Videos Using FlexClip
So, let's see how you can easily create a home organization video by using this all-in-one YouTube video editor.
Step 1
Import Your Home Organization Clips
Upload your recorded home organization footage to FlexClip. You can drag it from PC, Google Drive or use the QR code to load from your mobile. Then add the video to the timeline.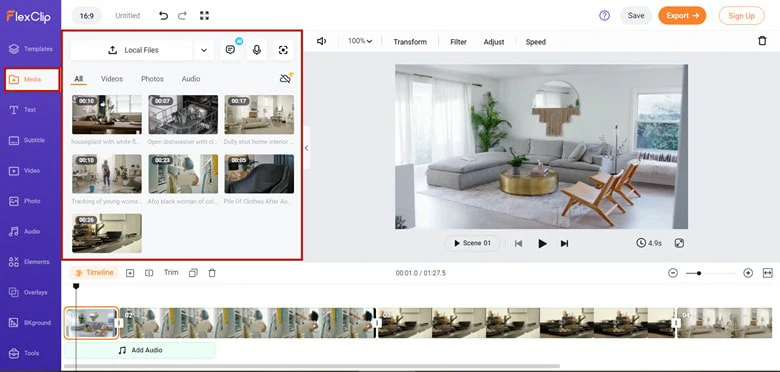 Import Home Organization Clips to FlexClip
Step 2
Make Raw Edits to Your Home Organization Video
It's not surprising that your home organization clips contain unwanted parts like unnatural narrations. No worries! Simply use trimmer and splitter to remove the footage you don't need.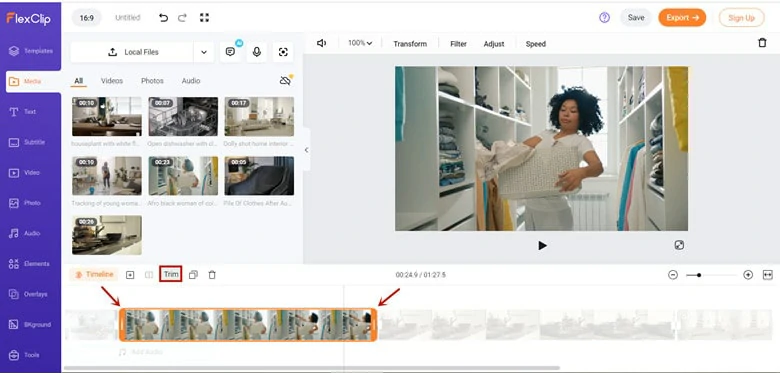 Make Raw Edits to Your Home Organization Video
Step 3
Add Text to Your Home Organization Video
Now go to the Text panel and scroll down to find your favorite designs. Select one and start to add your text. If your footage already includes a voiceover, just use the auto-subtitle tool to extract subtitles from your video. No matter what form you choose, feel free to change font, size and layout if necessary.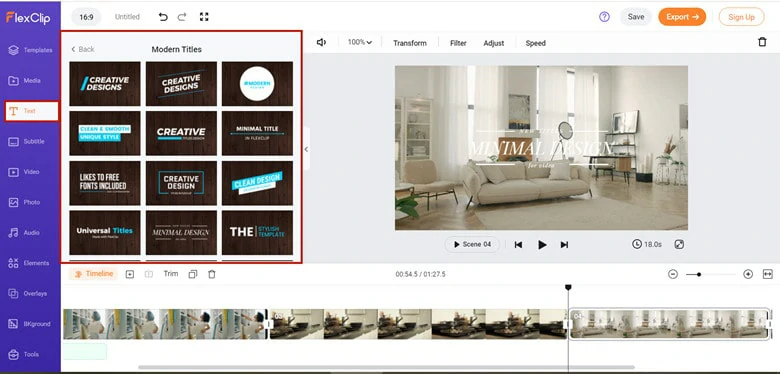 Add Text to Your Home Organization Video
Step 4
Level Your Video in Detail
Apply transitions to smooth your videos or give it a fresh look by using filters, mask effects and overlays. Besides, make your videos engaging with icons, bubbles, emojis and more.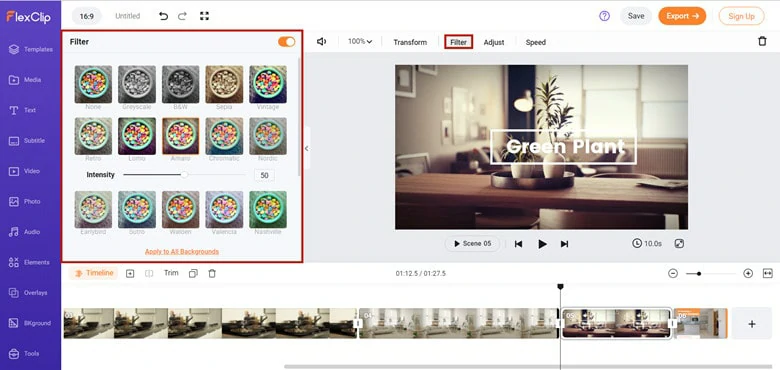 Add Filter to Your Home Organization Video
Step 5
Perfect Your Decluttering Video with Music
Fine-tune your video with background music. You can upload a local one from your PC or directly search from the Audio stock with keywords. Then trim it and adjust the position where the music starts and ends. If needed, use the fade in/out to make it sound natural.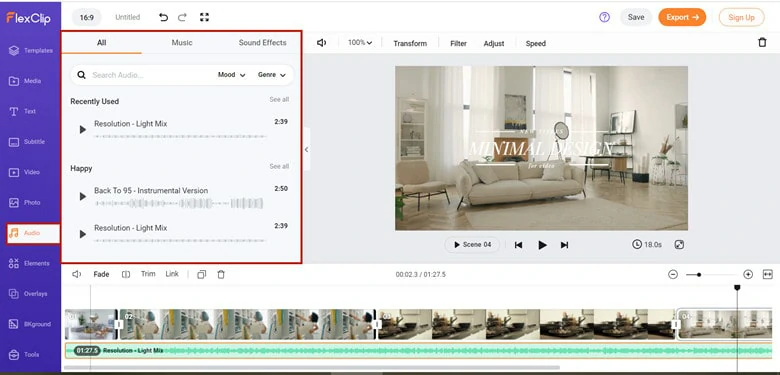 Perfect Your Home Organization Video with Music
Step 6
Export or Upload the Video to YouTube
When finishing edits, tap the Export icon to render your home organization videos. After that, download it to PC or directly upload to your YouTube account.
The Bottom Line
No one can refuse a clean and organized home! A home organization will be greatly helpful for people who jump into the trending lifestyle. Share your tips in home organization videos and polish them with FlexClip's powerful editing tools right now! No editing experience is needed. Come and have a try!