Just bought many nice clothes and makeup for this summer holiday and couldn't wait to share them with the world? Then, you gotta create a great summer shopping haul video for your YouTube channel.
In fact, haul videos have remained a hugely popular and evergreen video content for beauty and fashion YouTubers to boost engagement and even make a fortune out of it.
So, in this tutorial, we will walk you through why it is worth making a haul video and offer you an A-to-Z guide on how to prepare, shoot and edit a compelling try-on haul video, with loads of actionable strategies and examples.
Here is what you will learn:
What Is a Haul Video
In a nutshell, a haul video is a kind of Vlog on YouTube where you introduce a product/item, such as clothes, makeup, gadgets, accessories, snacks, etc. you just bought to viewers and offer your opinions on why you think it's the best buy and it may be helpful to viewers needed.
Overall, there are 3 kinds of haul videos frequently seen on YouTube:
Average Haul Video
. This is the most common and straightforward haul video on YouTube. You shopped a bunch of stuff and went back home and
recorded a video
and shared it right away for viewers on YouTube.
A textbook example is the summer outfits haul, a ZARA haul, or tons of try on hauls on YouTube. Haul here means the item you bought while a try-on haul means how you put on or use the products you've bought.
Check out Kate Hutchins' summer outfits haul with Mango, Zara, and H&M.
Collective Haul Video. This is another extremely popular haul video on YouTube. As opposed to "Buy and Share Items" right away, you collected lots of items you've bought over a period of time and share them with viewers on how these items make a big difference in improving your life.
A great case in point is the following 26 Amazon products that change my life. In this collective haul video, Laura Lee offers her insight on how these 26 Amazon products have transformed her life.
The typical collective haul video: 26 Amazon products that change my life
Sponsored Haul Video. Pretty self-explanatory. If you specialize in sharing shopping haul and have growing viewers, chances are that many retailers and brands may DM you and send you the items and sponsor your haul video. Of course, the trick for a sponsored haul video is that you gotta be subtle and make it look like an average haul video.
Why Make a Haul Video
So, whether you are a beauty and fashion YouTuber or running your YouTube channel about photography, video tutorials, sports, travel, food, lifestyle, music, fitness, gameplay, etc, creating a haul video can bring you multiple benefits.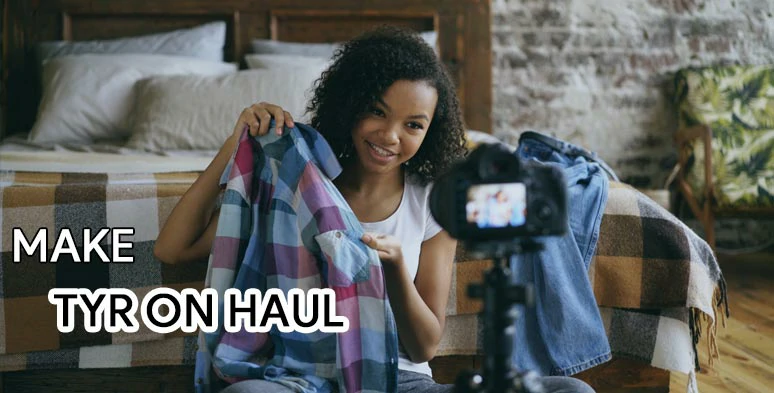 Benefits of making a try-on haul for content creators on YouTube.
1. Boost Engagements and Watch Time on YouTube
Since haul video is created by users who used a certain product for a while, it constitutes trustworthy user-generated content than commercials. People love to hear your personal experience in using the product, such as the pros and cons of using it in certain scenarios. It will lead to more comments and discussions for your haul videos and drastically increase the watch time and engagement.
2. Monetize Your Haul Video
If your haul videos in a particular niche are well-received by wider viewers and see your subscribers and YouTube traffic skyrocket steadily, chances are that brands, stores, and retailers may reach you and sponsor you to do a try on haul for their products. Such a virtuous circle will push you on the track to becoming a YouTube influencer, not to mention the free swag you can enjoy.
3. Enrich Your YouTube Channel
Well, haul videos are more than fancy makeup and clothing. If you get stuck for new ideas for your YouTube channel, why not gather the products that have made your life or work easier and do a collective haul video for viewers.
For example, do a collective haul video about top XXX products that have made trekking, cooking, sleep, flight, wedding photography, etc. easier for me. Make sure the items you touch upon align with your YouTube channel and can solve the pain points viewers can relate to.
How to Prepare, Shoot and Edit a Haul Video
Now, we will break down creating a haul video into some actionable strategies and offer you the best practices as you prepare, shoot, and edit a haul video. So, you can avoid the pitfalls many YouTubers made.
1. Prepare a Haul Video
Prepare for a try-on haul video.
Sort out the items you are about to cover and make sure you know everything about the product, including the brand, when/where was it bought, at what price, how it works and may work for whom, etc. Preferably, note down the script and scenes you will cover in later filming.
Gear you need: Any smartphone, DSLR, or mirrorless camera capable of filming 1080P/30FPS (FHD) videos can be used for recording a haul video. You also need a 6-axis gimbal stabilizer to record stable video, a clip-on lavalier mic to record crisp clear audio, and a ring light/LED light to give you consistent and even lighting when filmed indoors.
Dress properly and practice before the mirror until your voice no longer sounds robotic and you can find the pace and logic for introducing the items to viewers.
2. Shoot a Haul Video
Let's say you want to do a clothing try on haul video. Here are what you can do to shoot a great haul video.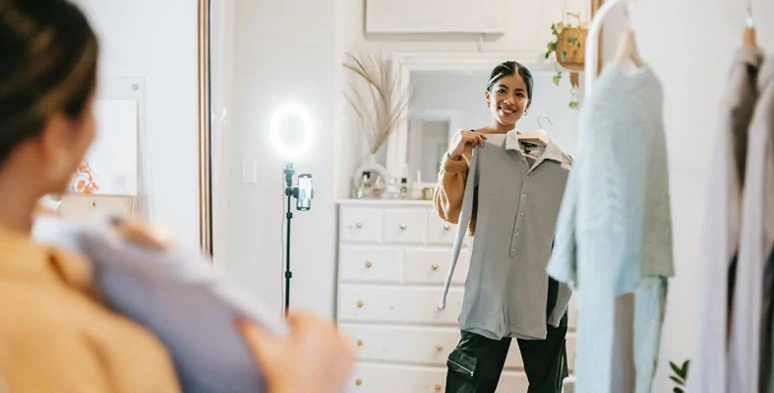 Shoot a try-on haul video at home
Begin the haul video with a warm greeting with your infectious smiles and introduce this haul video that matters and can benefit viewers.
The most crucial part: Sharing your honest personal experience about the item you purchased, including why you like/dislike this item; why/how/when do I wear it; to whom you would recommend it and why; how much/when/where did you get it, etc.
If you have a friend to help you with filming, do properly use camera movements, such as pan, zoom in, and tilt (from top to bottom or reverse) to give a clear close-up of the product on display. If you are on the move, use a tracking shot to shift the viewers' attention to the product.
Besides, make sure your face, body, and the product on display are evenly lit and you have eye contact with the camera as if you are directly communicating with the viewers.
At the final scene, add strong CTAs, such as "If you enjoy my haul video, don't forget to subscribe on my channel, leave comments, and follow me on Twitter, Facebook, IG, other social accounts and websites, etc.".
3. Edit a Haul Video
After the filming is done, now it is time to edit all the footage into a killer haul video. A user-friendly tool you can use is FlexClip online video maker.
Use FlexClip online video maker to edit a try-on haul video.
Unlike using Premiere Pro where all the text animations and video effects have to be created from scratch, with FlexClip, you can easily select from thousands of designer-made and fully-customizable video templates and drag and drop to edit a haul video 10x faster.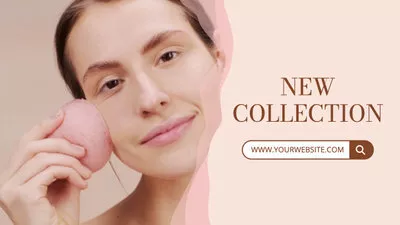 Cosmetics New Collection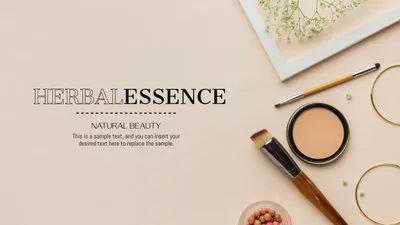 Favorite Makeup Products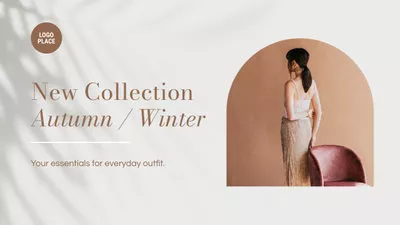 Branded Explainer
Besides, easy-to-use image and video tools are readily available, such as picture-in-picture, speed control, overlay video transitions, crop mask, CTA text animations, dynamic social media subscribe buttons, image background remover, royalty-free music, sound effects, built-in screen recorder, etc. Just feel to unleash your creativity.
Step 1
Select a video template, preview it and click the Customize button.

Select a makeup try-on haul video template for customization.
Step 2
Upload your video assets to FlexClip either from your PC or directly from your mobile phone.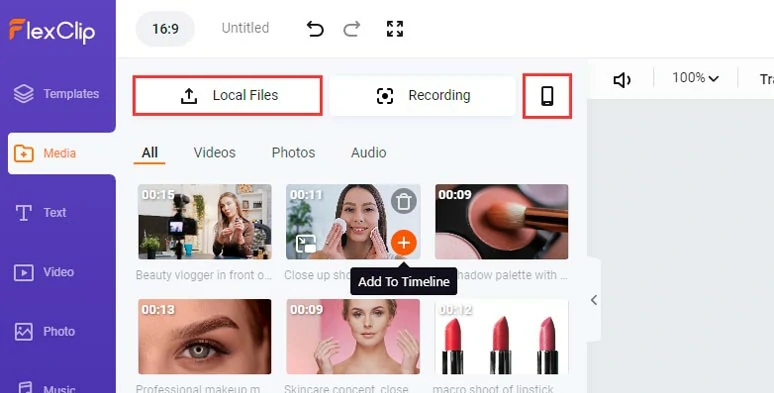 Upload your try-on haul video footage to FlexClip.
Step 3
Drag and drop to replace preset images or video background with yours. Then, you can add other clips onto the timeline and trim, split clips, or reorder the video sequence on the timeline for the rough cut.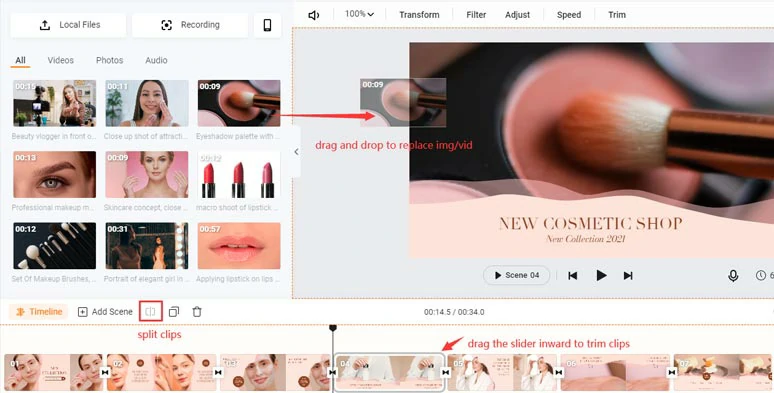 Drag and drop to replace images and videos and do the rough cut on the timeline.
Step 4
Add text animations: Double-click a preset text to customize the text, text styles, fonts, colors, spacing, alignment, and animations. You may also click the Text tab and scroll down to find more custom text animations, such as social media, lower thirds, minimal titles, profiles, speech bubbles, search bars, callout titles, location titles, etc.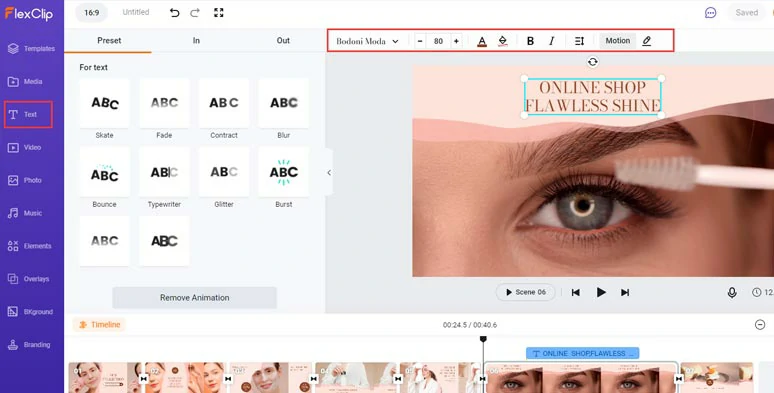 Customize texts, styles, animations, etc.
Step 5
Add royalty-free music and sound effects: Click the Music tab and you can add free and multiple BGM and sound effects, such as pop-up and whoosh transition sound effects to the timeline to add rhythm and emotions to your haul video.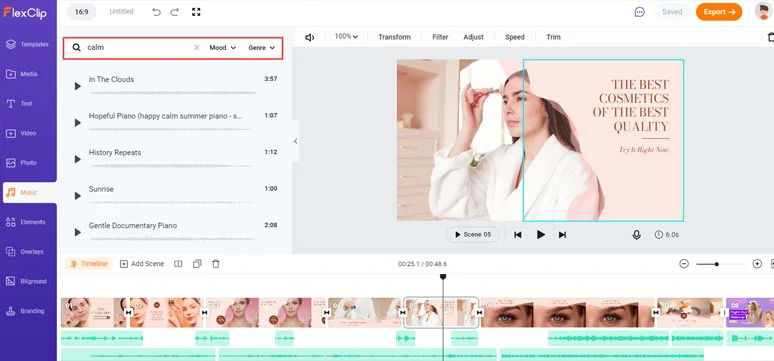 Add multiple free music and sound effects to the try-on haul video.
Step 6
Make more edits: use the picture-in-picture tool to add a B roll for explaining details of the product; or add decorative shapes, arrows, and animated illustrations in the Element tab, change video speed and add overlay video transitions to smoothly connect two scenes, etc.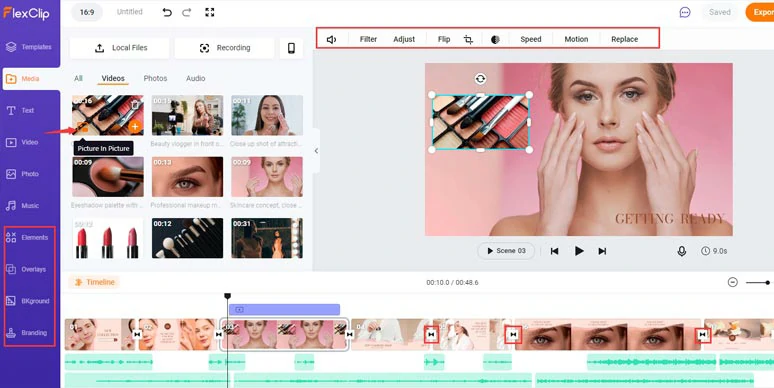 Add more video effects to the haul video.
Step 7
Preview and share: Done with the editing. You can directly download the video to your hard drive on PC or share it to YouTube, Google Drive, or Dropbox; while a clickable link and embed code are also available for your blog or repurposing.
Get Inspired from Haul Video Influencers on YouTube
Last but not least, we would like to recommend 3 of the hottest YouTube haul video influencers to you and you may enjoy their distinctive haul videos and get inspired to create your shopping haul.
1. Laura Lee: Huge Shein Try on Clothing Haul 2022
Laura Lee's fascinating try on haul on YouTube.
Laura's humorous and lively demonstration of the clothing haul offers you a great textbook example of what a great haul video can be. Notice how she combines different B rolls with split-screen in the haul video and uses call-to-actions and great lighting to enhance the quality of her iconic haul video.
2. Michel Janse: Cheap Swimsuit Haul
Michel Janse's lovely try on haul on Cupshe Bikins
Pay attention to how Michel uses natural window light to do this try on swimsuit haul in her bedroom. She wisely used some lamps to light up the background to create a harmonious mood while offering tons of personal options on the color, texture, and design of Cupshe Binkins that people can relate to, etc. What a great try on haul video with testing, reviewing, and rating!
3. Tati : Unboxing Haul
Tati and James's unboxing haul video
Well, if you always feel self-conscious at the camera alone, why not team up with one of your friends or your partner to do a haul video together. Watch closely how Tati and James work together to introduce the products they just purchased to viewers. As a perk, they also run a giveaway to engage with viewers.
Now, It's Your Move
So, hopefully, you find our tutorial helpful and can use FlexClip to create incredible haul videos to benefit more followers and even become the newest star of haul videos on YouTube. Don't forget to share this post on your Facebook or Twitter and leave your comments for us. Looking forward to seeing your views there.