A day in the life video is a popular "behind-the-scenes" video that allows viewers to learn more about you through your daily rituals. For content creators, creating a day the life video helps you build trust with the audience, grow more followers, and even convert leads into sales.
So, in this tutorial, we will offer you real-world and actionable strategies to create a compelling a day in the life video that wows your viewers on TikTok and YouTube.
Here's what you'll learn:
Why Create a Day in the Life Video
So, is it worth making a day in the life video yourself? The short answer is definitely. Here are 4 main reasons for you to give it a shot.
1. Great Popularity and Huge Traffic Potential
With a whopping 6.2 billion views on TikTok and 68k YouTube videos featuring the hashtag #dayinthelife, a day in the life video is one of the insanely popular and evergreen video categories that dominate the mainstream social media.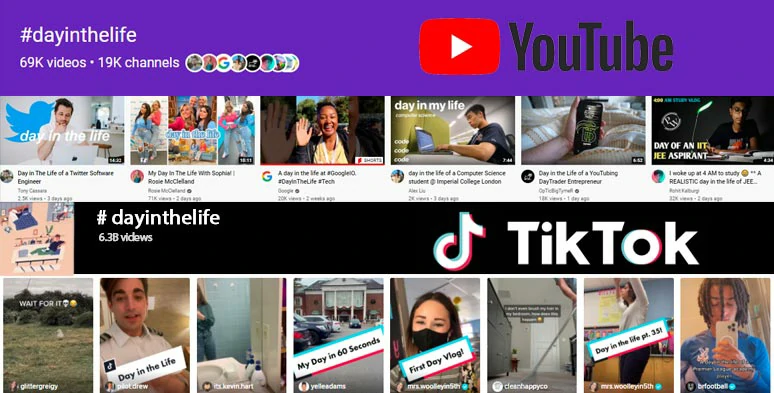 Number of day-in-the-life videos on YouTube and TikTok.
From big internet giants like Google and Apple to TikTok and YouTube influencers and content creators of all walks of life, they all made a day-in-the-life video to let viewers learn more about what a typical day was like for them and generate lots of views, comments, and subscriptions.
So, if you are a content creator, freelancer, or are running your business, creating a day-in-the-life video of your profession would be an easy way to expand your presence online and engage potential customers and like-minded followers.
2. Satisfy Viewers' Curiosity
Have you ever wondered what a day in the life of a pilot, a foley artist, a Michelin chef, a video game designer, or an employee at Google really looks like?
Yes, a day-in-the-life video like this never lacks views and comments on TikTok and YouTube. It offers an easy escape from people's mundane life and touches viewers with emotions they can relate to.
Likewise, after you've run your TikTok or YouTube for a while, your viewers and followers may want to learn more about you behind the scenes. Creating a day in a life video can be a great way to satisfy their curiosity and stay connected with the viewers and followers.
3. Build Trust with the Viewers
If you need to establish authenticity and credibility with potential customers online, filming a day in your life video at work helps you build trust with targeted viewers and display your style and expertise in the niche.
Check how Jo Johnson create a min-long day in the life TikTok video as a wedding photographer and successfully got 2M views, 524.3k likes, 467 comments, and 1057 shares. Also, read how to create epic wedding videography.
4. Easy to Create for Everyone
Yes, so long as you have a smartphone that can record 1080P/30FPS videos, you can create an original day-in-life video that encapsulates your life with styles. No fancy and high-end edits are needed. It is the unique storytelling and relatable emotions that truly count.
How to Prepare and Film a Day in the Life Video
To create a compelling day-in-the-life video, you need to plan it strategically. Very often, the worst mistake people made was filming some fragmented footage and putting them together. Here are some proven strategies recommended.
1. Consider the Storytelling
Aside from the different video content, having a great storytelling is what sets your video apart from others. For a day in the life video, currently, 3 ways of storytelling can be used and which works best for you depends on your style, aesthetic, resources, and time available.
Follow the chronological order. This is the most common and the easiest way to film a day-in-the-life video. You introduce your daily routine in chronological order. Check how Drew introduced his day in the life as an airline pilot.
Tell the story through the third-person perspective. This is an objective and experienced way of storytelling, often used in documentary films. Of course, you can apply this technique to filming yourself or find a protagonist that fits best the video narration and target viewers.
Here is a sample of a day-in-the-life video of a Japanese Natoo maker using the third-person narration.
Day in the life of a Japanese Natto Maker
Combine interview with on-the-spot filming. This is advanced storytelling where you film an interview with the protagonist and play the footage described in the interview. It's a popular storytelling technique used in documentaries or reality shows.
A great case in point is this Day in the life of a Michelin stary chef video where the interview and on-the-spot scened were played interchangeably.
Day in the life of a Michelin stary chef video
2. List All the Scenes and Places You Need to Cover
Once you have decided on your storytelling, it's time to sit down and list all the scenes and places you need to film.
A recommended format is:

List the scenes you need to shoot
Preferably choose scenes and activities that can reflect common emotions people can resonate with.
If your day-in-the-life video is about your daily job, you may also google and survey what people want to know the most about your profession and prepare the scenes to be filmed accordingly.
As to the video length for a day-in-the-life video, well it depends. For YouTube Shorts or TikTok videos, keep it short and punchy at around 60 secs; for an eventual YouTube day-in-the-life video, 6 to 12 min will be perfect.
Besides, make sure each footage lasts around 10 seconds for each scene, which makes it easy for trimming and splitting in the post-production later.
3. Use Camera Angles and Movements to Create Depth and Dimension
Properly using the camera angles and camera movements help for storytelling. As you film a scene for a day in the life video, you may apply the following tips.
Combine close-up, middle distance, and panoramic scenes to create the 3D dimension to tell the story from different perspectives.
Shoot a scene from multiple angles for storytelling.
You may also use trees or furniture in the room as the foreground or find any pathways as the leading lines and place the subject in the middle of the frame to create depth for the video.
Besides, camera movements like pan, tilt, zoom in/out, moving around the subject, etc. will also add styles to your storytelling in different scenes.
Video aspect ratio
and video host platforms: 9:16 aspect ratio (film vertically with your phone) is for a day in the life TikTok video or YouTube Shorts; while 16:9 aspect ratio (film horizontally with your phone) works best for a day in the life YouTube video.
Another professional trick is shooting for the edit, which means as you shoot each scene, you know exactly how you will use this video footage in the video editing. This method will drastically boost your shooting and editing efficiency.
4. Camera Gear
An expensive camera won't make you a great day-in-the-life video, there is some basic gear you need for quality video images.
A smartphone, capable of filming 1080P/30FPS FHD videos for all video host platforms.
A 3-axis gimbal stabilizer with a tripod stand that can help you create a stable video image when holding the phone for filming alone.
An affordable clip mic to record crisp clear audio, which will later be used for audio mixing in post-production.
For indoor shooting, do prepare two light and portable LED lights for consistent and even lighting.
How to Edit a Day in the Life Video Online
So, after you've got all the video footage you need. It's time to edit your hard-made clips into a riveting a day in the life video. An easy-to-use and versatile tool you can use is FlexClip. It's a feature-packed online video editor that allows you to create scroll-stopping videos on any PC and in anywhere with clicks away.
Create a compelling day in the life video by FlexClip online.
With FlexClip, you can:
Directly upload your video footage from your phone to the browser for the video editing. No software download and experience are needed.
Select from tons of designer-made YouTube and TikTok
video templates
and use one to customize an engaging a day in the life video in a breeze.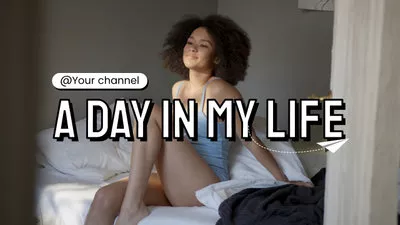 Life During Pandemic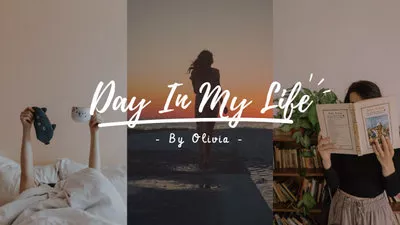 A Day In My Life Vlog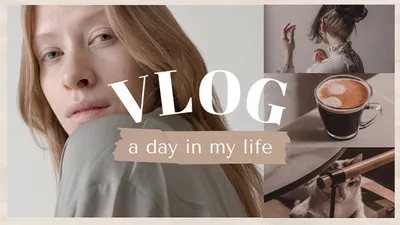 Vlogger Youtube Channel Intro Outro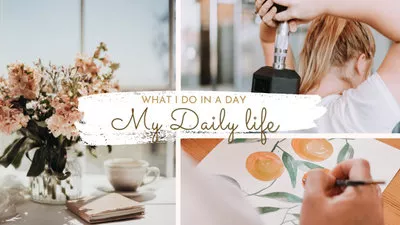 My Daily Life Intro Outro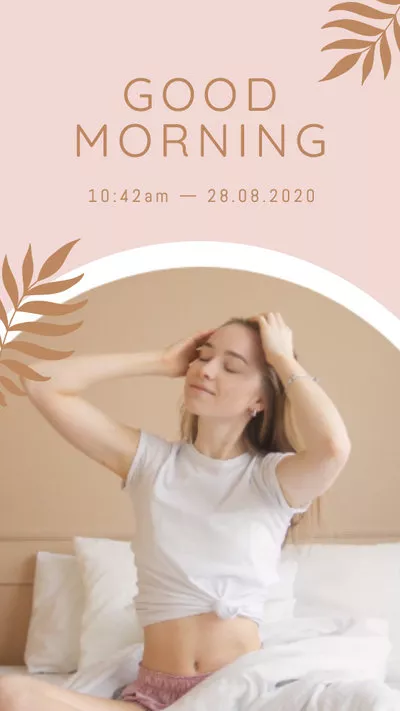 Day in the Life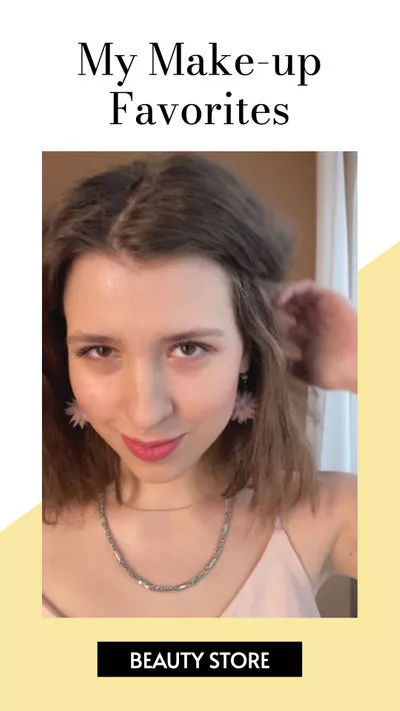 Makeup Artist
Access 3M+ royalty-free videos, images, music, sound effects, GIFs, and dynamic elements, and make the most of them to spice up your videos.
Enjoy a stable and fast editing experience on the intuitive timeline, with simultaneous Cloud savings to avoid the loss of the video project.
A wide array of image, audio, and video tools, such as image background removal, speed control (0.2x-8x), picture-in-picture, video transitions, trimmers, splitter, text animations, etc.
Step 1
Select a video template
, preview it and click the Customize button. You may also browse tons of other free video templates within FlexClip's editor.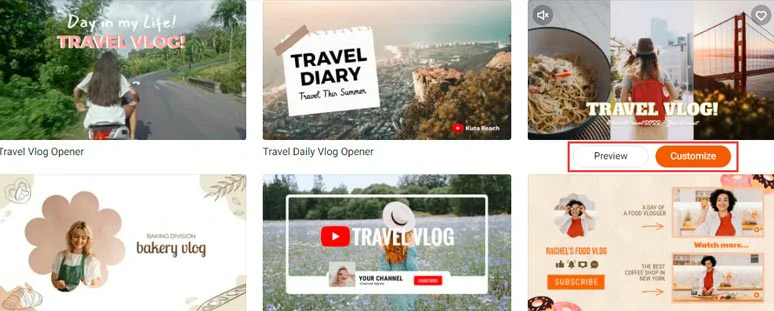 Select a video template to work with.
Step 2
Upload your footage, image, and audio files to FlexClip from your phone or the PC.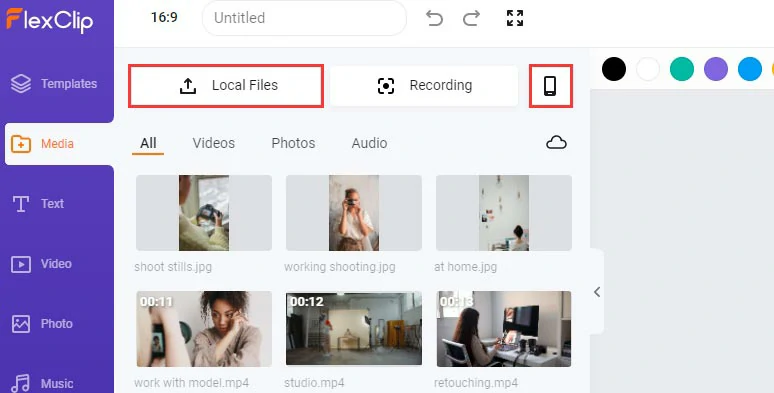 Upload footage, images, and audio files to FlexClip online.
Step 3
Drag and drop clips or images to replace the default images/videos for the intro of the day in the life video. You may also adjust the new video/image's position and size.

Drag and drop to replace default elements in the video template.
Step 4
Customize text animations: With a text selected, enter your text and use the tools above to customize the text fonts, color scheme, motion, position, layers, etc., or go to the Text tab on the left menu and scroll down to select more text presets and customize it.

Customize the text animations.
Step 5
Do the rough cut: Add all the clips on the timeline and drag the slider inward to trim the clips or split the clips into different parts and delete the unwanted clips and reorder the clips on the timeline.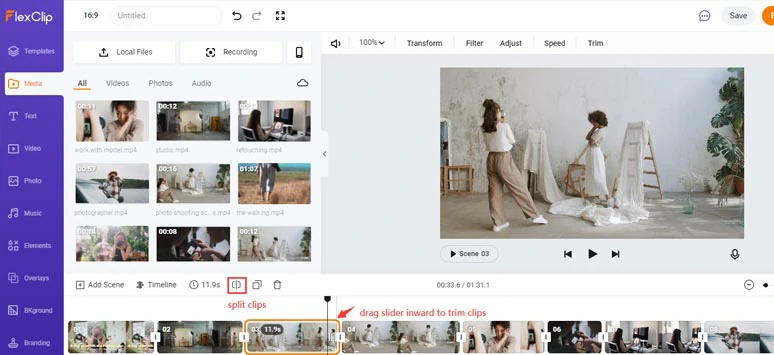 Trim, split clips and reorder sequence for the rough cuts.
Step 6
Add video effects for the storytelling: You can click the picture-in-picture button to add a B-roll into a video for an explanatory purpose or add a video transition between two scenes or go to the Elements/Text tab and select dynamic elements, such as animated arrows, subscribe and follow buttons, colorful shapes to jazz up your video.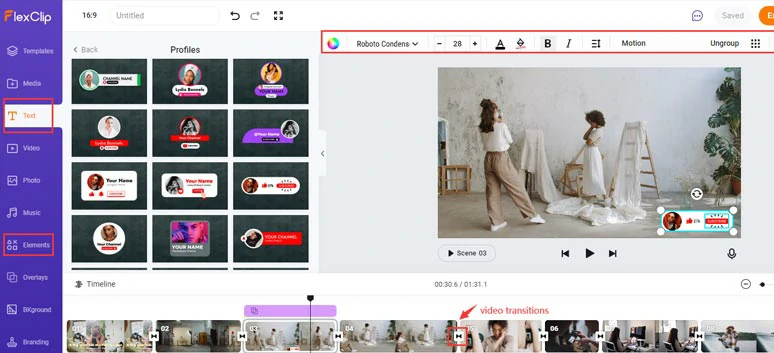 Add more video effects to a day in the life video.
Step 7
Add music and sound effects: Go to the Music tab > enter keywords to select and add multiple BGM and sound effects to accentuate titles, and add rhythm and emotions to your day-in-the-life video.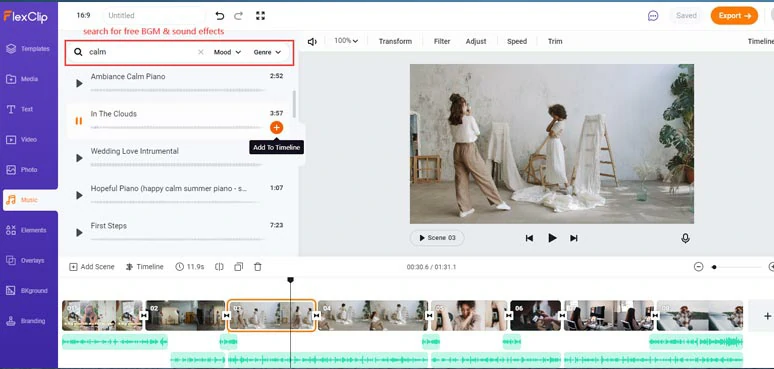 Add multiple free music and sound effects to your day in the life video.
Step 8
Preview and share: Click the Export button to download the video to the local PC or directly share it on your YouTube channel, Google Drive, or Dropbox; or get a clickable link and embed code for your blog.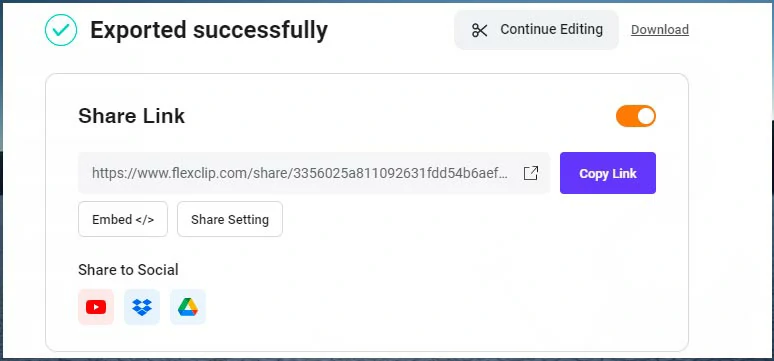 Multiple ways to share your videos.
Now, It's Your Move
To sum up, creating a day-in-the-life video on TikTok or YouTube offers your viewers a glimpse into your life and helps you stay connected with your target viewers and draw more followers and engagement. Hopefully, you can create a captivating day-in-the-life video with FlexClip. If you find this tutorial helpful, don't forget to share it on Facebook and Twitter with friends and lease your comments and tag us. Looking forward to seeing your views.